Magic Moment In Time
12th February 2014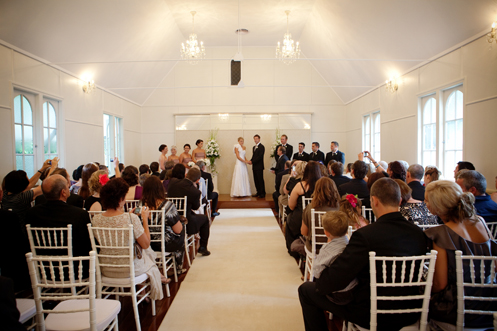 By Guest Blogger, Ann Hills, Sunshine Coast wedding celebrant
All weddings are beautiful, but there are some that stand out.  It is not just the wedding dress or the colour of the bridesmaids or the location and mind you there are some stunning locations particularly around the Sunshine Coast. It is a moment in time.
I had a wedding recently that has stuck in my mind.  The location was – The Little White Wedding Church in Maleny.
The weather was perfect and I was standing at the front of the church with the Groom anticipating the arrival of the Bride. At the back of the Chapel the double doors remained closed.   The word came that the Bride had arrived and was having last minute photos attended to. The music chosen was a classical piece which set the tone for expectation, the bridesmaids entered from the side door looking exquisite.  A few second lapsed and then with a burst, the double doors opened and there stood the bride, her veil covering her face, looking demure and absolutely exquisite.   It took everyone's breath away.  I glanced at the groom who burst into tears and I must admit I shed a few tears myself.  The effect was stunning.
I wish this for every Bride and Groom on their special day.
Meet the lovely Ann Hills at the the Noosa Wedding Expo this Sunday, February 16. We will be there, too!
Sunday, 16th February
10am – 3pm
Entry is $10 per person (pay at the door)
Fashion Parades will be at 11.30am and 2.00pm
Major Prizes
Fraser Island Honeymoon package from Kingfisher Bay Resort
Honeymoon package and spa treatments from Noosa Springs Resort
Photographic package from Tim McIvor Photography
Engagment photo session with Karena Nuttall – Photographer
Expo Specials
Many of the exhibitors will be holding special deals for expo-goers only, and all areas of wedding services will be represented at the expo. From transport to photography, from jewellery to cakes. You really can plan your entire wedding in one outing, and save a stack of money while you are at it. 
Ticket Giveaway
Tell us below in the comments which wedding services or products in particular you are hoping to lock in at the expo and we will send you two tickets to join us at the Noosa Wedding Expo this weekend. Today we are giving away two double passes.Winners will be notified via email, so be sure to include your email address in the comment.
Photo by Chesterton Smith Photography