Meet Danielle | Your Story Celebrant
17th June 2021
Sunshine Coast celebrant, Danielle, of Your Story Celebrant is someone you really want to create a bespoke, personalised and memorable wedding ceremony for you and your guests to thoroughly enjoy. Find out why.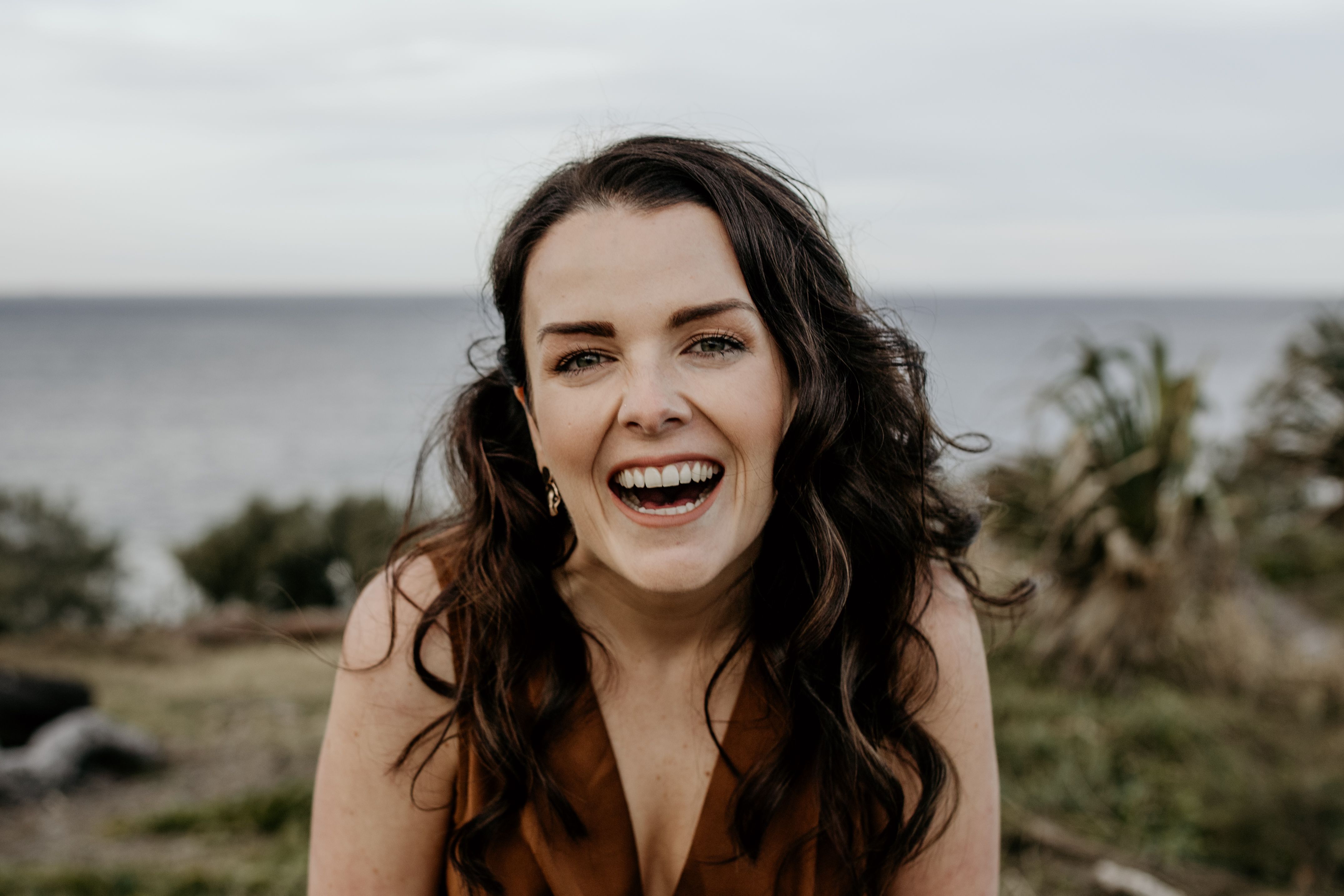 Since 2018, Danielle has been running her own business,Your Story Celebrant. In just four years, her reputation as a caring, entertaining celebrant has seen her grow to be one of the Sunshine Coast's most sought after in her field. Many key local wedding venues name Your Story Celebrant as their preferred celebrant, and she's known her being an advocate for authenticity and a reliable professional. 
Danielle's couples love her relaxed approach, always ready to have a laugh, while taking pride in her business. She creates memorable bespoke personalised ceremonies where every person present walks away feeling loved up and ready to kick off the celebration of the couple of the day. 
So, now it's time to meet the very lovely Danielle… 
Danielle, how did you get started on your journey to become a wedding celebrant?
In the beginning, I started my journey into celebrancy after attending weddings for many diverse groups of friends. I found each ceremony I attended felt very similar, despite the diverse group of people in my life (they sure are a unique bunch!), and thought to myself, surely there can be a better way to celebrate.
It wasn't until I went to a wedding in Victoria, where I was completely blown away by a celebrant, who made it everything I knew a ceremony could be. Not knowing much about this couple whose wedding I attended, I left the ceremony feeling included and having known them a lot more than before. It was a complete joy to be able to kick on with their celebrations following, having heard their journey.
So from there, my journey began. A wedding should be an enjoyable experience from the moment you and your guests arrive, and the entire day should be a vibe that truly reflects both people and their journey to get to this point. For me, without an amazing and meaningful ceremony, the day really is one heck of an expensive party.
Ceremonies can be fun, and always should be a perfect balance of sentiment and humour. Having quite a colourful life myself, I knew I wanted to create a memorable experience for my couples. With my passion for getting to know people, what makes them unique, and storytelling, I felt a deep inner calling to fulfil such an important role in peoples' lives.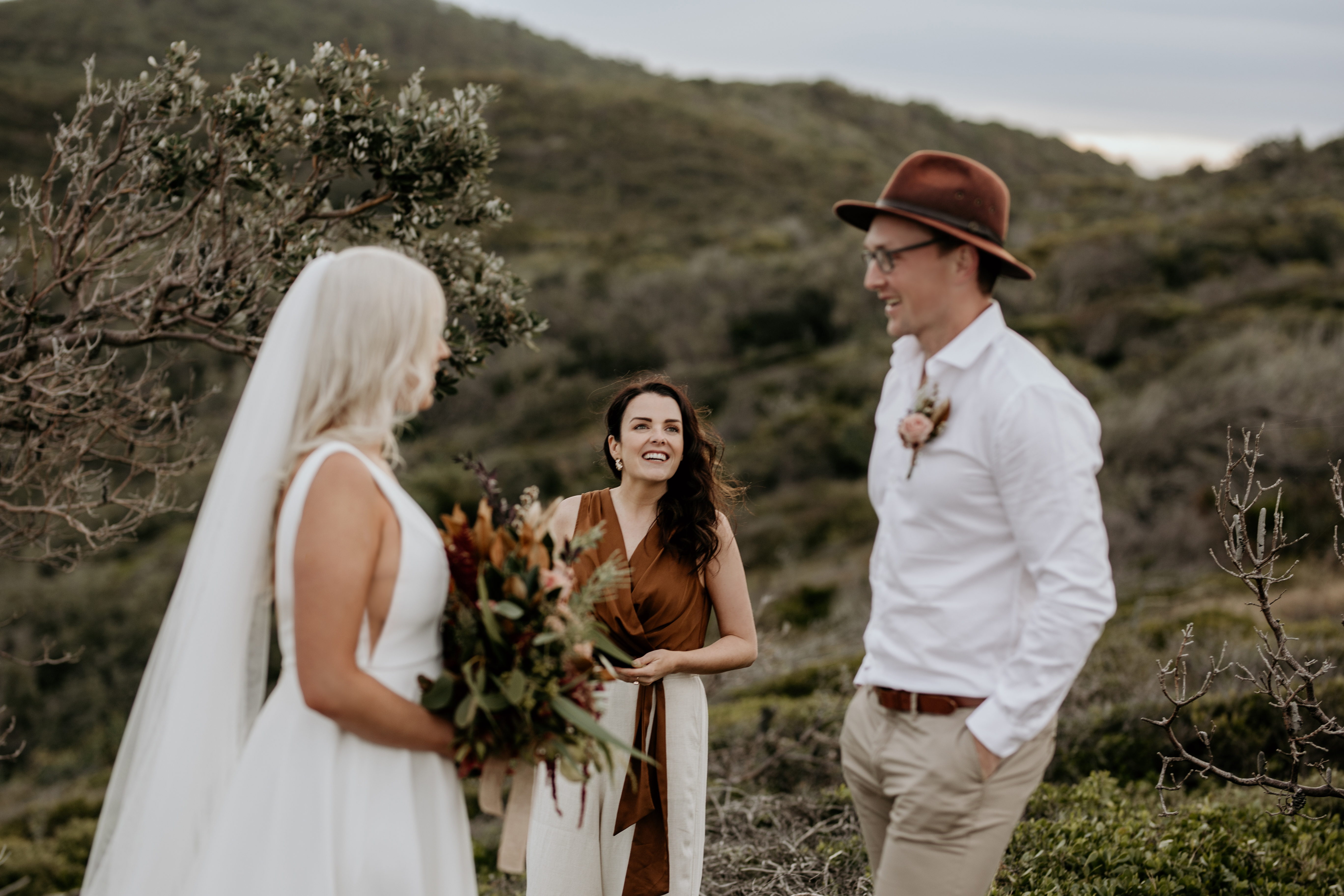 Take me through your process of your on-the-day job.
On the day of a wedding, I only accept one booking per day, as to me it's important my phone is on for my couples, and I am available for any last minute request or support they might need.
I begin the day by nourishing myself with a big healthy breakfast before taking the morning to get in the zone by relaxing with a face mask and cuppa, taking a walk or doing yoga. I double check all the couple's paperwork and ensure my equipment is charged and ready to go before glamming up and heading off to the wedding with plenty of time and loads of snacks to spare.
I'm not going to lie, I'm also known on the drive to crank up the tunes way too loud and belt out some songs to warm up my vocal cords, much to the person in next car over's amusement at a stopped traffic light! Normally I'll choose some 90's bangers, or my most recent pre-wedding fave, The Wedding Singer Soundtrack. Who doesn't love a bit of 80's cheese to get you in the pre wedding mood!
I always arrive early to the venue, as I like to set up, be there for any last minute issues, and ready for the couple's guests to arrive and be welcomed with a big warm smile. Following the ceremony and still riding the love buzz, I'll always stick around for a big congrats squeeze or glass of champagne to toast in the happy couple before getting back on the road. Then I head to the office to lodge couple's documents online to Births, Deaths and Marriages.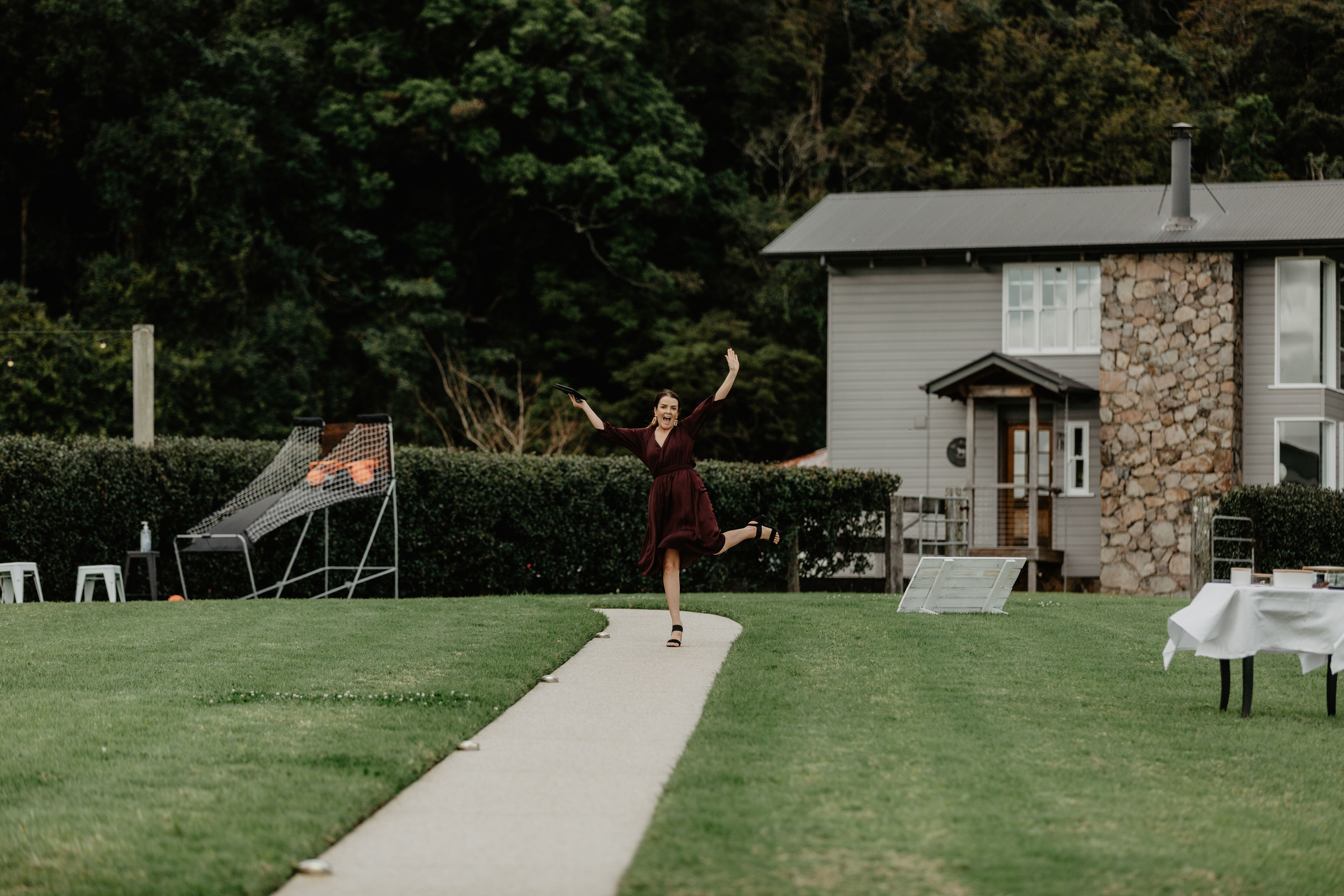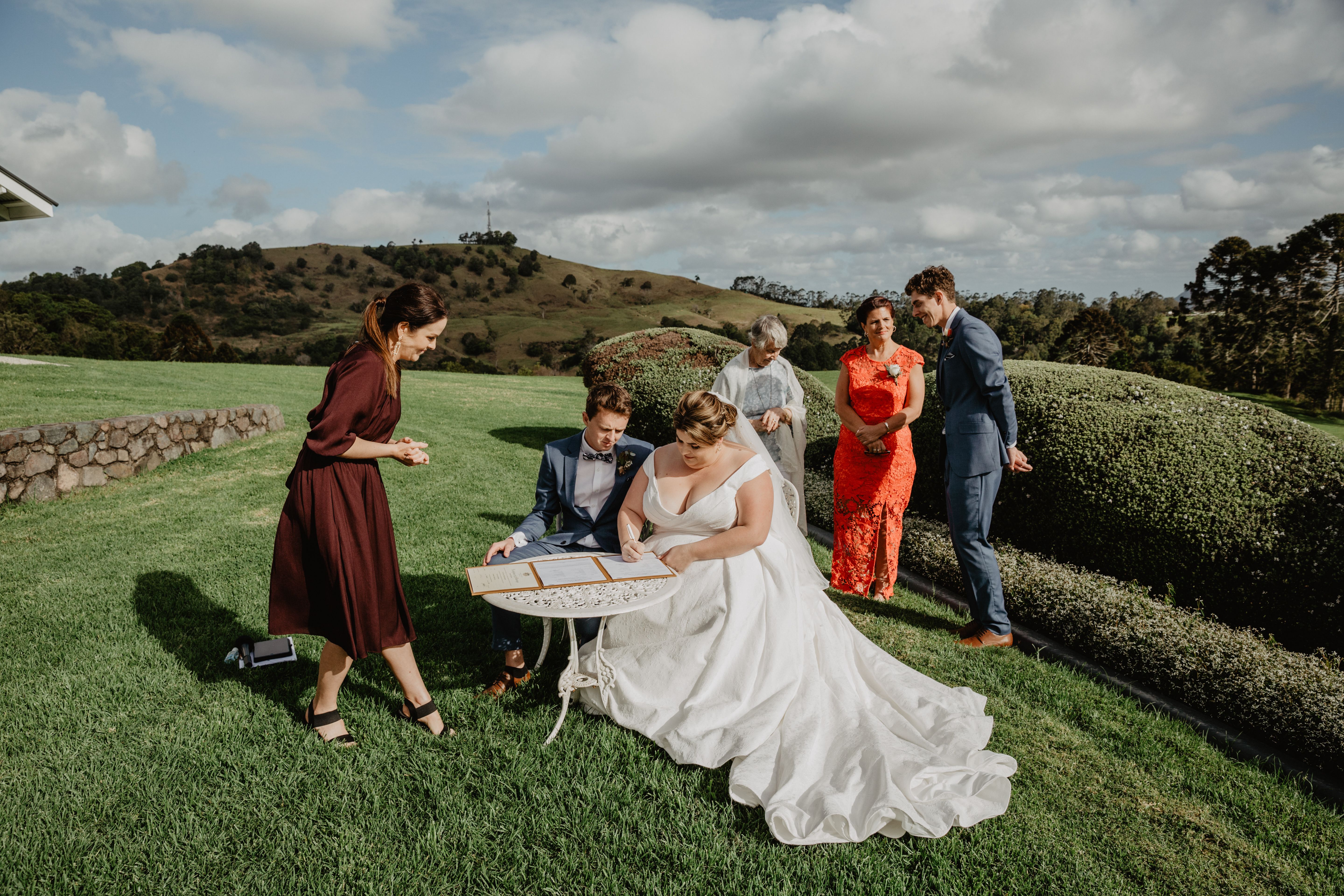 You have a completely free day to hang out on the Sunshine Coast. Where are you going, what are you doing and who are you with?
A free day on the coast for me would have to entail taking a hike or beach front walk with my partner and Weimaraner, 'Rufus', followed by a delicious breakfast and of course the biggest cup of chai tea (always the tea, never the powder!) From there we would see where the wind blows, we both love the beach so we'd likely soak up the sun and have a dip before heading to a late lunch and cocktails at one of our many favourite hot spots.
Share something that's interesting about you, or something a lot of people don't realise.
I'm an empath, more introverted than extroverted, definitely more of a listener than a talker. My friends and family are always amazed that I have chosen a career in public speaking, as this was never something I could have ever imagined myself enjoying. But absolutely LOVE IT!
It really is amazing looking back on ceremonies and see myself in action, as the passion for what I do takes over, and, believe it or not, I am more comfortable in front of a microphone than anywhere else. Sometimes you just have to face your fear and follow your heart no matter how scary it may seem.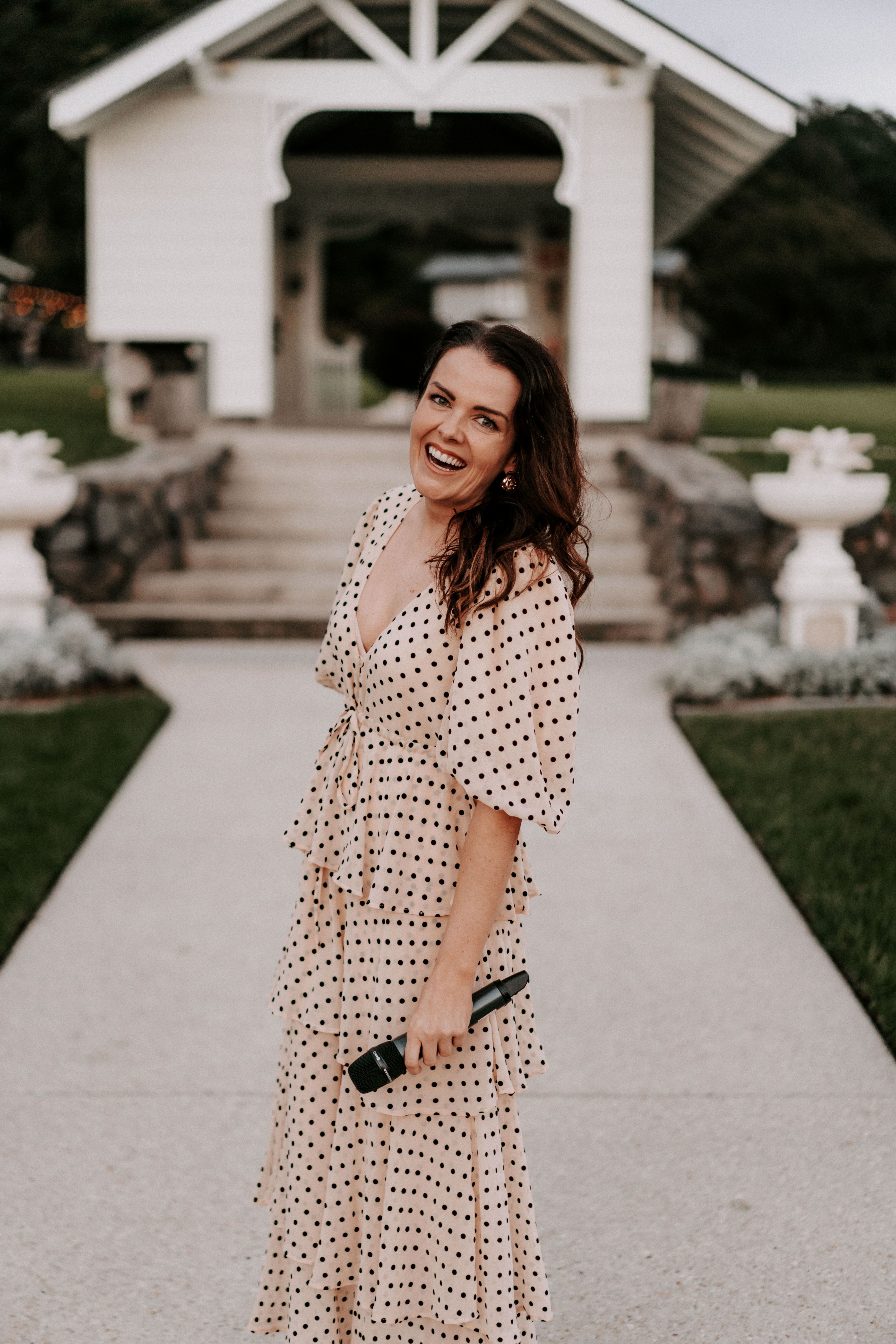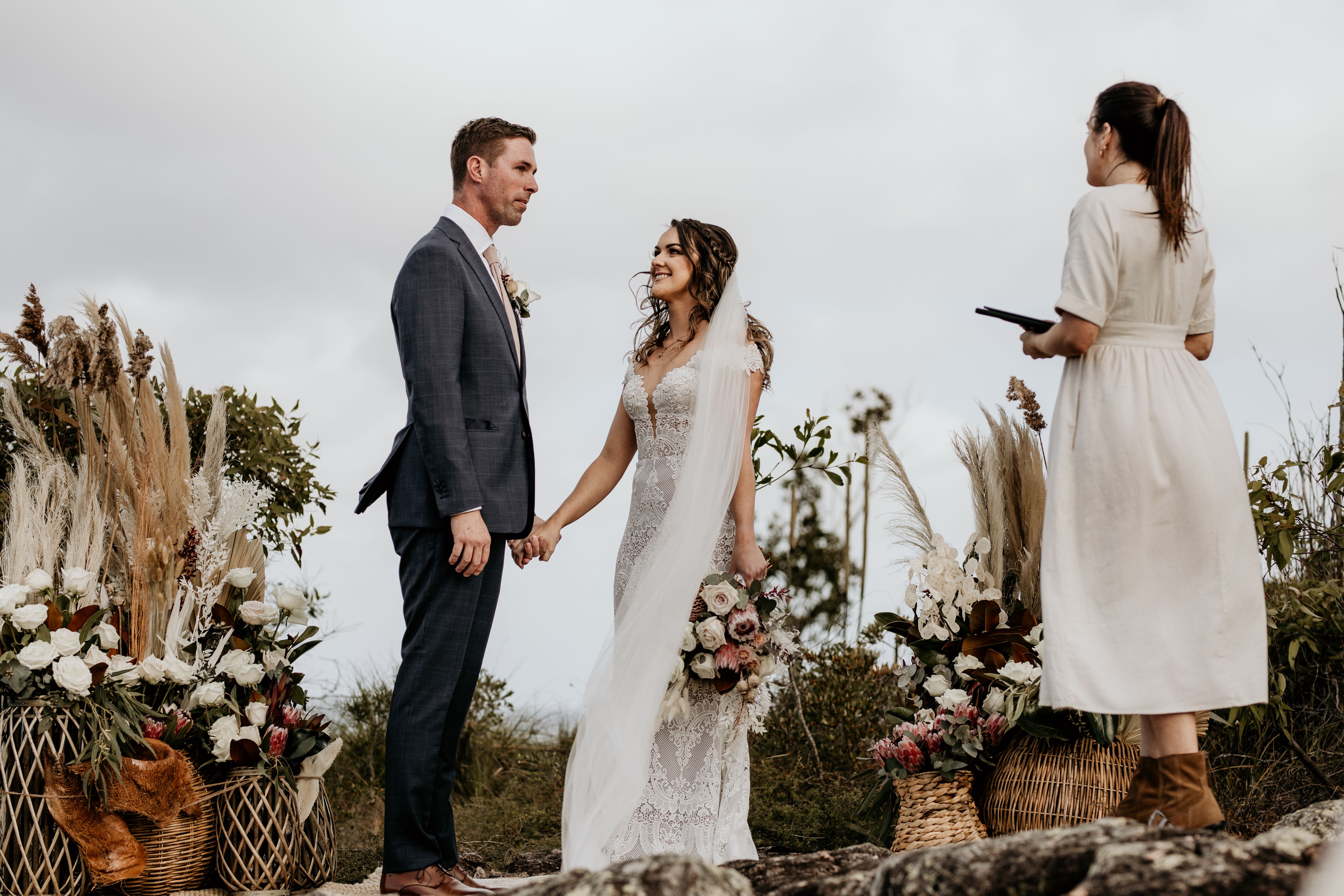 What's happening in your specific area of weddings this year? 
Trends this year are definitely scaled back weddings. 50 guests is the new normal and couples are more open to weddings going ahead regardless of travel restrictions for family and friends. Couples are more daring to go for different whether that be in what they wear, making their own traditions or adding in elements to their day that reflect them. Elopements are definitely on the rise in such uncertain times. A lot of couples coming through are choosing to elope now and have their large celebration with family and friends when times are a lot more certain.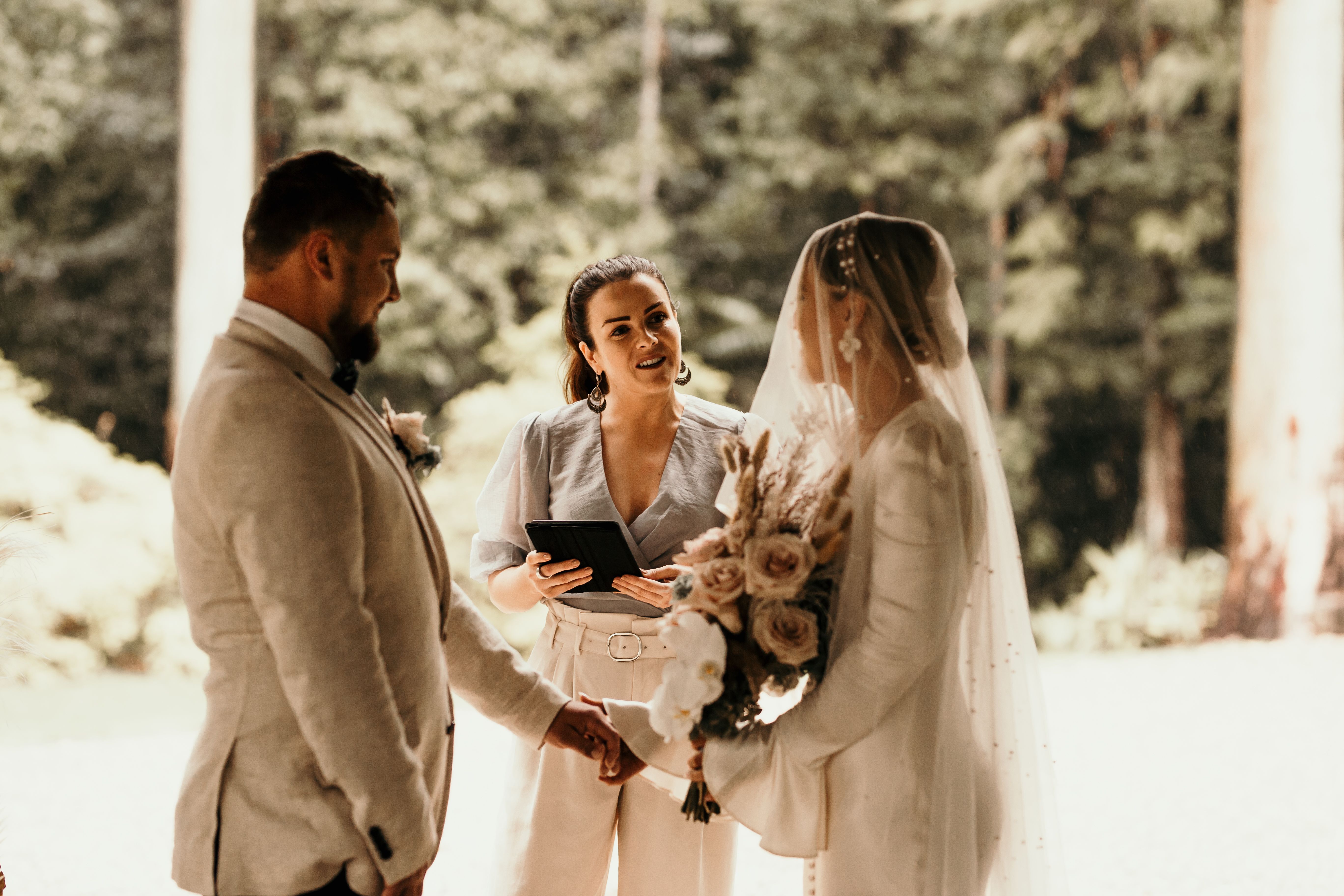 Love what you hear? Danielle is taking enquiries for 2022 weddings now. 
You can find more information on
Your Story Celebrant
, and a link to enquire about your wedding date here. 
Image credits: Naturally Jek Photography, Tara Lee Photography, Luke Middlemiss Photography