Wedding Day Eve…
20th December 2012
It is wedding day eve for this beautiful couple. Kirsten and Dave. You may remember Kirsten as our first ever covergirl of The Bride's Tree free online magazine. Well, she is now getting married for reals… tomorrow! 
Our gorgeous girl will be wedding her beloved, Dave in a Maleny wedding ceremony at a private estate. We simply cannot wait to see all of her undoubtedly gorgeous wedding photos, but in the meantime we will simply have to placate ourselves with the couple's lovely engagement shoot by Photography by Lizz Pennings.
The shoot took place at Moffat Beach, a special place to Kirsten and Dave, who have shared many a picnic up on the hill. One such picnic actually resulted in their engagement!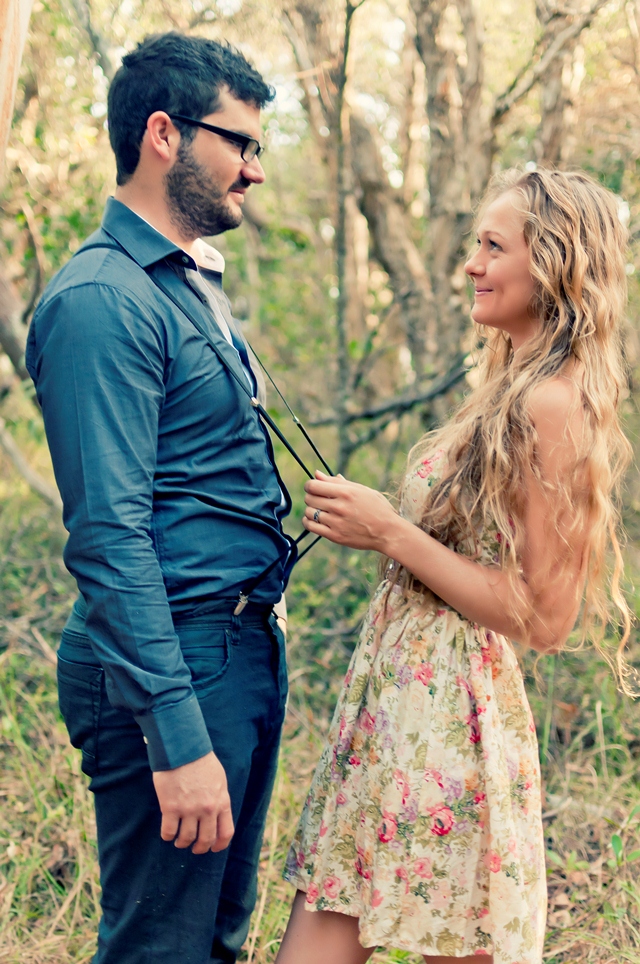 Web-based business owner, David, and school chaplin, Kirsten, first met at church, but he thought she was a bit too much of a hippy, and she didn't like his arrogance! It wasn't until they worked on a community project together, helping on a backyard blitz that they discovered they actually quite liked one another.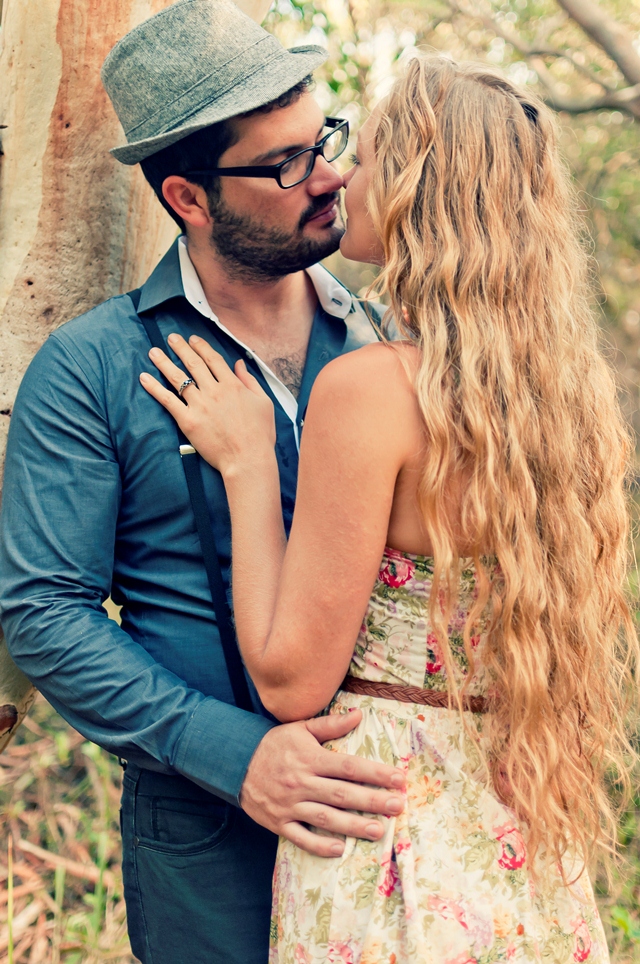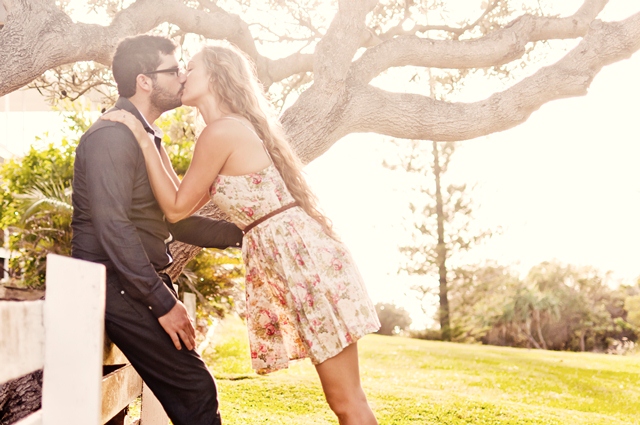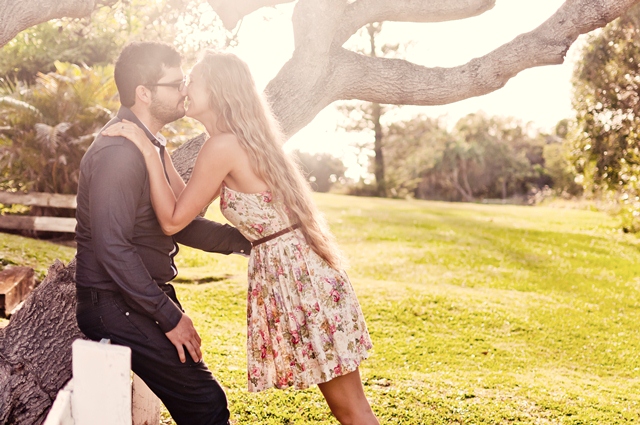 Kirsten says it is Dave's integrity, honour, the way he faces life's curve balls and puts God first that made her fall in love with him and agree to marry him. Well, that and his awesome beard!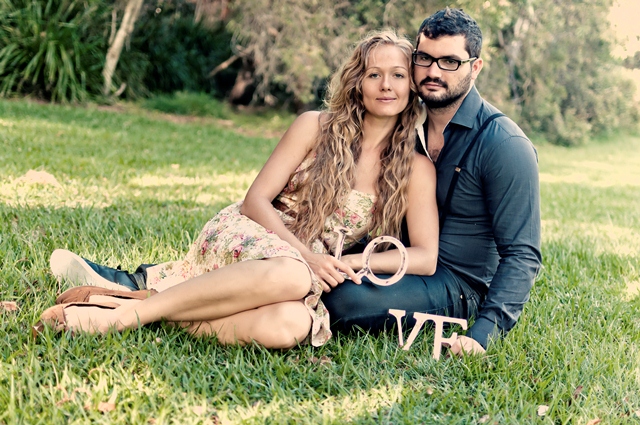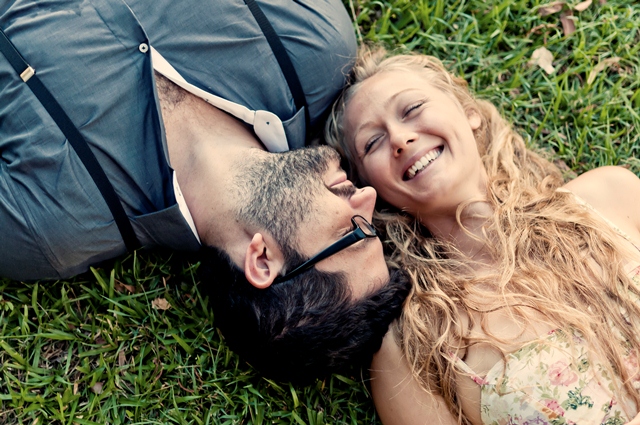 The Romantic Proposal
"Dave took the day off work and took me on a mini shopping spree, then we had mad mexican (our fave!) for lunch, followed by a movie. After that he casually suggested we go for a walk at Moffat Beach and once we got there, we walked around the beach part for a while, sat & voice-overed the dogs we were watching run around.
"Shortly after Dave, checked his watch and said we were going. He lead me up Moffat Beach cliff to Tom Swinton playing guitar and serenading us live! There was also a picnic set up with candles, all my favourite foods (sushi, hommus & veggies, dark chocolate, a cup of tea, licorice, etc. We watched the sunset whilst chatting, eating and listening to the awesome music Tom was playing for about an hour or so, then Dave said we were going to keep walking and made us wear the miners hat head torches!
We then preceded to walk into the forrest around the corner and Dave took me to a tree where he had carved our initials in a love heart ages ago. I recognized it as when I'd gone to New Zealand earlier in the year, I'd written a letter to Dave for everyday I was away. Each day had a dare he had to complete and get photographic proof. One day was write something somewhere public – to which he had engraved the heart and later shown me the photo. But after he'd taken the photo, he had also engraved "Will you marry me?" planning that he'd take me there one day.
Once I saw that part in person, I looked at Dave and he was on one knee holding out my engagement ring and he asked me to marry him. I was speechless and just kissed him and he had to ask me to answer him to which I replied "of course.""
Congratulations Kirsten and David! We wish you all the best for a beautiful wedding and life together.