Leah loves Joey | Beerwah Barn Wedding
23rd February 2022
Tons of DIY and deeply personal details, Leah and Joey's wedding was a budget-friendly Beerwah barn wedding on a private farm.
For their Beerwah barn wedding, Leah and Joey took a very modest budget of $10,000 (and it only blew out ever so slightly..!) and created a gorgeous, dream day with a little help from their family and friends. Tons of DIY, and catering by family played a huge role in keeping costs low. 
The couple managed to make their wedding day fun and personalised by both opting for cute comfort with street sneakers, and the girls carrying bouquets of sunflowers. Very fitting for a couple of longtime Sunshine Coast locals. 
Leah has kindly shared all her wedding secrets below. 
Vendors 
Photographer: Mallory Sparkles Photography
Florist: Buderim Floral Art
Cake: Krispy Kreme
Makeup + hair: MD Brides
Rentals: Classy Loos, Alfie's Event Hire, SEQ Events
Entertainment: Dave West Music
Stationery: Spotlight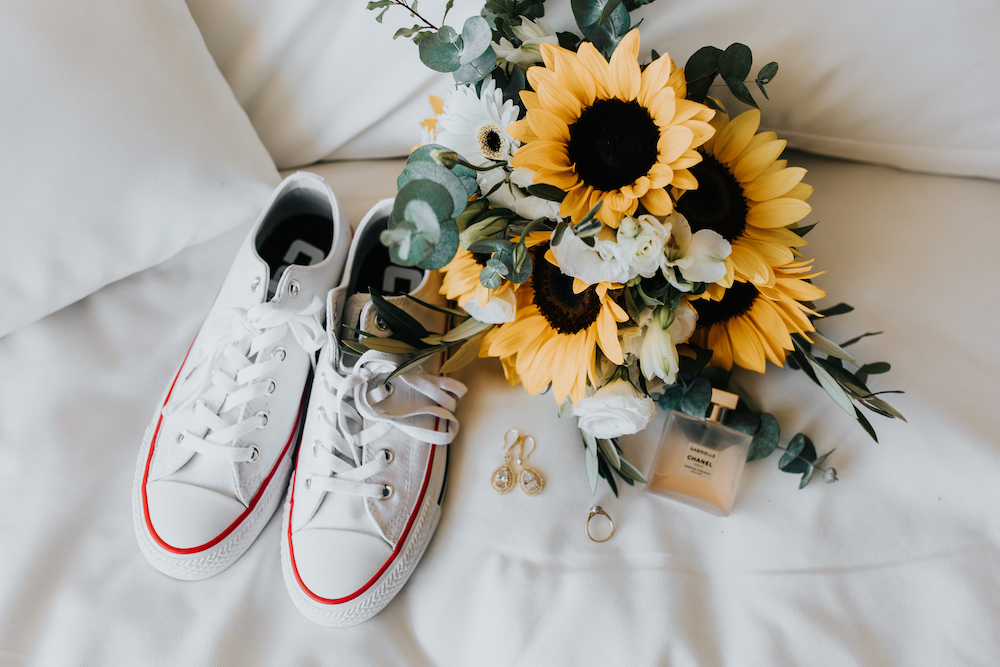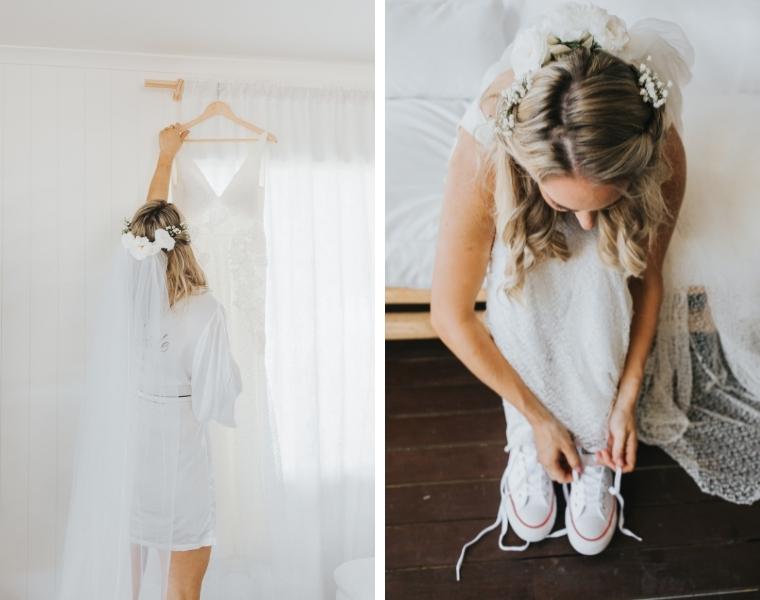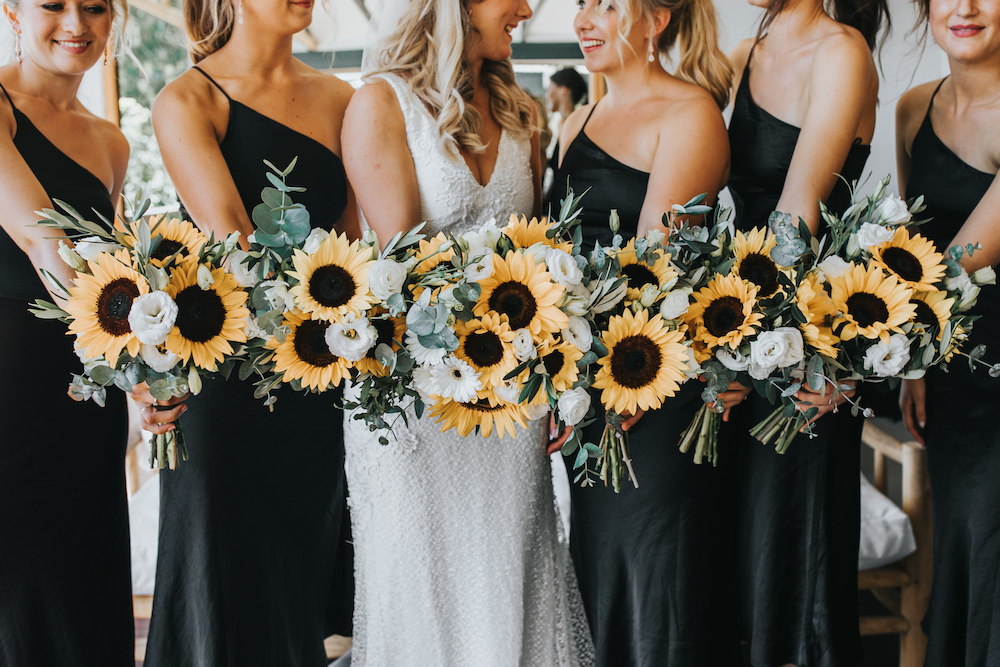 Our Meet Cute
We meet at my work when I was a chef and he was a regular customer in 2016. 4 years later we ended up working together as baristas at Third Place. He's my best friend and I couldn't see myself with anyone else.
The Proposal
I was planning my husbands surprise birthday party with a friend and part of that surprise was taking him to our special lookout. I was on the way to picking up our 2 friends and my husband, when I get a call from him telling me that he'll just meet us up at the lookout.
As I'm driving into the turn off to the lookout, I see my husband standing at the top of the hill with fairy lights everywhere. He comes down to take me up to the lookout, and as we get to the top all i see is photos of us hanging with fairy lights and a photo frame on a stand. Inside the photo frame written is , 'Will you put up with me forever', I turn around and that's when he got down on one knee and asked me to marry him. He hijacked my surprise birthday party for a surprise proposal.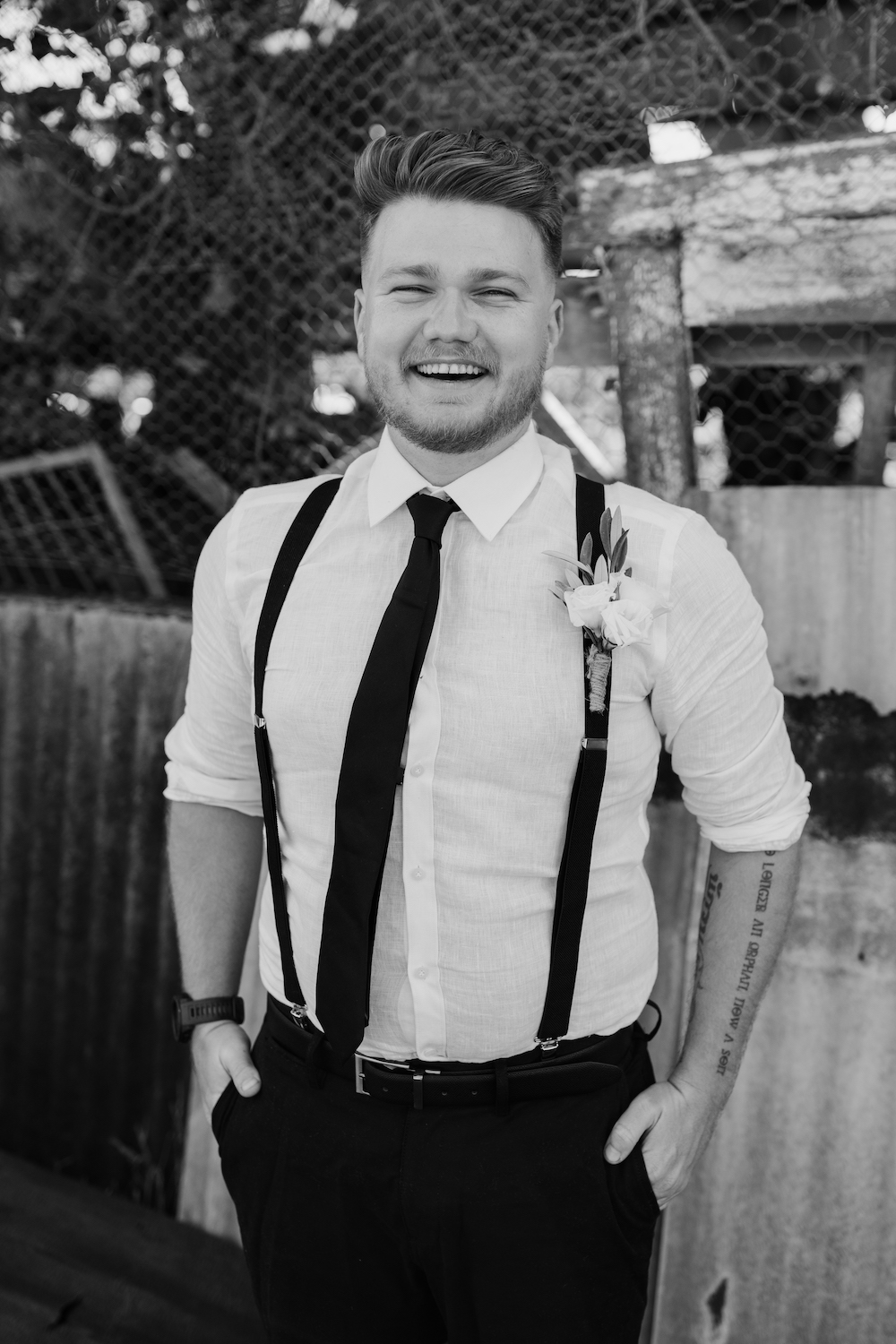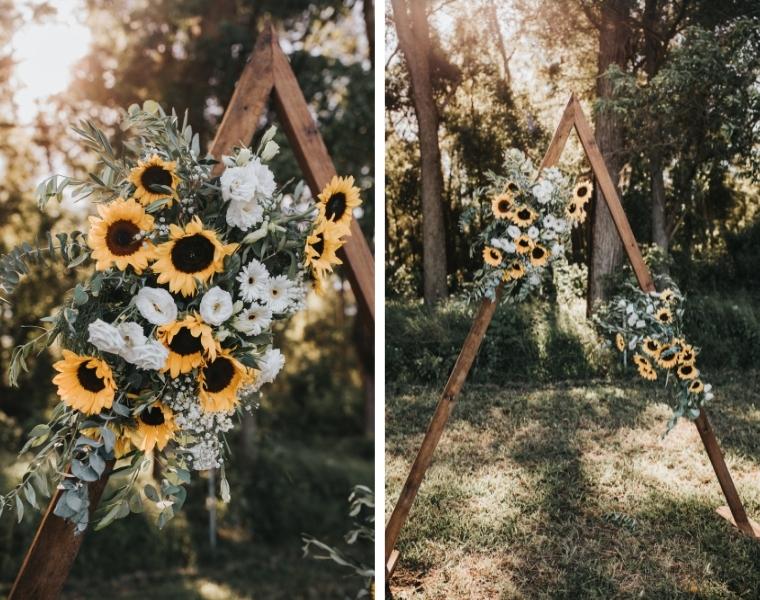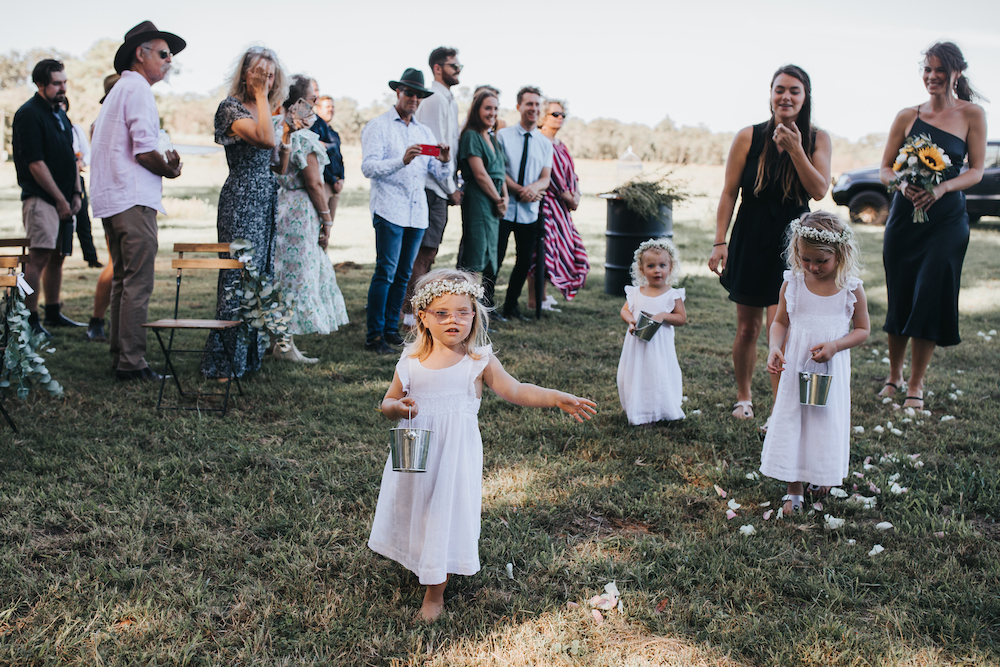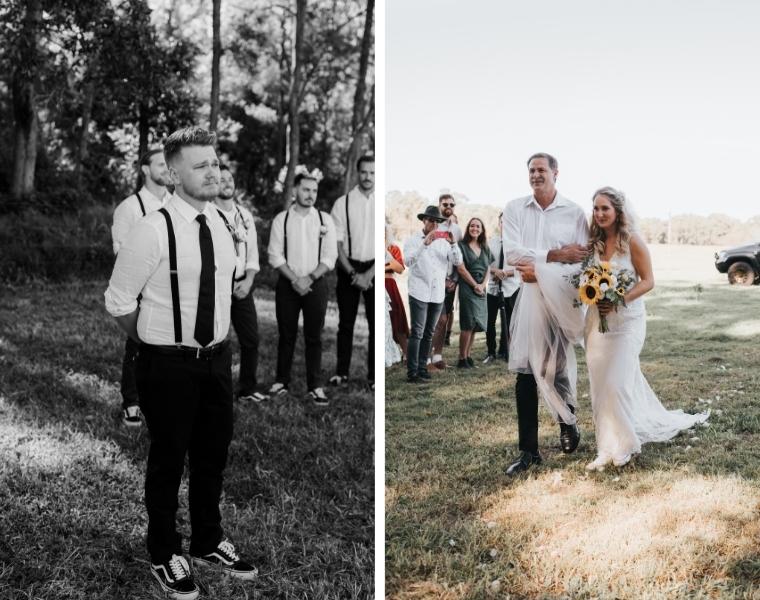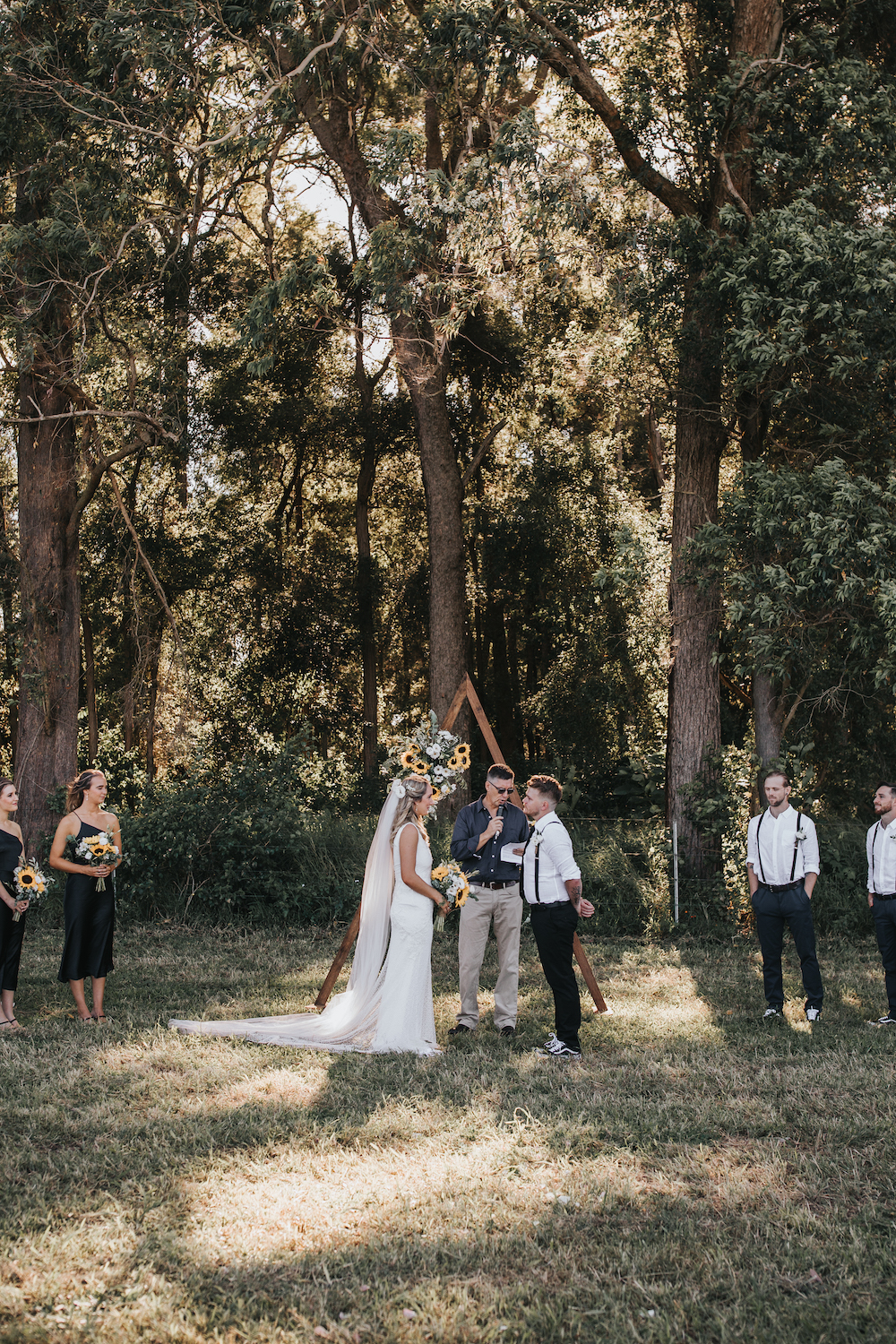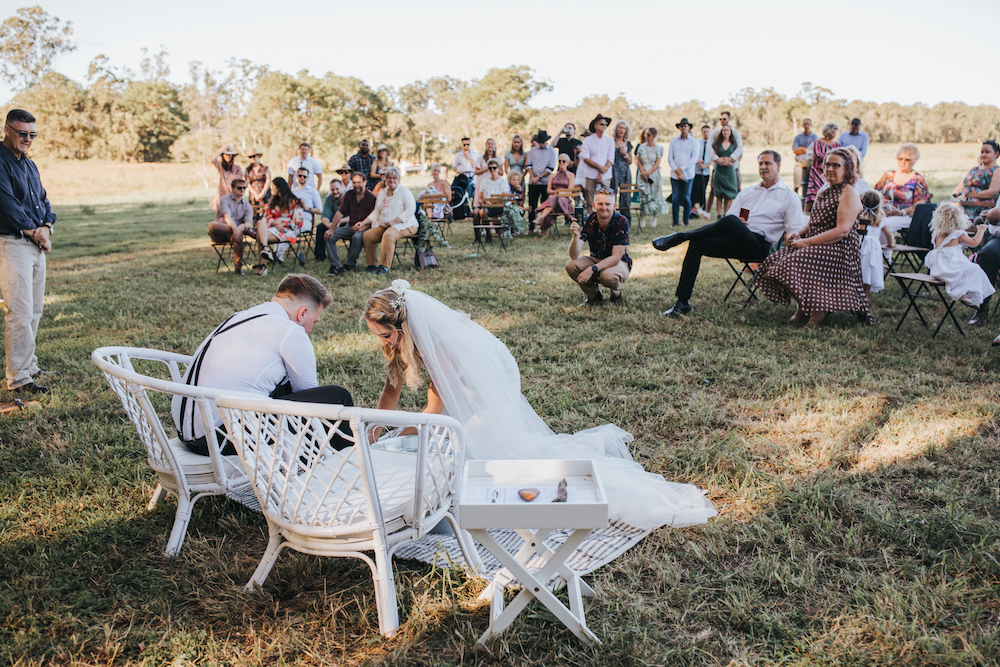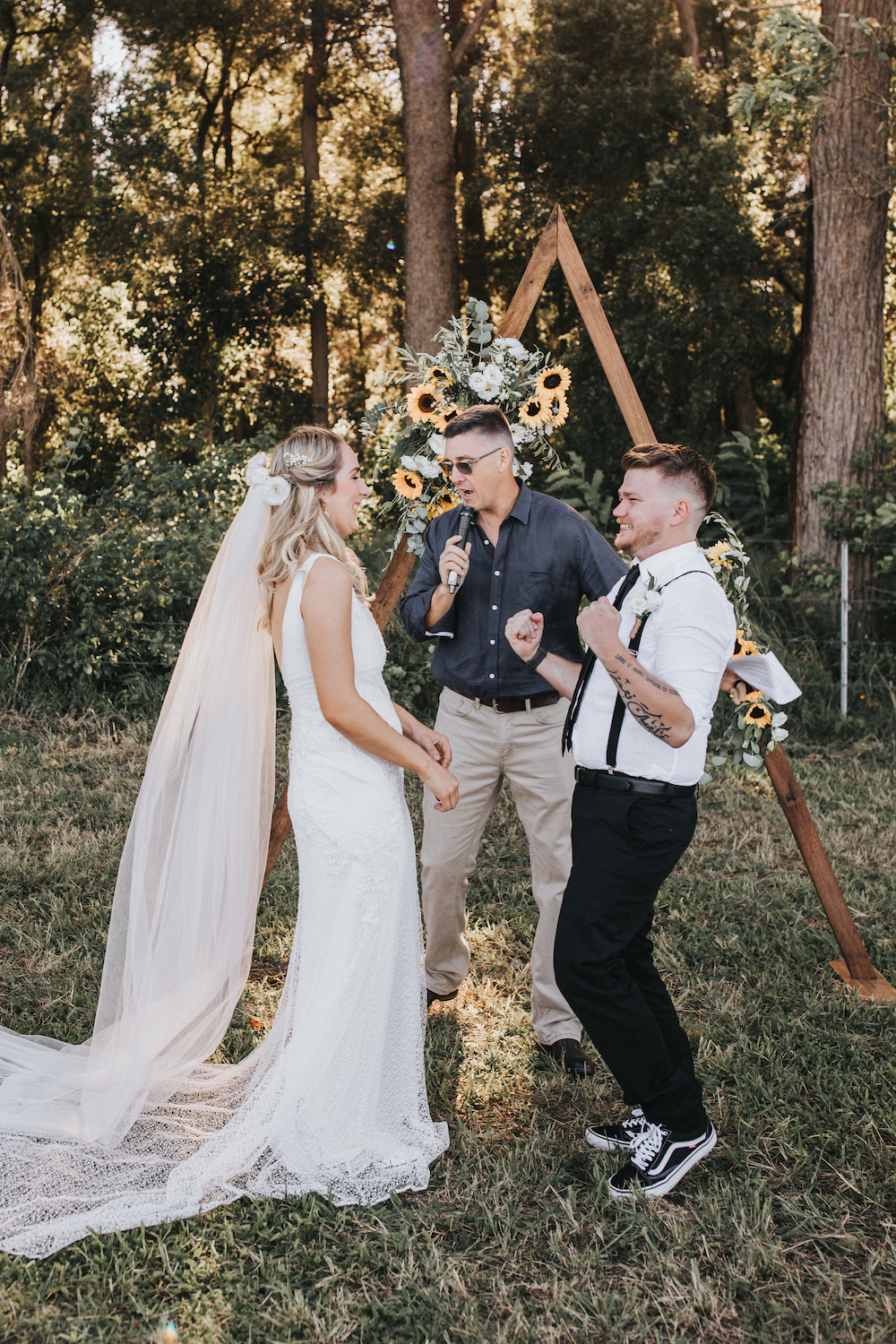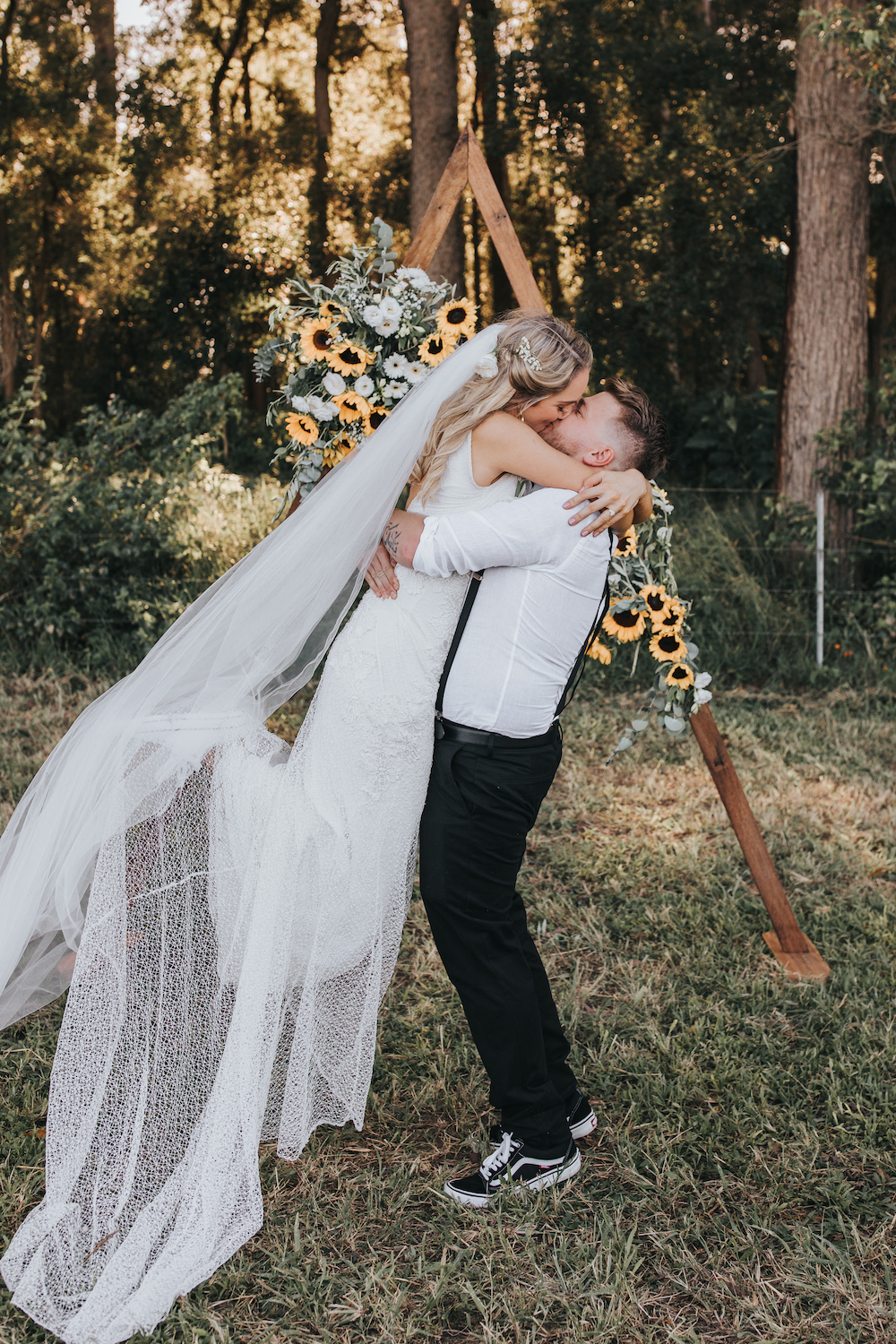 The Location
We're both from the Sunshine Coast and love the area. The location that we had our wedding was in Beerwah on a farm. We had the reception in a barn and the ceremony in the fields. Our photos were taken just down the road with the mountains in the background.
Standout Suppliers
Our photographer Mallory Sparkles; she was just phenomenal and went way and beyond what we asked of her. Our music done by Dave West Music was outstanding, and couldn't have had better music played in both ceremony and reception. Classy Loos was amazing as the bathrooms were very classy and suitable for all people.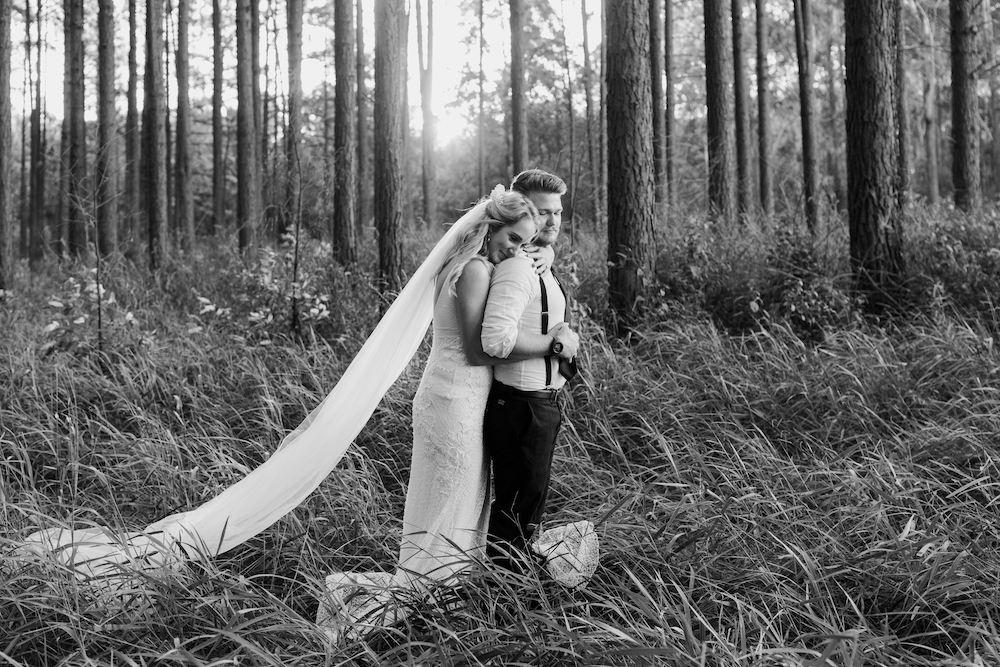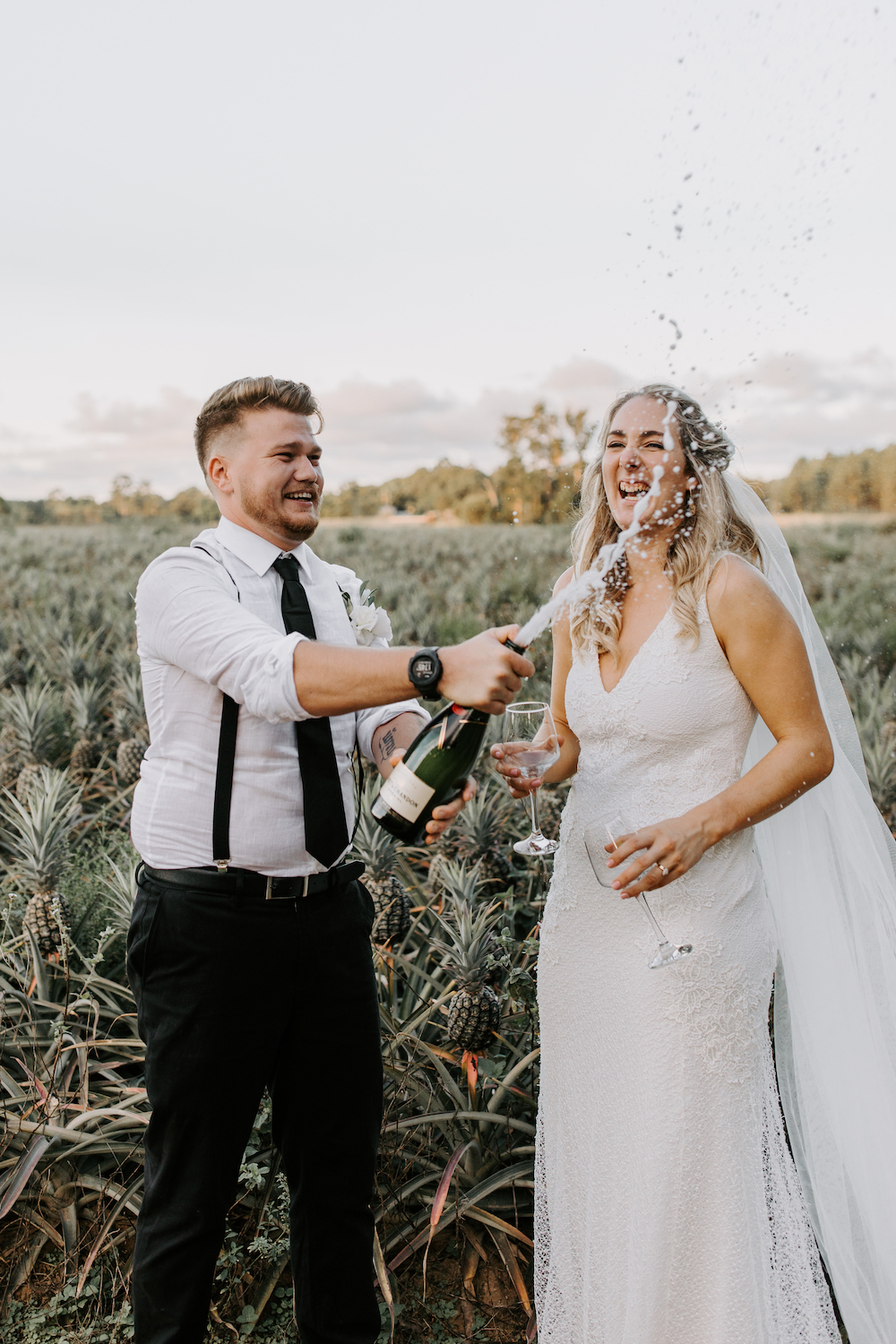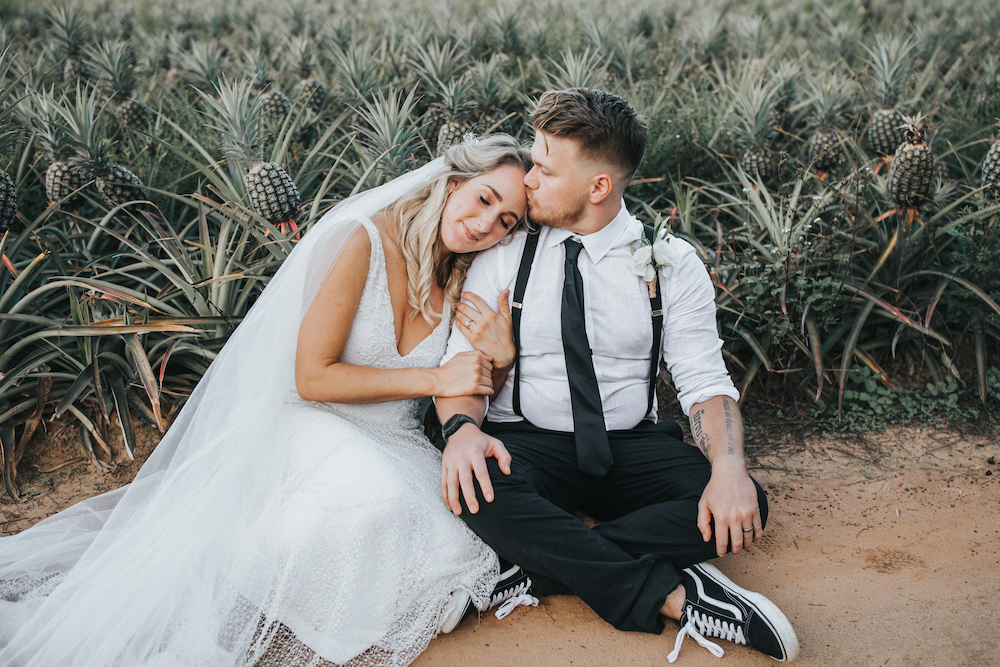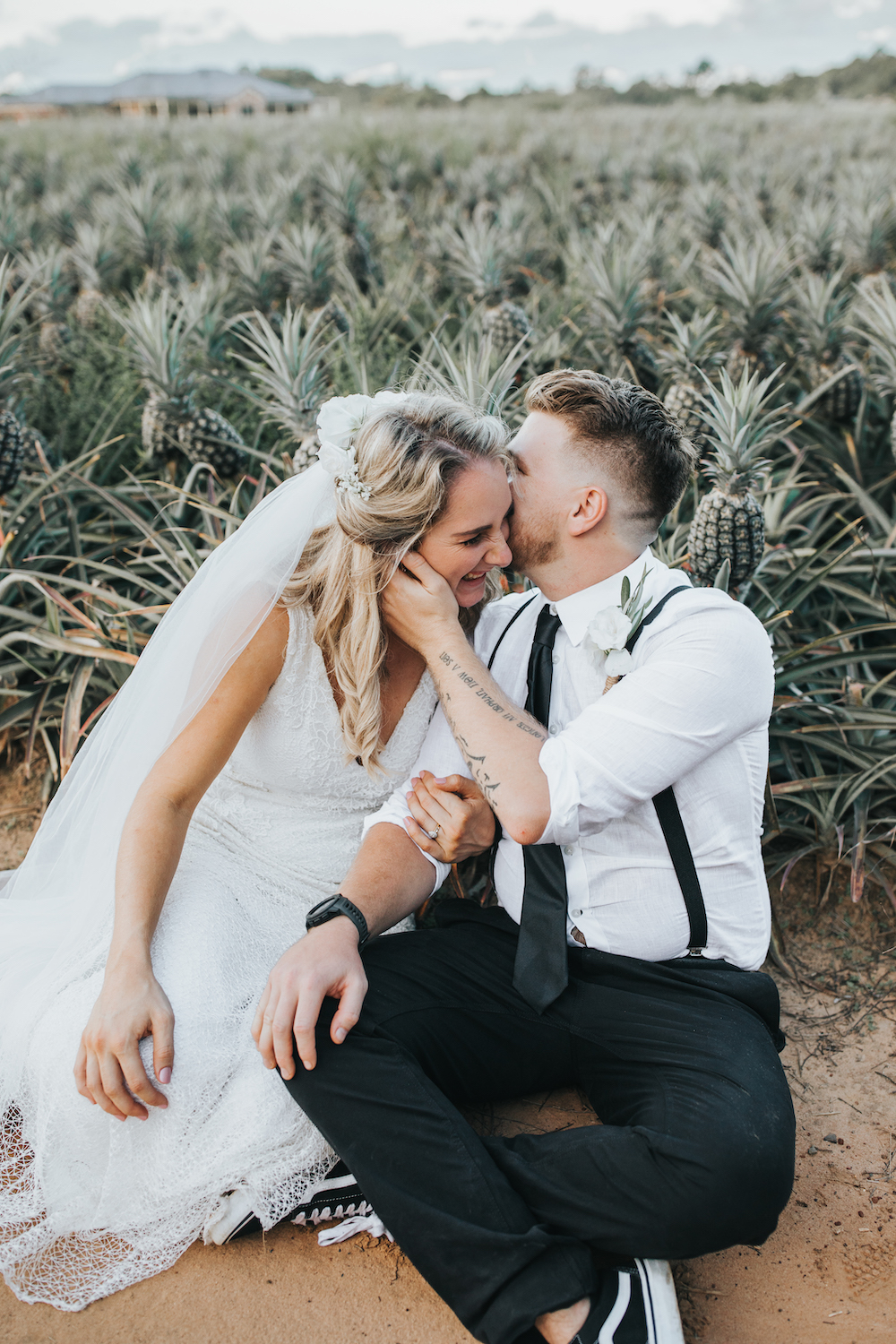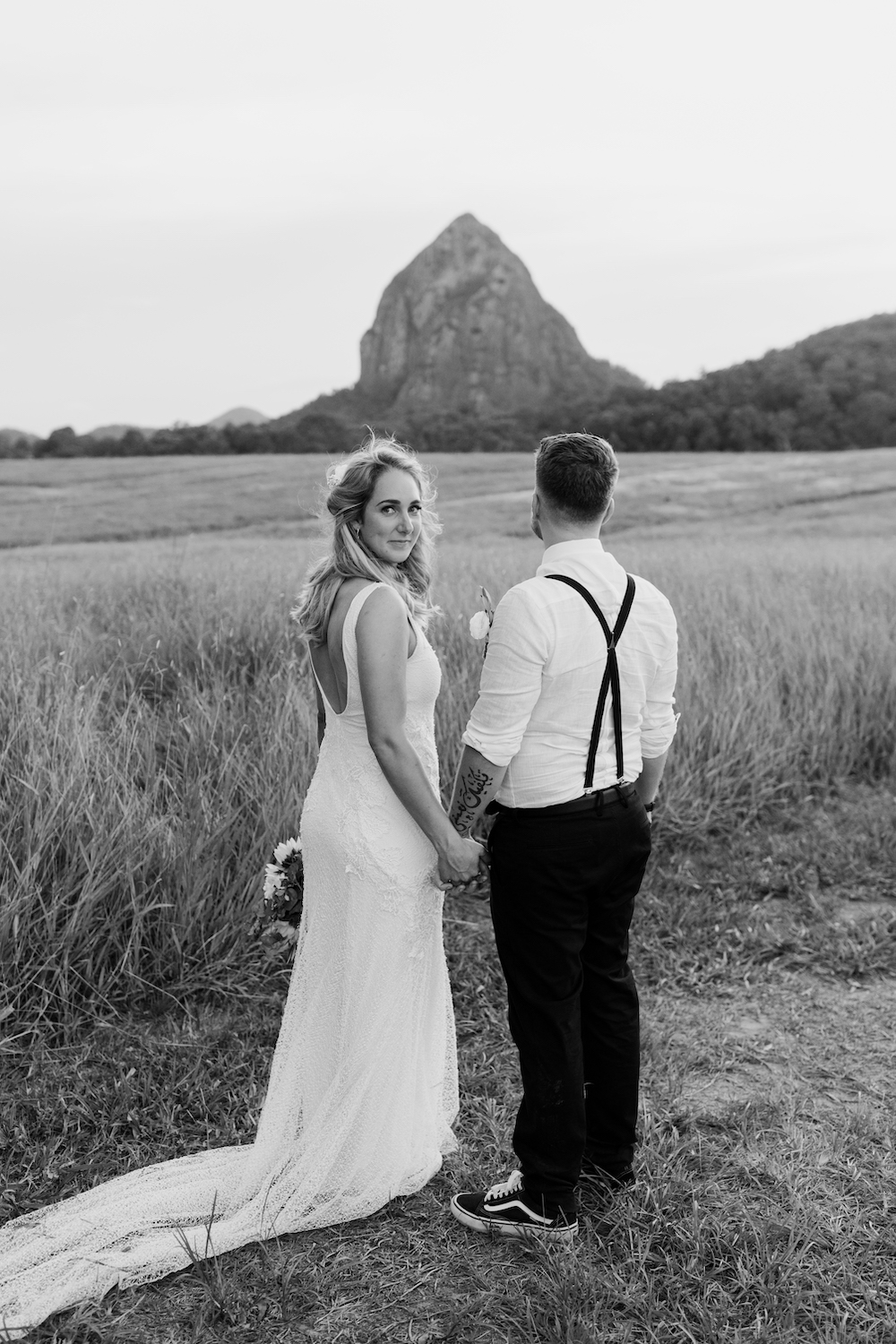 Wedding Secrets
Biggest splurge: Photography
Best money-saving decision: Having the ceremony and reception on friends property and catering the wedding through family members.
Bride's dress + veil: Grace Loves Lace
Jewellery: Little White Couture
Shoes: Converse – Boardstore
Groom's attire: Myer
Groom's shoes: Vans – Boardstore
Bridesmaids' dresses: Billy J Boutique
Bridesmaids' shoes: Famous Footwear
Groomsmen's attire: Myer, Boardstore + Just Jeans 
Flowergirl's dress: Myer
DIY: Basically the whole wedding. 
Honeymoon: Airlie Beach + Yeppoon 
Number of guests: 70
Wedding budget set: $10,000
Actual cost of wedding: $11,000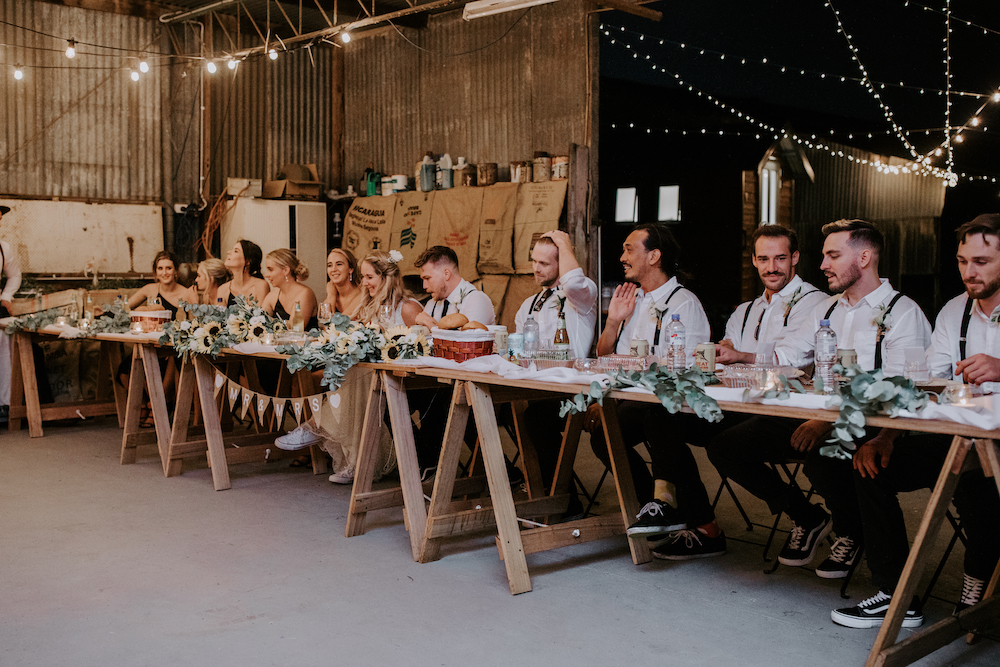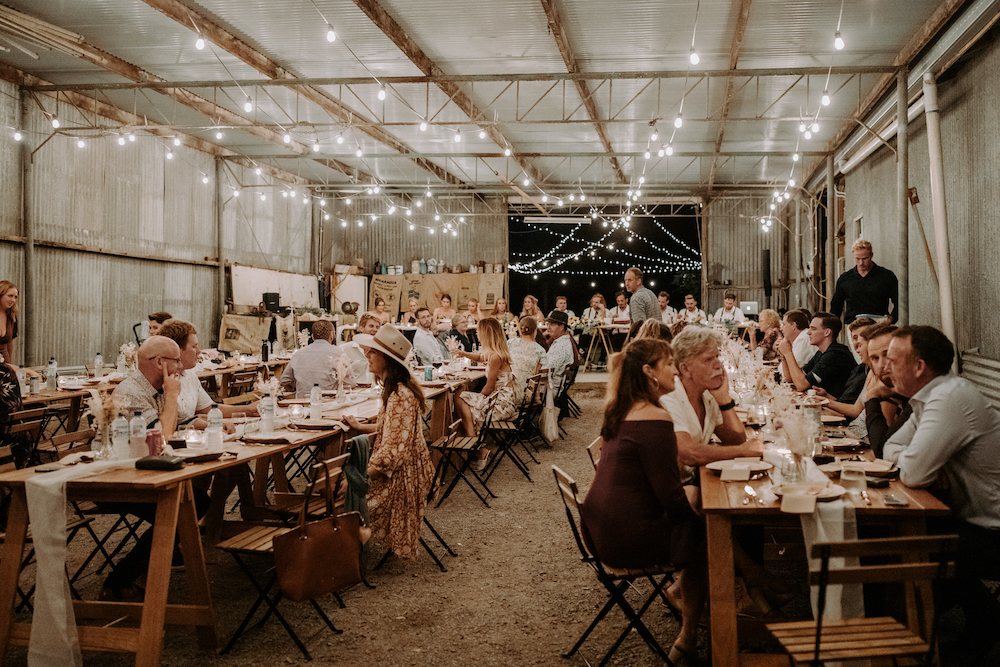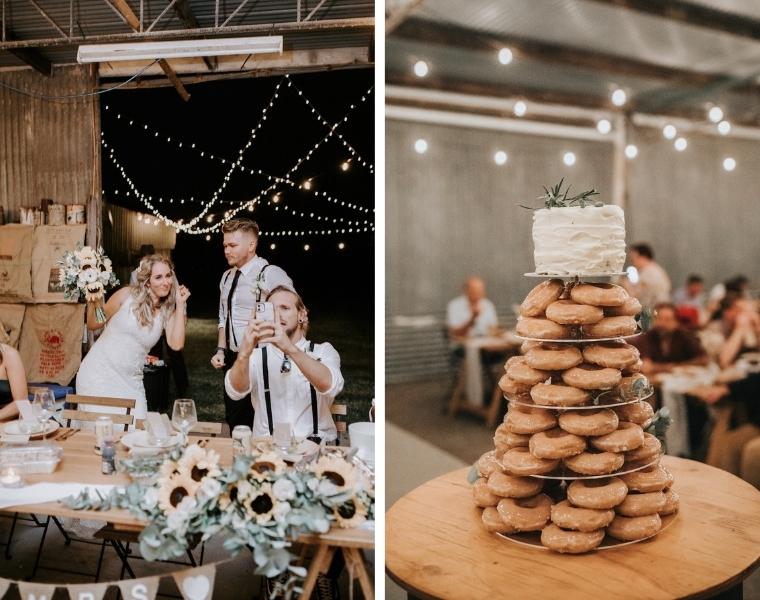 Love what you see? Check out our A-list Vendors, who helped make it happen…