Real Wedding: Breeanna & Jack in Flaxton
3rd February 2014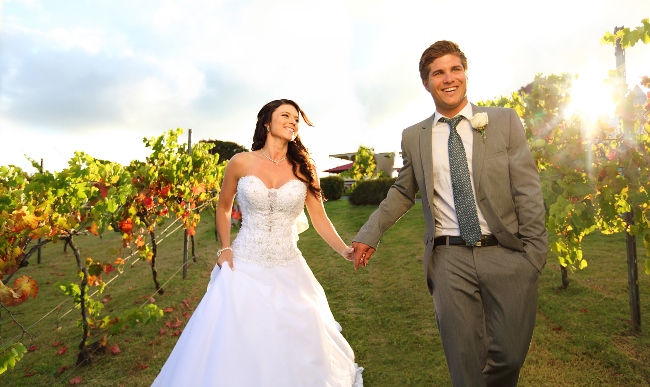 Breeanna and Jack were married amidst 98 family and friends on the vineyard at Sunshine Coast hinterland wedding venue, Flaxton Gardens on their five year anniversary. It was their biggest priority to have their dream wedding photographer there to capture all the special moments of their day. 
Their wedding album is full of stunning images by First Class Wedding Photography. View the full album here. 
////
The Proposal 
Jack proposed to me at the snow in NSW and recorded the proposal through recordable snow goggles. We arranged prior to the wedding for our videographer to put 'our proposal into a mini film clip' and this way played and shared with our guests on the night of the wedding on the big screen projector. A very special moment captured on video and it was so nice to share it with all of our family and friends at once.
The Happy Couple
We met through his sister Ellie who I am friends with, at the Caloundra Race track on Melbourne Cup Day 2008. We give each other the freedom to be 'who we are'. We encourage one another, we have a high respect for each other, and that helps us be the best version of ourselves. Our wedding day was our 5 year anniversary. 
Photography a Priority
I planned everything around my photographer; I made sure he was available before we booked ANYTHING! After then it was choosing the venue, then locking in the wedding date, and then choosing and booking in our marriage celebrant.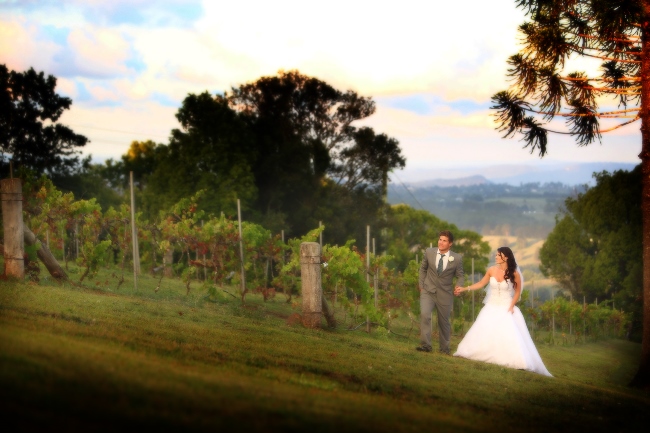 DIY Goddess 
I thought it was standard for the Bride to do the amount of DIY things that I did however I was told by several people from the venue on the day that I went over and above. I am a little bit crafty so when I found the beautiful ideas on Pinterest that you can't buy from anywhere, I didn't have any other choice but to recreate those ideas myself.
The Food
We were spoilt for choice at our venue, as all of their dishes were amazing. With the entree we went for a cocktail style, with three hot and three cold canape selections. Our mains were the Salmon and the Lamb dishes (alternate drops). Our dessert was individual mini cakes (chocolate mousse and cheesecake flavours) made by a German Chef, served with coconut ice-cream and premium strawberries. Jack and I and our parents kept the actual wedding cake for ourselves (we didn't cut it up for the night). It was a very pretty and traditional fruit cake.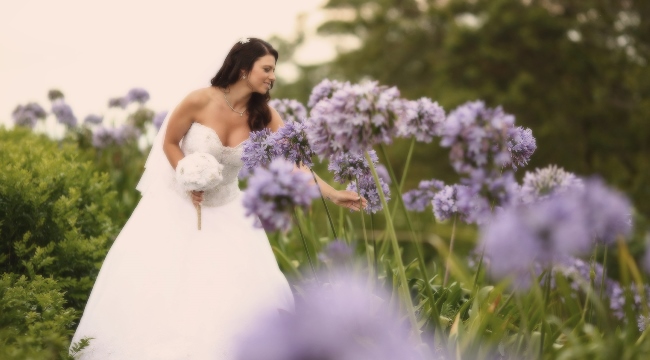 The Perfect Location
We didn't go off site at all, we were very lucky that our venue had so many great spots which meant we had more time to take more photos! 
A Celebration Between Friends
Jack not only got ready with his groomsmen, he invited his other very close friends and his dad there the morning of the wedding for a beer and a catch-up. I did the same, I spent the night before and the morning of the wedding getting ready with not only my maid of honour (my sister), my bridesmaid (my best friend), but also my mum, Jack's mum and Jack's little sister.
Bridal Party Gifts
For our bridal party we bought the suits, shoes, ties and belts for the groomsmen. For the girls we bought the dresses and all the accessories. Jack and I were very big on not putting our bridal party out financially for 'our' big day.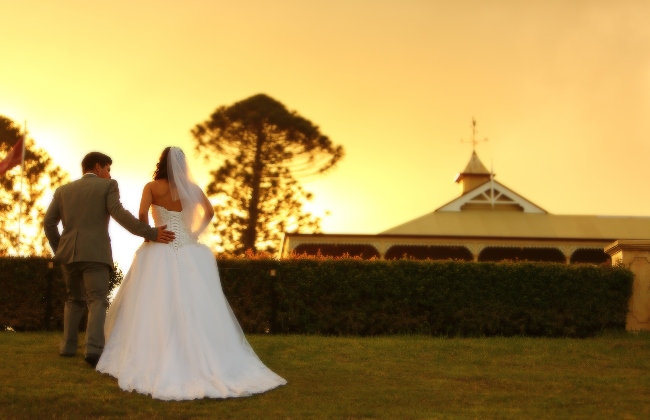 Wedding Secrets Revealed 
Biggest Splurge: The wedding venue, you get what you pay for and we wanted something really classy with quality service.
Best Bargain: I bought my reception wedding dress online for $700, instead of paying $4000! 
Bridal gown: Allure, Princess style, Hills in Hollywood
Accessories: The vintage leaf hair piece, Silver Shop; Pearl / Diamond earrings, The Silver Shop; A Dimontie necklace, Myer; A leaf ring, Panodora
Shoes: White peep toe shoes with dimontie bow, Forever New.
Bridesmaid dresses: Mr K was the designer, Sugar and Spice Brisbane
Bridesmaids' accessories: Pearl / Diamond earrings, Angus and Coote; Pearl bracelet, Angus and Coote
Groom's & Groomsmens' suits and shoes: Myer.
Rings:  McKim's Jewellery Brisbane, our rings were designed and handmade by Craig McKim
Number of guests: 98 (no children.) 
A-Listers
Photographer: Greg Gardner, First Class Photography
Hair Stylist: The Guillotine Hair Artistry
Videographer: Sam Hart / Cake: Richard at Dutchy's Bakehouse / Bombonnieres: Tea Towel Keepsakes / Transport: The Pickup Company transferred all of our guests. Jack and the boys had a 1950 Restored Classic Bentley from Private Transfers / Makeup Artist: Envious Beauty, Mountain Creek  / Celebrant: Karen Faa