Real Wedding: Chelsea & Troy in Maleny
21st January 2014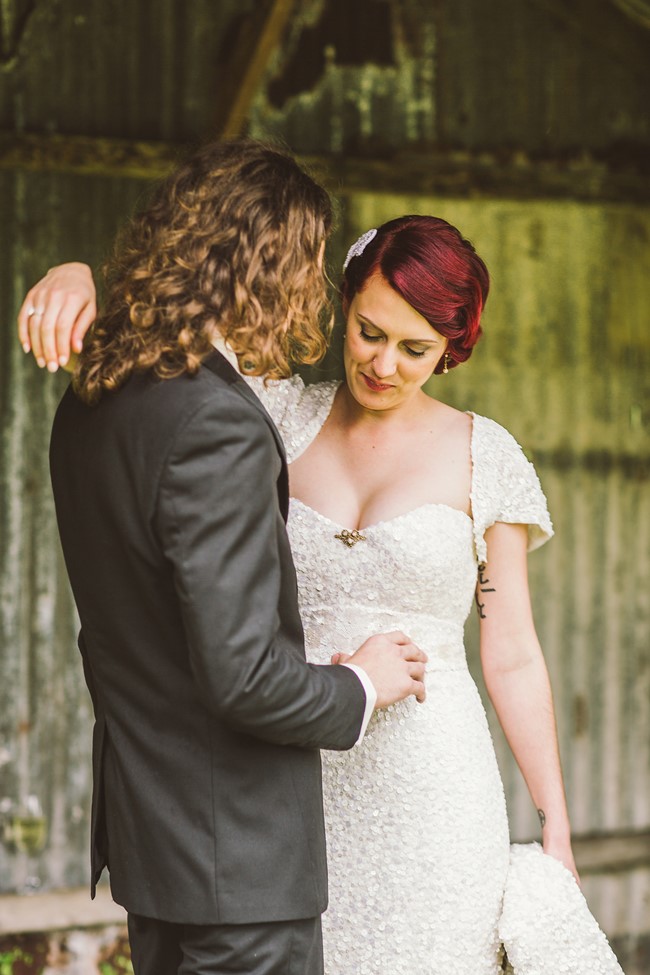 In a beautiful Maleny Manor wedding ceremony and reception, Chelsea and Troy became husband and wife. Their classic styling with a hint of vintage was a hit with their 65 guests. Music lovers to the core, they had live music at their ceremony and Chelsea arranged the best surprise ever for new husband, Troy, by bringing in his favourite band to play their bridal waltz. 
////
Take a peek at Chelsea and Troy's full wedding album here. And read their beautiful story in Chelsea's words below.  
When Chelsea Met Troy
I used to work in a CD shop. Troy came into the shop and bought a David Gilmour CD. To make conversation I told him how much I liked the CD (even though at the time I wasn't that fussed on it.) It was really just an opportunity to flirt with him. He purchased the CD and left, only to return a little bit later to offer me his phone number. 
We both understand the importance of keeping our individuality. As much as we are an awesome package we give each other the space and time to do and enjoy the things that make each of us unique.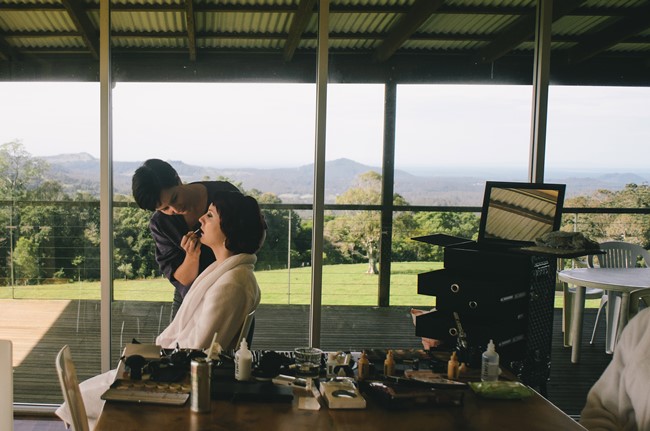 Charmaine from Powder Me Makeup & Hair prettying up the bride in the prettiest of locations.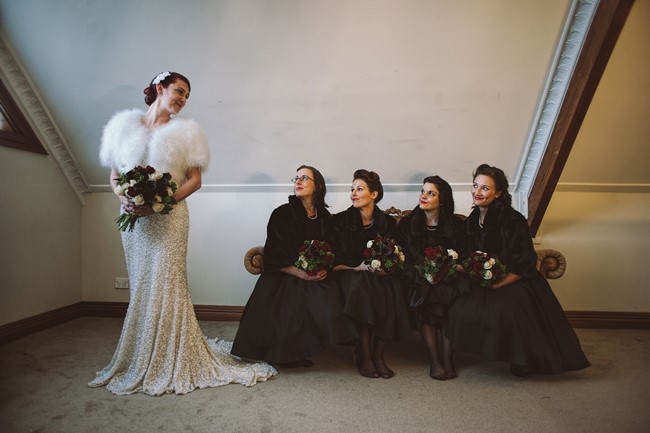 Theme and Fashion
I've always enjoyed vintage styling, so I knew that I wanted to have a vintage-styled dress. Although I didn't want a 'themed' wedding, with the style of the bridesmaids dresses and hair there definitely was a 'vintage Hollywood glamour' feel.
Once I chose my dress, I started to get more of an idea of what the 'feel / theme' of the day would be.The music/entertainment was a really important choice for us too. We (and most of our friends) are huge music fans and we really just wanted it to feel like a party for everyone.
All of our vendors were amazing to work with. They all provided incredible services / product and support not only before my wedding but afterwards as well. I would highly recommend any of them!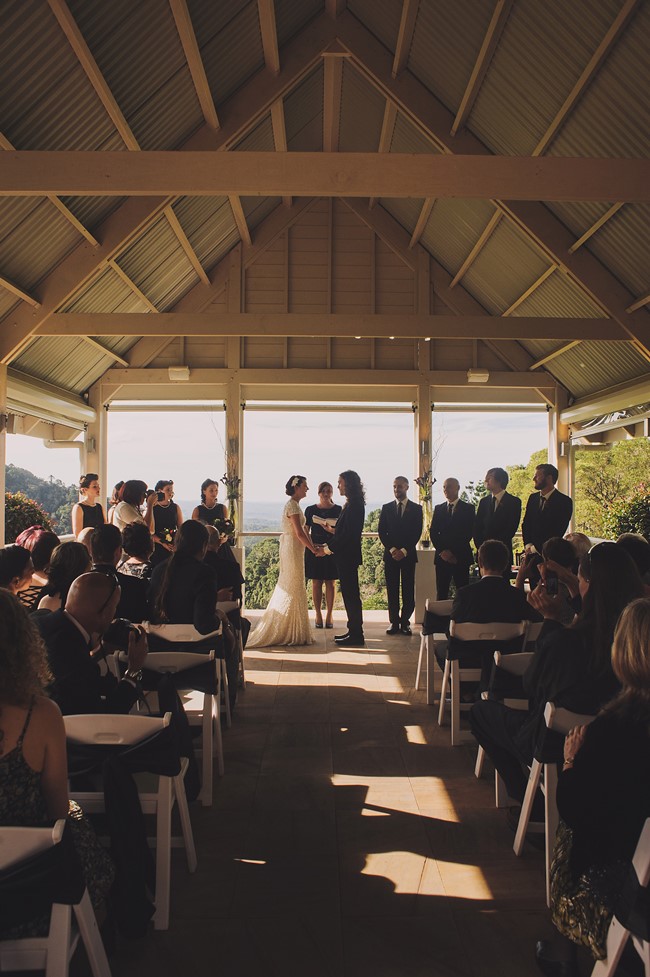 Hand Fastening
We felt it was really important to involve our family and closest friends in our actual ceremony. We chose to do this by having a hand fastening. After Troy and I had given each other our vows our Bridal party and our families came up and offered us their blessings and added to our binding ribbon.
The Wedding of Our Dreams
I got to marry the man of my dreams with my best friends and family right there by my side. Plus our puppy, Chevy was our ring bearer. Throughout the whole ceremony and garden party we picked songs and albums that carried meaning to us through our relationship.The venue offered such a spectacular backdrop for our photos that we didn't have to leave the property.
The Big Surprise!
The opportunity came up to get one of Troy's favourite bands to play as a surprise for him at the Reception. I had to arrange with the groomsmen to get him out of the room for close to half an hour as the band set up. Troy was blindfolded and bought into the room as our bridal waltz was announced. As I took his blindfold off, he was confronted with REGURGITATOR playing for our Waltz. His face in the photos, says it all!
The Honeymoon
We hired a camper van a took 5 days to drive down the east coast to Melbourne. Then we stayed in Melbourne for 6 nights before heading to the Snow at Mt Buller for three nights. Then we flew home.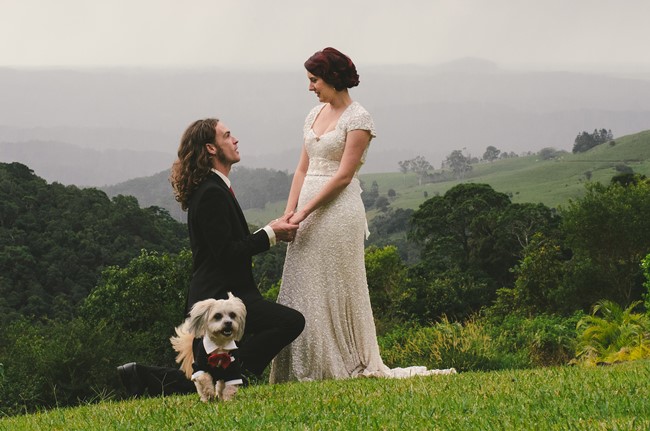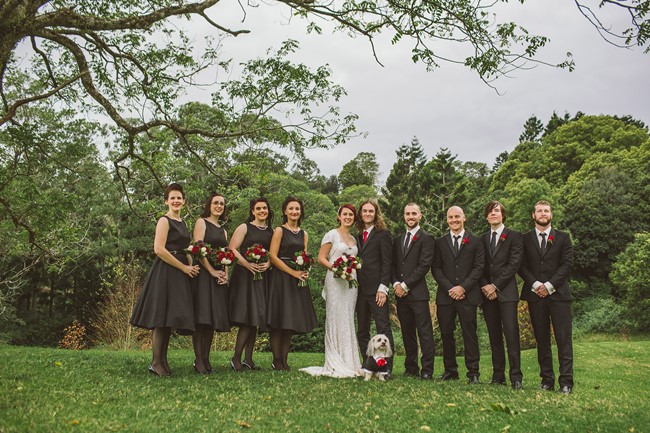 Wedding Secrets Revealed
Biggest splurge: The venue, and worth every cent!
Best bargain: The bridesmaid dresses were only $40 from Ebay!
Bridal gown: Karen Willis Holmes 
Accessories: I wore an antique brooch that all the women in my family have worn on their wedding day. (Love knot with seed pearls and opals).
My earrings were Edwardian era purchased off ebay from UK. (18ct gold drop with pearls) And I wore and antique ring that Troy's late mother gave to me. It belonged to her grandmother.
Shoes: Famous Footwear
Bridesmaid dresses: 8ball Rampage Ebay store
Bridesmaids' accessories: Fresh water pearl necklaces with matching earrings from Myer. They also wore Faux Fur stoles from Just Add Bling boutique in Burpengary.
Groom and groomsmens' suit and shoes: Hired from Sugar & Spice – Chermside. Shoes from Target
Rings: Rivers Jewellers
Number of guests: 65
A-Listers
Florist: Mondo Floral Designs
Photographer: Torsten Baumann Photography /Makeup Artist: Powder Me Makeup & Hair / Hair Stylist: Dot & Birdie Hair & Beauty / Entertainment:  Ben Eaton – Rooster Entertainment / Stationery Supplier: Brooke Hayward / Celebrant: Joanne Lincoln – Big Love Weddings & Celebrations / Wedding Night Accommodation: Maleny Manor / Cake: Eden Cupcakes