Real Wedding: Judith & Kevin at Maleny Manor
7th September 2014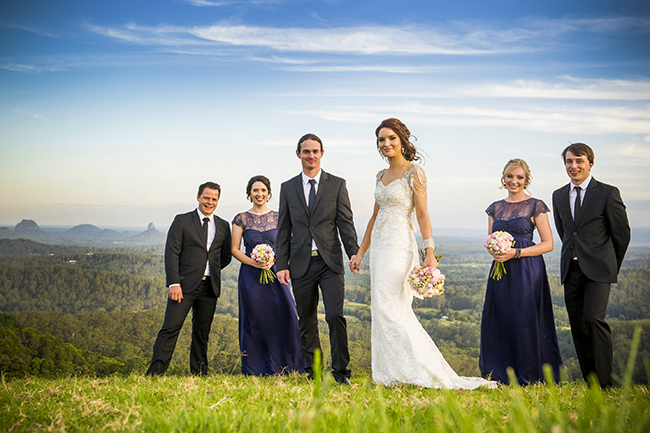 Four years after they first met through a mutual friend, Judith and Kevin married in a stunning ceremony overlooking the Sunshine Coast hinterland at the iconic award-winning Maleny Manor.
Creative Judith tapped into her childhood and youth, and chose a theme that resonated with her, having marked so many moments in her life. Alice in Wonderland was the source of childhood joy via the Disney movie and teenage fascination as Judith read and re-read the book over and over, being inspired to create artworks based on the well-known characters and the world in which they lived.
And so their reception was a Mad Hatter's Tea Party! So as you take a peek at the beautiful images by Renee Brazel Photography and amazing styling by Moments in Vintage – Furniture & Decor Hire, I will leave you with my personal favourite quote of all time.
"Of all the silly nonsense, this is the stupidest tea party I've ever been to in all my life!" – Alice, Alice in Wonderland, Disney animation.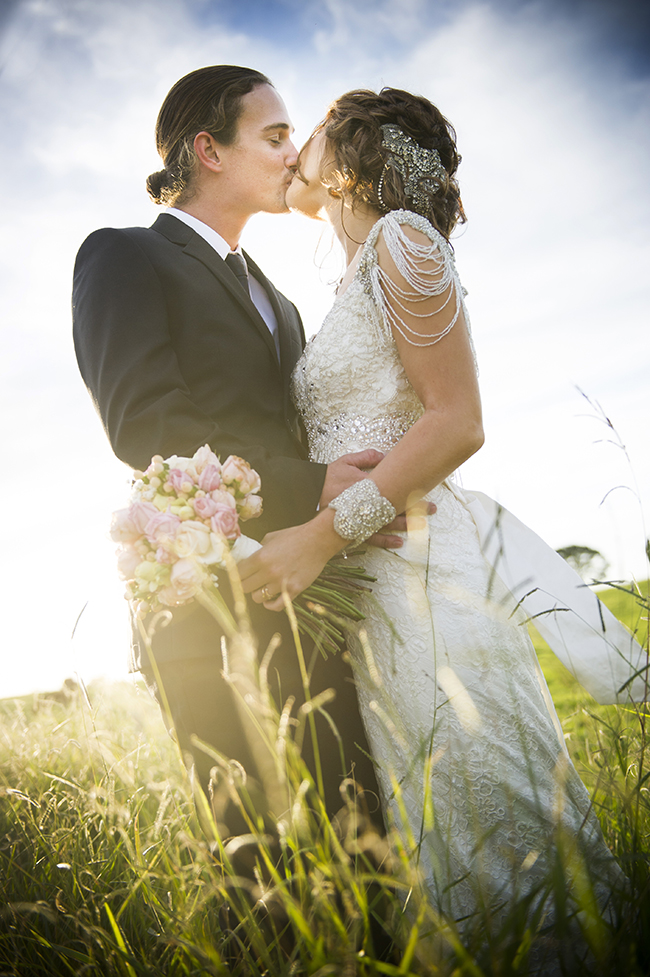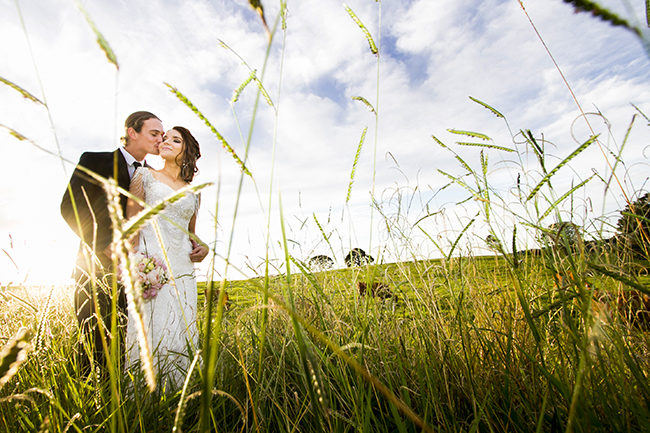 "My brother sang 'Without You' (by Eddie Vedder) as I walked down the aisle."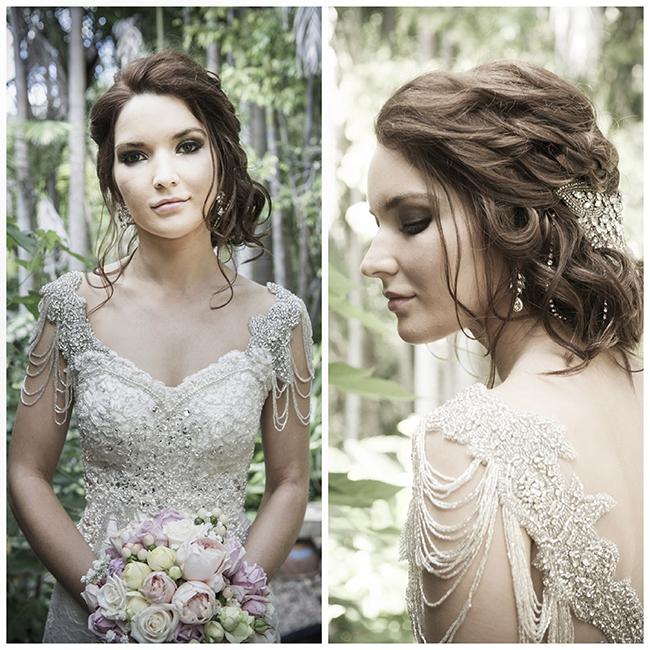 "It's all a blur to me now but I spent a lot of money on my dress – priority number one! Then hair, makeup and a good photographer; I wanted us to look good."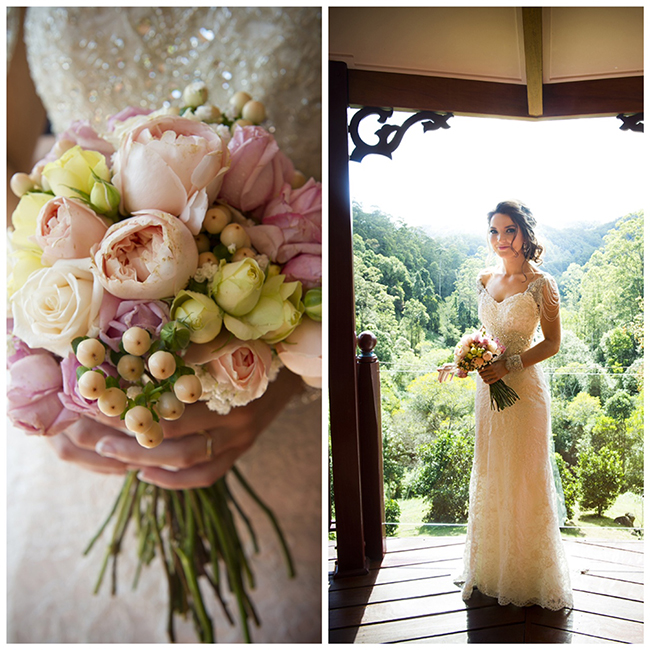 "Take off your heels for the reception and wear flat shoes. Best decision ever."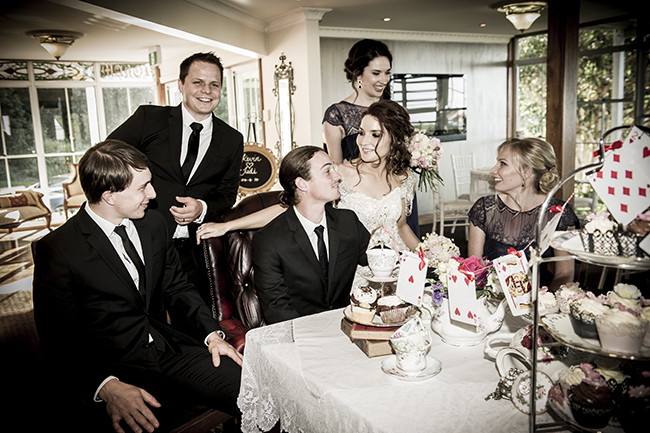 "the fact that it was a small wedding meant that I felt more relaxed around my friends. I still struggled to talk to everyone. I was especially glad to spend time with my siblings (particularly my brother who lives in Japan)."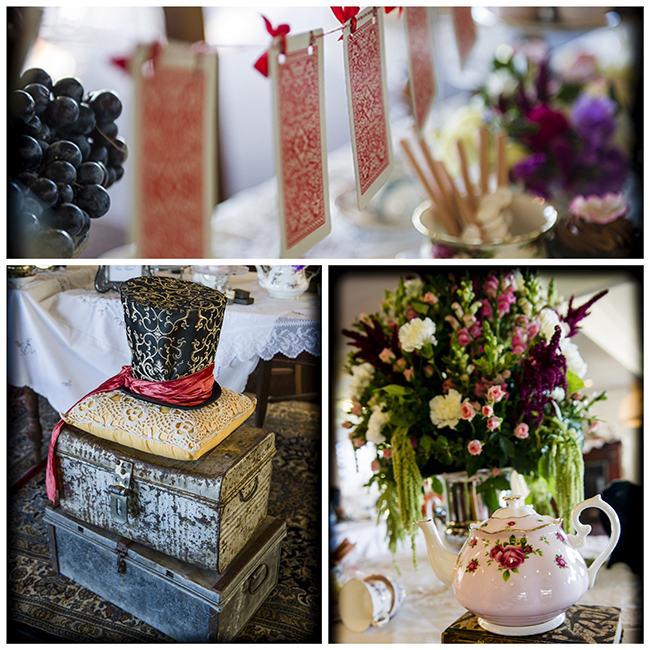 "I love old-fashioned things. I ended up tying that up with an Alice in Wonderland theme. Which suits me because in high school I read the book over and over again, watched the Disney movie when I was a kid and did many drawings and paintings that had connections to Alice in Wonderland. Mostly I just wanted everyone to enjoy the day so we had giant Jenga and croquet and a photobooth with props.
"We had a lot of help. We got our friends to drive us on the day and some other friends to do the 'order of service'. My work friend did this amazing floral display for me and my closest friend made the wedding cakes"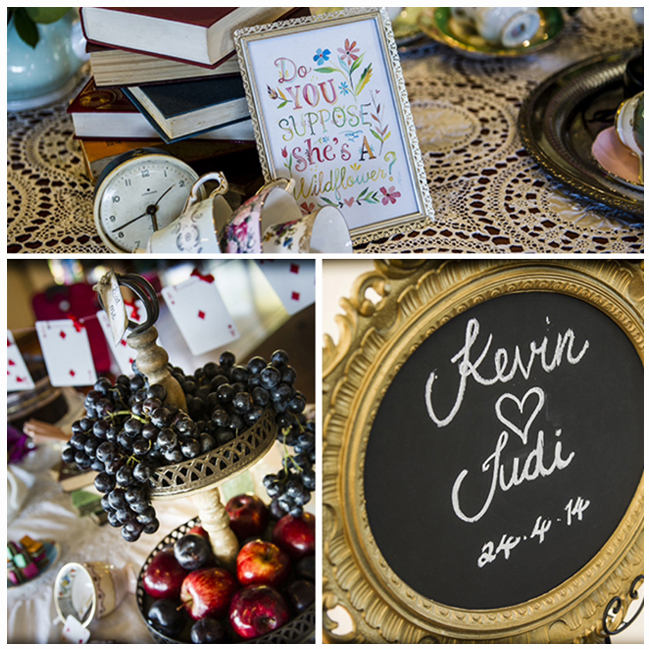 Wedding Secrets
Biggest splurge: Reception & Styling
Best bargains: Cake & Floral Display (personal connection) 
Bridal gown: Helena Karkovic (Helena Couture Designs)
Accessories: Johanna Johnson headpiece
Bridesmaid dresses: Anna Campbell (Indianna dress)
Bridesmaids' accessories: Lovisa
Groom's and Groomsmens' suits: David Robertson
Rings: Judith's: Christian Dior. Kevin's: His Dad's.
DIY: Tags, guest book, cake, red couches. 
Honeymoon: Bali
Number of Guests: 64
Wedding Budget: $20,000 
A-List Vendors
Decorators: Moments in Vintage – Furniture & Decor Hire
Makeup Artist: Natalie Hunter Makeup Artist
Florist: Toni Fielder (for the big floral display), Mondo Floral Designs (for bouquets etc.)
Photographer: Renee Brazel Photography
Venue & Catering: Maleny Manor
Rentals: Adorn Events & Fancy Tea
Photo booth: Photobooth2U 
View Judith & Kevin's full wedding album and see all the gorgeous details.