Real Wedding: Tegan & Emmanuel in Maleny
6th April 2014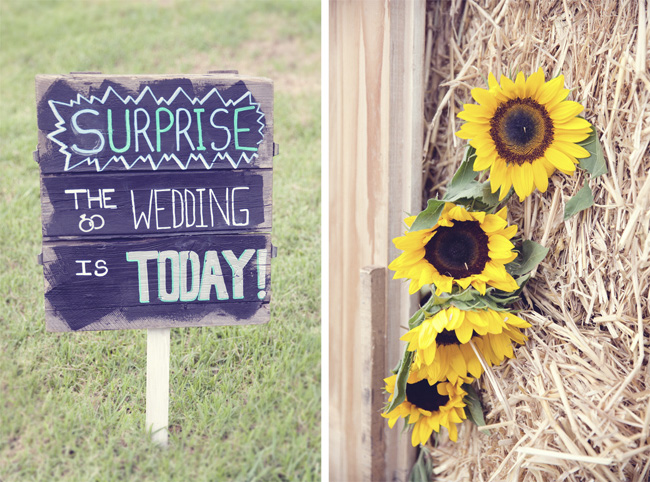 Not wanting all the fuss and time-consuming planning of a traditional wedding, Tegan and Emmanuel decided to turn their engagement party into a surprise wedding for their 100 guests at the expansive Maleny Retreat. The 100-acre property has plenty of accommodation and even additional camping grounds, so they made a full weekend of it and had a fabulous fun fair wedding day with their nearest and dearest. 
Marion Jonkers caught all the festivities on camera. 
Surprise Wedding
We didn't want a bridal party, boring speeches, the excessive planning and decorating that is the usual expectation. So when it came to planning our wedding we wanted to do something a bit different. We were very busy with work and were in no rush to organise a wedding quickly. We started to organise our engagement party and thought, why not do a wedding the day before with our close family and friends as a surprise. 
Paddock Party! 
Our wedding was a fun, relaxed, country style "Paddock party" with a funfair atmosphere  under a red marquee. We had a food vendor van, photobooth, arcade machine, giant Jenga game, self serve popcorn and ice cream machines. We chose eclectic decor – bunting, festoon party lights, Persian rugs and large red velvet floor cushions and lanterns adding a Moroccan element.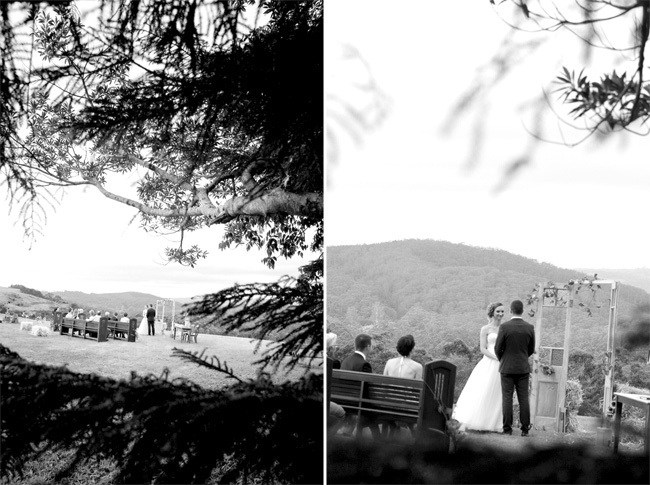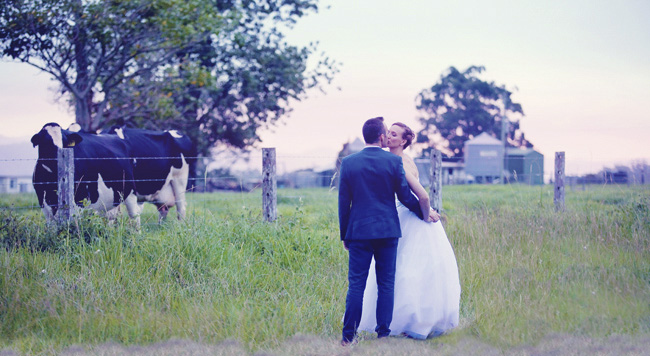 Bridal Party Photos
Joy, the wedding co-ordinator at Maleny Retreat, drove us and our photographer, Marion Jonkers, around the beautiful 100-acre property to several stunning  scenic locations for photos. She even drove us up the road to capture  the sunset over a neighbouring dairy farm and we had some photos taken with some Friesian cows.
Weekend Getaway for Everyone
We wanted a weekend and not just one day as people travel large distance so we wanted to make it a worthwhile catch up. We finally found the perfect place where we could stay with everyone and then book what we wanted on top of that. Maleny Retreat accommodated us and our family as well as supplying a-frame tents for our guests to stay in. For a few others they were able to set up tents to stay in. This was great as it saved people paying for accommodation and not having to worry about drinking and driving.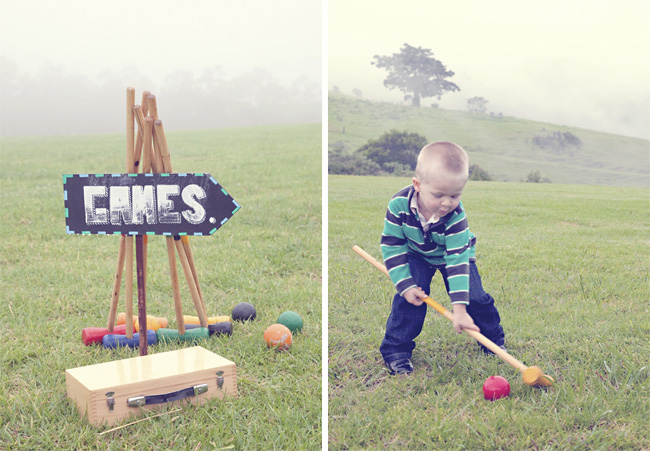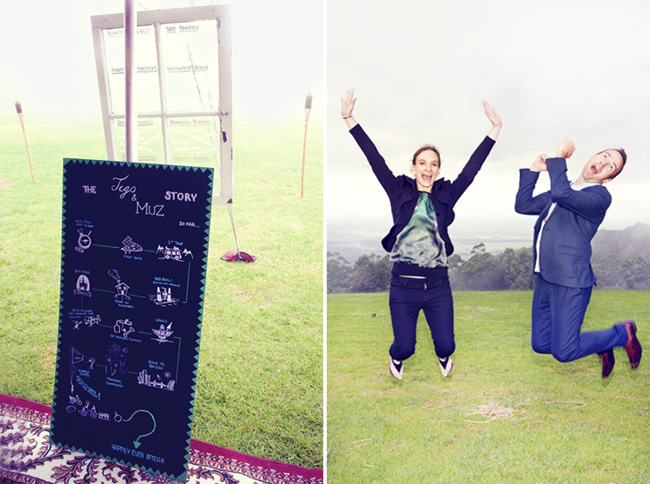 Food Van Catering
Food for the night was easy and fantastic. We looked into caterers and couldn't find anything within budget that would keep everyone happy. Then I came across a business called the Pasta Cruiser and they could accommodate gluten free, vegetarians and the mass crowd of hungry boys. The were friendly, arrived early, the food was fantastic and filling, their van was professional and offered heaps of variety as people got to go up and order their pasta and then choose their sauce. The food was cooked to order, which made time for great conversation for people lining up.
Dance Lessons
Secretly three weeks before they wedding we had five dance lessons to put a routine together for our first dance together to the song by Frank Sinatra 'Under my Skin'. It went great, but we were a few steps behind as by this time we had both had a couple of drinks.
Personalised Wedding Favor
Emmanuel's mates made home brew which was bottled with personalised labels featuring the bride and groom ( Tegs and Muzza ) as a surprise gift.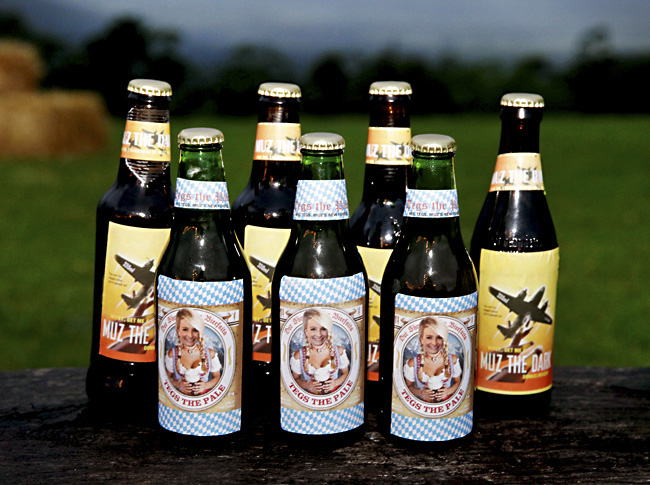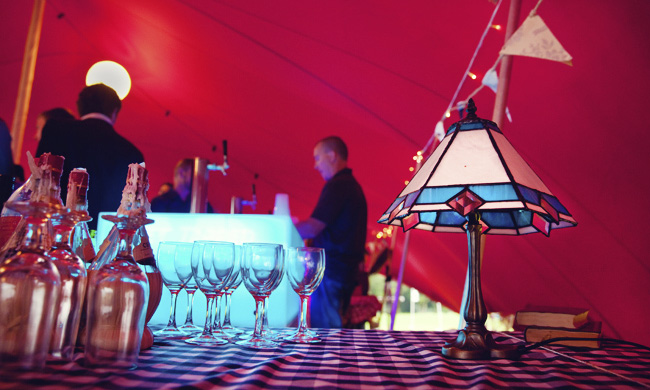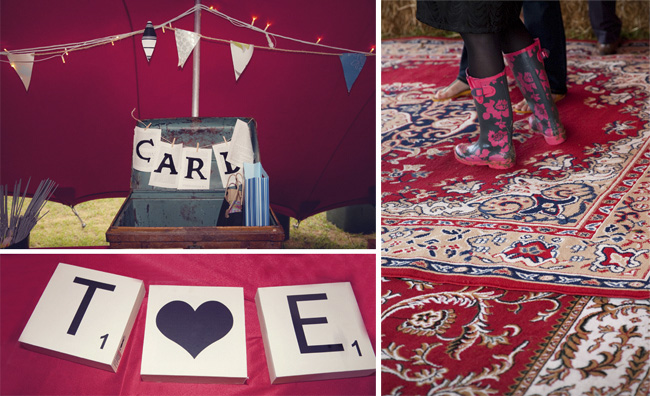 Delightful Photography
I booked Marion Jonkers as our photographer and could not have picked better. We had a small budget and only booked her two weeks out as we weren't certain on getting a photographer. I'm so glad we did though as the photos and her professionalism were outstanding. She understood we just wanted some natural shots and didn't want the typical painful three hours of wedding photos done but just to capture our day and our friends and families happiness.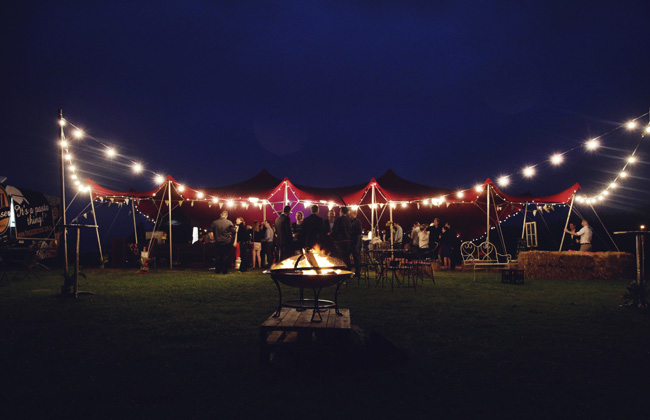 Wedding Secrets 
Best bargain: My dress was $400 from Penny Lane Bridal. We tried to do a low budget wedding. 
Rings: an antique diamond engagement ring from London, which was made during World War II (as we are both in the military) and a wedding band made to fit.
DIY: Bouquet, Ceremony flowers and decorations and ceremony back drop. Home brewed personalised label boutique beers featuring the bride and groom. 
Number of guests: 100
A-List Vendors
Photographer: Marion Jonkers Photography
Celebrant: Margarita Priori-Smith
Venue + accommodation: Maleny Retreat
Cake: Raw Sugar Café in Toowoomba / Marquee hire: Nomadic Tents / Arcade game hire: Widespread Amusement / Hair & Makeup: Mooloolah Hair Studio /