Romantic Maleny Manor Wedding
22nd January 2012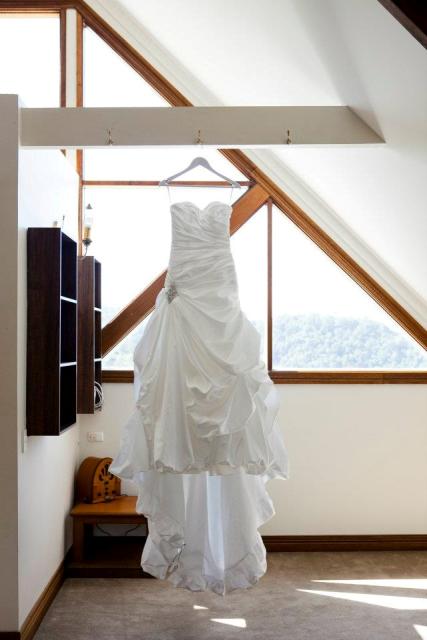 Deann and Gregg met three years before their Sunshine Coast wedding on a blind date, set up by a work colleague of Deann's, who was sharing a flat with Gregg. She had a hunch these two would get on, and gee was she right! The pair describe themselves as best friends, and base their relationship on mutual respect and open, honest communication.
Upon becoming engaged, Deann and Gregg wanted to lock in their dream location as soon as possible. With a theme of soft, elegant romance in mind, they certainly found what they were looking for in Maleny Manor. It was love at first sight, not just with the venue itself, but the grounds, views, the surrounding areas so perfect for beautiful bridal party photos and the outstanding staff.
Deann says locking in the venue first really set the tone for the rest of the styling, and her dream wedding day came together perfectly. Deann, Gregg, their 10 attendants and 82 guests were treated to delicious canapes, followed by a three-course alternate drop of seafood, chicken, lamb and eye fillet, then a cheese board and wine after dinner. By all accounts, the menu and service at Maleny Manor was nothing short of absolutely brilliant.
"My mum came wedding dress shopping with me which was really sentimental to me, we are very close and it's every girls dream to have her mum help in the decision of what dress I LOVED and chose."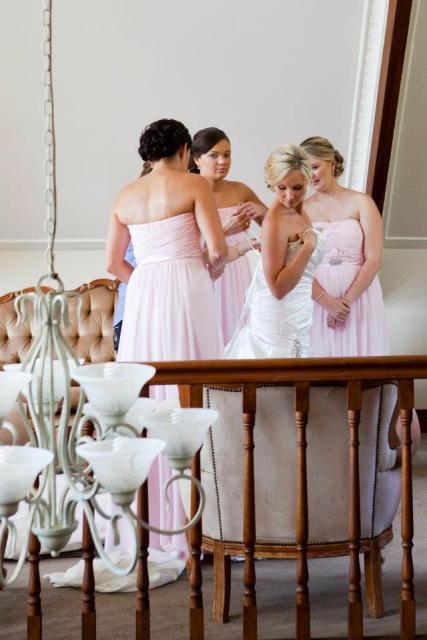 "My Dad passed away when I was ten, so my little brother, Luke, gave me away. Luke was diagnosed with Leukaemia in August 2010. He did four stages of Chemo over 6 months and then I did a Bone Marrow Transplant for him in March 2011. It was touch and go as to whether Luke would be able to give me away and be at the wedding, but we were blessed that he was well enough to be there. It wouldn't have been the same without him there to give me away. This made our day very special."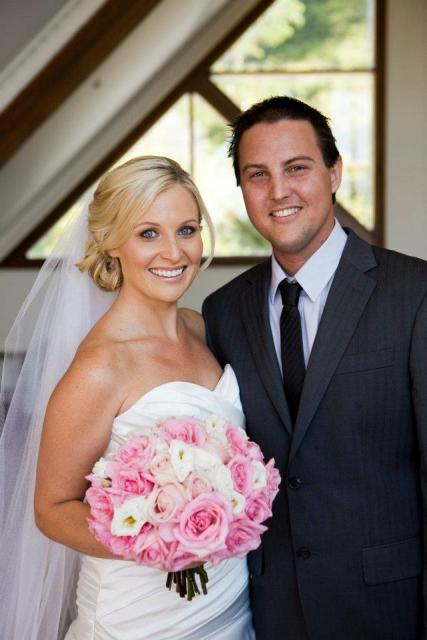 "The girls were given earrings and bracelets and the boys were given cufflinks. Gregg gave me a Sapphire ring and I gave him Chanel Bleu Cologne"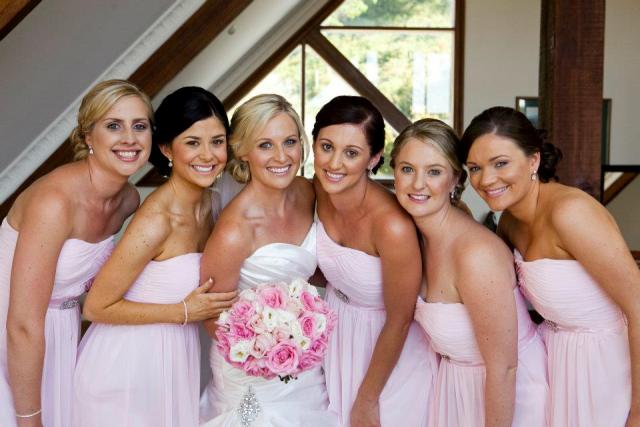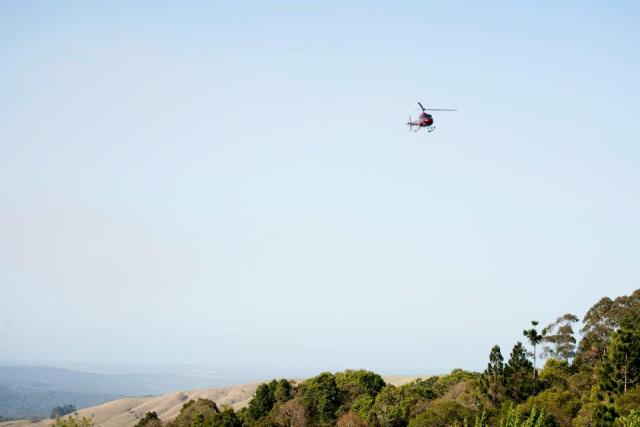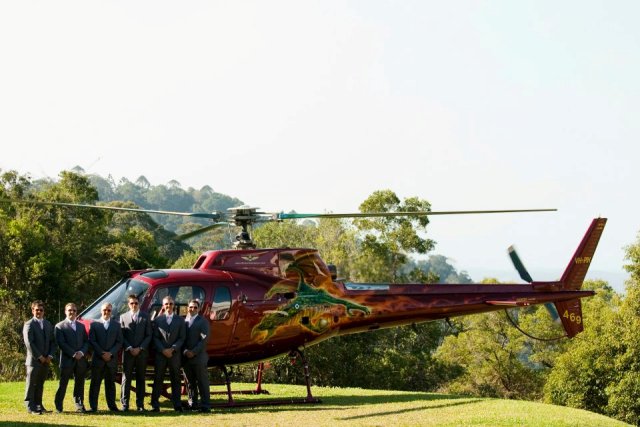 "We had a lovely beautiful spring day with clear skies a tad bit of a breeze. We were so lucky."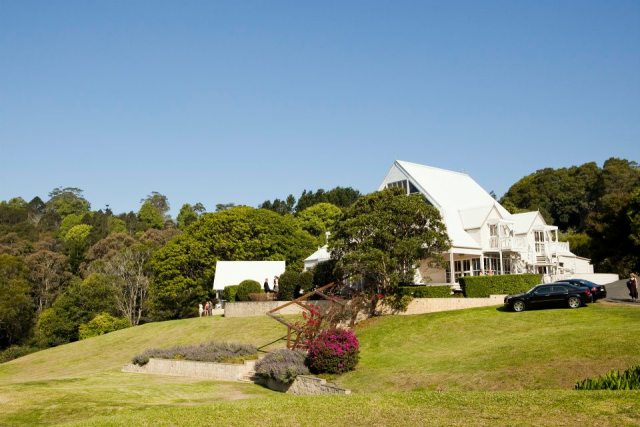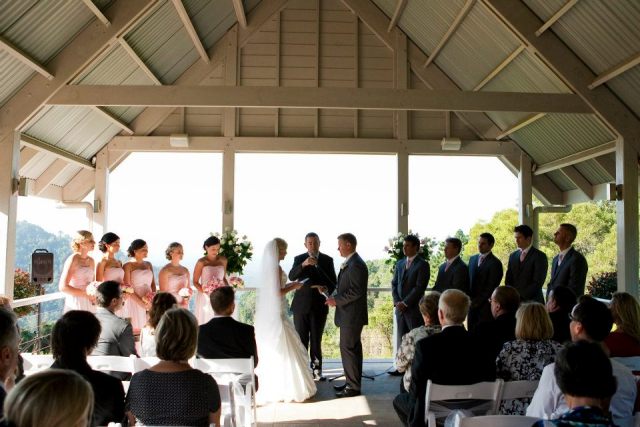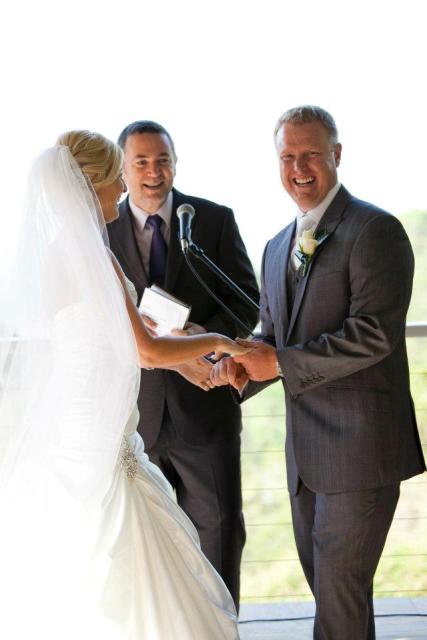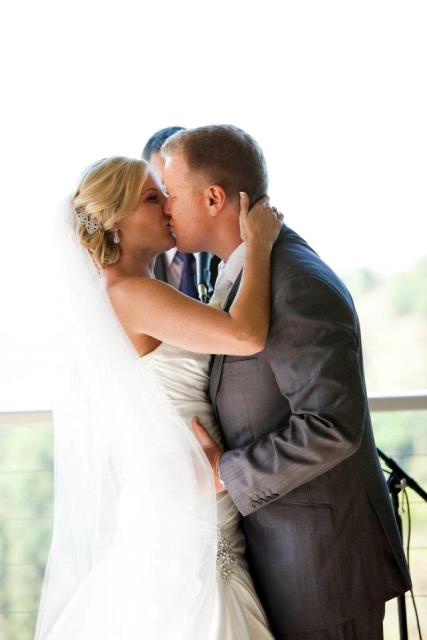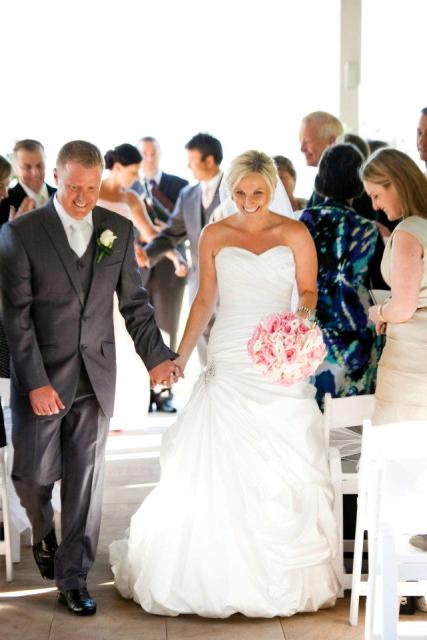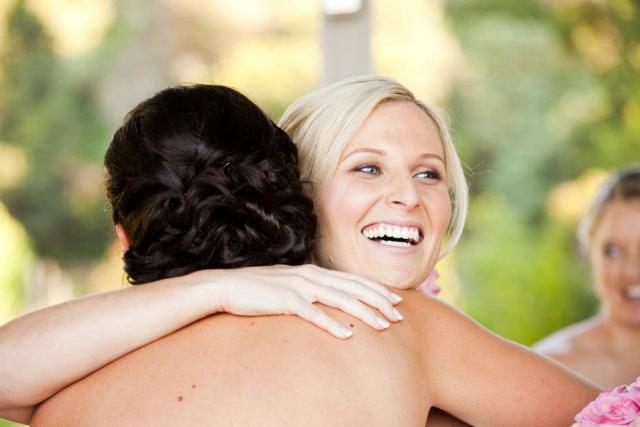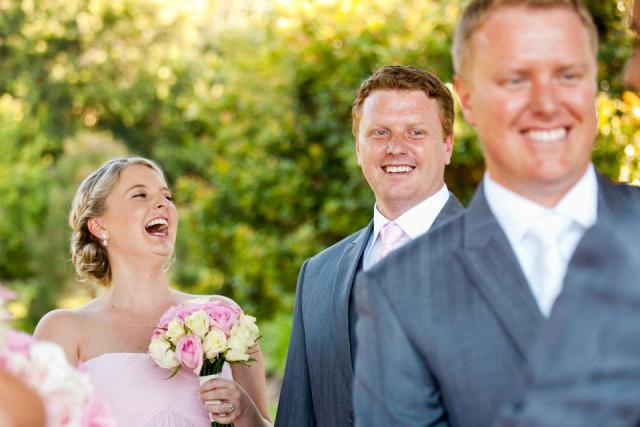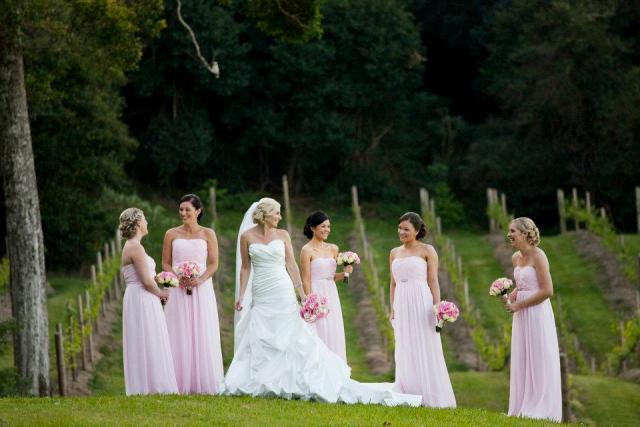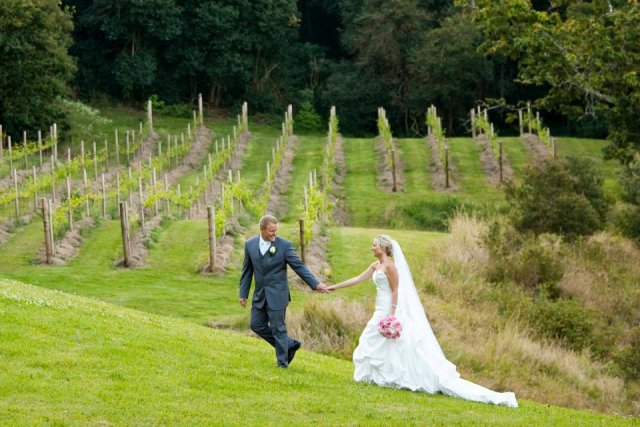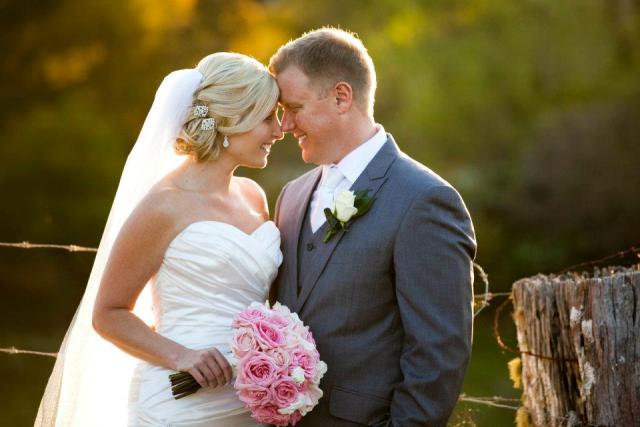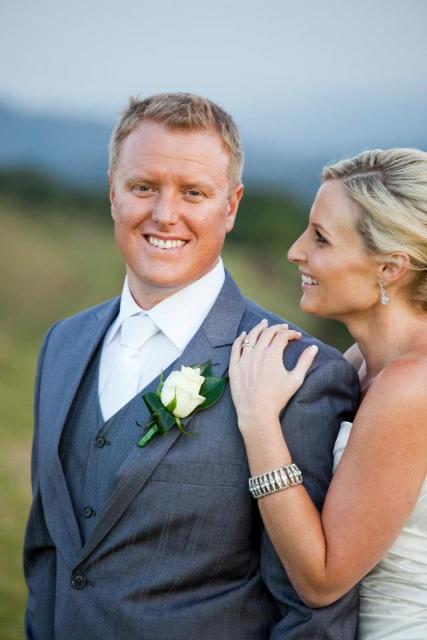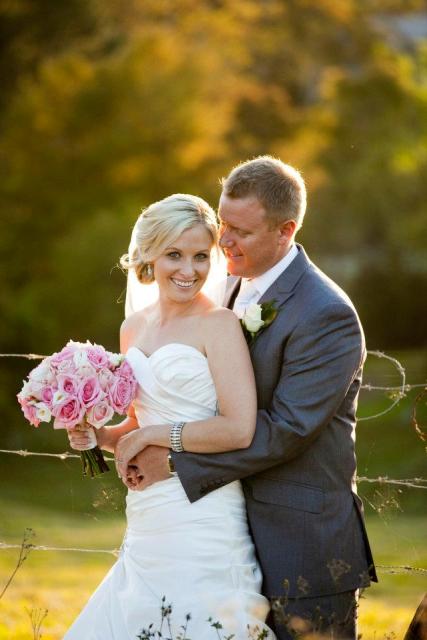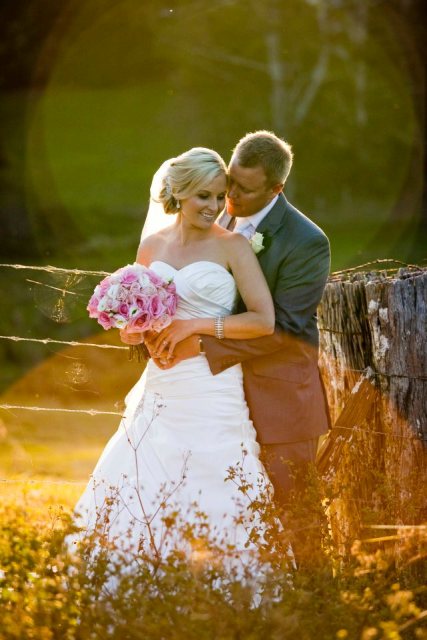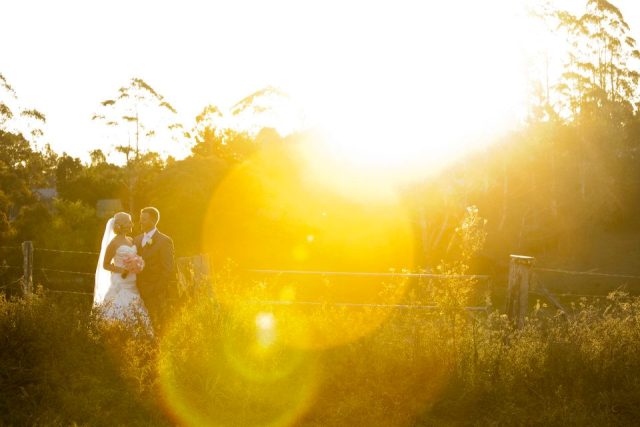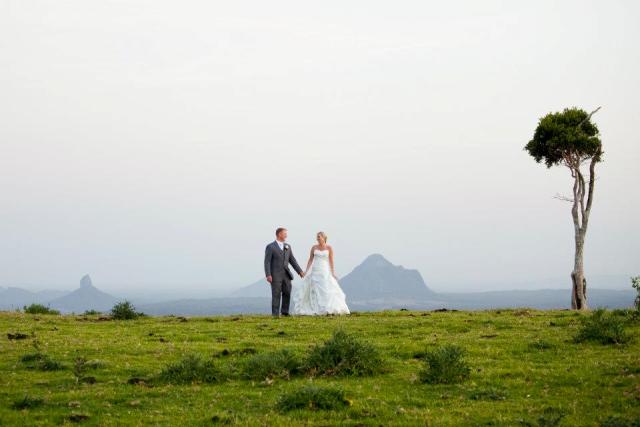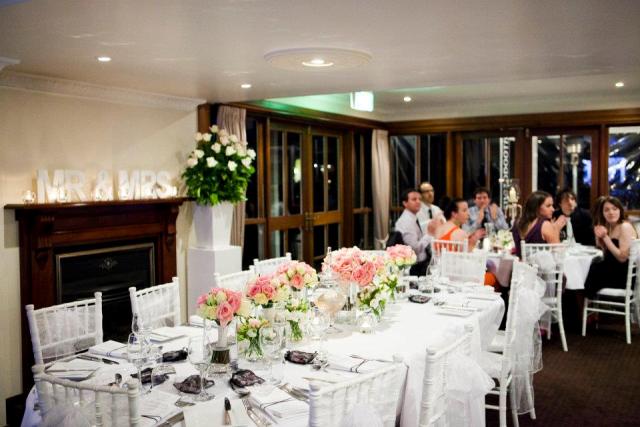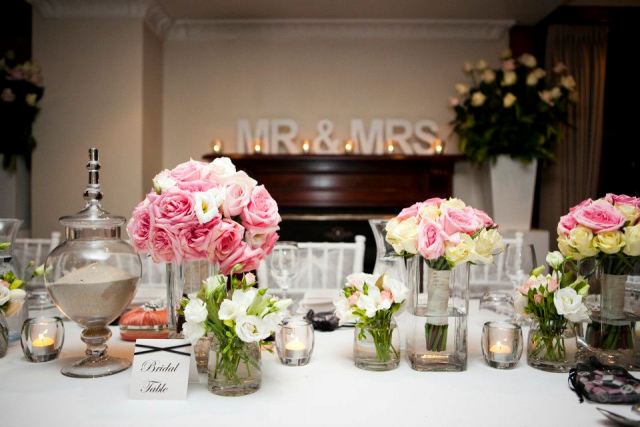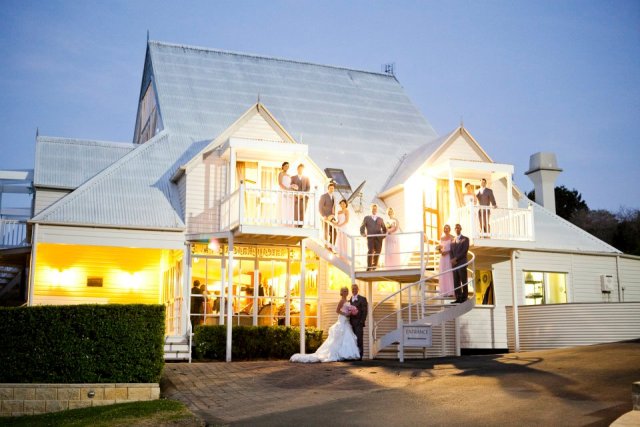 Deann and Gregg's Wedding Secrets Revealed
Biggest Splurge: The venue – Maleny Manor, (worth every cent), and the photography.
Best Bargain: One of Gregg's mates works at Caloundra Airport, so we were able to arrange a helicopter for half price.
Bridal gown: Casar Elegance Boutique Maggie Sorreto Designer $2500
Accessories: Earrings were from my Mum from Ellani Collections
Shoes: Novo Shoes $120
Bridesmaid dresses: Bari Jay style number 121 $150
Bridesmaids' accessories: Earrings and bracelet from Hollywood Style – $50
Groom and groomsmen's suit and shoes: Suits Direct they bought their own which cost them $199 they wore their own shoes
DIY: Menu cards, table cards, seating plan, and the large LOVE letters were cut out of Styrofoam for the bridal party photos.
Total wedding cost: $32,000
The Hand-picked Team That Made It All Happen
Photographer: Jen Oliphant from Calli B Photography
Cake: Ideas in Icing
Bonbonnieres: Candy from Montville Candy Addictions
Transport: Becker Helicopters
Makeup Artist: Kim Image Specialist
Hair Stylist: Evalyn Parsons Hair
DJ: Rockin u Wild
Stationery Supplier: Dreamday Invitations
Officiary: Pastor Ashley Goode
Deann's best advice for other brides: "Have a checklist and get things booked way in advanced and to create a budget spreadsheet to keep track of what you're spending." Fortunately we have put together some Planning Tools that will make this super easy! It's simple, just download and print.