Get the Look: Mexican Wedding Fiesta!
12th November 2012
There is no denying our Mexican Wedding Fiesta in October 2012 volume of The Bride's Tree magazine is (and forgive the cliche) a feast for the eyes. It is positively delicious in every way. The use of rich colour and glamour against the relaxed rustic setting of Yandina Station is to die for. Yesterday we shared with you some of the many, many photographs by Adori Studios that we couldn't fit in the pages of our free online bridal magazine. Yesterday was all about the styling, while today it's all about the look.
Our gorgeous models Francesca and G sure make this unique Mexican wedding theme look amazing, and we show you how you can achieve the same look. If you want a Mexican wedding on the Sunshine Coast, here is how you will look the part on your wedding day.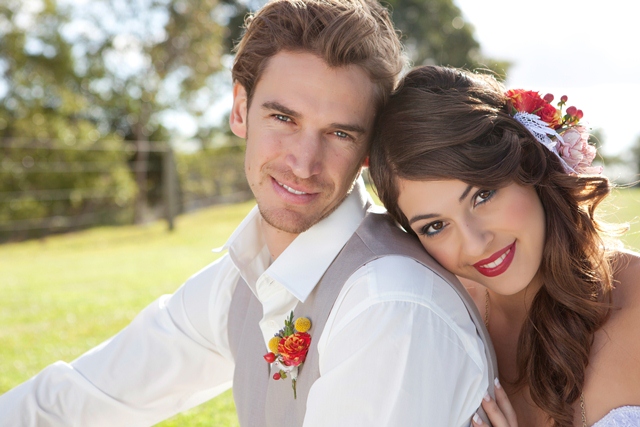 Drown-in-me brown eyes look amazing with a soft smokey brown, defined naturally and highlighted underneath with brilliant blue, that ties into the Mexican styling and offsets the beautiful red lip. A creative and striking makeup design by Natalie Hunter Makeup Artist.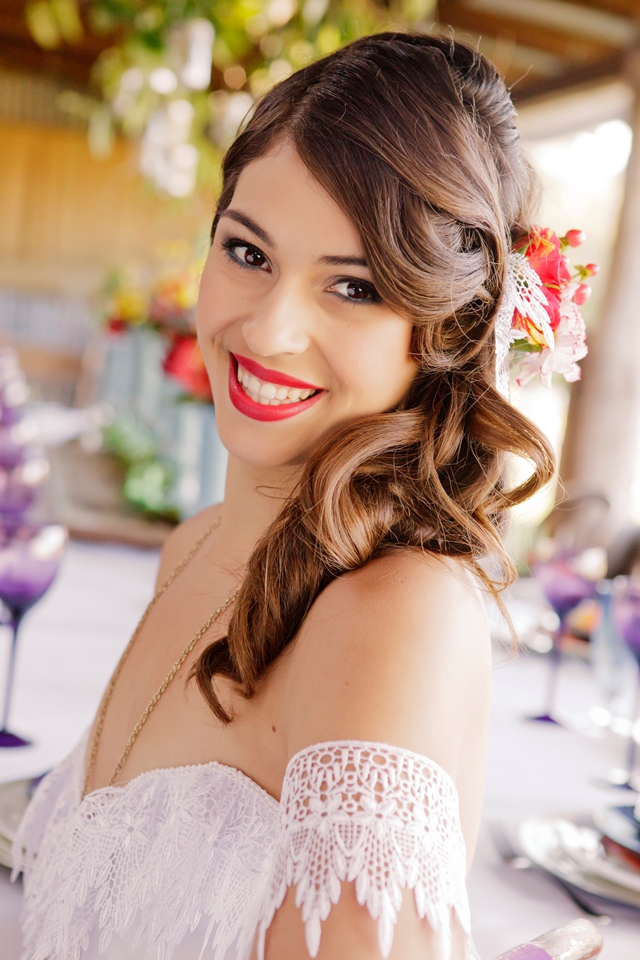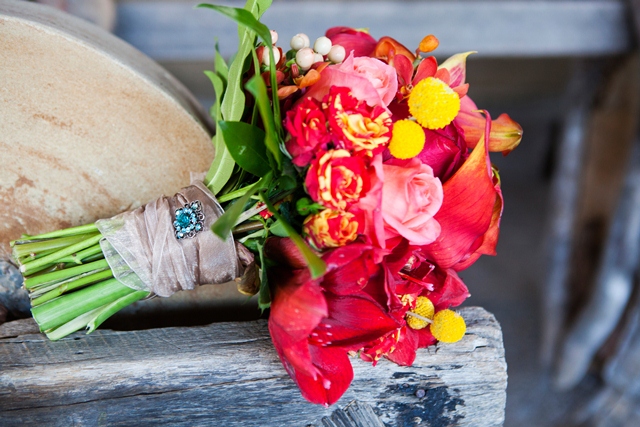 Brilliant red and yellow roses and billy buttons with accents of pretty pink make for a stunning bridal bouquet for Mexican wedding. Carefully bound with pretty ribbon and a something-blue brooch pin by the creators of the pretty posy, Blooms of Noosa.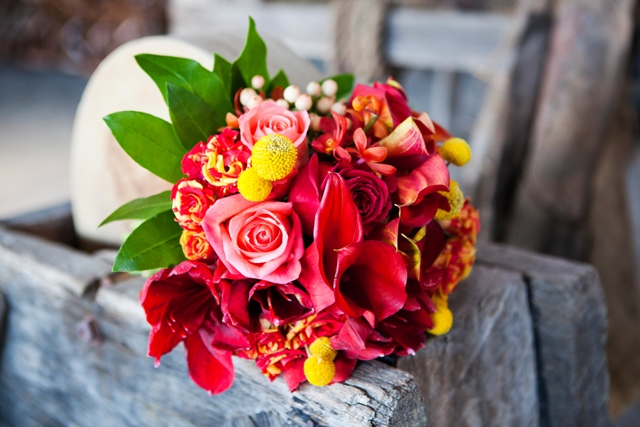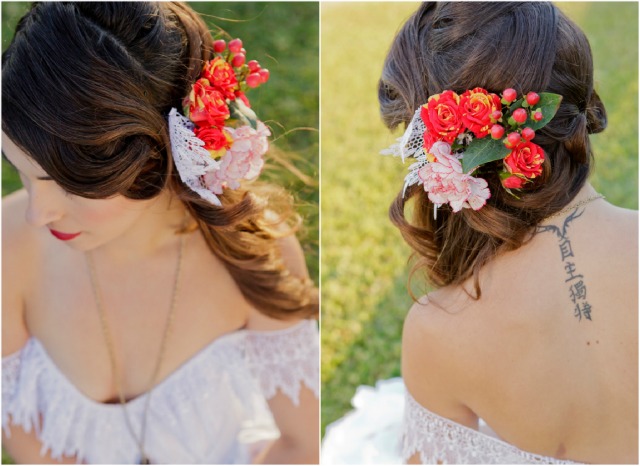 Soft curls to one side with intricate pin curl detail in the back makes for a glamorous, yet natural style for a rustic glam Mexican wedding! Liz from The Guillotine Hair Artistry is the one responsible for creating Francesca's incredible bridal hair style.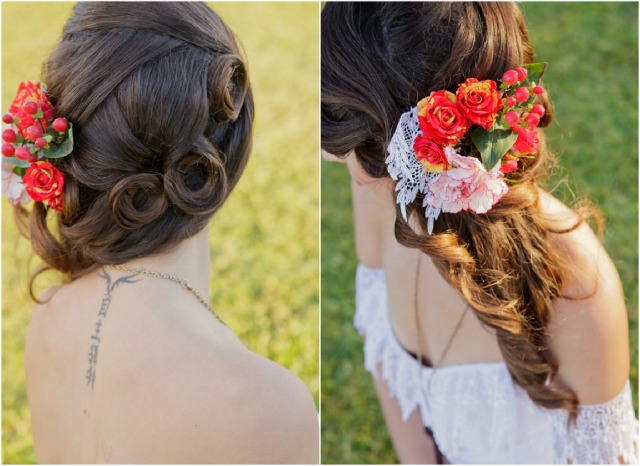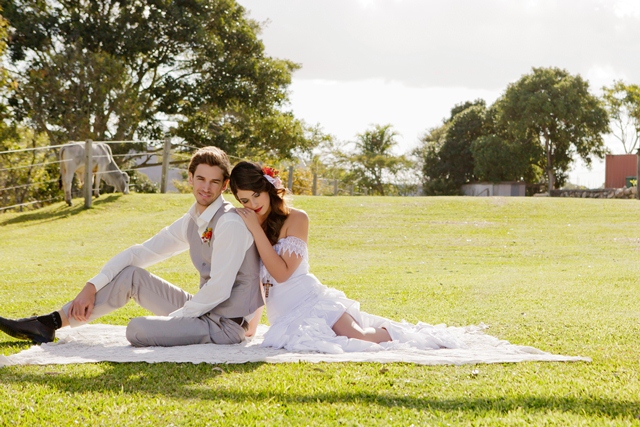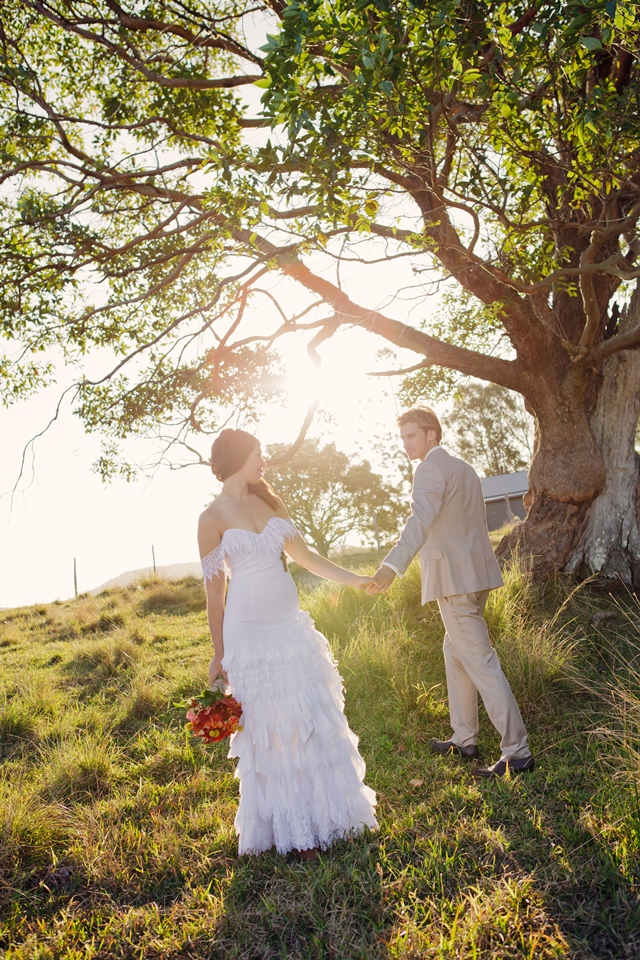 Our stunning bride, Francesca, is dressed in a couture gown by Judy Copley Bridal, a Caloundra-based designer, who custom-designs and makes the most amazing bridal gowns. Judy is one seriously talented lady, who knows the female form so well, she creates flattering styles to suit any wedding theme. Meanwhile our dashing groom, G, is dressed by Suits Direct, located in Mooloolaba. Suits Direct have an extensive range of men's suits with both hire and purchase options. G's grey suit and ivory shirt are perfect for a rustic wedding in the country.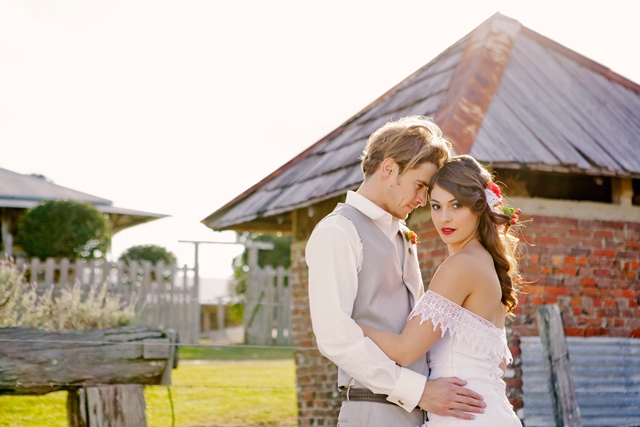 We love the interchangeable options for a groom, especially considering our warm weather on the Sunshine Coast. Your groom will appreciate being able to take off the jacket and kick about in his waistcoat once the ceremony is over. For a rustic wedding, it's even acceptable to throw caution to the wind and go shirt only for the reception when everybody is kicking up their heels in the barn! Suits Direct have some great ranges with all the options available.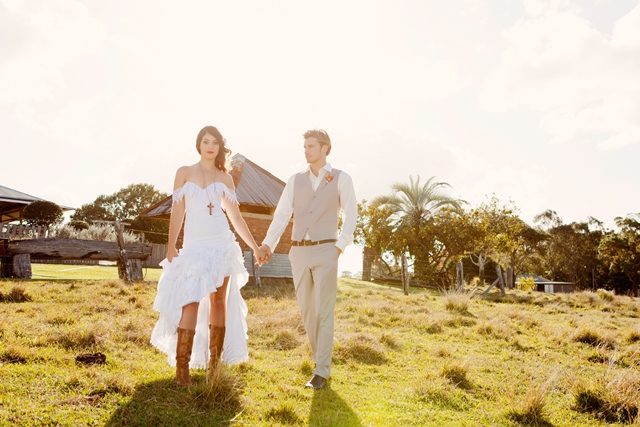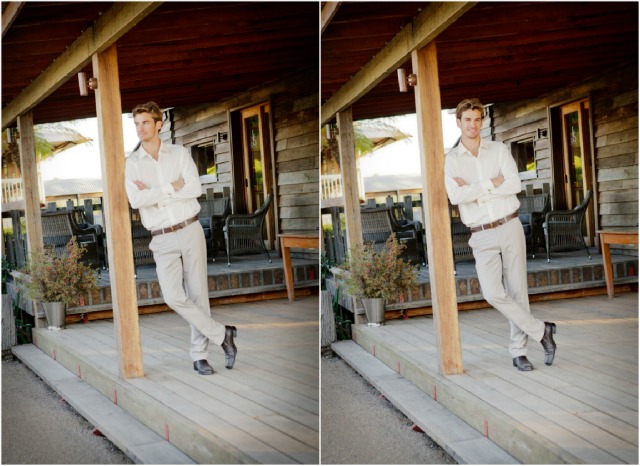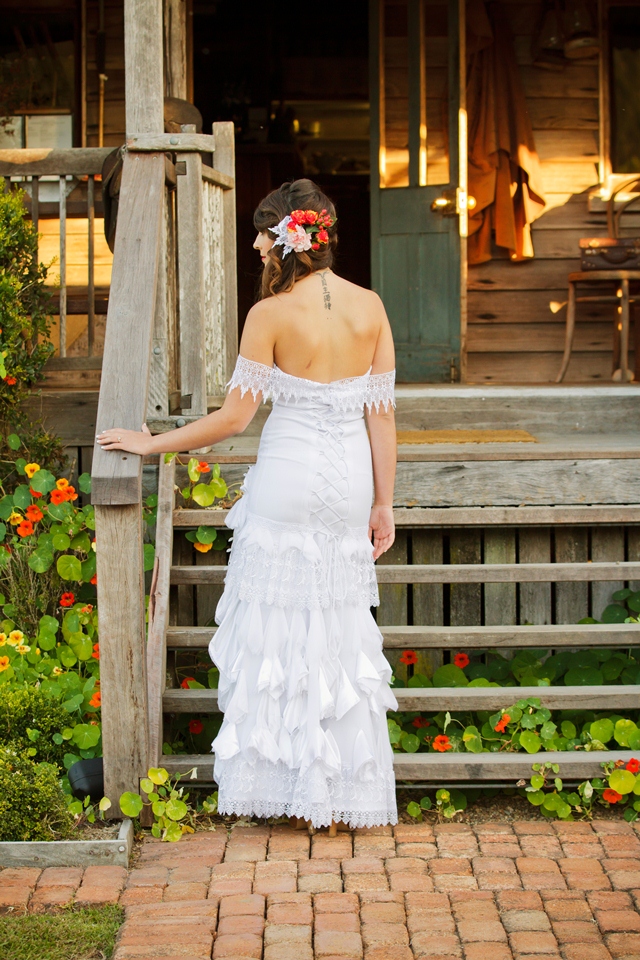 Our Mexican Wedding Fiesta Styled Shoot Dream Team
Shoot Coordinators – Sally Townsend and Jenny Cooper
Photography – Adori Studios
Styling and Decorating – Splash Events
Flowers – Blooms of Noosa
Makeup – Natalie Hunter Makeup Artist
Hair – The Guillotine Hair Artistry
Stationery – Ink Wedding Invitations
Cake – Sunny Girl Cakes
Bride's Dress – Judy Copley Bridal
Groom's Suit – Suits Direct
Location – Yandina Station
Bride – Francesca Molina
Groom – G Holmes
See the full magazine feature for free online here