Rugged Mountaintop Bridal Photo Shoot Location
22nd April 2021
Totally underrated is the very manageable and beautiful in all its untouched glory, Emu Mountain should definitely be on your list for a possible bridal photo shoot location or... elopement.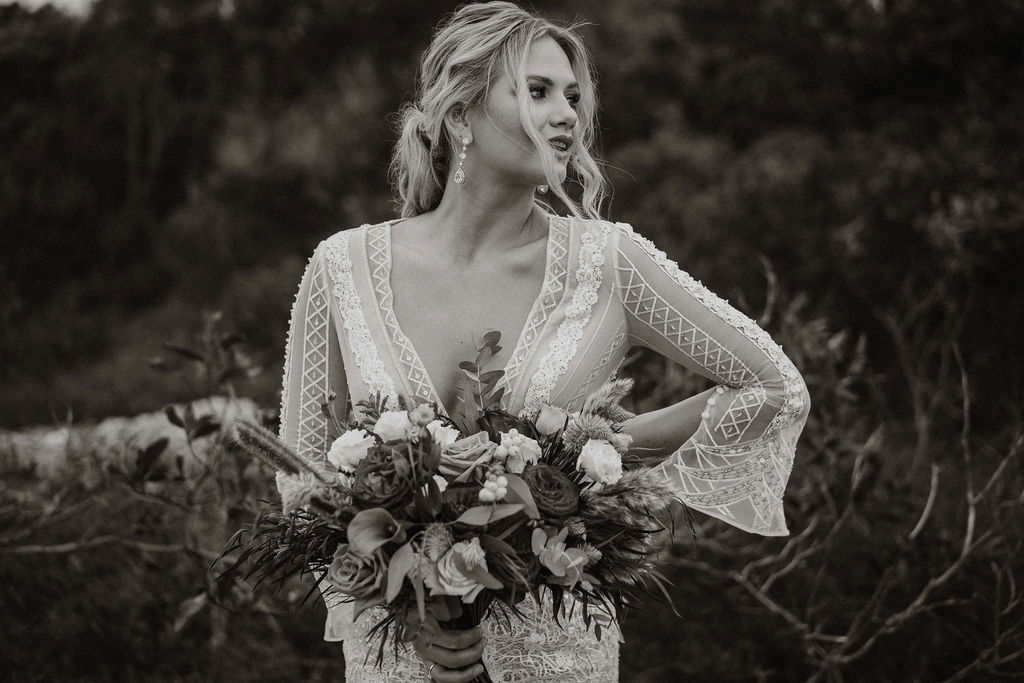 The Sunshine Coast is nothing if not versatile when it comes to our stunning settings in nature. From crisp white sands on foamy shores to rolling green hills to the rugged mountaintops, like that of Emu Mountain (aka Mt. Peregian.) Photographer, Terri Hanlon, today presents us with said mountaintop as a place that may not naturally be considered for an elopement or bridal party shoot. 
Let's see what Terri has to say about her team's vision and shooting on the mountain… 
Our shoot was an opportunity to explore the backside of Mt Peregian to showcase how incredible this Sunshine Coast backdrop is and get together with fellow creatives in the Wedding Industry who are inspired to create beautiful bridal looks. 
Lauren from
Suncoast Flowers
chose tones and textures that emulate the mood of the current season, Autumn. And Valentina from 
Sunshine Brides
  always creates the perfect style to compliment any bridal look! With the gown from 
AW Bridal
, our bridal look was complete. 
The highlight of this shoot would have to be how well it all came together and the beautiful backdrop of Mount Peregian to photograph
Allira
. It was just so stunning to photograph at this location. Shoots like this give wedding vendors a chance to work on their craft and provide an opportunity to find areas that would be perfect for weddings, but it also offers the chance to see how suitable locations can be for couples.
Vendors
Location: Mount Peregian (Emu Mountain)