Free Expert Wedding Advice
6th June 2012
Since becoming engaged, have you ever had a moment where you have thought to yourself, "Hmm, this wedding caper is slightly more overwhelming than I originally anticipated." Or, "Oh my goodness, I'm going batty and I just don't know where to even begin!" How about, "If only an expert in this kind of thing would come along and tell me what to do!"
I have a spot of good news for you, my fine little bridal friend. There is such an expert right here on the Sunshine Coast, who will in fact give you a nudge in just the right direction, and here's the best part – your personalised consultation is free!
Kim Eibrink Jansen, The Wedding Guru, has over 20 years experience in planning weddings. Many of her Events are published in high profile magazines including Vogue, Real Weddings, Queensland Brides, Discerning Brides and Masters of Weddings, along with countless newspaper articles highlighting her amazing career. These days her speciality is high end and even celebrity weddings at exclusive properties here on the Sunshine Coast.
Amazingly, this wonderful woman with a wealth of knowledge offers her services for free to brides, who while they may not have a budget for the high end weddings Kim plans, still deserve the assistance Kim can provide. At least, that's how she sees it!
Kim will take 15 minutes to discuss your wedding plans with you and advise you as to who to call, where to go, and what you can find when you get there to achieve the wedding of your dreams on any budget. Now it may not sound like a great deal of time, but when you are talking about the incomparable Kim Einbrink Jansen, an awful lot can be achieved in this amount of time!
Kim runs wedding planning business, Weddings of Noosa, however she is more than happy to assist brides having any kind of Sunshine Coast wedding. And if you really need further assistance, Kim also offers hour-long consultations, and a very affordable starter pack to really give you the kick start you need to get your wedding on the right track. This kind of investment in the grand scheme of things can actually really help you to keep your wedding budget down by setting you up to have a firm idea of where your money is best spent in the first place and eliminate mistakes made in the early planning stages.
So I guess you're wondering how you get a hold of Kim on the phone stat, right? We are happy to oblige, you will find her contact details here.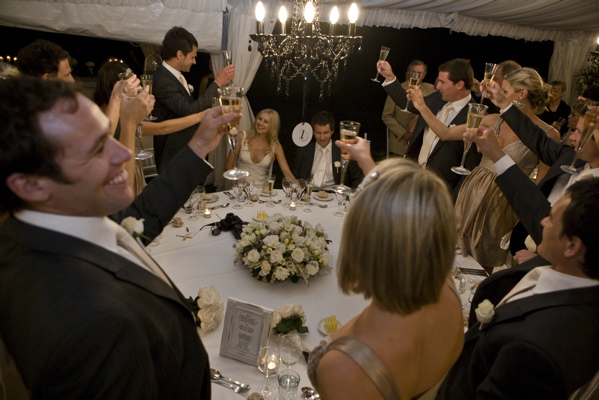 The Wedding Guru, Kim, will have you toasting the success of your wedding day with joy!
Guess what?! Kim has agreed to be our very own expert for you, lovely brides, to ask absolutely anything about planning your wedding on the Sunshine Coast! Perhaps you have a question about a venue, or where to start in your planning process, or just about anything at all about weddings… So take this opportunity to ask away! Post your pressing query in the comments below and we will have Kim answer them for you in an upcoming blog post. How lucky are we!