Contemporary in Nature | Bridal Style
16th February 2021
Creating an authentic artistic bridal style, this talented team contrasted modern bride-in-white fashion against the dense deer park forestry of the Mary Valley.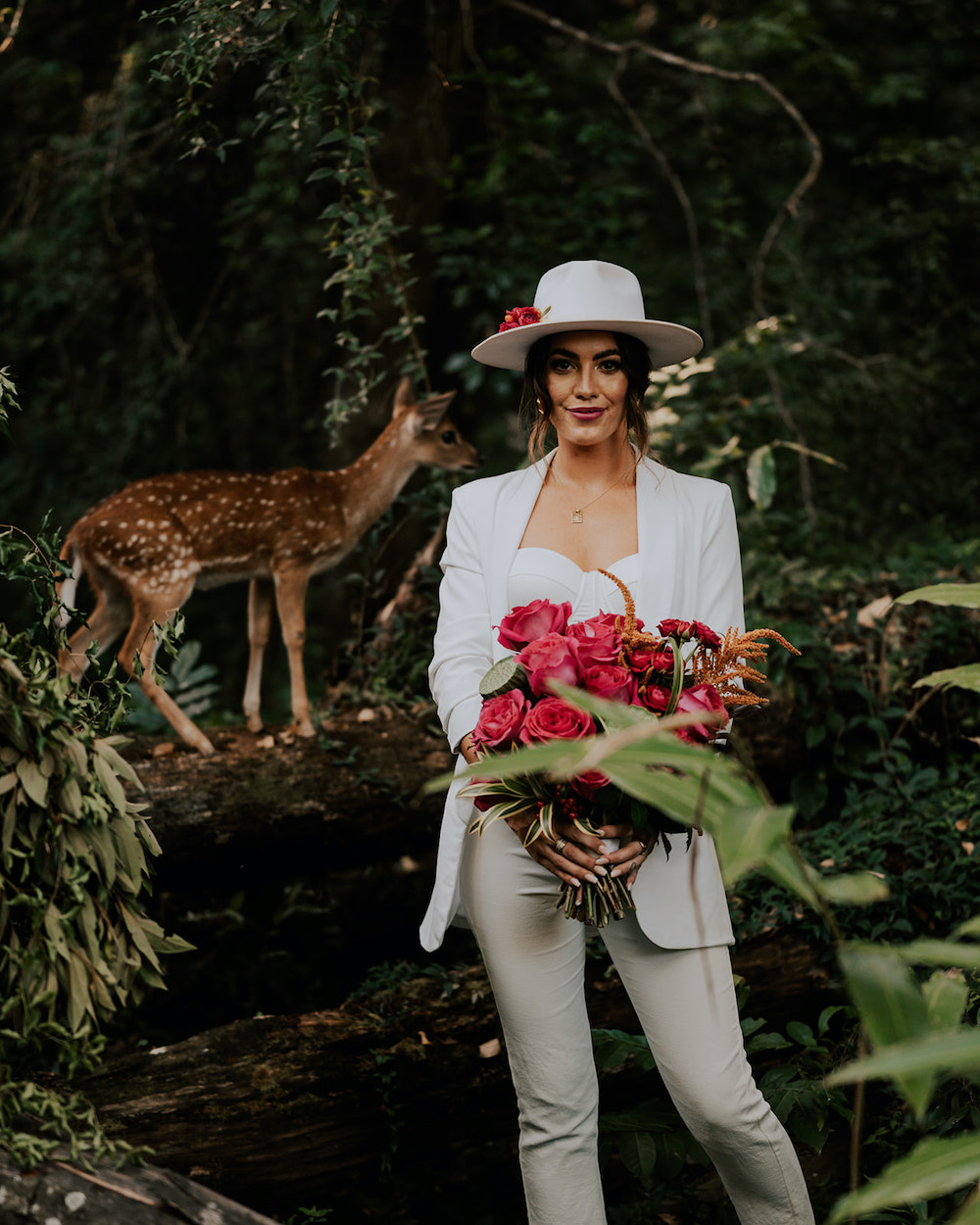 Lately brides have been finding brand new ways to express themselves through their weddings. When it comes to bridal fashion, it's all about infusing your own personal style these days. 
Wanting to style a modern, artistic bridal fashion shoot, Jan from Branch and Blossom and Max from Aesthete Film and Photography put their heads – and talents – together to create this stunning shoot. 
Jan explained, "Max and I are both creatives who like to push at the boundaries and we are both continually striving to create work that is authentic and diverse. Plus, let's face it, we really just wanted an excuse to pat baby deer!"
That brings us to the location itself. Borumba Deer Park is in the Mary Valley, where you can find pet-friendly camping and some fun activities including deer-spotting. This one has just made its way onto my 2021 weekend bucket list!
The unique location was ideal artistically for creating an extreme contrast of bridal white against the dense forestry backdrop with the vivid pop of colour in the full-bodied rose bouquet. 
"We see more and more of our couples wanting to tell their story and celebrate their love in a more inspired and unique way. Wedding photography has become almost editorial in nature. This often includes a break away from more traditional locations to more adventurous and offbeat settings." Jan said. 
Vendors
Photographer: Aesthete Film and Photography
Videographer: Aesthete Film and Photography
Florist: Branch and Blossom
Location: Borumba Deer Park
Hair + makeup: C Styling Bridal & Brows
Model: Jessia Hoskins, styled with items from her own wardrobe. 
BORUMBA STYLED SHOOT from Aesthete Film and Photography on Vimeo.