Spotlight on a Supplier – Emma Nayler Photographer
7th December 2011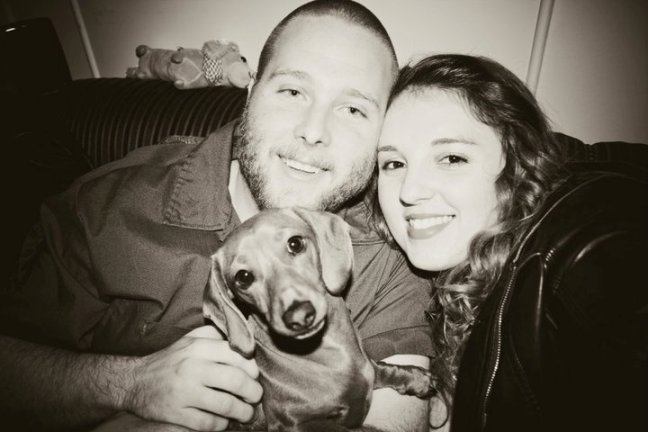 Our first Spotlight on a Supplier, which we will be bringing to you regularly, features the lovely and super talented, Emma Nayler. Emma makes a living photographing Sunshine Coast weddings, and does a mighty fine job of it at that! In fact, many of the photos you see on this here website are ones from real weddings Emma has photographed.
We were lucky enough to work closely with Emma, as one of our absolute favourite Sunshine Coast wedding photographers, in the planning and developing stages of The Bride's Tree. What we discovered is not only is Emma one fabulous photographer, but she is also one of the coolest cats around. Emma's friendly, relaxed demeanour and artistic, creative personal style just makes you want to be her pal, cause you'll be cooler if you hang around her.
So because we got to know Emma for the fabulous person she is, it's only fair we allow you to get to know her a little better, too, so we grilled her for some info, and this is what we discovered…
TBT: Where do you do your best thinking?
EN: Weirdly enough, I come up with some fabulous ideas at night, right before drifting off to sleep!
TBT: What is something really special to you in your life?
EN: My dad. He is my mum and dad all in one and I love him to the ends of the earth!
TBT: Describe your personal style.
EN: I'm a little bit alternative, I love a nice mixture of tattoos and vintage clothes – lace is one of my biggest loves! And I love any kind of jewellery depicting animals!
TBT: What is your fave scent?
EN: In the case of perfume – Jean Paul Gaultier Classique. In the case of nature – freshly mowed grass!
TBT: What is your favourite moment at the weddings you shoot?
EN: I love the moment just after the couple have been sat down and signed the register, and then their witnesses are signing. They finally get a chance to say a few private (well… semi-private) words to each other… there is always a really sweet smile plastered on both of their faces, they whisper to each other and they tend to do cute things – the groom brushing the brides hair away, or the bride wiping a little bit of lipstick off his face!
TBT: What is your best tip for brides?
EN: Make sure you co-ordinate your times with your photographer. It seems simple, but not everyone realises that there are certain times of day that will be great for photos and other times that won't be – the last thing you want is to miss out on beautiful sunset photos because you planned your reception to start an hour before the sun sets! And most importantly, set aside a certain amount of time for family photos after the ceremony and have a strict list of the groups you want photographed! You don't want to spend more than 15 minutes on these photos when there are beautiful location portraits awaiting you!
Even awesome photographers like Emma have a self portrait or two in their collection! This is Emma with her lovely partner, Adam, and their precious pooch, Pepper.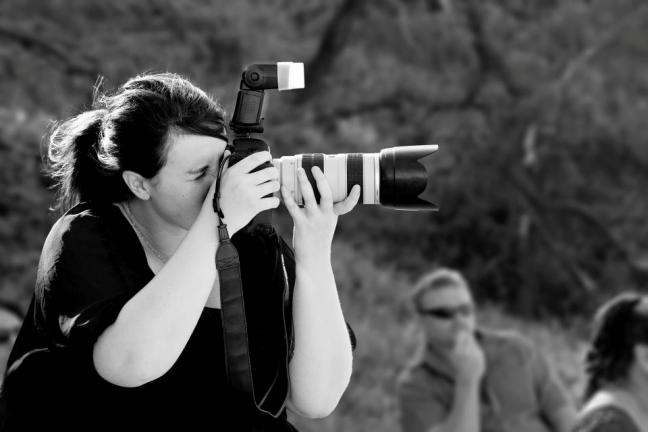 Emma doing what she does best – photographing weddings. This shot was taken by Lani Carter Photographer.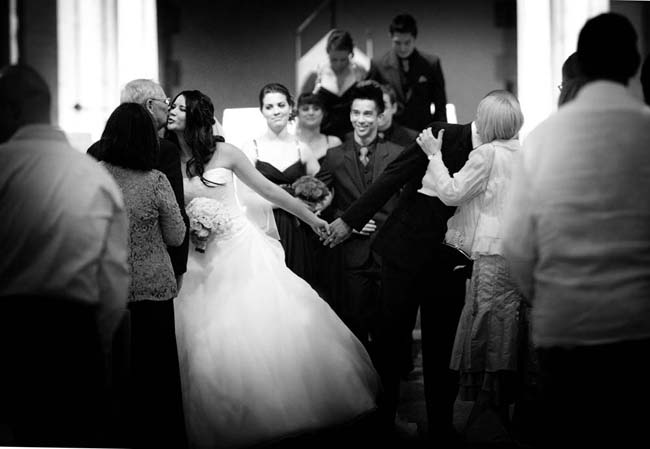 "This is my favourite wedding photo from my own work. It was taken in the church just after they were announced husband and wife, and were headed back down the aisle and out of the church. The bride is kissing her dad's cheek, and the groom is embracing his mum… and they are still holding hands! Just so sweet, I love that this is a moment from their day that actually happened, no setups, no posing, nothing – just love."
Visit our Galleries to see more of Emma's beautiful Sunshine Coast wedding photographs, or take a look at Emma's Profile to find out how you can get in contact.