Blitz Your First Dance
13th June 2012
In the lead up to your Sunshine Coast wedding day, you're probably contemplating a lot of the out-of-the-usual-comfort-zone scenarios you are going to find yourself and your partner in. Speeches, publicly declaring your love, having your photo taken a gazillion times and of course… The Bridal Waltz or First Dance.
All eyes will be on just you two. Oohing and ahhing as you gracefully glide out onto the dancefloor, and your new husband swiftly and expertly pulls you to him and with a flourish of hand and leads you in a perfectly practiced dance your cinematographer will later edit into something that could class as a video audition for So You Think You Can Dance. That's what you imagine will happen, right?
If you're not so confident this is how it will play out, you might like to consider preparing as best you can for this particular wedding day out-of-the-usual-comfort-zone scenario by enrolling in some dance lessons with Andrea Dalton Dance Dynamics. Having lessons will give you the confidence both you and your partner need to get out on that dance floor for your very first dance as husband and wife with confidence, no matter your current level of dance ability. You can learn a fully choreographed piece, or just enough groovy moves to give you a bit of style for your bridal waltz. You can even get your whole bridal party in on the act if you want to go all out!
Wedding dance instructor, Anna Chipperfield, says she can teach anyone to dance. When we found out about the classes being offered at Andrea Dalton Dance Dynamics, we excitedly asked Anna a bunch of questions about how she can help, because we know there are a lot of Sunshine Coast brides and grooms experiencing a bit of anxiety regarding dancing in front of all of their family and friends. Here is what Anna had to say about the process and what couples get out of the fully customisable sessions.
Is your instruction arranged in a private lesson with couples, or do you conduct group lessons?
We can do both, we are very flexible on this and have a variety of options. Generally at some point a private lesson or two are required. We do have group classes available and can easily teach the whole bridal party

What kind of dance can couples expect to learn? A couple can ultimately learn anything!
We work closely with the couples, style, ability, time frame and budget, to work out what is the best plan. Some couples only have time for a couple of lessons, others start to learn months before their wedding date. The longest so far is 6 months – of a weekly lesson.
Can any two-left-footer be taught to move to an acceptable level for public display?
Absolutely!
Where do you conduct the lessons?
Our Studios are in Maroochydore, however we can also go to the wedding venue if it can be arranged. As a last resort we can even teach you in your living room.
Do you teach fully choreographed dances, or do you simply teach the couple a style of dance?
It all depends on the couple and what they are like, some couples love the idea of a show dance and want to get really creative, others just want to learn how to move around the dance floor without stepping on each other's feet! We can do anything!
What do you think is the best thing your previous couples have gotten out of your classes?
Each couple gets something completely different from our classes or our private lessons – one thing does remain the same, they didn't know how to dance 'together' when they started and they leave
knowing how to do just that.
Why are dance lessons a good idea for wedding preparation?
Dance lessons (even one) will give a couple a sense of comfort on the day. Comfort knowing they have something organised for their first dance. They learn to their ability and preference with one thing in mind – to feel comfortable on the day, knowing they will be able to dance together, to their favourite song, a little more relaxed and without doing 'the shuffle' or stepping on each other's feet! This creates an additional memory for their special day.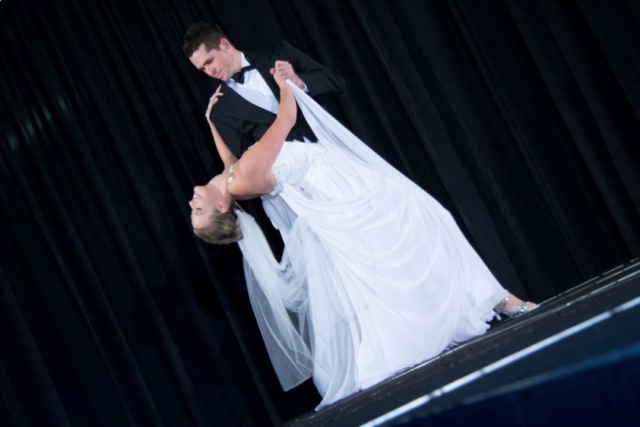 Photo by Maree Drew.