With love from The Wedding Guru
16th August 2012
Dear Kim,
Firstly, absolutely love your work!
Like most brides I'm on a budget and want to make my money go further, spending on the things that people really notice and will remember on the day.
One of my concerns are flowers (particularly bouquets)- while they're absolutely stunning, not many people really take notice except other brides to be, and I have 5 bridesmaids!! I don't like the flower corsage for bridesmaids, but basically I want to know what flower type, size etc is the cheapest and most pretty for value for money for boquets.
Then, what is the best for getting the beautiful feeling of fresh flowers at the reception without spending too much? Is it best for one or two stems at each table or 2 really big arrangements? What are the cheapest and 'value for money' options?
I'd love to be able to spend lots on flowers but really want to spend on the things that aren't going to be binned at the end of the night!
Thanks so much
Casey
Hi Casey,
WOW, thank you so much for the compliment! And congratulations on your impending wedding!
I am sure it is hard putting the wedding together and I appreciate you coming to me to ask me for help. I am delighted to share my knowledge with you!
Regarding your wedding, I completely understand where you are coming from with trying to keep within your budget but still wanting to make your wedding look amazing!
The first thing I tell my brides when it comes to working out what they spend their money on to make the wedding look WOW, is what is important to YOU! It is your day and no one should ever talk you into having something if it doesn't have any significant meaning to you. To make your wedding look amazing regardless of budget, see some tips below:
1. Make a list of things that you LOVE! For example you might LOVE lollies & chocolate, cocktails, bling, shoes, travel, your dog, dancing etc etc – the wedding should have a little bit of everything that you love. And they don't need to cost much! I once had a bride who loved Elephants and groom who loved motorbikes. So he arrived just before the bride in a motorbike convoy of all his friends (cost $0), and for her we had cute little elephants on the invitations and stationery in her favourite colour (they are also apparently good luck as well!) You can design things still classy & elegant while incorporating your favourite things.

2. If you are stuck and wanting to find out what colour you should have at your wedding – what are the colours that are in your house? and in the clothes that you wear? I can guarantee that every wedding I have designed for a bride, she is always drawn to the colours & style of what she wears. For the Wedding to be WOW, it needs to be WOW to you! It needs to depict you and be represented by you. This way you can be assured that the wedding will be unique. And It needs to be about how the wedding feels. How would you describe as your STYLE? Weddings these days aren't about themes anymore (thank god), they are more about each person's individual style.

3. What do you value more? I see that you don't really value flowers but think you have to have them somewhere at your wedding. You know what? You don't need to have them anywhere! I have designed a $150 000 wedding and there wasn't a flower in sight. The bride just wasn't a flowery girl and didn't see the value in having flowers, even though others were trying to get her to have them because you are supposed to! Well, the wedding was absolutely spectacular with everything she LOVED and you know what? Not one person at that wedding even mentioned the absence of flowers.
Now, onto the flower queries (if you decide to have them at all!). Its bit difficult to give advice on types of flowers if I don't know colours/styles of dresses or style of the wedding. However in this instance I will keep it general and neutral which should help you for now while you are deciding on what to do.
For brides & bridesmaid flowers, some suggestions are:
1. A single stem of a large flower – of say a Phalaeonopsis or Cymbidium orchid, magnolia flower or a Peony Rose (all depending on availability) are all absolutely stunning and would cost under $30. Or a few stems of Arum Lilly or Dendrobium Orchids are also lovely & simple for under $50.
2. A wrist corsage bracelet is just divine – especially with a gorgeous diamante or pearl bracelet underneath look just divine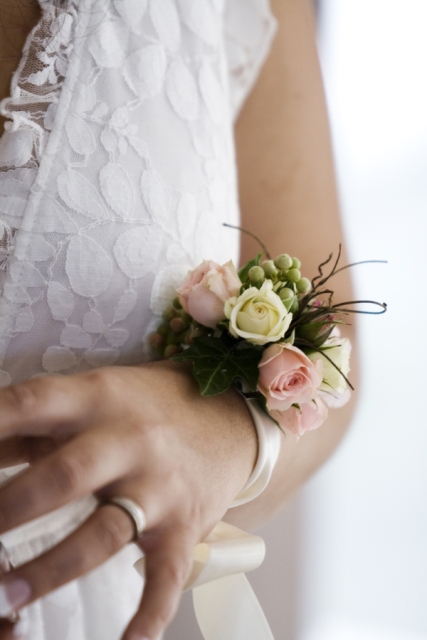 Photo by Emma Nayler Photographer
3. Clutches with one simple contrasting flower head
4. Parasols & fans were quite popular within the last 5 years however they are starting to go out of fashion. However if this is something that would suit your style of wedding (there are some divine vintage lace parasols) then go for it. From $15-$30 ea.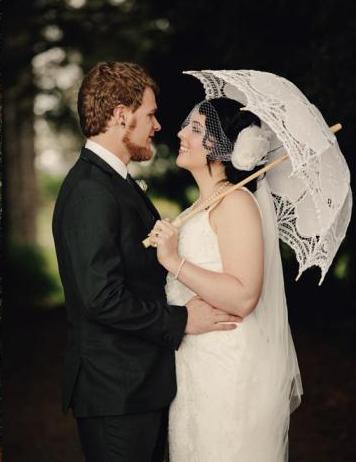 Photo by Artography
For ideas at your reception, again you don't have to have flowers. Maybe you just LOVE candles and candles en mass look amazing. Candles are more cost effective than flowers. See ideas below
Photo by Photography & Hair
However if you are wanting flowers or some other ideas that are cost effective, these are:
1. Potted flowers for guests to take home – again the cymbidium & phaeleonopsis orchids, hyacinths, paper flowers & look amazing in a pot and either yourself others can take them home and keep them.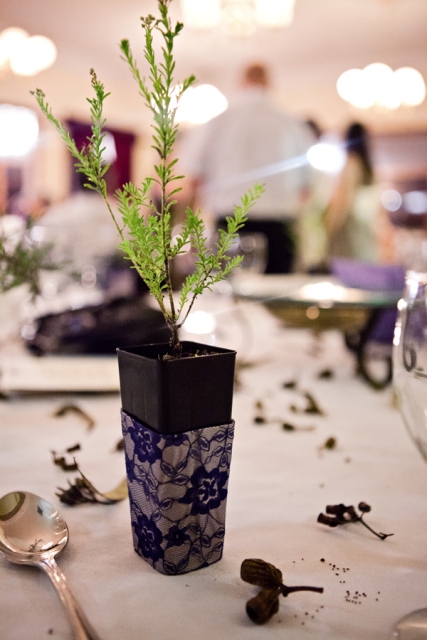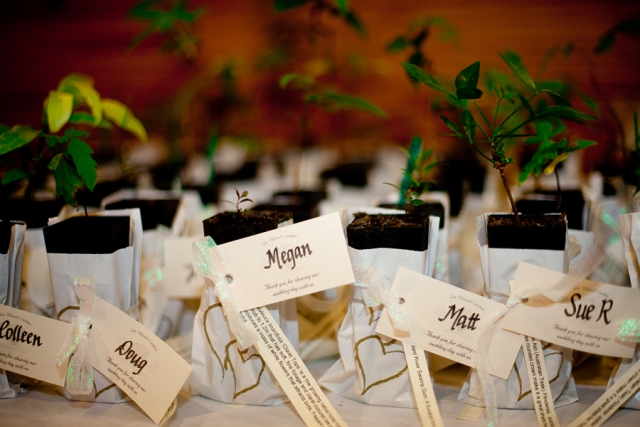 Photos by Emma Nayler Photographer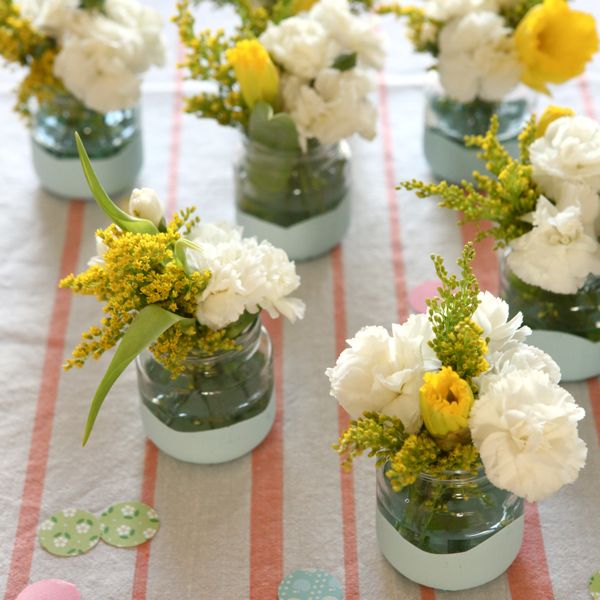 Photo supplied by Oh Happy Day!
Putting flowering Plants into bags, glasses, teacups or other funky vessels – hydrangea, hyacinths, daisies or Larger blooms – either 1 or 3 simple blooms in a skinny tall vase or low Or a few sprays in tall vases look lovely & elegant – again guests can take a spray each home to keep in their house/hotel. Recommend the orchids, peonies, david Austin roses, dahlias, magnolia, poppies (3 or 5 single vases in varying colours looks great!), hydrangea heads……
Using Fruit?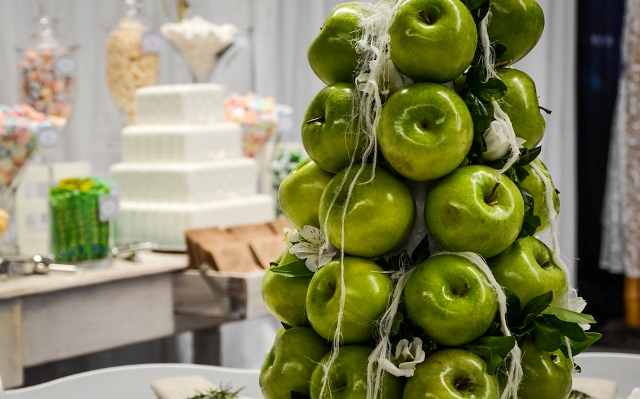 Photo by Pablo Pavlovich. Decorating by Beedazzled Events.
Succulents? Can take these home too!
Photo and styling by Wholehearted Studio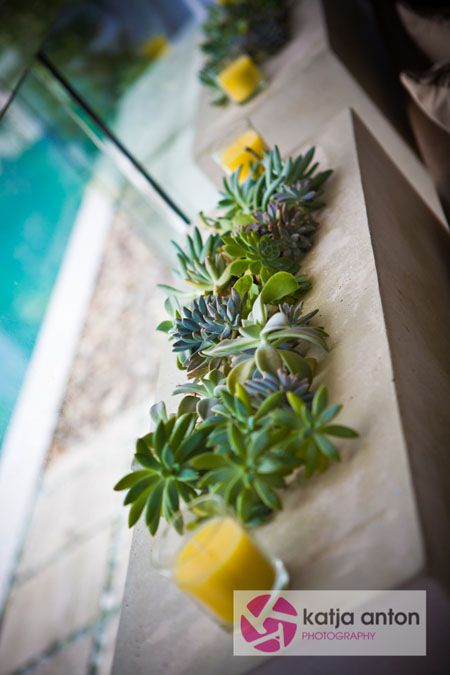 Photo by Katja Anton
Fish?
Image by Space 101 Photography
Or different ideas such as feathers, sticks or tortured willow. There are some more but I would only recommend those ideas that are classy & elegant for you!
Photos and styling by Wholehearted Studio
Casey, please let me know how you go and GOOD LUCK with your wedding planning!
Kisses & Hugs, Kim xooxoxxo
Kim Eibrink Jansen runs wedding planning business, Weddings of Noosa. Kim, aka The Wedding Guru, has over 20 years experience in planning weddings. Many of her Events are published in high profile magazines including Vogue, Real Weddings, Queensland Brides, Discerning Brides and Masters of Weddings, along with countless newspaper articles highlighting her amazing career. These days her speciality is high end and even celebrity weddings at exclusive properties here on the Sunshine Coast.