Beach Wedding Styling
11th July 2012
So you're having a Sunshine Coast beach wedding. Beautiful! Congratulations on your fabulous choice. Oh, but hold up a minute. What, pre-tell, kind of beach wedding were you thinking of having?
There's more than one kind of Sunshine Coast beach wedding? I hear you ask.
Yes, my sweet, unassuming, Sunshine Coast bride, there is. There are infact limitless possibilities! Today we are sharing with you two classic themes using similar colours with a strong beach theme, which can be used at your beach ceremony, and continued right through to your wedding reception.
Sunshine Coast wedding decorators and stylists, Splash Events, created these two gorgeous themes. They are classic, use natural colours, and each have something truly special. These lovely images were taken by Lindy Photography in the Splash showroom at the recent launch of their new decor catalogue, which itemises all of their styling hire items (psst – it's available to download on their website!)
We went along to the launch of the catalogue at the amazing Splash showroom and managed to nab a copy. It just makes life so easy for planning exactly which decorating items you would like to have for your wedding and allows you to keep track and plan within your budget, because every item is priced. It completely allows you to see where you can splurge and where you can save with so many choices and alternatives right on the page in front of you.
Lindy also cleverly put together the two inspiration boards, showing off two classic Sunshine Coast beach wedding themes – Shabby Chic Beach and Beachy Glam, styled in a fresh and unique way. Enjoy!
SHABBY CHIC BEACH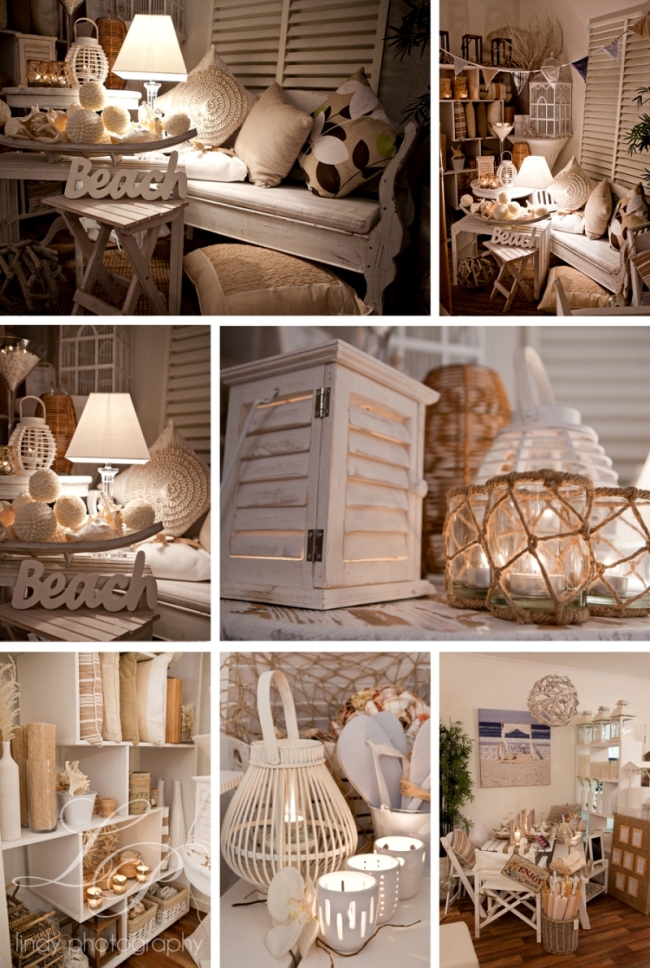 KEY ELEMENTS OF THE SHABBY CHIC BEACH WEDDING THEME
Natural colours, teamed with lots of white
Thrown together look throughout – nothing too "in place" or matching
Tea light candles in mix and match candle holders of white ceramic and glass with large twine crochet
White furniture and decorating items with indicative shabby chic treatment
Shells
Throw cushions
Various parasols in white and natural colours
Wicar baskets
BEACHY GLAM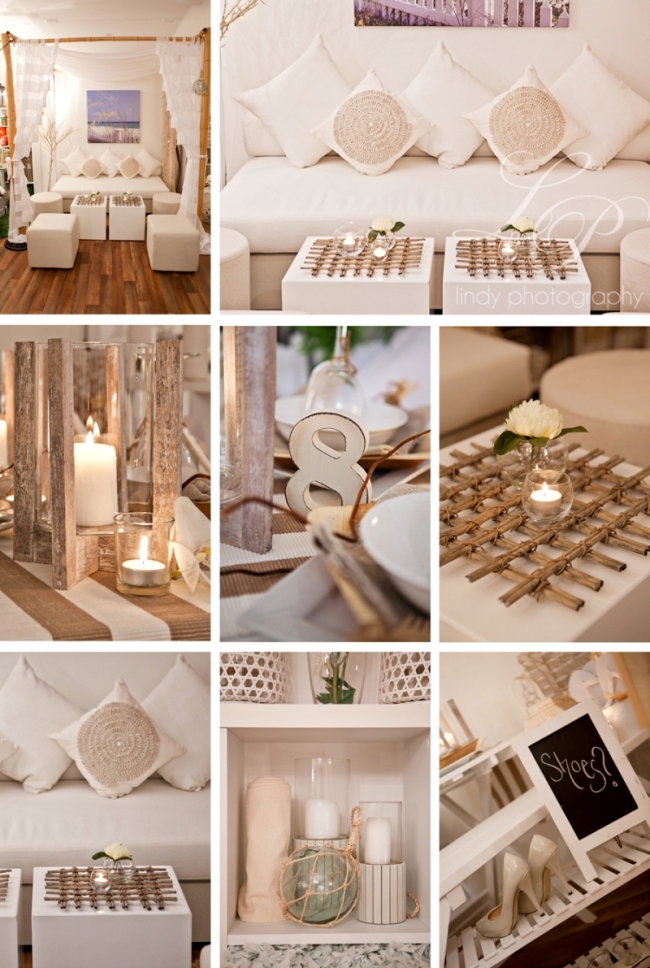 KEY ELEMENTS OF BEACHY GLAM WEDDING THEME
Natural colours, teamed with lots of white
Symmetry in design and placement
White candles in clear glass
Contemporary outdoor furniture
Subtle inclusion of pastel colours (eg. peach and mint green)
White canopy on bamboo frame
Chalkboard (very on trend)
As you can see, both styles allow for relaxation and comfort in two very different ways. Who knew "beach" as a theme was so versatile! If you haven't seen enough of Splash Events' stunning beach wedding styling, take a peek inside our current edition of The Bride's Tree free online bridal magazine. Our fave ever beach wedding theme, styled by Splash Events, is in there – it's a bohemian beach wedding! In stark contrast to these two themes, it is full of lots of colour for once again, a completely different Sunshine Coast beach wedding theme.