Spring Races Wedding Styling
2nd July 2012
When thinking of a theme for your wedding, it doesn't all have to be about the colours and the bombonieres, and how you will decorate the joint up. You can also have your guests get involved and bring a bit of the styling on their person.
No, I'm not suggesting you do an all-white party wedding, Jay-Z or P.Diddy-style (or whoever it is, who hosts these ludacris events.) Personally, I think limiting your entire guest list to wearing but one colour is a bit over-the-top and potentially stressful for them. You could, however, ask them to get into the spirit of things in a small way, like by asking all the ladies to wear a hat or fascinator to your – wait for it – Spring Races-themed wedding!
Just think of your Gran turning up with her box hat and proudly showing off her matching bag and shoes. Think of your gal pals feeling all glam in their fascinators, and all the funky photos you will have to remember the day by. All the glamour of the races on your special day!
This is what we had in mind when we put together this unusual theme in our One Dress Three Ways shoot for the first edition of The Bride's Tree free online magazine, which came out in April. See, we picked three very different vintage styles to help you see how different one dress (and one location!) can appear with a little effort and imagination on the styling side of things.
These gorgeous images by Emma Nayler Photographer of our Spring Races Vintage Wedding theme at AnnaBella The Wedding Chapel., a gorgeous Sunshine Coast hinterland wedding chapel we just can't get enough of.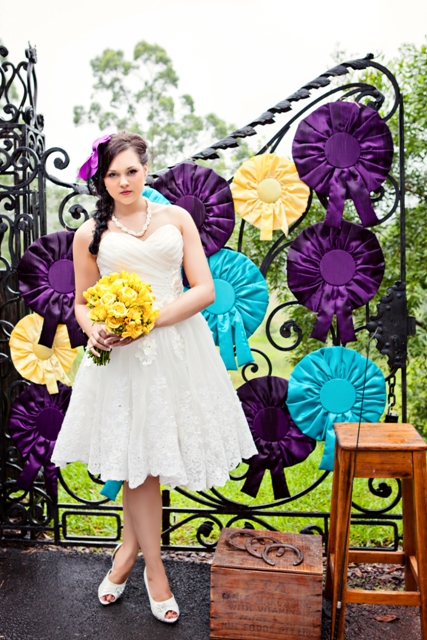 Creative and uniqe styling by Hayley Wholehearted, who really has an eye for fantastic vintage props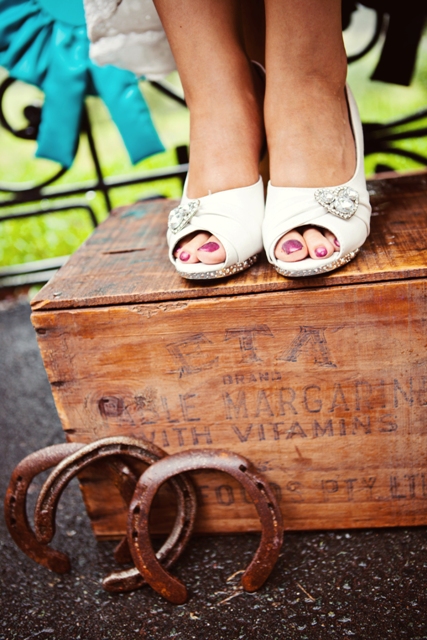 Shoes, dress and jewellery by Angels Noosa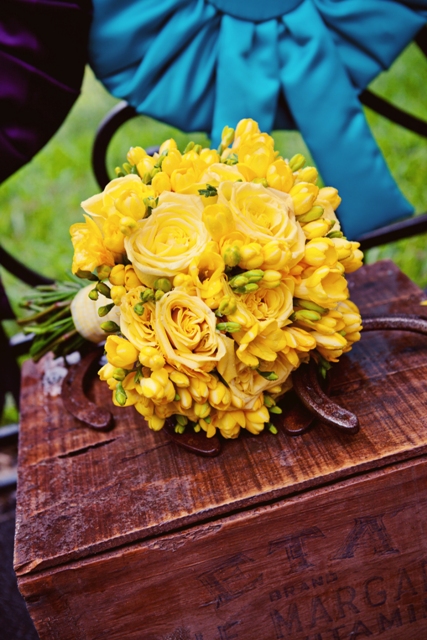 The bold yellow bouquet of flowers by Flax Flower just screamed "spring", and fit in with our triad of colours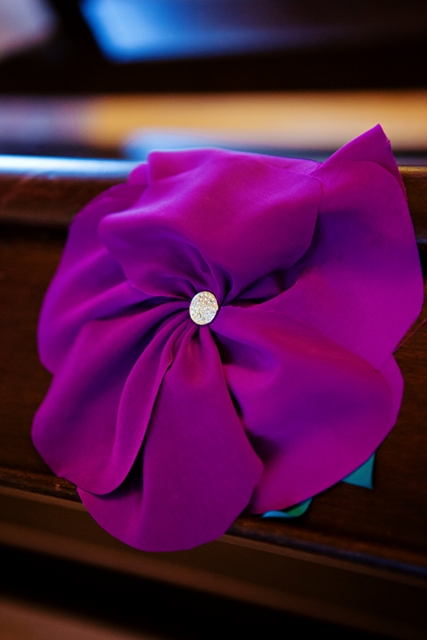 Unique hair piece by The Sweet Life Fascinators & Accessories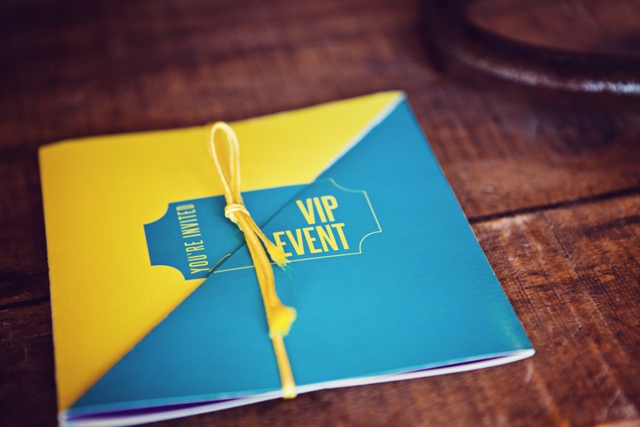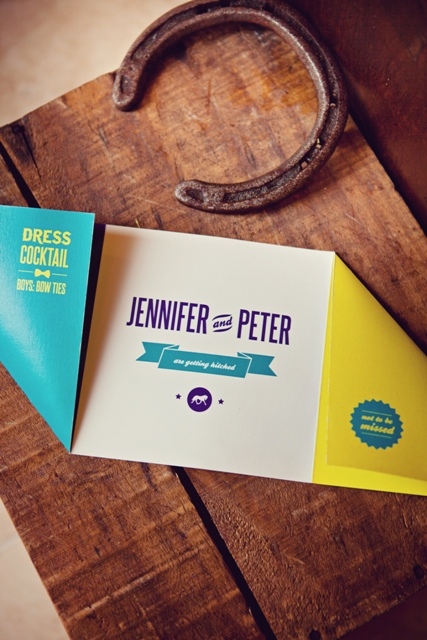 Specially-designed wedding invitations by Kerrie-Anne Design and Photography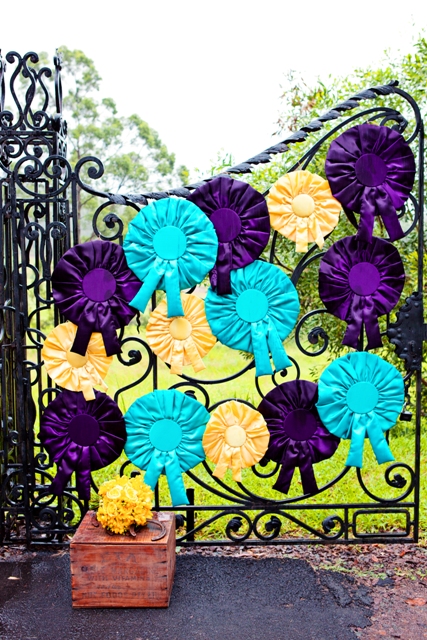 Even the gate at Anna Bella The Wedding Chapel is gorgeous! This really is a must-see chapel ceremony venue for a Sunshine Coast hinterland wedding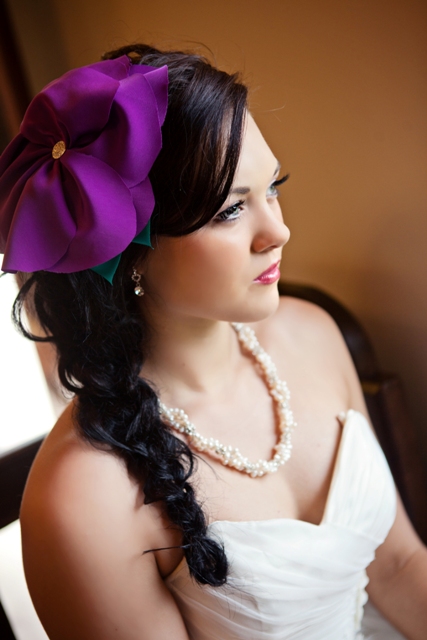 Funky Monkey hair styling by Boho Bello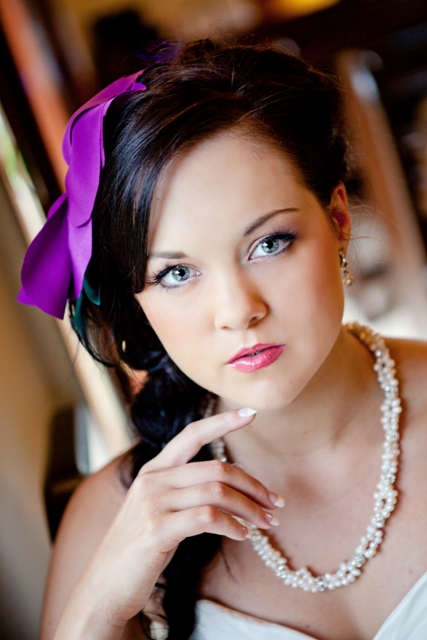 Perfect airbrushed makeup by Sally Townsend Makeup Artistry on stunning model, Jana Robinson
Location: Anna Bella The Wedding Chapel
Photographer: Emma Nayler Photographer
Stylist: Hayley Wholehearted
Flowers: Flax Flower
Makeup: Sally Townsend Makeup Artistry
Hair: Boho Bello
Stationery: Kerrie-Anne Design and Photography
Bridal gown and accessories: Supplied by Angels Noosa
Fascinators: The Sweet Life Fascinators & Accessories
Model: Jana Robinson