Vintage Glam Inspiration
5th January 2012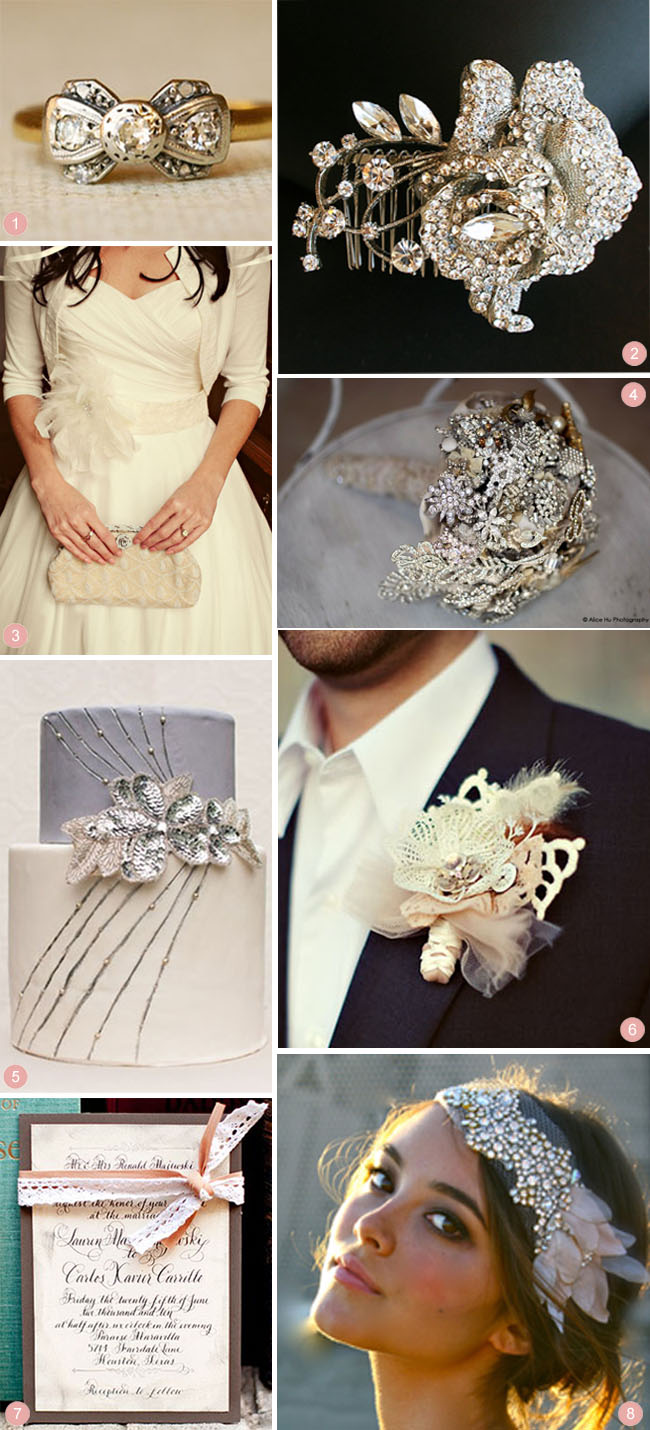 Today's Inspiration Board really speaks for itself. It's vintage. It's glam. It's absolutely stunning pieces to give you all the inspiration you need for the uber glamourous Sunshine Coast wedding you've been dreaming of.
The use of lace, feathers and bling is to die for in hair pieces, dress embellishments, wedding invitations, even bouttonieres. We particularly love the silver sequin embellishment on the cake! Sequins on a cake! Who thinks of these things? Very clever people, that's who. And it's lucky they do, so we can share them with you. (Completely aware of the rhyme, and quite happy to leave the whimsical writing be, as this inspiration board is nothing if not whimsical in the most glam romantic way.)
1. Vintage bow ring from Luxe Deluxe Modern & Vintage Inspired Jewellery via A Cup of Jo
2. Crystal Rose Hair Comb from Luxe Deluxe Modern & Vintage Inspired Jewellery
3. Bride's dress & vintage purse. Photography by Katherine O'Brien Photography via Style Me Pretty
4. Brooch bouquet. Photography by Alice Hu via Pinterest
5. Vintage inspired wedding cake by Cupcakes Couture of Manhattan Beach, photography by Dave Richards, via Green Wedding Shoes
6. Handmade vintage lace boutonniere. Photography by Courtney Dellafiora.
7. Handmade Calligraphy Wedding Invitations Love No. 022 with vintage trimmings by Designs By Robyn Love
8. Hand beaded, Swarovski Crystal Bandeau by Doloris Petunia, via Etsy