Win A BIG Day Out With Your Besties Valued at $5000!
24th March 2013
AND THE WINNER IS…
SUZIE PLEDGER
Winning caption:
Your girlfriends will always be by your side, even when you tell them to go jump!!
CONGRATULATIONS Suzie and a BIG THANK YOU to everyone that entered the competition!
This competition is now closed.
It's GIVEAWAY time! We are very excited to announce the biggest prize we have ever given away. It is a package experience worth $5000. The best part is, the lucky winner gets to share the prize with up to 3 of her besties!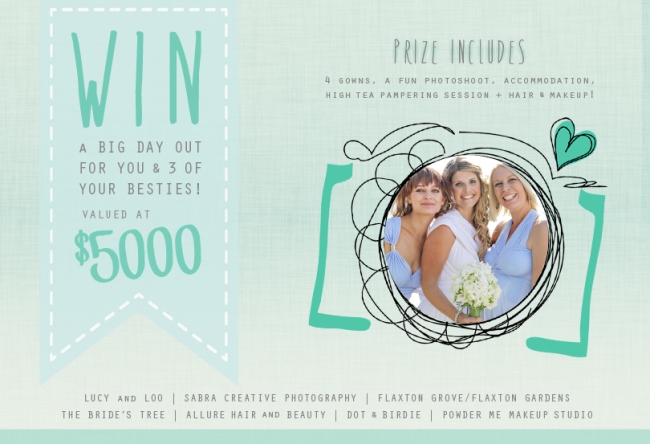 The Lucky Winner Will Receive…
4 Lucy and Loo convertable dresses
A Photo shoot with Sabra Creative Photography, at Flaxton Grove + a disk of images for each of the 4 winners
Professional hair & makeup services for all four ladies by Dot & Birdie and Powder Me Makeup Studio.
High Tea Pampering session at Flaxton Grove including a pedicure, High Tea + a gift bag for each of the four ladies, all from Allure Hair and Beauty
Accommodation for the 4 winners + 4 friends (total of 8 people) at Flaxton Grove
Total prize value: $5000.
How to Enter
'Like' ALL the Facebook pages of our generous sponsors listed below, and The Bride's Tree Facebook page found here. Complete the entry form at the end of this post and tell us your caption for the last photo below.   This will provide you with your official entry into the giveaway.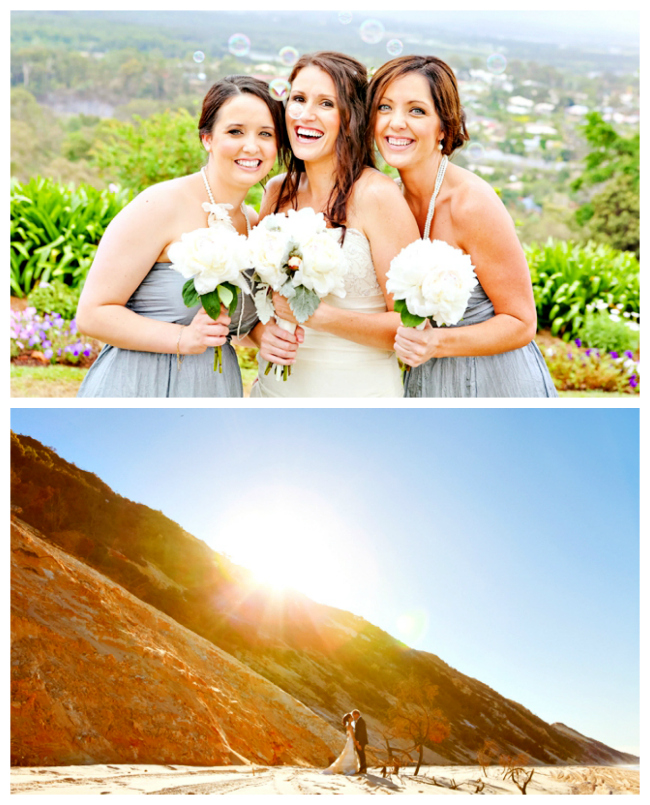 SABRA CREATIVE PHOTOGRAPHY
It is Sabra Creative Photography's mission to create carefree, timeless and creative wedding imagery inspired by nature, coupled with professional, friendly service and presented using quality products wrapped in clever, earthy packaging.
Sabra Creative Photography's Facebook page can be found here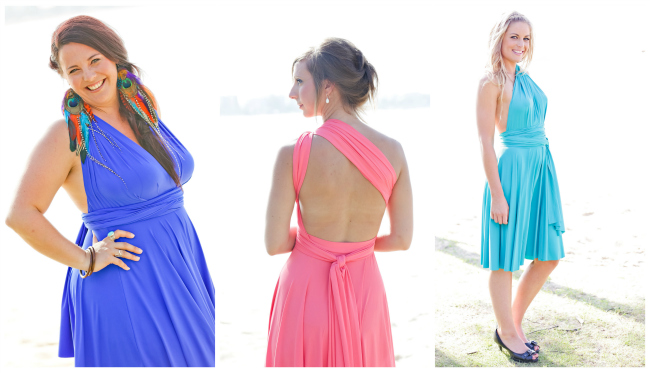 LUCY AND LOO
Lucy and Loo make luxurious convertible dresses and tops that are so soft and lovely on your skin you will never want to take them off.  Twist and wrap these convertible dresses into over 50 different styles! Dress it up for weddings, dress it down for resort wear.  Seriously, you will LOVE the Lucy and Loo Dress!
Lucy and Loo's Facebook page can be found here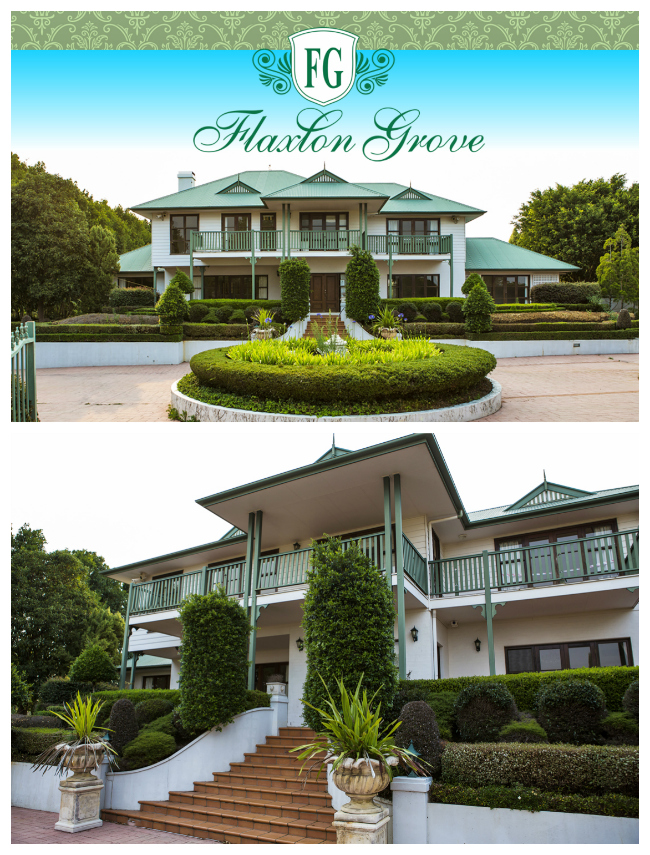 FLAXTON GROVE
Flaxton Grove is a grand three story manor home which is surrounded by acres of English style gardens, complete with swimming pool and gazebo, all perfectly manicured within the gated entrance.  It is a beautiful accommodation venue a short stroll from their other world renowned venue, Flaxton Gardens.
From vast coastal views to the adjacent rolling hills, mature gardens and grand winding pathways, Flaxton Grove is the perfect location for a photo shoot and an overnight's stay.
Flaxton Gardens' Facebook page can be found here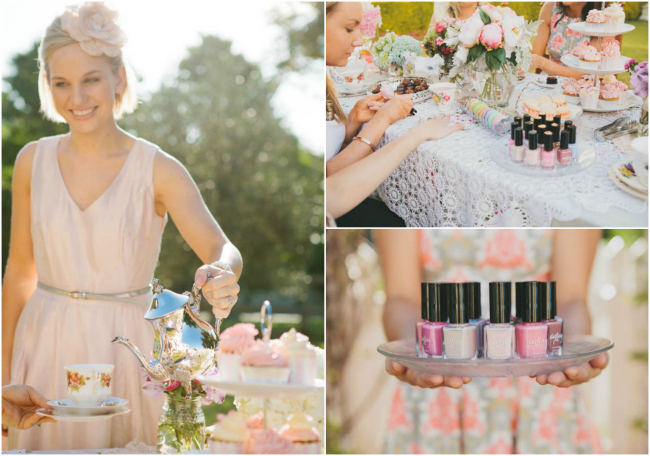 ALLURE HAIR AND BEAUTY
Who doesn't love a high tea? With pretty little food, vintage tea cups and every thing that is good and right with the world! Well, in addition to mobile bridal hair and makeup styling, Allure Hair and Beatuy offer mobile Tea Party Pampering events which are perfect for bridal showers. They arrive at your venue and style a beautiful table of High Tea-inspired treats, served on pretty vintage tea ware, all to be enjoyed while being pampered with with gorgeous organic products.
Allure Hair and Beauty's Facebook page can be found here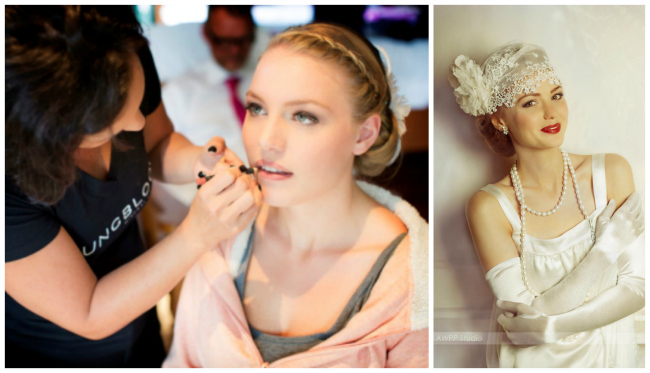 POWDER ME MAKEUP STUDIO
Whether your style is soft, natural, classic & traditional or bold and dramatic, Powder Me Makeup Studio have up to 20 years experience ensuring a professional finish that wears beautifully throughout the day.  Their stylists are exclusively yours on your wedding day – as they only do one bridal party per day to ensure a personalised service.
Powder Me Makeup Studio's Facebook page can be found here (images by AWPP)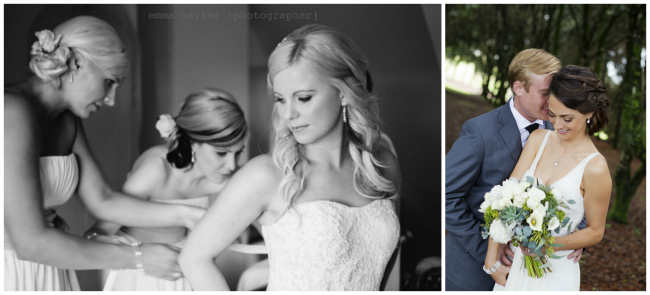 DOT & BIRDIE 
Dot & Birdie is a quirky cottage in Maleny where you will be pampered and beautified, whether it be for a special occasion or everyday!
Dot & Birdie's Facebook page can be found here
Caption This Photo Below to WIN!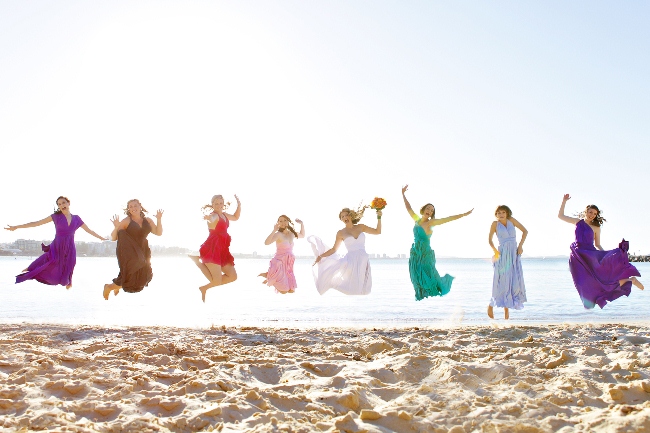 BONUS ENTRIES!
This step is not compulsory but it will improve your chances to win! If you would like to share this giveaway with your friends and family to receive an additional 2 entries per day for the duration of the competition, this will drastically improve your chances to win!  To share and obtain your additional 2 daily entries, click here and 'public' share this image via Facebook (it must be shared as public as we do need to be able to verify it.) Then copy and paste this in your status 'Come and enter this amazing giveaway at The Bride's Tree for a chance to win "A Big Day Out With Your Besties". Complete this option and again, fill out the entry form below with a new caption idea.  AND remember you can do this each day to gain a total of 30 bonus entries for this step! COMPETITION TERMS & CONDITIONS: This promotion is in no way sponsored, endorsed or administered by, or associated with, Facebook or any other social media platform i.e Twitter, Instagram, Google+. You are providing your information to The Bride's Tree and not to Facebook. Entry is only open to entrants who are 18 years old and over. The competition commences at 7.00am (EST) on Monday 25th March, 2013 and closes at 8.00pm (EST) Monday 8th April, 2013.  The winner will be the best photo caption entry and will be chosen by The Bride's Tree. The prize must be redeemed on Friday 24th May, 2013.  If you are not available on this date then unfortunately you are not eligable to enter. You must be a page "Liker" of the following business Facebook pages to be eligible to participate and enter the competition:  The Bride's Tree, Lucy and Loo, Sabra Creative Photography, Flaxton Gardens, Allure Hair & Beauty, Dot & Birdie, Powder Me Makeup Studio. The prize is not transferable or refundable for cash or product. The prize can only be redeemed together as a group on FRIDAY 24th MAY, 2013.  Due to supplier availability, this date cannot be changed and cannot be split up over several days. If you are not available on this date, unfortunately you are not eligible to enter and your entry will be withdrawn from the competition. Please ensure you have read the full terms and conditions of this competition, here.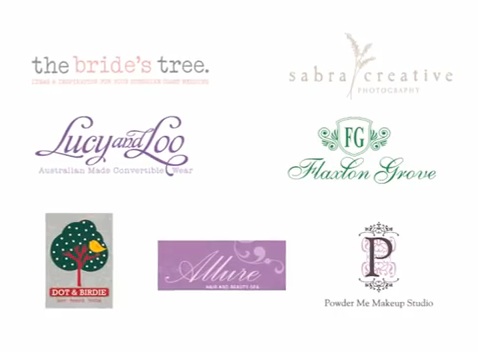 Remember, you must like the following Facebook pages to validate your entry:
Like Sabra Creative Photography on Facebook
Like The Bride's Tree on Facebook
Like Flaxton Gardens on Facebook
Like Allure Hair and Beauty on Facebook
Like Powder Me Makeup Studio on Facebook