How to Style a Vintage DIY Wedding
9th March 2015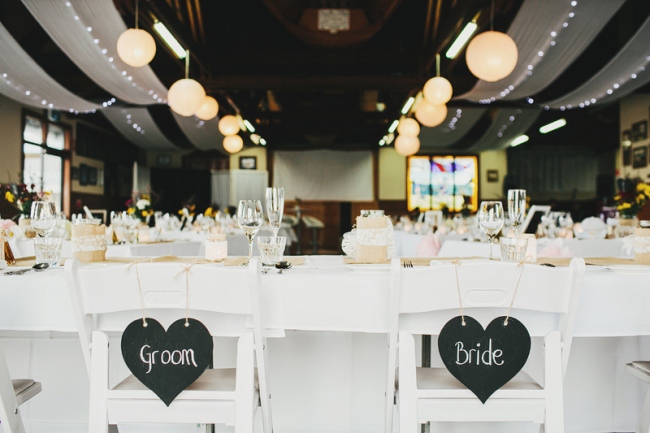 Beautiful bride, Taryn, married her long-time love, Ben, in a sweet vintage-inspired wedding with loads of little details we just love. This is one of the prettiest DIY weddings we have ever seen, so we simply had to share with you how clever she is! 
////
Taryn and Ben had been together eight years when they got engaged, so they didn't see the sense in waiting too much longer to call each other husband and wife. And so they gave themselves only six months to plan and execute their dream wedding. A love of craft and styling, and also time and budget constraints, lead to Taryn going full DIY for her wedding styling. She came up with her entire concept for both her marquee ceremony decorations and her reception tablescapes. 
Rustic, vintage, and a bringing-the-outdoors-in feel were all brought together for the fresh and details-heavy concept Taryn came up with. The result is a really pretty and stylish wedding that really wowed her guests. 
We love these images from awesome Sunshine Coast wedding photographer, Julian Beattie Photography. Taryn has oh-so-kindly confessed in her own words below just how she went about begging, borrowing and stealing (okay, not actually stealing, but renting) her way to DIY wedding success. Enjoy!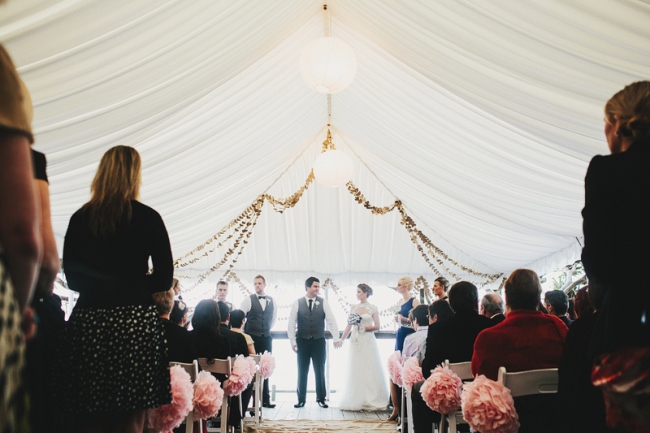 "I found a tutorial on You Tube that showed me how to construct tissue paper flowers, and a friend gave me the heart garland. She is a school teacher, and had her students cut out all of the gold cardboard hearts for her own wedding!"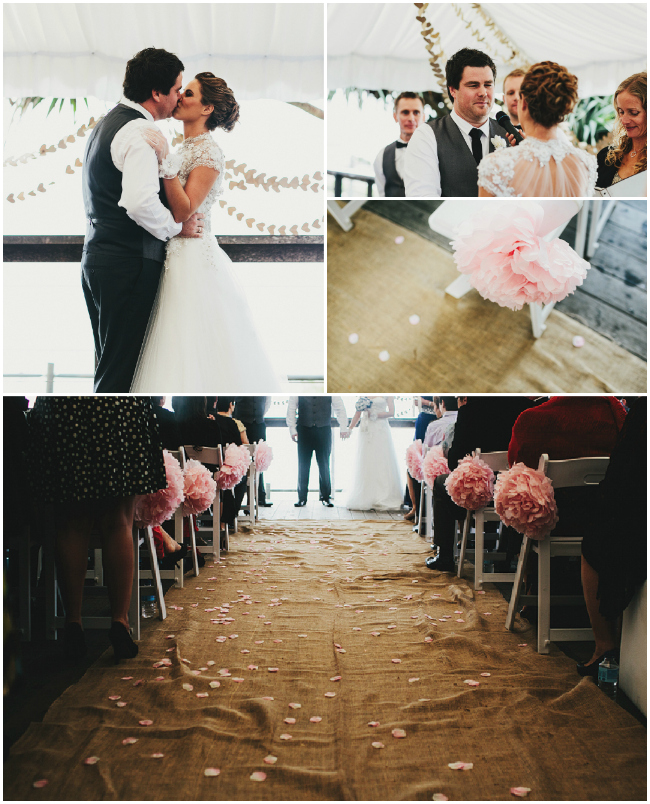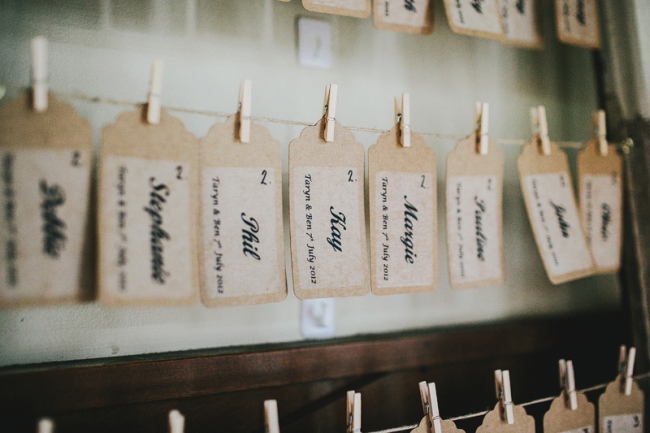 "I bought the card tags from Ebay, and made vellum-look stickers from Officeworks that I printed on from my computer at home."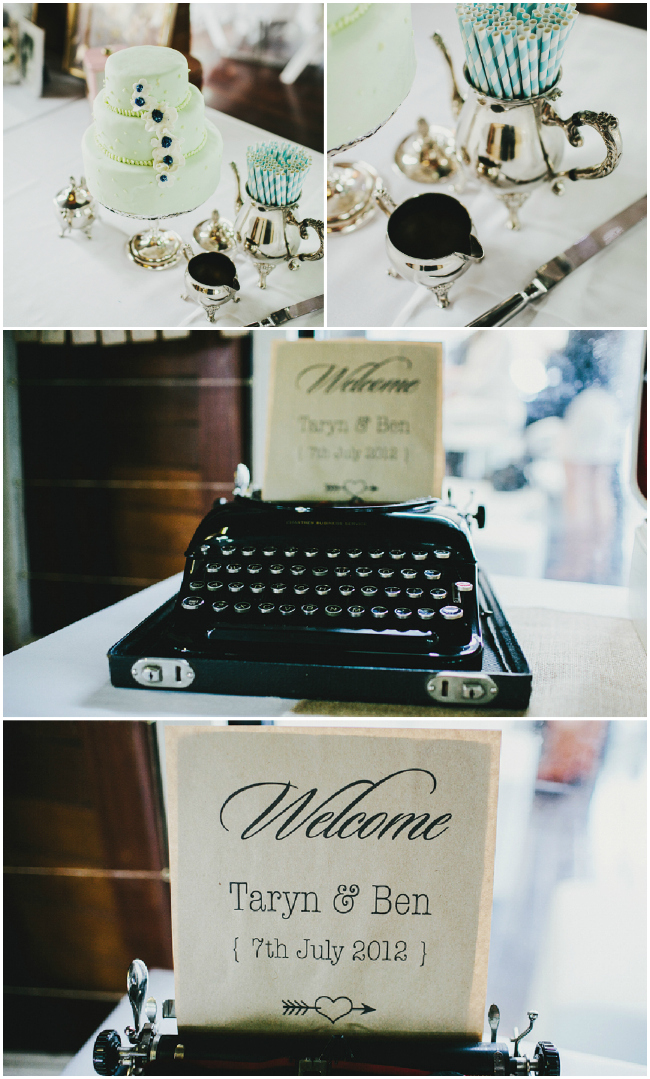 "I found the cutest silver tea set and cake stand from St. Vincent de Paul op shop. It took a littloe bit of work to polish up, but it was so worth it. All of them together cost only $30! I rented the typewriter from Fresh Honey Weddings"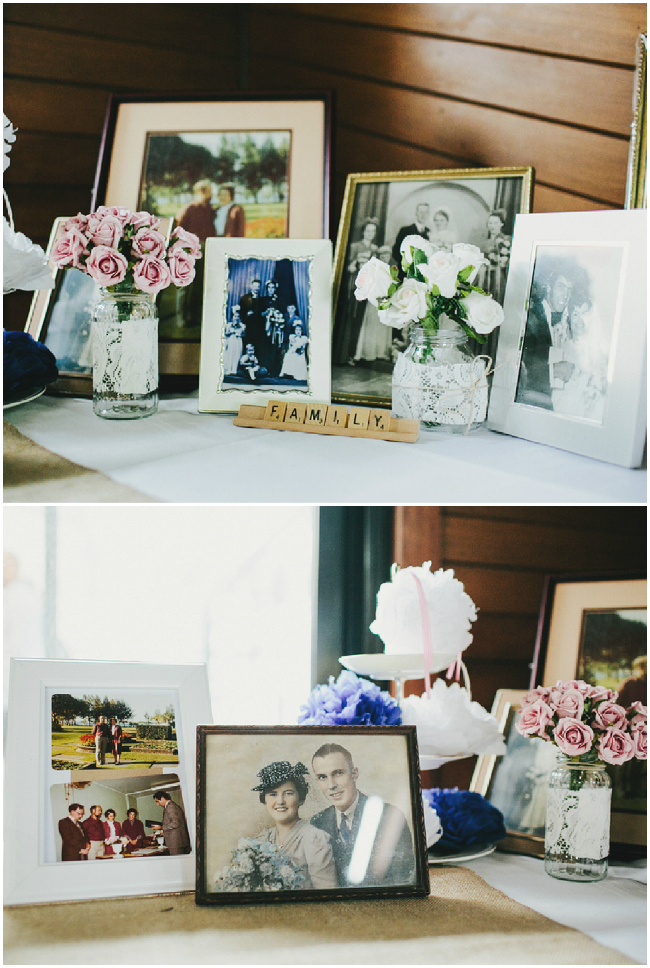 "I wanted to include some old family wedding photos from both sides of the family, because none of our grandparents could be there on the day. Some had passed away, and some were just not physically able to be there for one reason or another."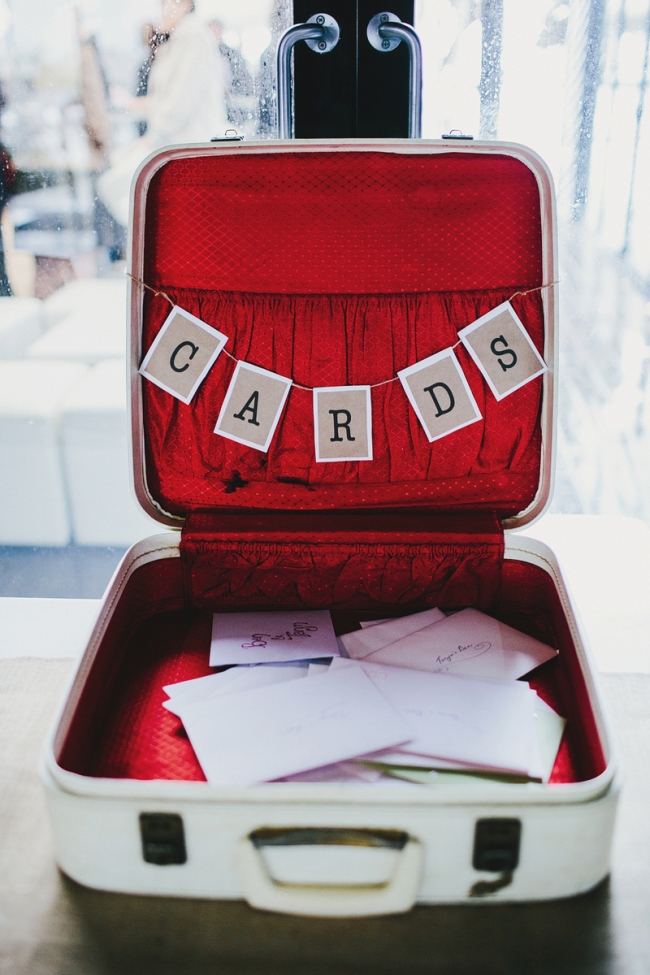 "My maid of honour's mother lent me the beauty case she received for her 21st birthday 45 years ago."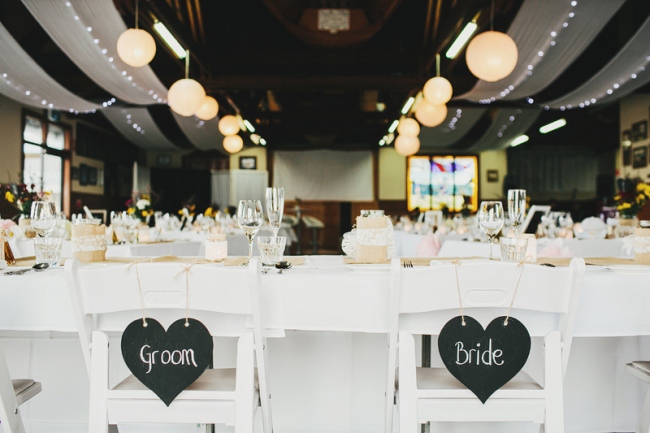 "Bride and Groom heart-shaped chalk board signs were hired from Fresh Honey Weddings."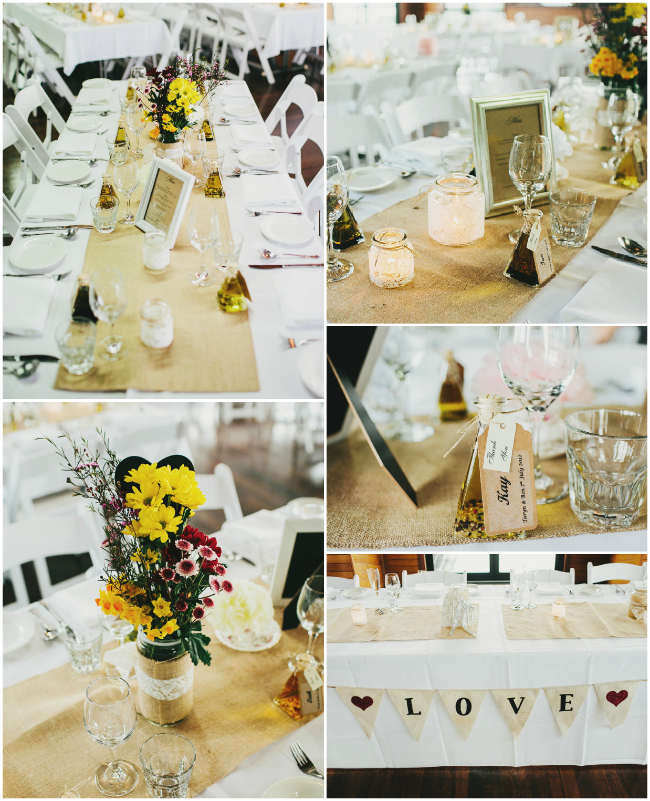 "I enlisted everyone to keep hold of their jam and coffee jars in the months leading up to my wedding and ended up with a huge collection. I removed the labels and wrapped them in hessian and lace. The flowers were purchased the day before the wedding at the local markets. My friend's mother overlocked the edges of the hessian table runners, which I purchased from Spotlight. LOVE bunting was also hired from Fresh Honey Weddings. Our wedding faviours for our guests were a variety of olive oils that I made myself. Some had balsamic and thyme, others had rosemary, chilli and garlic."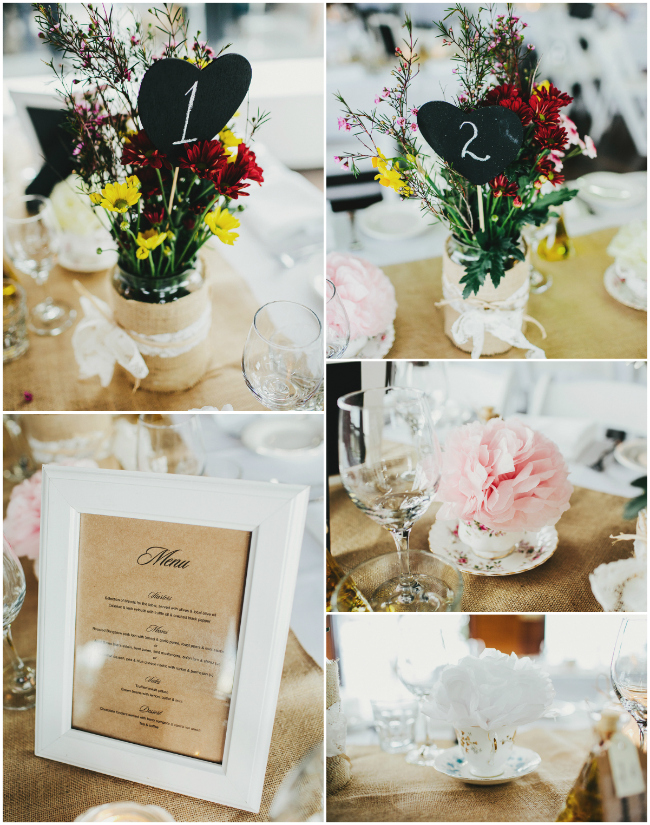 "My mum has a beautiful collection of vintage tea cups. My favourites are the Royal Dalton pieces, which I placed on each table with more tissue paper flowers in them. So pretty!"
"We had the most beautiful day…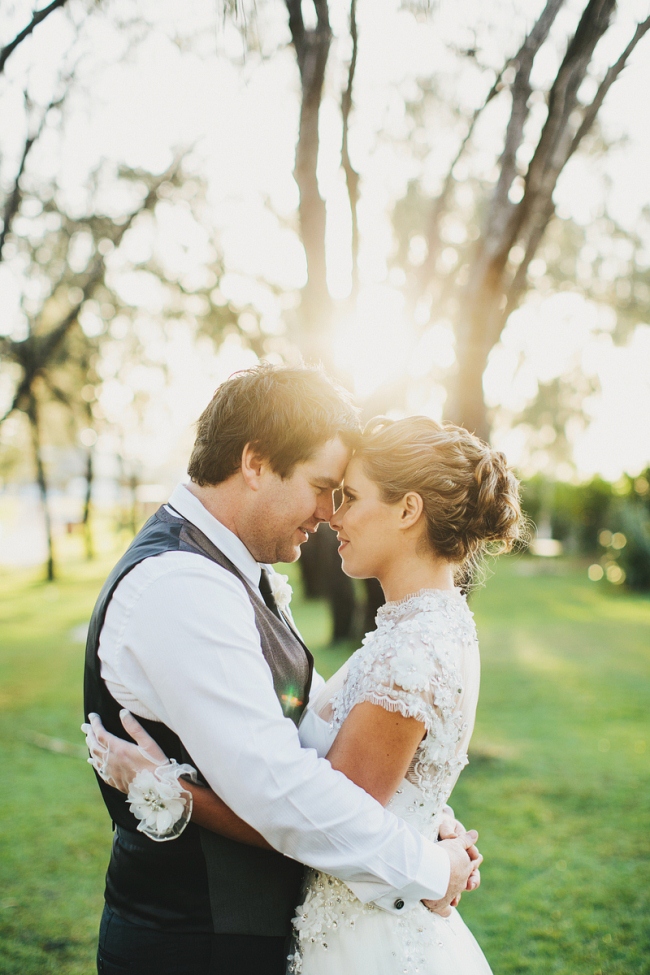 … and we're living happily ever after!"