The Bride's Tree Volume 5 Out Today!
29th April 2013
Our latest free online wedding magazine is out today, and wow is it a beauty! This edition is full of some seriously inspiring offerings from the Sunshine Coast wedding industry, which is as always abundant with stunning bridal brilliance.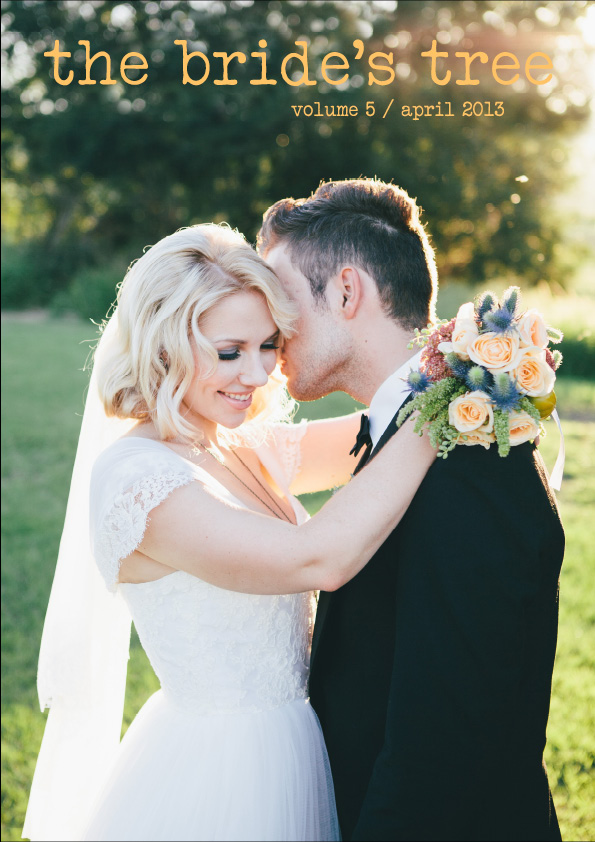 We found four of the most gorgeous real weddings around to share with you. There are two amazing, but very different Noosa weddings – one bohemian beach wedding, the other a resort wedding with classic modern vintage styling. There is a Sunshine Coast hinterland wedding with lots of little details, including a Lego theme! Yes we know that sounds more than a little strange for a wedding, but it was pulled off very cleverly and tastefully. And to round out the real wedding offerings, we have a full DIY affair in a private farm wedding with a hint of the hipster about it. 
As if that wasn't enough rad wedding inspiration, we also have two styled shoots to share with you… one is a never-before-seen contemporary vintage shoot with a peach and tangerine colour palette (amazeballs!), from which we found our bee-yoo-ti-ful cover shot. The other takes you into the wilderness with lots of funky florals. 
Three of the features in the magazine also include a film link, so you can see even more of the awesomeness!
Just when we think we can't love another magazine as much as the one we just created, along comes another incredible bunch of pages. It's like having another baby – there is always more love to go around and we adore this new addition to our little magazine babies with all our little hearts! We hope you do, too.