Gabriella loves Nathan | Noosa Heads Wedding
28th April 2022
When the pandemic made it impossible for them to cross the border for their planned Byron Bay wedding, a swift Plan B was arranged for a Noosa Heads wedding that Gabriella says was even better than the original plan.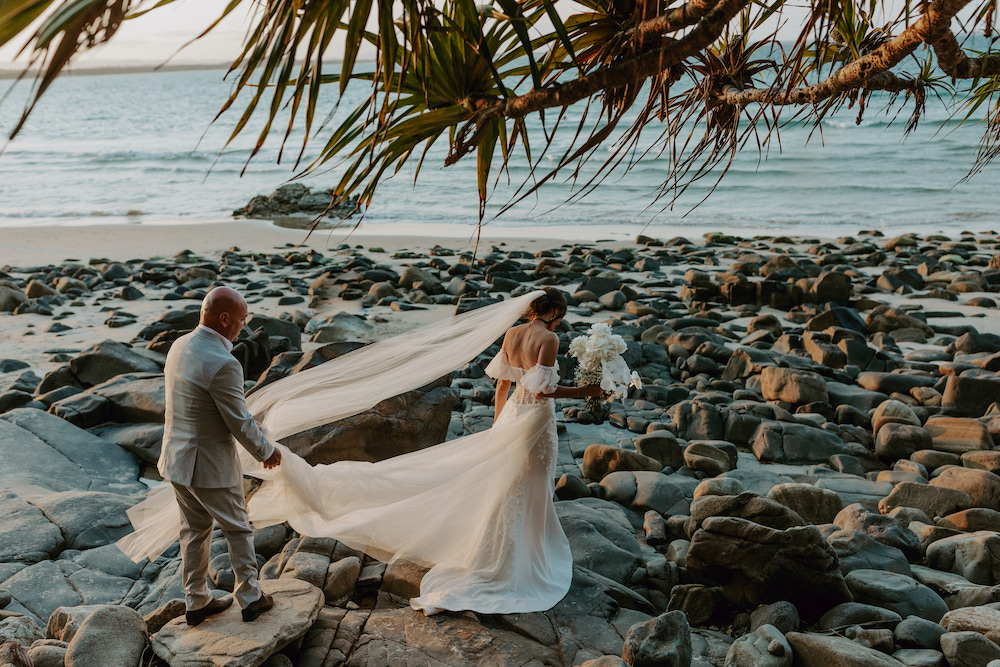 It seemed disaster had struck when borders were suddenly announced shut in late 2021 just in time for Gabriella and Nathan to miss out on their Byron Bay wedding. Ugh. So close, yet so far. 
A terrible tale we've heard too many times these past couple of years, sadly. 
Unwilling to wait any longer to become Best Friends Forever and Ever, instead of giving up and rescheduling, this couple of teachers put their thinking caps on and got right to problem solving.
Noosa has always held a place in their hearts. Their Noosa Heads wedding ended up being even better than their original plan. After all, there's no place quite like Noosa. 
Bride, Gabriella, tells us all about it below… 
Vendors
Photographer | BECK ROCCHI PHOTOGRAPHY
Venue | NOOSA WATERFRONT RESTAURANT & BAR
Stylist | SPLASH EVENTS
Florist | WILLOW BUD
Cake | SWEET P CAKES AND COOKIES
Favours | Sake cups, DAISO
Makeup Artist | DOLLY MAY ARTISTRY
Hair Stylist | HAIR BY LACEY
Videographer | SUNSHINE COAST VIDEOGRAPHY
Celebrant | JEANETTE MCDONALD
Accommodation | ON THE BEACH NOOSA RESORT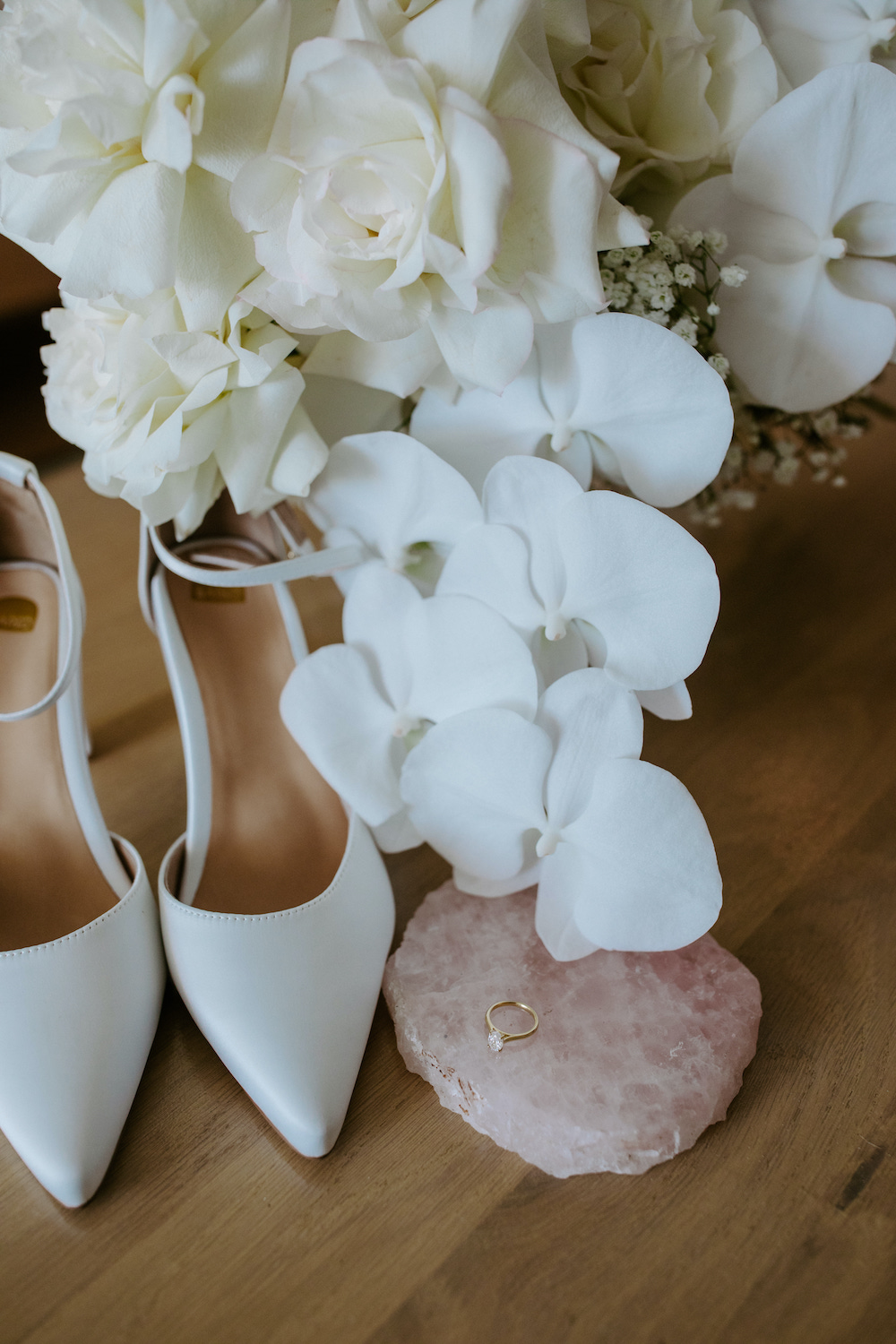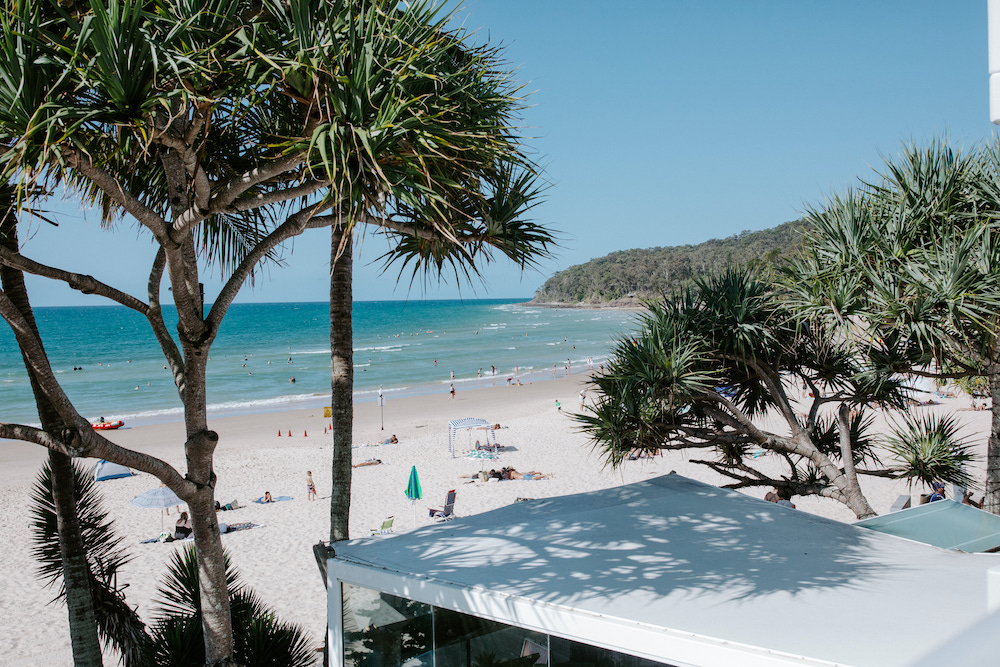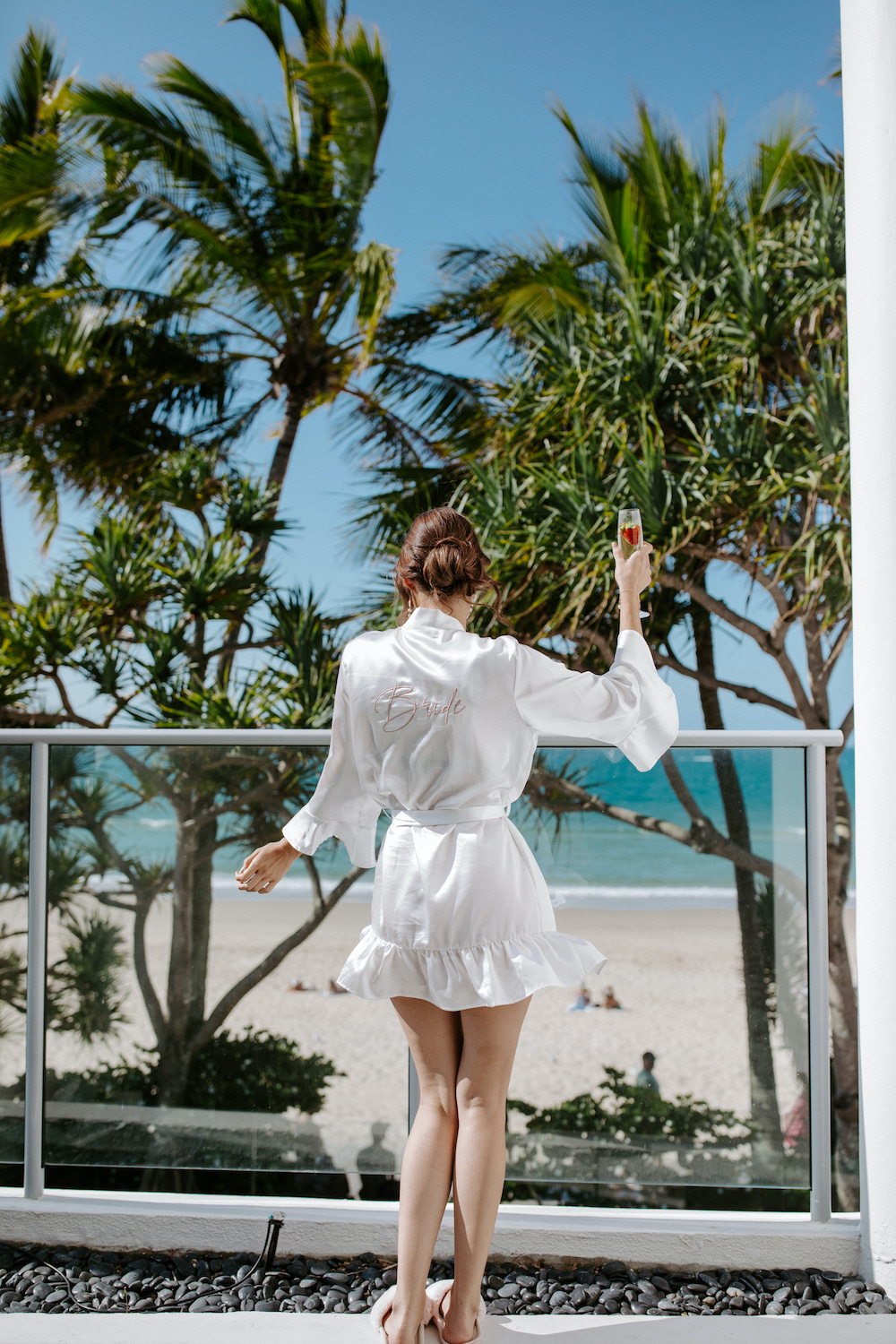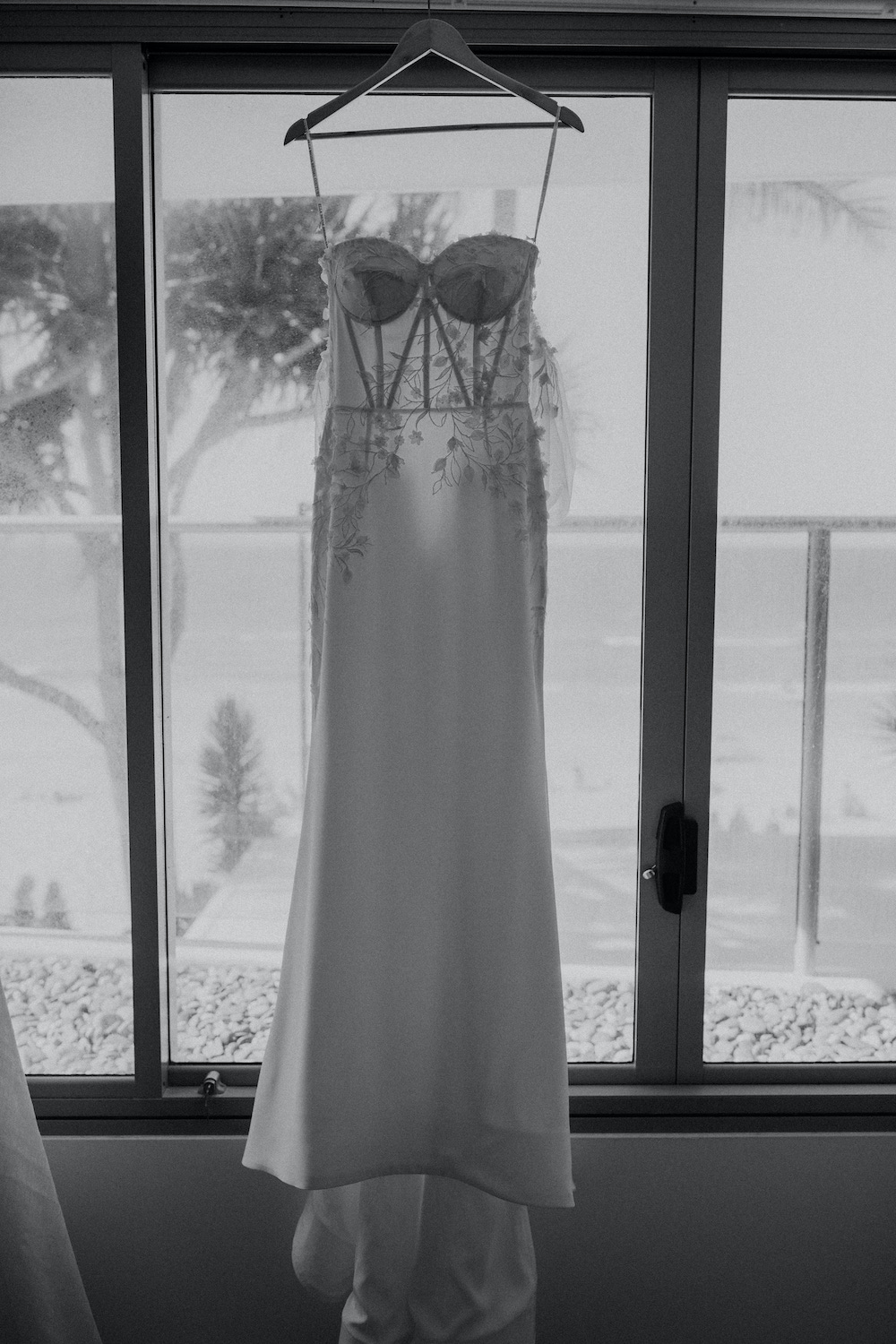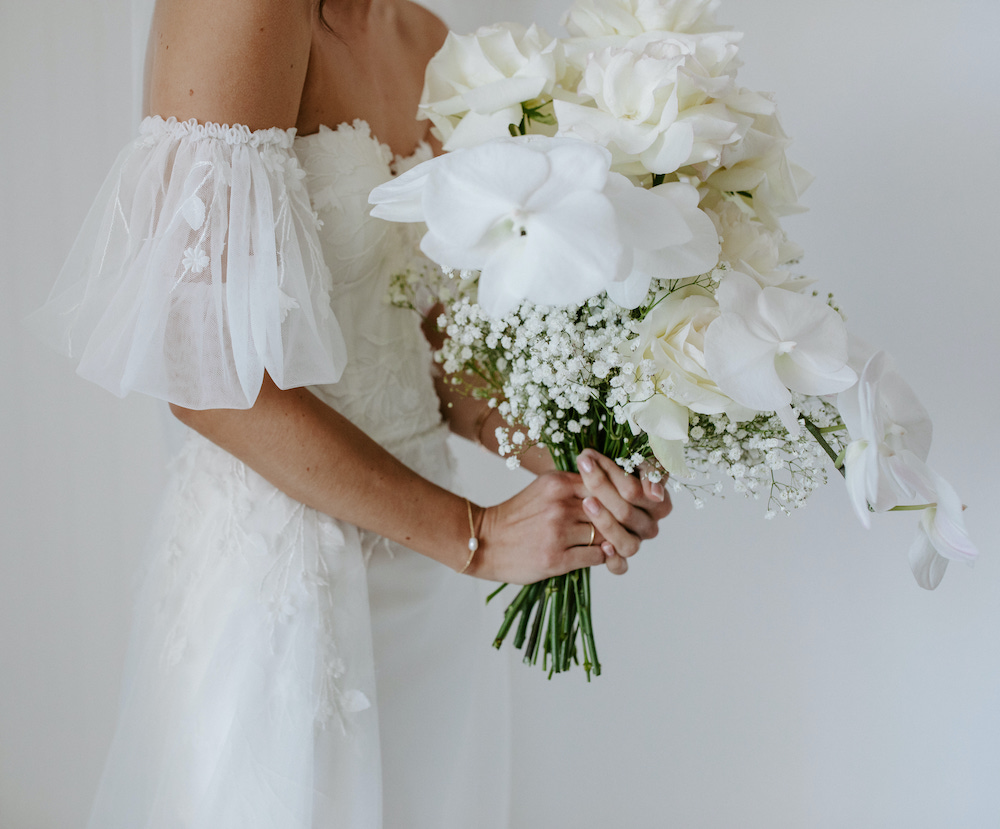 The Proposal
We had our ring made together, but I didn't know when it would happen. Nathan planned a very special summer solstice/eclipse sunset proposal by the waterfront with all of my favourite girls, my mum and grandma (and grandad) to be apart of the proposal. He learned and proposed to me in Japanese, as our lives are heavily influenced by Japan.
How We Met
We met when I began my career as a high school teacher at the same school. We clicked instantly and spent a year getting to know each other. Now, all the people who were around us said they could see our chemistry, even before we saw it ourselves. We spent a lot of time laughing and joking around, and built such a strong foundation for a long lasting marriage, without even knowing it!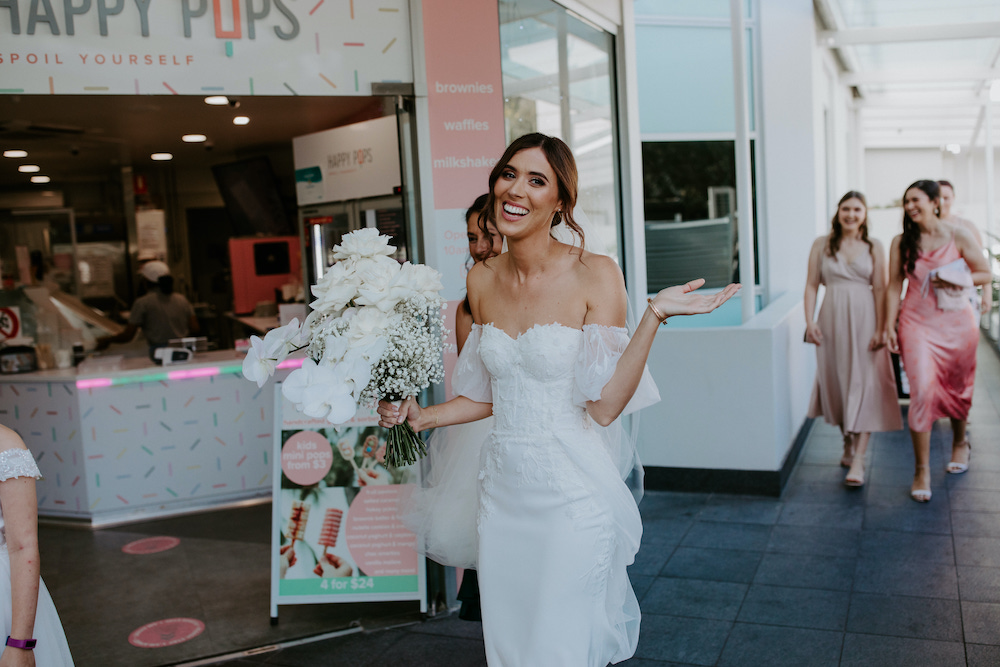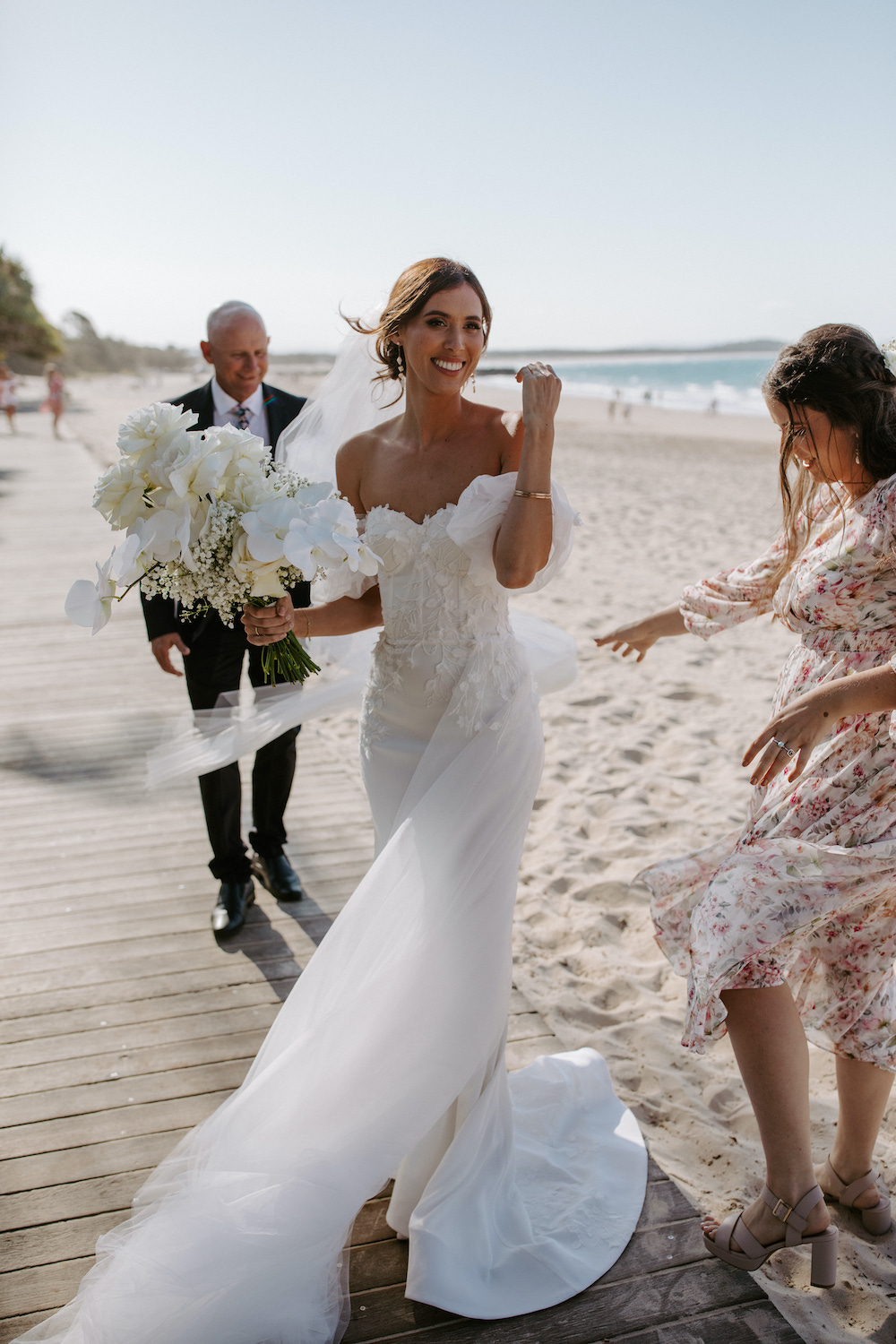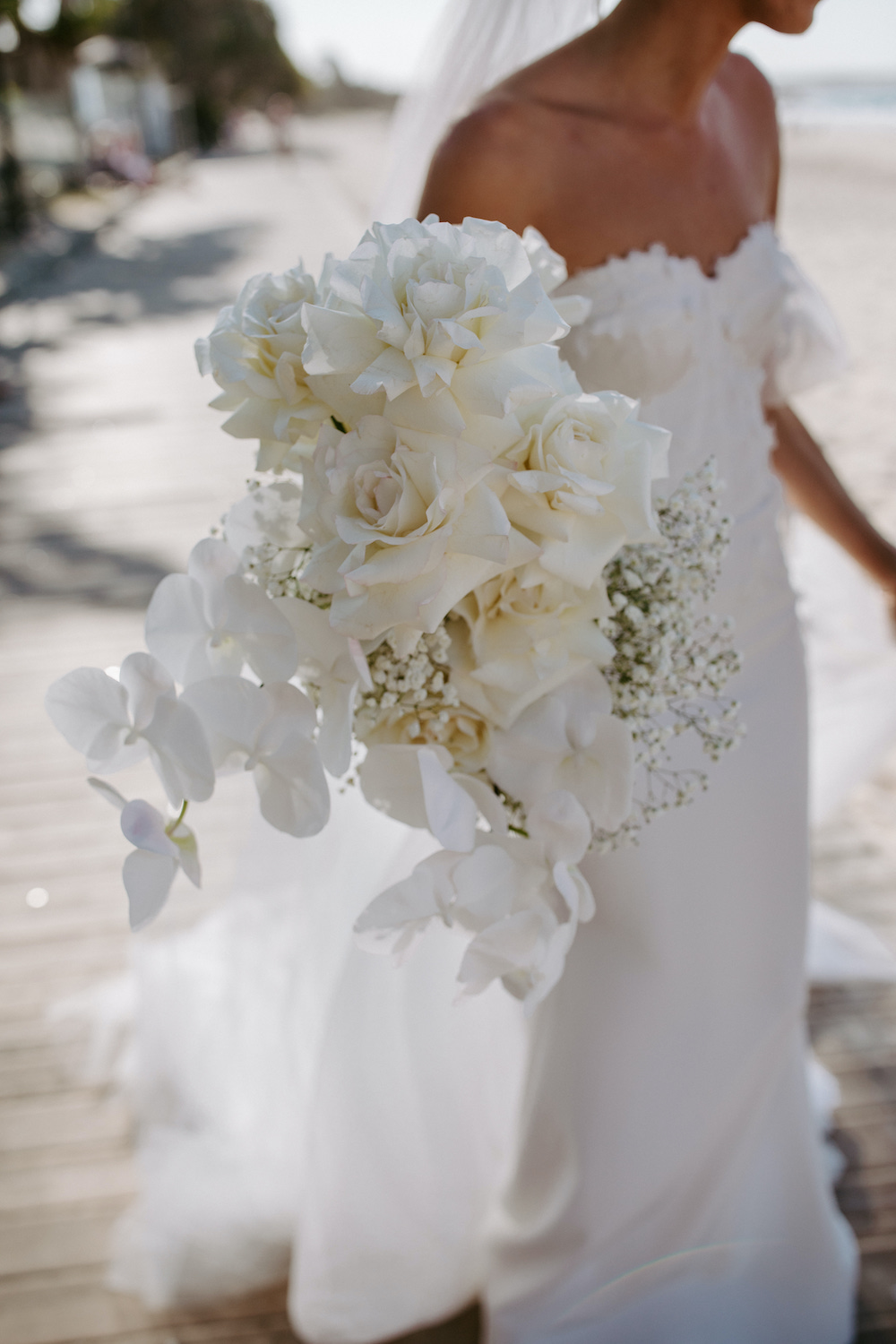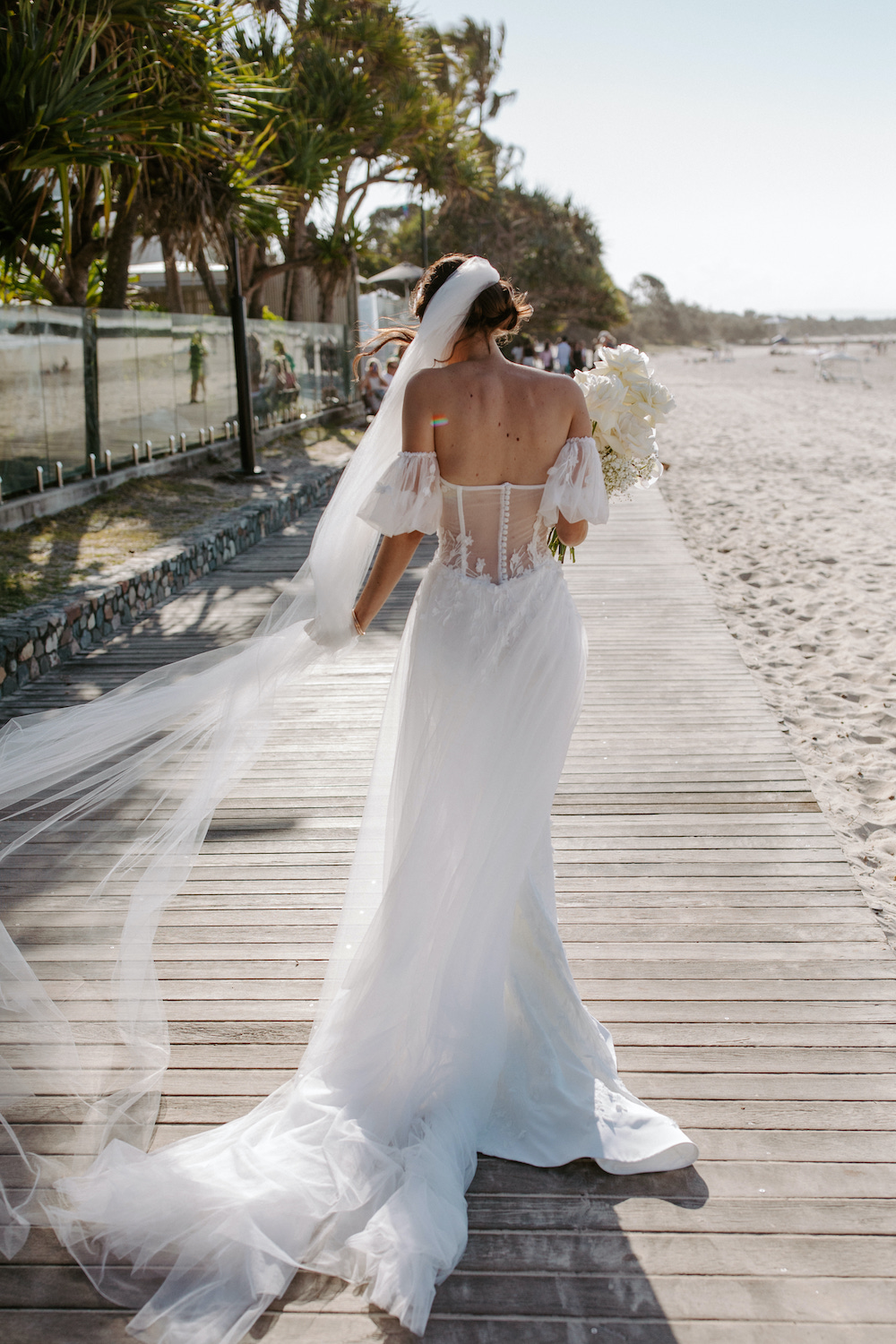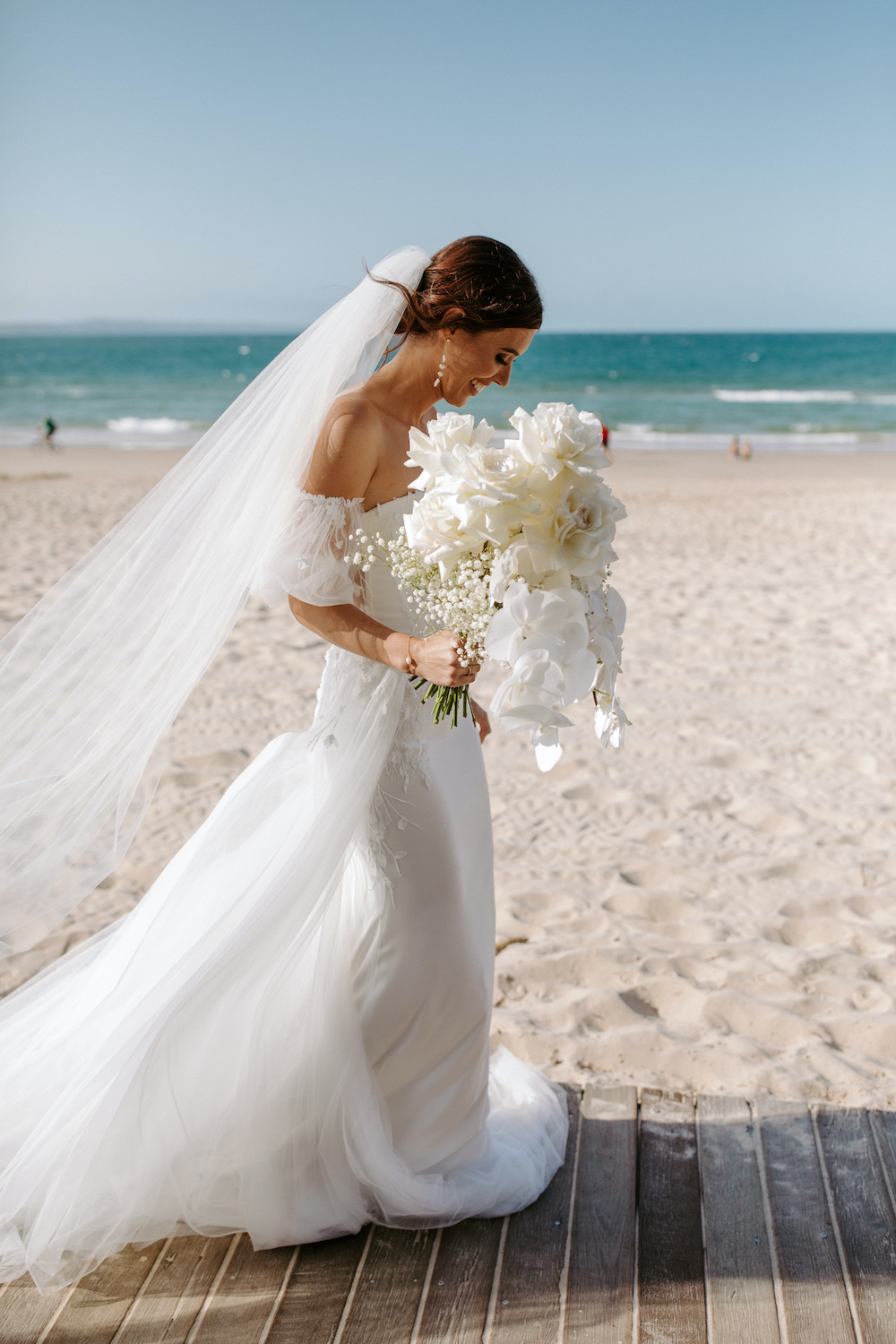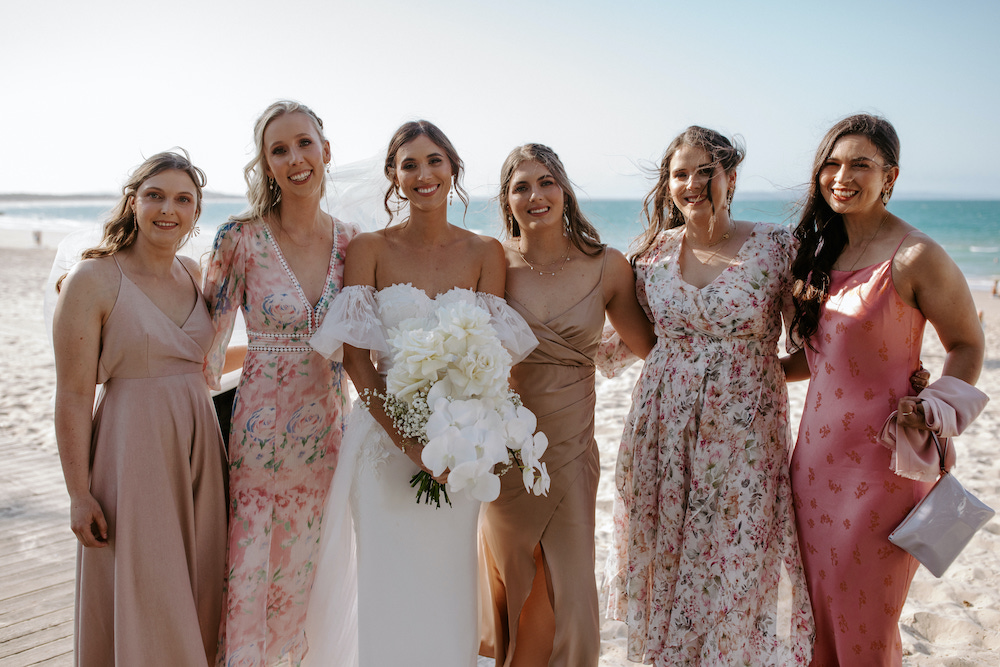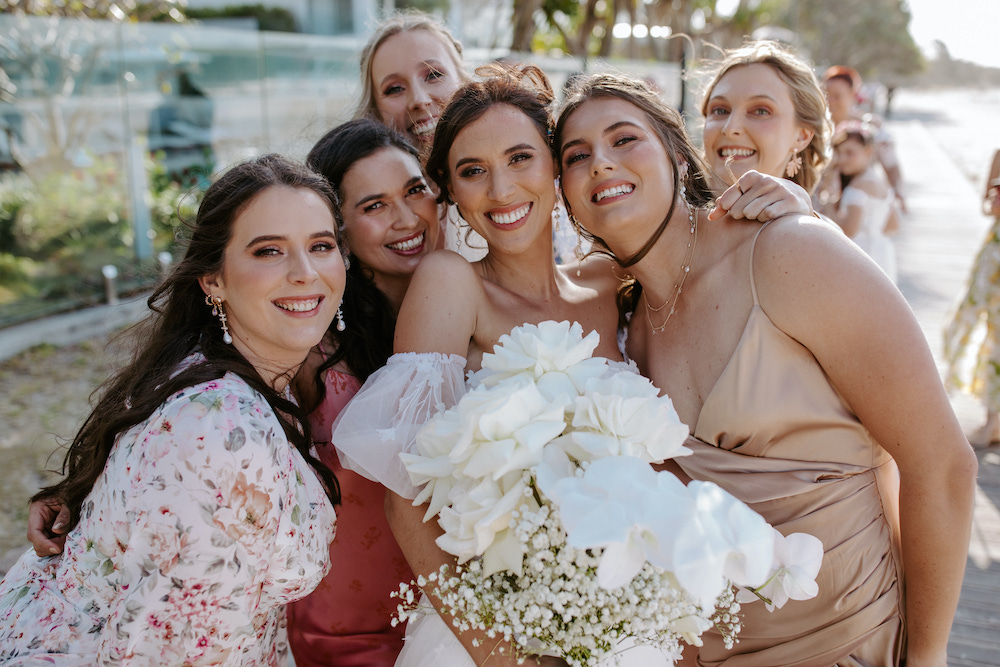 Why I Married Him
Nathan and I have so much fun with each other, every single day. We can go a whole day sitting on the couch being silly together and it can feel like the best day. We just want to be around each other all the time and support each other through everything, we really are best friends.
Our Top Wedding Priority
One of our main priorities was to make sure that all of our family and close friends were with us on the day. We also had to be by the beach (a must for me!). We wanted the day to feel completely relaxed and very intimate. I have been mega obsessed with weddings since I was very little and Nathan knew this, so he made sure that I could have everything that was important to me for our special day.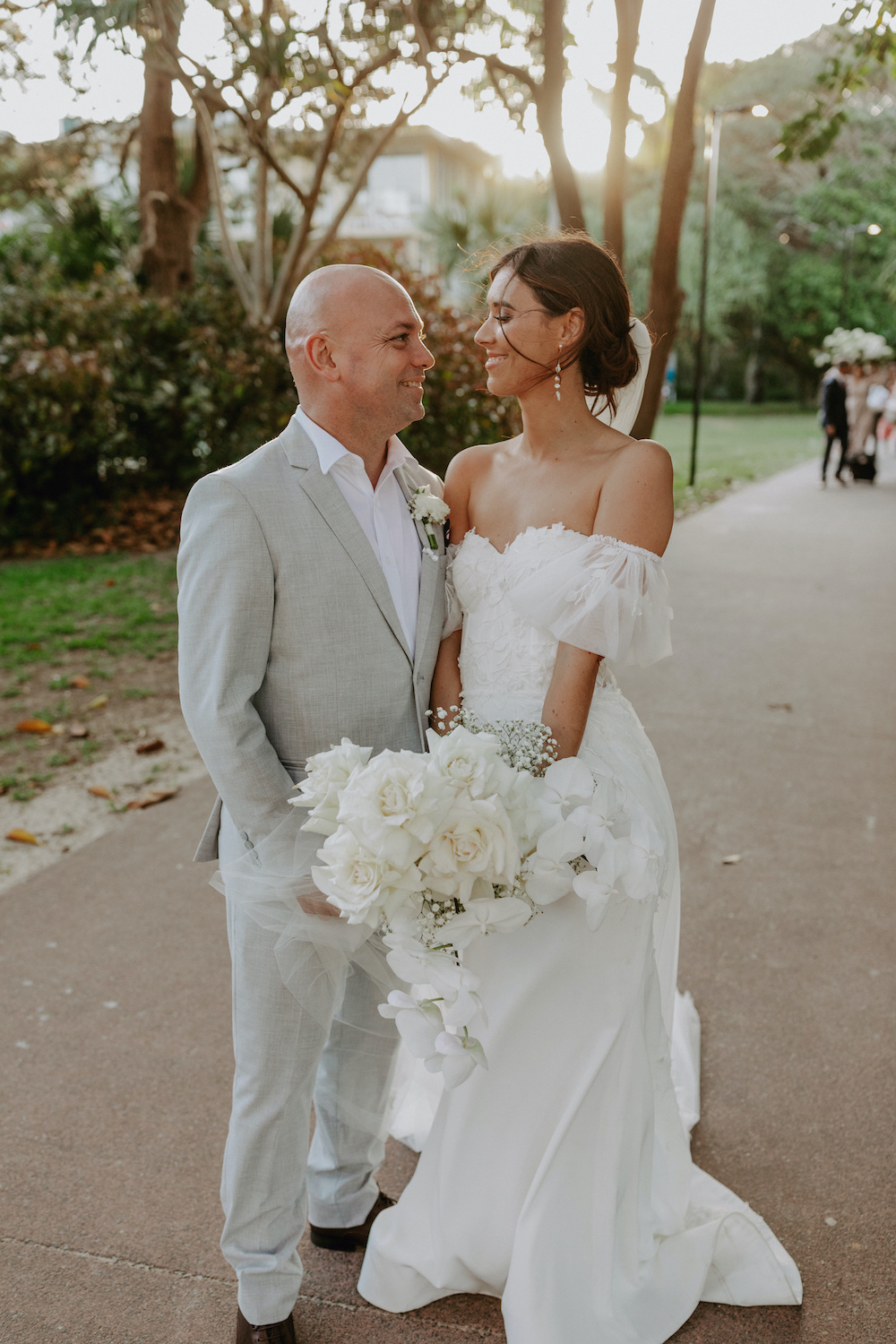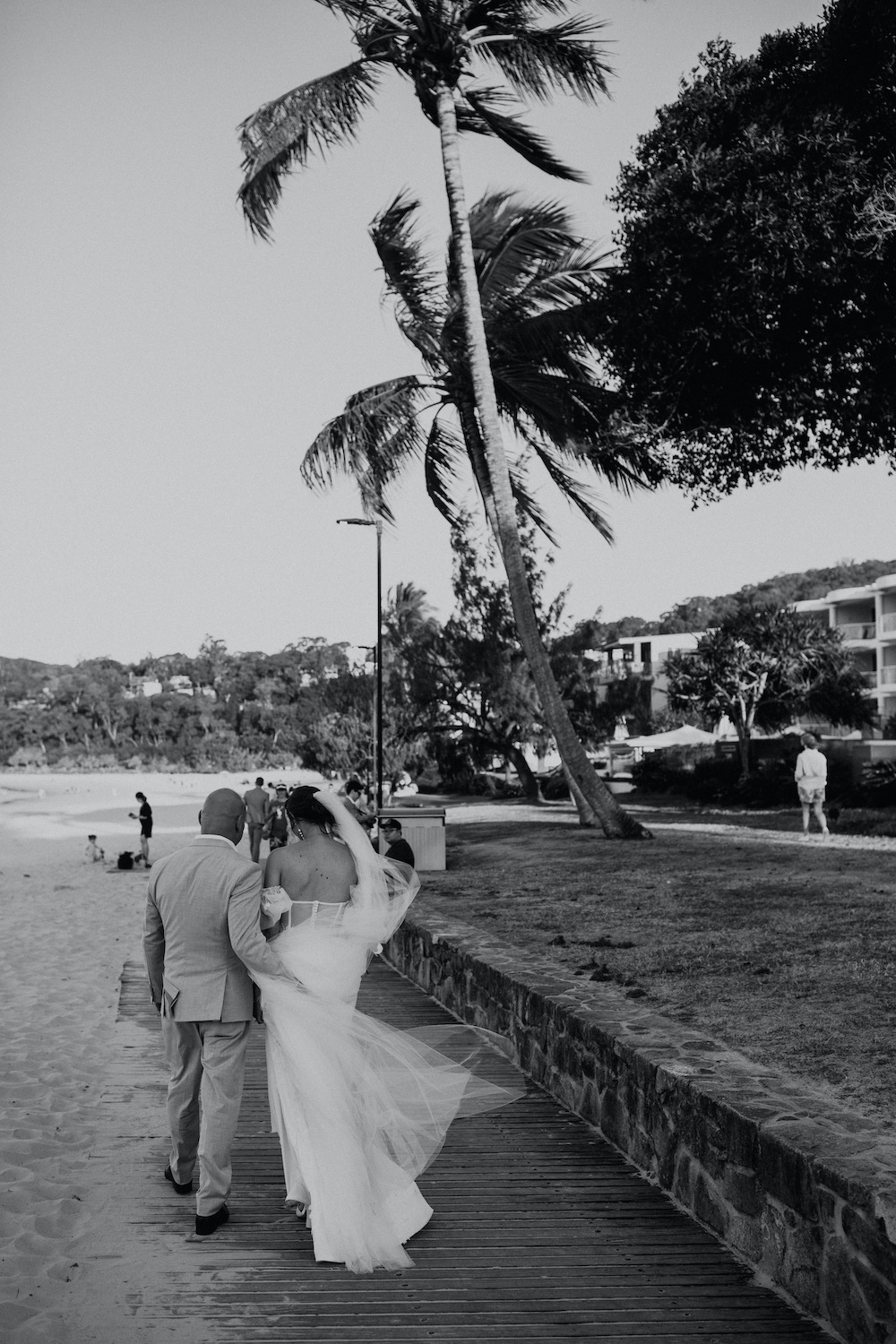 Biggest Wedding-Planning Challenge
We originally spent a year planning our wedding in Byron Bay and had to do a quick 3 week turnaround when we couldn't get through the borders. We didn't want to postpone being married so we decided to do what we could to create a new wedding with the resources and time we had. We were so fortunate to have incredible and supportive suppliers who were flexible and generous throughout the (short) process and made our day happen! Our second planned wedding was even better and more aligned with what we wanted anyway, so we are so thankful! I highly recommend reassessing a second time around after the decisions have been made and the pressure is off, I made a lot better choices this time!
The Location
Noosa was always a special place to me, with lots of memories of childhood family holidays. The boardwalk and beach along Noosa Heads Main Beach has always been the epitome of coastal luxury to me. I couldn't have imagined being anywhere else on my wedding day now. Even Byron Bay can't offer a backdrop as beautiful as that.
Noosa Waterfront Restaurant was incredible at making sure we had everything we wanted, genuine staff with amazing service and everyone went out of their way to create a special event for us.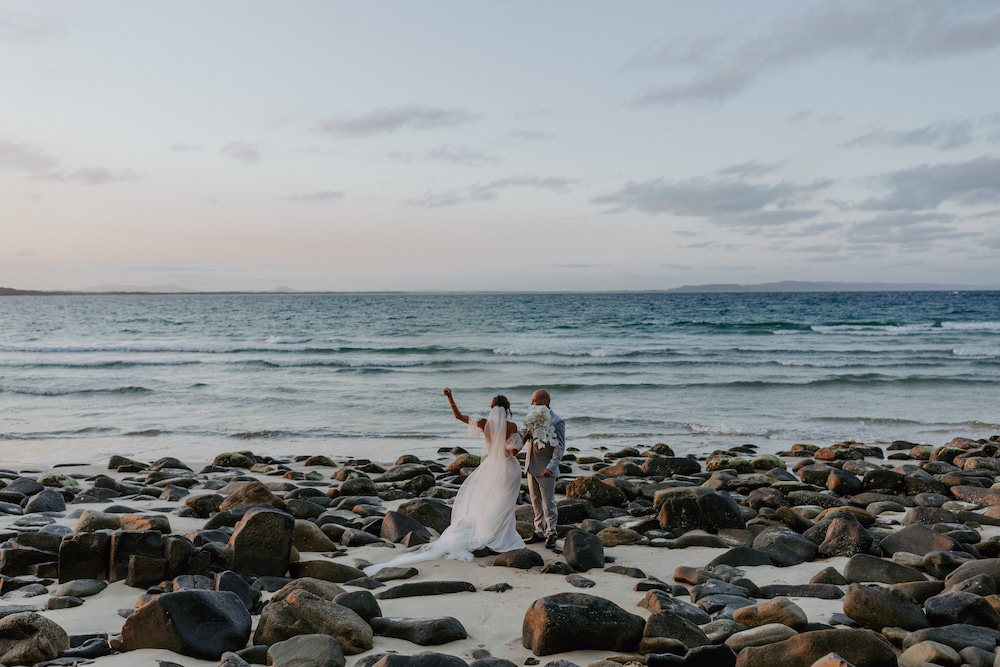 Wedding Secrets
Biggest splurge: Photographer, Beck is THE BEST. Accommodation, it was such a good decision to splash out on a beautiful place to get ready with views and space as well as it was a nice place to come back to and wake up the next day at with our post wedding glow.
Best money-saving decision: Using as much from the restaurant for styling as possible to save money so you can spend on a couple of extras like charger plates and pillar candles to style venue. Don't feel bad to splash out on the few things you know will elevate the day and make you happy when you look back on it.
Bride's dress: Ella Moda
Accessories: Ella Moda veil, Luisa Luxe jewellery
Bride's shoes: Bared Footwear
Groom's attire + shoes: Tarocash
Bridesmaids' dresses: Esther & Co., Forever New
DIY: Created our own signage for ceremony and reception, bridal jewellery.
Honeymoon: Waiting to return to Japan for a long adventure, so a week in Hamilton Island before Christmas was the next best thing.
Number of guests: 50
Wedding budget: $25,000
Actual cost of wedding: $40,000 (after we paid for two weddings!) Not including first wedding costs we didn't get back Wedding 2.0 probably costed about $30,000.