13 Wedding Day Mistakes You Don't Want to Make
16th March 2022
Heed our advice, because avoiding these mistakes could make all the difference in the success of your dream wedding day.
It's easy to make these mistakes on your wedding day when you haven't done this before. We've spoken with some of our industry expert friends and together we've come up with some mistakes you want to avoid. Read on for some advice on some simple tweaks to handle certain situations for some better outcomes.
Let's get into some common mistakes brides and grooms often make on their wedding days… 
Allocating tasks to your main players
On the wedding day morning, the last thing you want to do is create the potential for stress. So when you choose the people who might have specific organisational or logistical tasks on the day, the very last people you should be looking at are the people in your bridal party, or any other key players, like your parents. 
Where possible, instead rely on your trusted Sunshine Coast wedding vendors, but if you really need to call on the kindness of family and friends, choose people who don't have other key roles on the day. Also, be sure to spread the tasks around, because you don't need to overload one person – remember, they want to enjoy the day and have time to get themselves glammed up, too. 
This way your bridal party and parents can be with you, relaxed, enjoying all the special moments and ready on time. 
Getting sunburnt prior to the wedding. 
If there was ever a time to Slip, Slop Slap, it's the days and weeks leading up to your wedding day. We all want to glow on our wedding day, but perhaps not so red to be able to lead a pack of reindeer on an important overnight mission. 
Unfortunately it's not only the risk of being a bit pink on your wedding day, depending on the severity of the burn you could be quite unwell with sunstroke. And if you happen to time it particularly badly, the absolute biggest disaster of all could occur – peeling. Eek! 
Play it safe, babes, and stay out of the sun like your mama taught you. 
Messing with your skin
Starting a new skincare routine or getting an unfamiliar professional treatment, such as a facial or peel, too close to your wedding day. If you're wanting to sort our your skin before the wedding day to get that glow, start early. 
You want to minimise the risk of having a reaction in the lead up to your wedding day, so if it's less than six weeks till your wedding, just stick with skincare and treatments you've already tried and tested.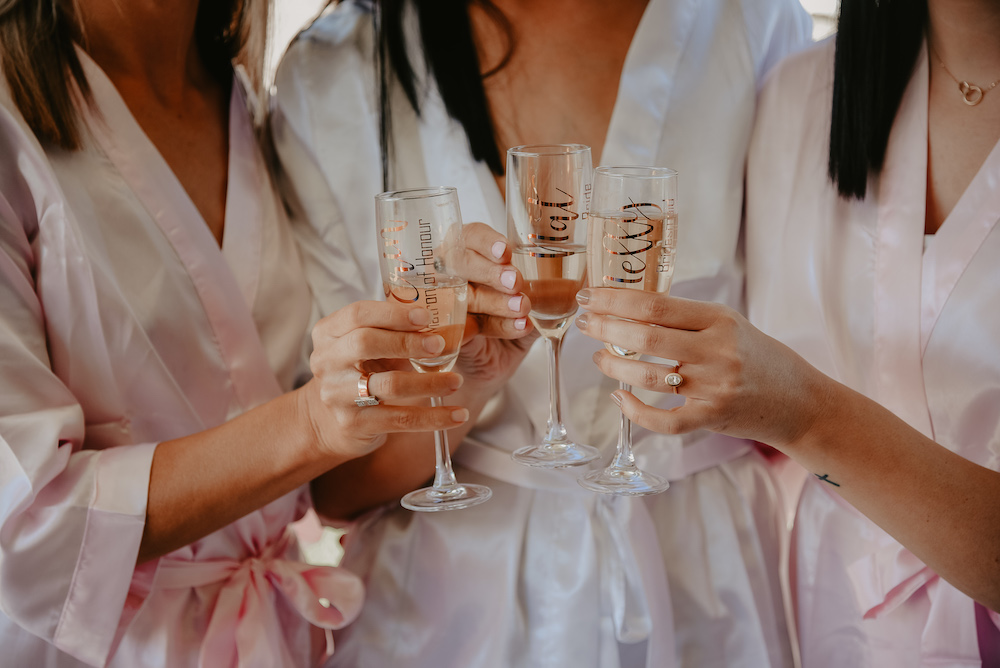 Getting too tipsy too soon 
This one is pretty obvious. Break out the champagne, by all means, but make sure you've got something in your tummy and you pace yourself. 'Nuff said! 
Making a pig sty of your getting ready space 
Your photographer walks in to your beachside apartment or cute hinterland cottage… there are people everywhere, stuff everywhere, not a clear surface in sight. How do you expect to get the cute bridal party shoot in your embroidered robes, and that special dress reveal moment with tears from mum and dad with so much mess? 
So, how do you avoid this? First of all, always go for an apartment over a hotel room. Designate a space for your bridal party to keep their stuff and get dressed, and make sure it's a tucked away bedroom rather than the master or main area. 
Eat early and clean up afterwards. If you leave lunch too late, you'll have food and plates everywhere. Aim to finish up with lunch well before your photographer arrives. That way your photographer can quickly and efficiently get the shots they need without dodging dirty dishes and half-eaten platters. 
Think about where you'd like your dress, shoes, jewellery, perfume and flowers to be photographed. Try to keep the main bedroom free of extra stuff and people, so even if other areas get messed up, you have one main area that's looking photogenic. Oh, and make the bed! 
Not ironing your clothes 
Leaving your ironing or steaming to the last minute is a bad idea, especially if you're not very good at it. It's great to have the steamer on hand incase anyone needs a rogue wrinkle sorted out. However, steaming a wedding dress – or even the groom's attire – on the day is adding a time-consuming task to the morning that can be avoided with a little forward planning. 
Pro tip: Don't forget your cute jarmies or robes! Robes fresh out of the packet with lines everywhere is a big no for photos. 
Trying to save money the wrong ways
Condensing your timeline to save money on photography or videography or food and beverage will not work out well for you, and will prevent you from enjoying your day as much as you could. 
You need some breathable moments on a day that by all accounts from previous brides is likely to fly by. Listen to your vendors, who have done this hundreds and thousands of times, and take on board their suggestions when it comes to how to schedule your day. 
Holding your ceremony in a spot that's difficult to get to
This one is essentially about making sure you're being considerate to your guests. For elderly guests, or those with limited mobility, it's really difficult to navigate a long trek to your ceremony space when it can only be accessed on foot. Also be aware that when you have, for example, a long set of stairs down to a beach location, you're may have some people in your group that will find this too physically taxing or intimidating, so they may opt to watch from afar instead. If this is Grandma, that might be really upsetting for her and/or you to have her miss out.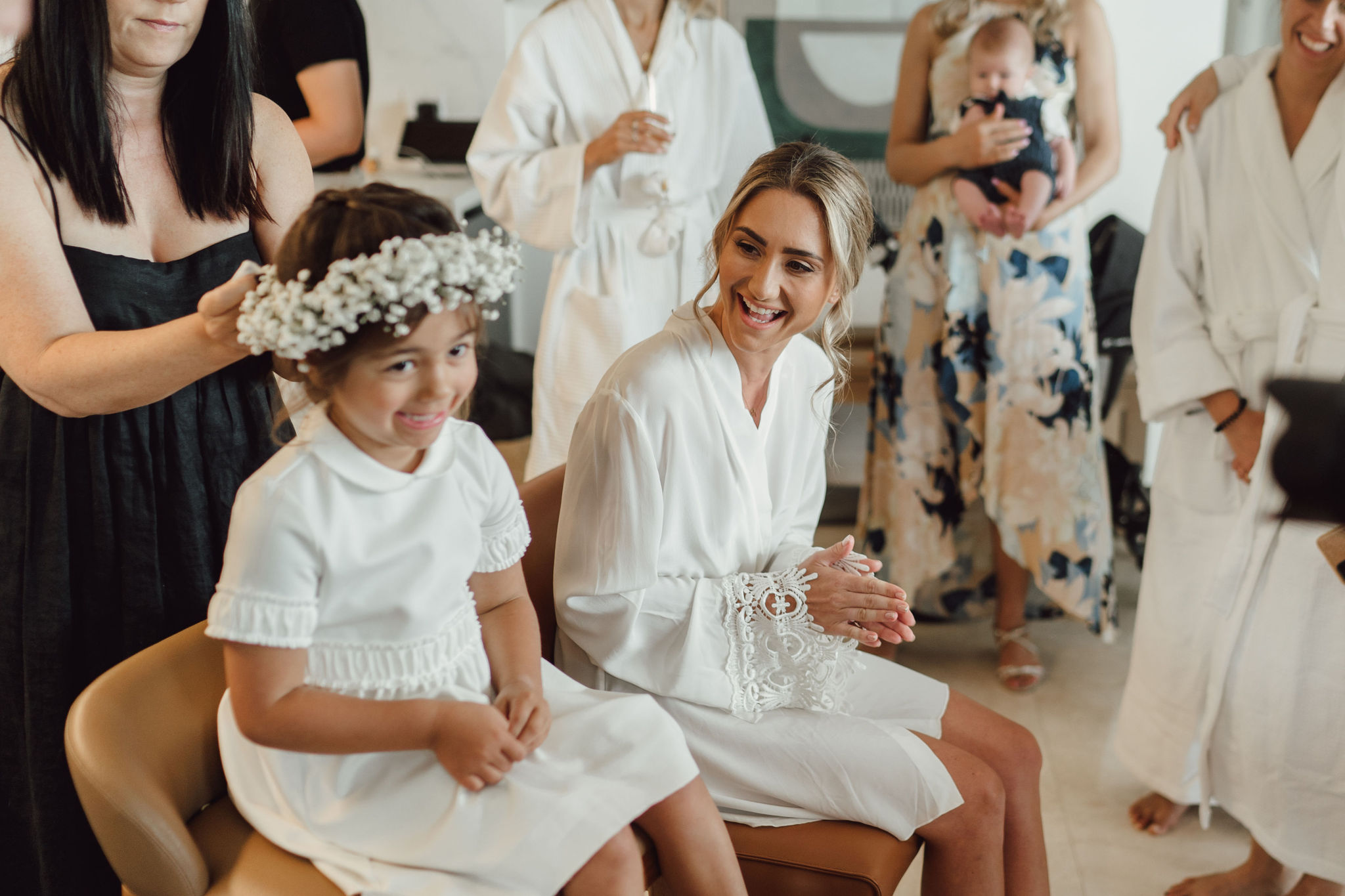 Having children involved too early 
When you've given a special role to a special little someone in your life, excitement levels tend to reach next level. They've heard about this huge party where they get to wear a Princess dress or dapper suit for months.
The day is finally here, and… why can't they get dressed yet? When is it their turn for makeup? Why isn't it time for cake yet? When will the big car get there? 
These are the questions – on repeat – that you're opening yourself up to if you have your mini attendants with you from too early in the morning. Sure, you want to involve your special little people, but trust me – it wears thin for everybody, including them, when the day drags on for them. 
Instead, have them off on a morning adventure with their father or other relative, who will help them expend a bit of energy, have a feed and a rest, and then be brought in just in time to get dressed and jump in for some photos. 
Inviting drop ins on the wedding day morning 
Similarly to the last point, this one is all about keeping you calm and the chaos down on your wedding day morning. It's tempting to say to Aunty Kay and your old school friend from interstate, "Just drop in!" to your getting ready location. However, it's amazing how much these seemingly small interruptions when added up can completely derail the morning and result in you running late. 
Opening presents before the photographer arrives 
When your gorgeous spouse-to-be sends you a gorgeous heartfelt gift complete with love letter on your wedding day, you don't want your photographer to miss that moment. Wait to open any gifts until they arrive… just try to make that happen before you get your makeup done if you can! 
Not catering well enough
The cardinal sin of weddings is to not feed your guests well enough. You don't want people getting too drunk too quickly, nor looking forward to the Macca's run they're feeling the need for on the way home because they've gone hungry. If you need to find creative ways to keep the food budget in check, talk to your venue or caterer to make sure you're still ensuring everyone will end up full and happy. 
Sweating the small stuff 
I'm going to let Sandi from Rolling Scissors take this one, as she said it perfectly, "Breathe and don't sweat the small stuff, if you've got good suppliers with you on the day then it should all run smoothly. Trust them this is something they do all the time and they know what needs to be done, and most importantly – enjoy your day it goes so quick." 
Need more wedding planning tips and advice? 
Join our group of local brides planning their Sunshine Coast weddings. This private Facebook Group is Brides Only – no vendors – so it's a really safe space to interact with other ladies on the same journey. 
Images by Estella Photo, Mallory Sparkles Photography, Adore You Photography