The Life and Style of a Pro Wedding Hair Stylist
29th May 2015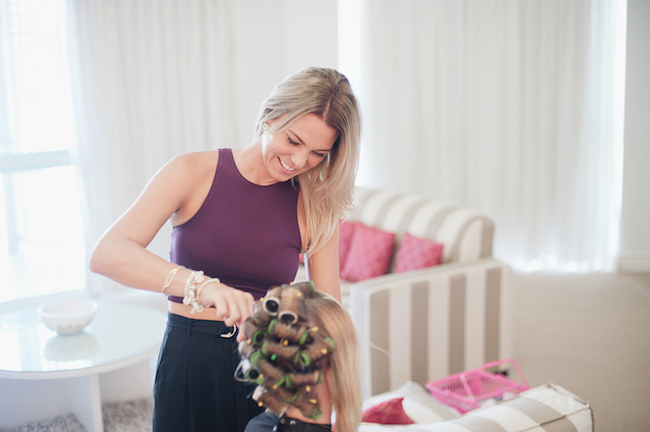 Nicole Taylor from Sass & Niki's Wedding Hair is one of our industry greats, who has gone from strength to strength with her wedding hair styling business. From working in a salon full time and doing weddings on the weekend, she now works fulltime in her own business, following her true passion for wedding hair styling. She has even generated a leg of her business that sees her travelling to Bali for weddings. We quizzed Nicole about her glam life as a Sunshine Coast wedding hair stylist.
Photos by Terri Hanlon Photography
Niki, how do you keep up with all the wedding hair trends and gain inspiration?
My passion has always been styling hair. I would have bought a VOUGE magazine instead of food when I was training to become a hairdresser! I am constantly keeping an eye on fashion from head-to-toe. Bridal and editorial. I enjoy buying bridal magazines and the resources on the internet are now so good! 
As you might know, I'm slightly obsessed with Instagram… I update my business page with my work daily. I find it such a great resource, along with Pinterest and tumbler. Im very visual, so I like these because its all about photographs! 
I am currently undergoing training to become a session.stylist with KEVIN.MURPHY to add to my attention-to-detail with brides.This is just a stepping stone from the bridal styling training I've done over the years with Toni & Guy, Sharron Blain, Nadine Donovan and Lizzie Liros to also working within very well known hair salons, alongside talented world-traveled stylists, who have taught me so much.
Is the gig as glamorous as it seems? 
Glamorous…Yes! I love making another person feel lovely! I've always been like that. I love what I do and I am driven to make my clients feel and look amazing from the minute i meet them. I pride myself on providing exactly what my bride wants and what will suit them. 
On your wedding day your Hair and Make up team should be calming and helpful. They should make you have a giggle and help you feel like a more beautiful you in the behind the scenes of your wedding morning! 
Do you ever rope family and friends in to trial new hairstyles on? 
Definitely! Ive always been the "hairdresser friend" that runs around doing all my girlfriends' hair before we head out for a wine or an event. But I'd have to say my 10-year-old daughter gets the best morning styling before school! She actually asked for GHD curls for her grade four photos last year. I really do enjoy my job, I enjoy all aspects of styling, especially bridal hair. My favourite would have to be a bohemian wave. I think my clients seek me out for this quite a lot on the Sunshine Coast!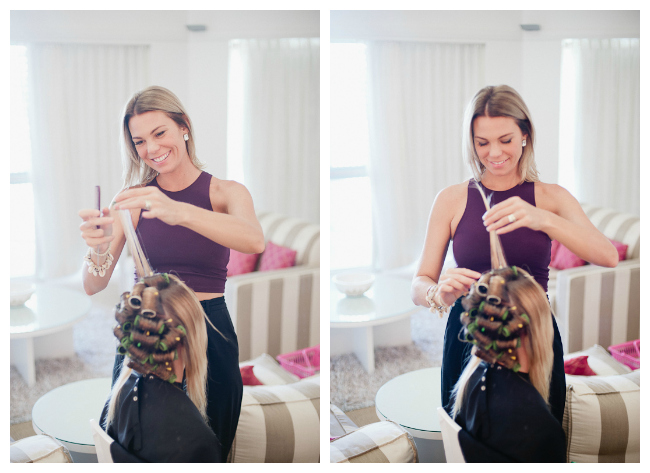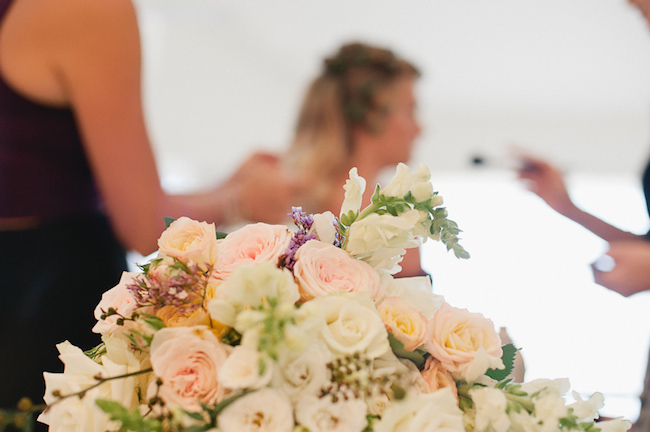 What makes being a wedding hair stylist so different from being a hairdresser?
A wedding hair stylist is not about your colour or cut. It's about pinning, blowdrying, shaping and creation of hair into as chosen style. Whether it be a bespoke up style, classic blow dry or a boho wave. These methods could be used on weddings, photo shoots, models or runway. This is an aspect of hairdressing that requires a 'hair stylist' to be able to create any look on the spot using her tools. To know hair in a different form. It's gorgeous, it's glossy and it's incredibility perfect. It's wedding hair! Each bridal hair stylist will have their own signature style… Always choose a professional on such a special day.
How do you choose the products you use? 
My studio stocks a full range of KEVIN.MURPHY products. I exclusively work with this range and it is 
born from the same philosophy as skincare, KEVIN.MURPHY products are weightlessly designed to deliver performance, strength and longevity. All 
KEVIN.MURPHY hair products are sulphate free, paraben free and cruelty free, which is close to my heart, because as a consumer myself I like to consider all these aspects in anything I use! KM is a must.
What is the one thing in your styling kit that you truly couldn't live without?
Can I choose two.. have you seen the size of my hair kit! 
KEVIN.MURPHY Young.Again for my product, it's 
a weightless leave-in treatment oil infused with Immortelle… so good you could eat it! AND I couldn't live with out a GHD; a girl's gotta have options!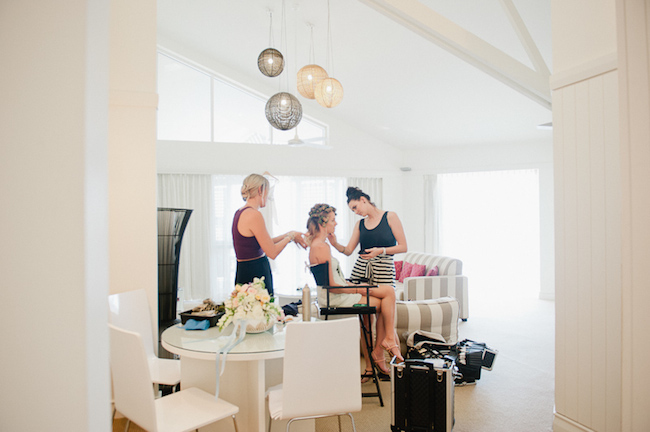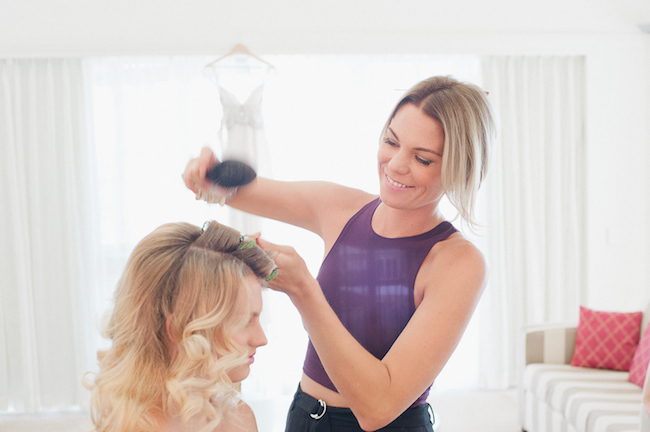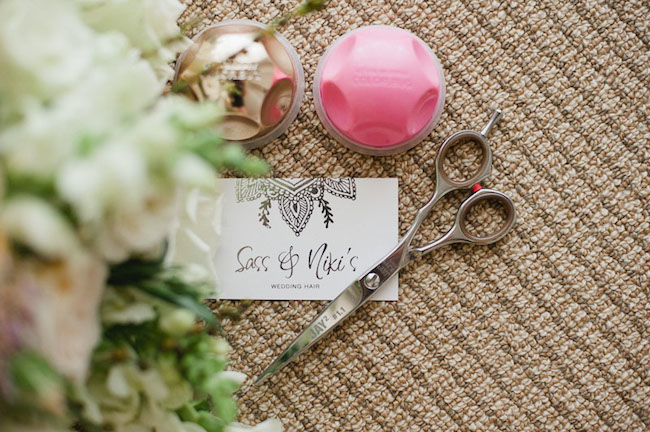 A little birdie told us you have done some travel for weddings recently? 
One of my recent brides flew me to Bali to style her hair. Being a fully mobile company it leaves me open to travel anywhere for my clients.
Do you have more plans for working on Bali weddings? 
Yes! I've started advertising with a bridal company in Bali. My family go to Indonesia quite regularly surfing, so mixing business with pleasure, seeing where that takes me… but of course the Sunshine Coast is my home and my primary place of business. I live at Moffat Beach and to be honest I believe it's paradise!
If you could travel anywhere else in the world for wedding hairstyling work, where would it be? 
I just finished a quote today for a wedding coming up in Hawaii, so im pretty excited to hear back about that special wedding!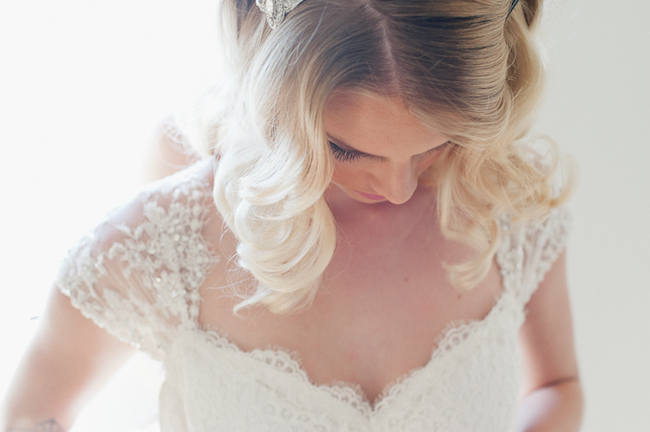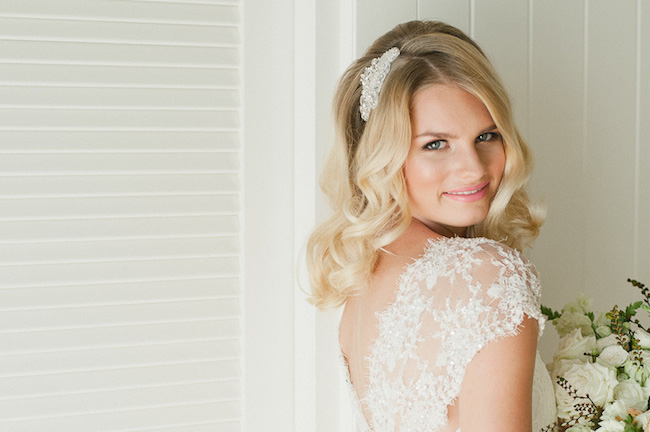 Photograhy / Terri Hanlon Photography
Hair / Sass & Niki's Wedding Hair
Makeup / Boudoir Blush Makeup Artistry
Location / Twin Waters Novotel Resort
Flowers / Styling Hue Floral Creative