Spotlight on a Supplier – Sally Townsend Makeup Artistry
3rd January 2012

"This is my son, Jonah, and I doing our level best to keep things real."
The spotlight is on Miss Sally Townsend this time, who is one talented wedding makeup artist here on the Sunshine Coast. Her business is faces, and she knows them well. Her other special talent is making people feel comfortable and relaxed on their wedding day. Well, who wouldn't be carefree when you're in this woman's very capable hands?
Sally's makeup work is amazing, as she is not only trained and experienced in bridal makeup, but special effects for film and television, stage and period-style makeup of the from the 1920's to the 1990's. She also specialises in airbrush makeup, which she describes as being, "somewhat magical." But enough about this work business, let's get down to the important part, where we grill her on a few seriously important issues.
TBT: What is your fave You Tube clip?
ST: Ooh, that's a toughie. I have a stack of faves… I do subscribe to Natalie Tran's Community Channel, but my absolute fave would have to be Autotune the News #2.
TBT: What about makeup tutorials videos?
ST: Oh! Yeah, those too. Again, there are so many. Here's one I really like, because it's the best one of the Princess Catherine wedding makeup tutorial I've managed to find, and I like the girl's accent.
TBT: Describe your personal style.
ST: Ha! Since having a child, I'm not sure I have one… I suppose I will always be inately girly, but with comfort being my foremost priority. So I'd usually wear something pretty plain, like jeans and a singlet, but I'll accessorise with perhaps something glam or vintage, like pearl earrings and some bling. Then I'll bring in a bit of a period-style with my hair and makeup. Honestly, my looks are usually more about my hair and makeup when I make the effort.
TBT: What's your fave scent?
ST: I love Lolita Lempicka parfums, and I also quite like Lovely by Sarah Jessica Parker.
TBT: What is something really important to you in your life?
ST: Spending time with my gorgeous 6-year-old son, Jonah, who makes me laugh till I want to have an abdominal transplant, and always manages to inspire me and remind me of what's important in life without even realising he's doing so!
TBT: What is your fave kind of makeup to apply?
ST: I just love faces, and for weddings it's all about defining the beautiful features already there, which every woman has. I really enjoy the whole wedding makeup experience with my brides. Aside from that, I love period-style makeup, my favourites being the ultra glamourous 1950's and 1960's looks, and also using my SPFX training to make people look hideous with wrinkles or gory gashes and bruises. For some reason I'm often asked to make people look like zombies, which is super fun. Anyone having a zombie wedding, I'm your girl!
TBT: What is your best advice for brides?
ST: Firstly, be sure to get your skin in great condition before your wedding day, as this will help your makeup to go on nicely and stay on throughout the day and into the evening. Secondly, even if you never wear makeup and don't know what looks good on you, have a look at some pictures for inspiration before you see your makeup artist for your trial, so at least you know what you like. And lastly, make sure you have hair and makeup trials before your wedding day – it's so important that you look and feel your very best, and having a practice run will take out the guess work both for you and for your chosen artists.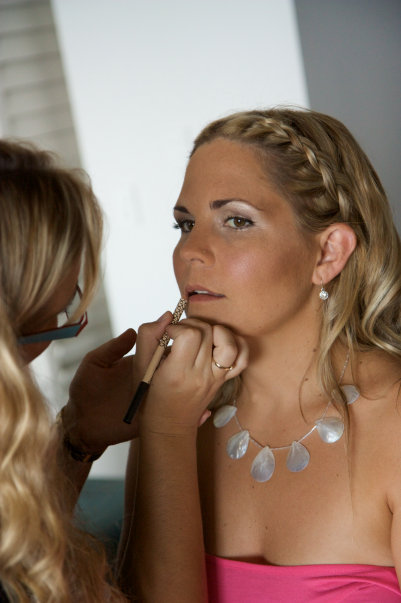 "It's about attention-to-detail with bridal makeup, definitely. You want to get the job done in a timely manner, but never in a rush."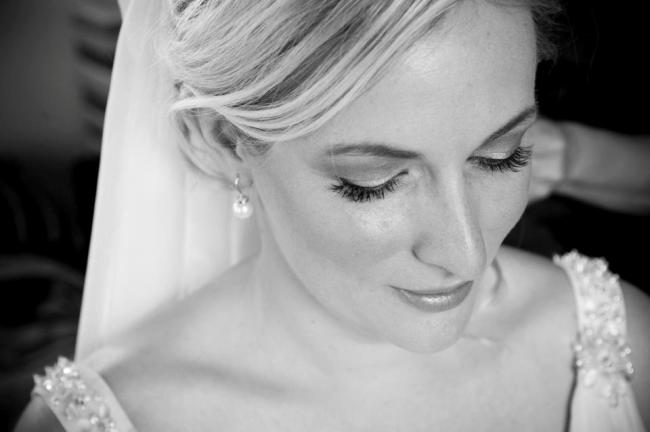 "My absolute favourite look for a wedding day is just making the bride look like her most stunningly gorgeous self, by allowing her own natural beauty shine through."
If you enjoyed getting to know Sally, you will love learning more about Emma Nayler, Sunshine Coast wedding photographer. Look out for more Spotlight on a Supplier posts coming soon.