Church vs Nature
31st October 2012
When you want to have a religious ceremony, deciding upon where to commit your matrimonial vows is a tricky one. Depending on your religion, you may have no choice – a church ceremony is perhaps a must. If you belong to a religion not so strict on the location of the ceremony, you may have the opportunity to keep your religious aspect, and your dream natural setting, too.
CHURCH
The surroundings
Many old and new churches have beautiful interiors. The wooden pews, the stain glass, and wood or stone flooring are features that make a church ceremony feel extra special. The pews are easy to dress up with aisle runners and floral arrangements.
Forget the weather
Church weddings can be truly beautiful, and completely necessary with some religions. The great thing about a church wedding is that you are safe from the elements. As we all know, Queensland weather can be very unpredictable. A beautiful summer's day can start out with blue skies and end with thunderstorms. So taking the question of whether or not you will be the victim of a washed out ceremony or is one less stress, that's for sure. If it happens to be a gloomy or windy day, it won't matter a wink to you!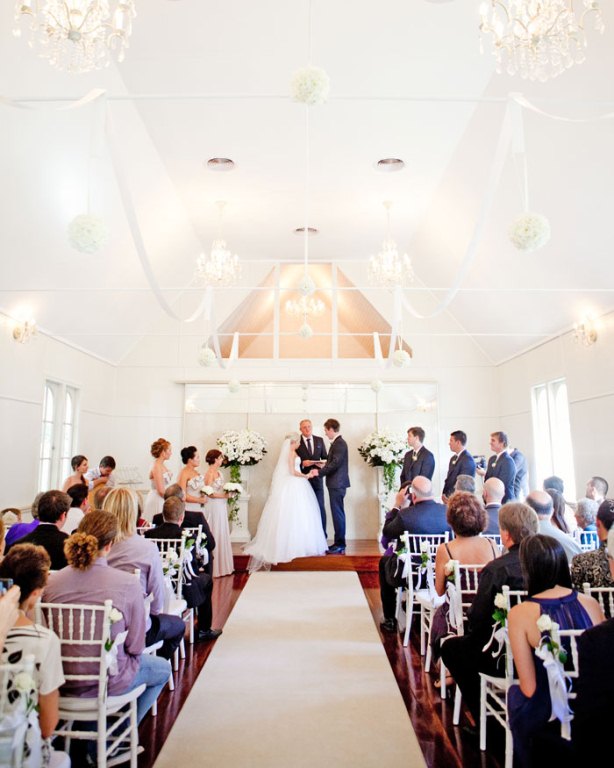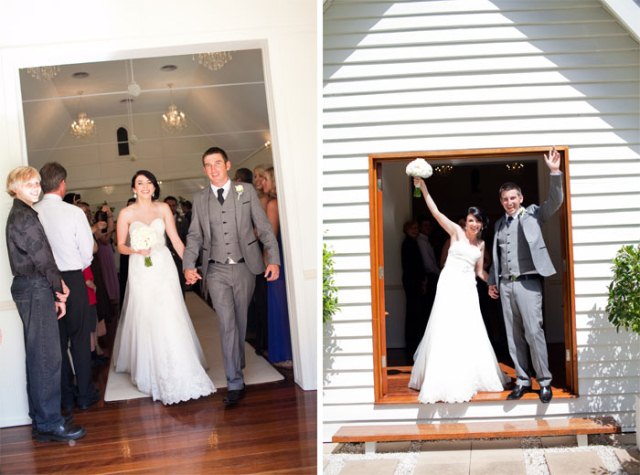 The Little White Wedding Chapel, Maleny
Please be seated
Everyone gets a seat at a church wedding. This can be particularly important if you have either very young, or elderly guests. Some beach or garden weddings are standing only, which could be very difficult for poor Great Aunty Bessie with her bad back and hip replacement.
Seen and heard
At an indoor church ceremony, there is no wind to contend with, and there is usually a PA at your disposal, making it it very easy for all of your guests to hear you clearly. Also, as your guests will be seated, and you and the officiant and possibly the bridal party will be raised, you will all be seen perfectly, too.
Privacy
The great thing about an indoor church ceremony is that it is completely private. The church will usually be booked out for you, and there are no passers by, or gawkers loitering about.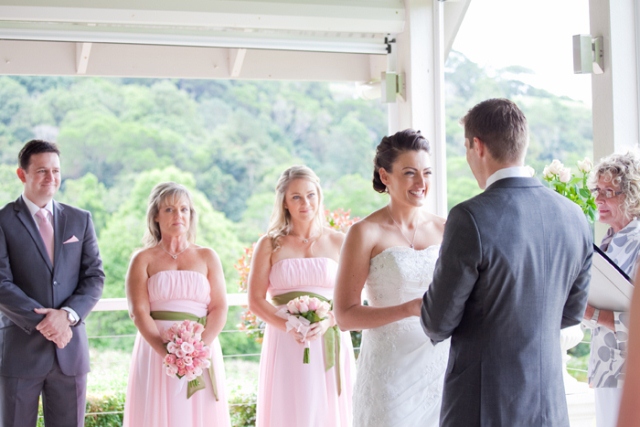 The best of both worlds at Maleny Manor's purpose-built Pavillion
Photographic aspects
Unfortunately with a church ceremony, you are less likely to capture that beautiful light you get with outdoor ceremonies. However, that's not to say you won't necessarily end up with some lovely images. Be sure to ask your photographer if he/she has had much experience photographing church ceremonies and how the lighting issue can be dealt with. If your photographer is unfamiliar with the church you have chosen, an excursion to familiarise him/herself is on the cards. Same goes for your videographer.
As for getting your photos taken afterwards, be sure to get some nice shots outside the church if it's one with a beautiful big steeple, as these are just gorgeous in your wedding album.
NATURE
The surroundings
What could be more beautiful than a beach ceremony, overlooking one of our stunning Sunshine Coast beaches? Or a gorgeous garden ceremony, surrounded by green and colourful flowers under a pretty tree? If you're going to go for a natural setting, the Sunshine Coast is definitely the place to do it.
Back up plan
The first thing you need to do once you have decided upon your outdoor ceremony location is to lock in a back up plan. The unpredictable Queensland weather could have you rained or blown out, so whether it is your reception location or somebody's house with some room, as long as it's indoors where you can be safe from the elements, you're covered should the weather decide not to cooperate.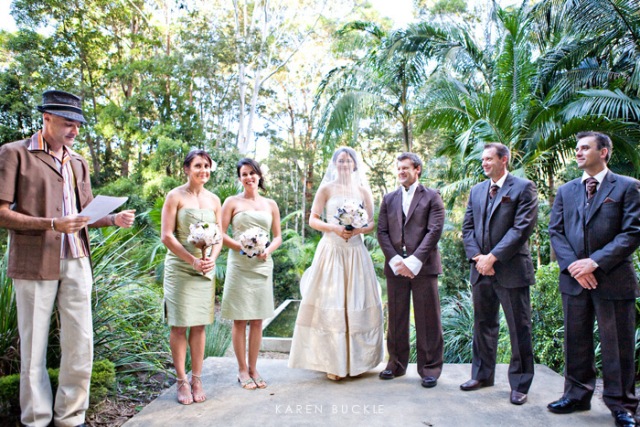 Maroochy Bushland Botanical Gardens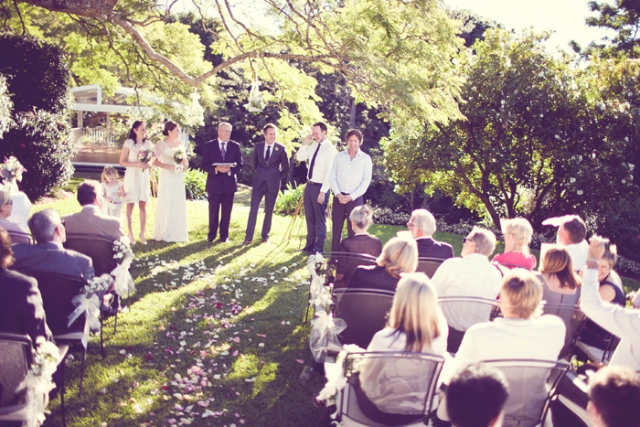 Spicers Clovelly, Montville
Versatility
Your beach, garden, farm, winery or similar setting for your wedding ceremony can be very versatile. If you're only having a small wedding, that is only short, you may choose to forego the chairs and have your family and friends standing close around you, feeling the love. However, be considerate of elderly, very young, disabled or pregnant guests, who may prefer to sit and have some chairs available.
Floral decorations, aisle carpet and arches are all popular for decorating and theming. Some couples are also providing guests with refreshments while they wait during summer months.
You can take along a PA, which is definitely advisable for a beach ceremony, where wind and passers by can make it difficult for your guests to hear your vows.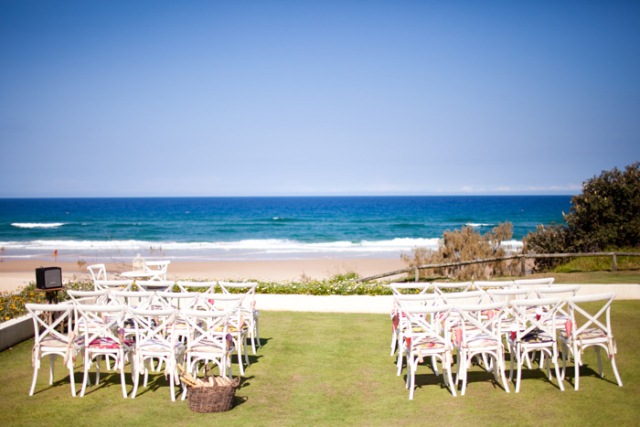 Sunshine Beach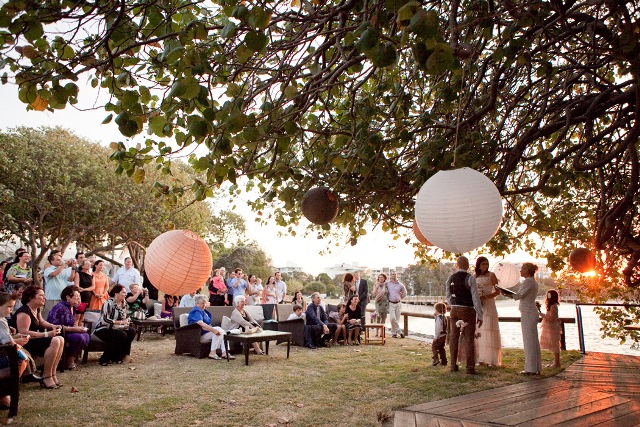 Cotton Tree, overlooking the river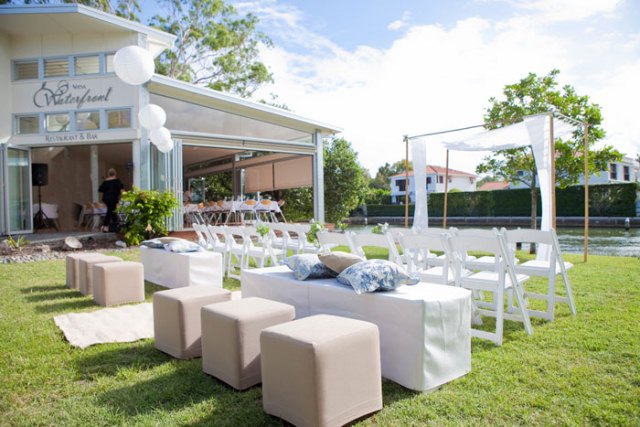 Noosa Waterfront Restaurant & Bar – as the name suggests, it's a lovely waterfront location
Photographic aspects
Natural lighting will produce the best result photographically speaking, so your natural setting should be perfect for getting some beautiful ceremony photos. However, bear in mind that full sunlight can cast shadows down the face and cause you to squint, so a bit of shade is preferable. Then again, speckled light, such as that which occurs through the leaves of trees, can also cast strange shadows. It is best to pick a spot, where there is plenty of light, but your faces are shaded. A gazebo or tree well-endowed with leaves is your best bet.
All of the beautiful wedding images above are by the amazingly lovely Karen Buckle Photography. This and many other helpful articles on planning your wedding can be found in our Resource Guide.
So, are you dreaming of saying "I do" out in the elements or staying inside? Tell us, where are you tying the knot?