Expressing your relationship through colour
22nd May 2012
WIN more It's My Wedding passes today (see bottom of this post), but first, a special treat…
You may wonder why a Celebrant would be talking about colour – but it is important that they be made aware of your chosen colour scheme, so that they may respect your choice and blend with your bridal party. Imagine if you had chosen a red and white theme and your Celebrant turned up wearing bright green!
I've seen some truly wonderful colour combinations lately, including an amazing fuscia themed wedding at Maleny Manor, beautifully captured by
Greg Gardner Photography
. You've probably already got an idea of what colour you would like your bridemaids to wear, but do you know what your chosen colour means?
Red – is often associated with love, passion, beauty, strength or desire.
Russet Red – is more subdued, yet unafraid of hard work and creating an impression.
Brown – environmentalist, love of land; trustworthy, reliable, yet lacking in ambition.
Orange – a challenger of conventional things, excitement, vitality, enthusiasm and confidence.
Green – symbolises a well-grounded person, connected to earth; denotes strength, growth and stability.
Pale Green – spiritually inclined; gentle natured with a fresh innocence of life and complexities.
Pale Blue – sensitive by nature.
Aqua – love of water, the ocean, sky and healing presence.
Blue – inner peace, communication, faith; inclined to help others; in harmony with the world.
Purple – regal. Associated with royalty, hierarchy and healing; powerful in repelling bad elements, disciplined, authoritarian, yet tender.
White – strong connection with the inner source, high energy levels and open to enlightenment; unrealistic.
Gold – spiritually inspired, regal with strength of character; respect and grace.
Pink – Female essence, pleasant, calm and sweet natured; sense of femininity in all matters, creative and at home in pretty surroundings; youthfulness, innocence.
Black – intense spiritual energy, energised and wishing to dominate.
So be creative and explore your options – think about what you like and what you'd like to portray. And once you've decided, make sure you let your Celebrant know, so that they can be proactive in ensuring they deliver an emotionally gratifying and meaningful ceremony.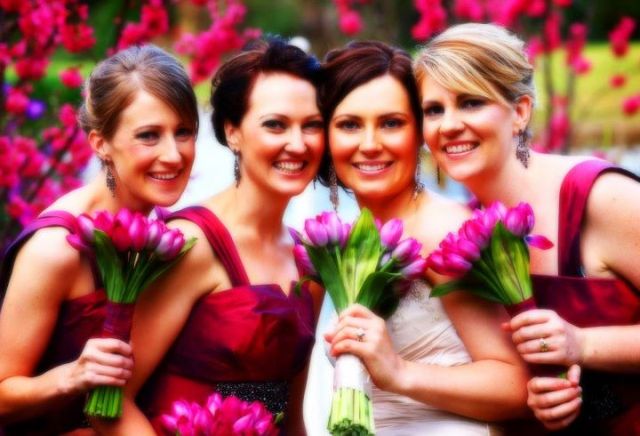 COMPETITION TIME!
Want to go to the expo and take your whole bridal party with you for free? Great news! Today we are giving no less than FIVE passes away to one bride… actually, make that two brides! So in all, we will have 10 passes to the It's My Wedding Expo on Sunday, May 27 (this coming Sunday), to hand over – five each to two lucky Sunshine Coast brides. This will mean you can take along your bridesmaids and your mum to ooh and ahh along with you, and have the privilege of meeting many of the Sunshine Coast's best vendors including Fiona Roberts from Celebrate with Fiona.
To have a chance to win, it's really very simple. All you need to do is post a comment below and tell us what colour you are thinking of having for your wedding and why. Our favourite comments will win the passes. Make sure you check back by 6pm today to see if you have won!
It's My Wedding Expo
Date: Sunday, May 27
Time: 10:00am to 4:00pm
Fashion parade times: 11:30am and 2:30pm
Location: Events Centre, Maroochy RSL
Entry Cost: $10 per person
MORE DETAILS HERE