My Dream Paris Proposal
30th November 2011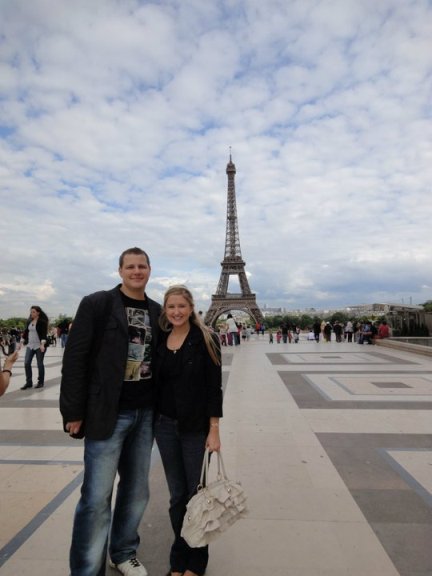 The Best Day of My Life… Until the Big White Wedding, that is!
By Rachael Williams, Bride-to-be Guest Blogger
"It was a day like no other, June 14, 2011. Brenton and I had embarked on our trip of a lifetime, exploring the city of love Paris, the UK (where I was born) and Toronto for my good friend's wedding, where I was to be one of the bridesmaids. It doesn't get much better than that… or so I thought! After 27 hours of travelling across three different time zones, 10 cups of hot chocolate, a minor delay and the odd 40 winks, we arrived in France – greeted by their crisp summer air and an array of stunning sights.
"We checked in to our hotel, showered and dressed comfortably for our first jam-packed day of sight-seeing in my favourite country in the world. My first time to Paris and Brenton's second time, I cleary was in "Love at First Sight". After a bus tour of the big sights, 264 stairs later (and no complaining), we eventually reached our final tourist attraction of the day – the Eiffel Tower. It truly didn't disappoint. My legs were weary, but Brenton insisted we battle on, and being the snap happy couple we are, we found a peaceful piece of grass and stood ourselves in front of the best manmade piece of architecture in the world. Something so simple, yet intricate, something so well-known and breathtaking. The moment had finally come and I was overwhelmed with excitement, despite suffering jetlag!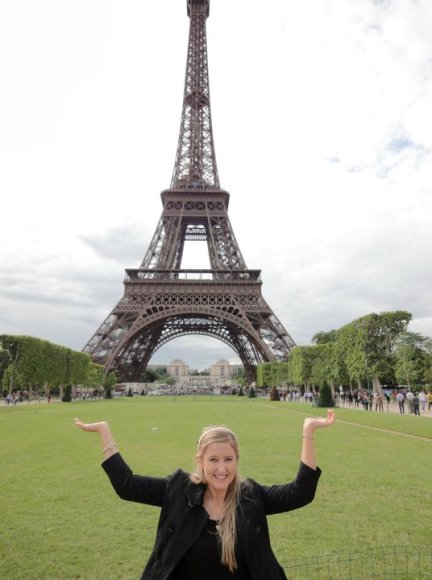 "Little did I know the next few moments would change my life forever – for the best, of course! As Brent was taking photos of me pretending to hold the Eiffel Tower, as Aussie tourists do, he got me to "turn around the other way" to get another shot… and it was "That Shot" that captured the rawest moment of my life and I believe Brenton's, too. Cool as a cucumber, as 'my Mr. T' is with most things in life, was there looking up at me, down on one knee, proposing in the most romantic way a girl could possibly imagine. My dream proposal, the moment I imagined from when I was a little girl was unfolding before my eyes and I honestly felt that time had stood still.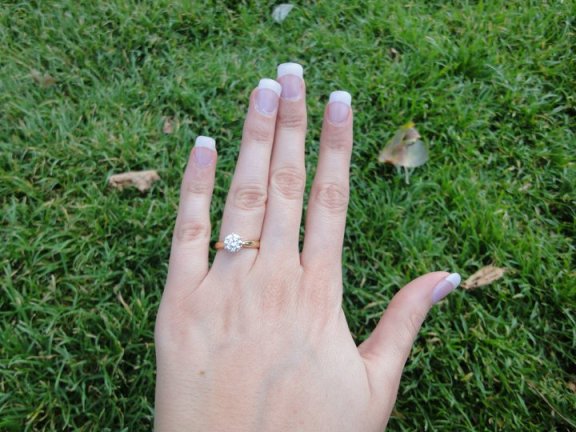 "For some unknown reason, I was pinching myself inside, wondering if it was actually happening. My first words, amongst a flood of tears and emotion, "Oh my gosh, are you serious?" Brenton was waiting for me to say yes, still on bended knee and eventually I was able to utter the words he was so relieved to hear.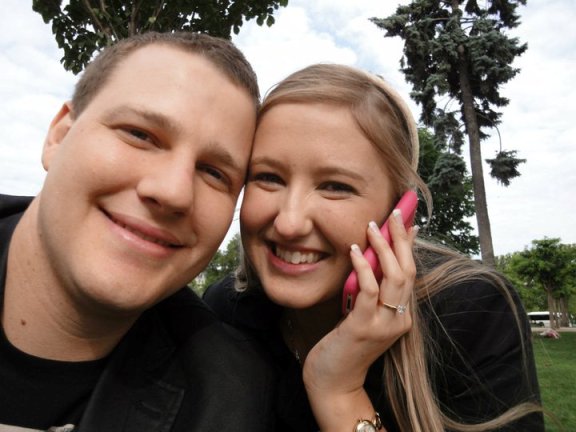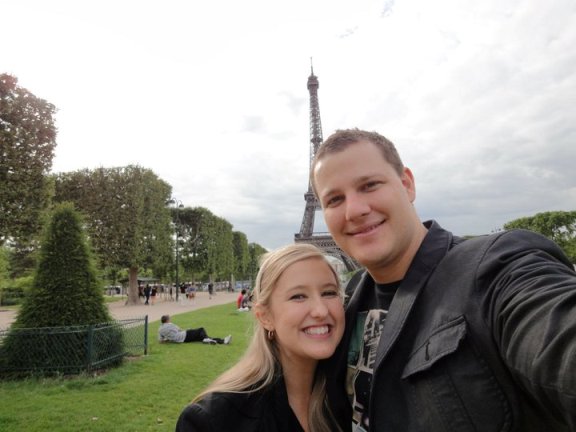 "Brenton and I had just bought our first unit together before we left for the trip, so there was no way in a million years I thought he would have been able to afford my perfect 1.1 carrat Tiffany cut solitare diamond ring. As with everything in our relationship, Brenton, the best fiance that ever lived, managed to give me the biggest surprise of my life. After calming down, being congratulated by strangers, and feeling the energy from other tourists around the Eiffel Tower, we found a shady tree and rang my family to share the excitement with them all.
"We are now planning our dream wedding in our city home of Brisbane. With a cathedral fit for a princess, a reception venue that every girl dreams of and the man of my dreams beside me, I am looking forward to this very exciting chapter, "The Fairytale Ending" when I become Mrs Tickner."
Do you have a beautiful proposal story like Rachael's? Show us some comment love and share it below!