12 Places to Find Stunning Bridesmaid Dresses Online
18th April 2019
Time poor? All your bridesmaids live far and wide? Not even sure where to start to find gorgeous bridesmaid dresses? I got you, girl.
When the only time you have to find your bridesmaids' dresses is your lunch hour or after work (cause we would never suggest you use your office wifi or work time to plan your wedding… ahem…), you're going to need to find some great online options. Through our private brides only Facebook group, we have ascertained that finding the right bridesmaid dresses is high on your priority list, and can also become one of your biggest headaches. 
I've curated a list of 12 online stores I know you can find stunning bridesmaid dresses at varying price points and for any shape and size. These sites have all been suggested by real brides, who were married on the Sunshine Coast – either in our Facebook group or those whose weddings were featured on our blog. 
Here we go..!
In our Summer edition of The Bride's Tree magazine, we published Annabelle + Daniel's Spicers Clovelly wedding. I fell in love with Annabelle's bridesmaids' dresses. The style looks super flattering, and upon a quick investigation I discovered this collection by style influencer, Julia Engel,  has a whole range of dresses and jumpsuits suitable for bridesmaids.
Fair warning – you could lose a few hours on the stunning collections found on Watters. Soft tulle features heavily in their collections, a romantic style I'm personally quite amendable to. All their bridesmaid dresses come in sizes from US00 to 24, catering for every shape and size imaginable. 
One brand name that keeps popping up time and time again is Shona Joy. Recently a lot of brides, who send me their real wedding submissions, have shopped Shona Joy for their bridesmaid gowns. The site makes it super easy for you to find their styles suitable for weddings by grouping them in the Wedding Edit. You can also find these in store in Australia at David Jones. 
If you're finding it hard to choose a style of dress that will suit the varying shapes and sizes of your bridesmaids, Esther & Co. will ease your stress. Choose a colour and let your gals get the style they love. There are several collections on the site that would make suitable wedding dresses. My fave is the Esther Luxe range – lots of soft, flowing styles and some sleek and structured styles to boot. 
Shout out to one of our Sunshine Coast Brides' Tribe group members, Bethany Copp, who suggested PS. Frocks. This one is for brides searching for a range of maxi dresses especially for bridesmaids. The website makes it really easy to find what you're looking for by allowing you to search by occasion, price or colour. The also sell a casual collection and kaftans if you're looking for a honeymoon wardrobe! 
Another website making it super easy for finding beautiful bridesmaid dresses is Lulus. Their dresses are very affordable and come in many varying styles that could be suitable for a formal occasion or a casual beach wedding. They even sell bridal gowns and have a section dedicated to wedding guest attire. Pictured above Simone and her bridesmaids, who were recently featured on our blog. 
This fun label is quite different to all the others. The hemlines are shorter, there are more ruffles, lace, patterns and general frills and adornments. Sizing wise they have a full range from AU6 to 20. They also have some sexy playsuits, and offer free shipping in Australia for all orders over $50. 
We love that free shipping life, which Asos offers, along with their familiar reliability and easy returns process. They also cater for all kinds of body shapes, having a range each for Petite, Tall, Plus Size and Maternity, as well as a standard range.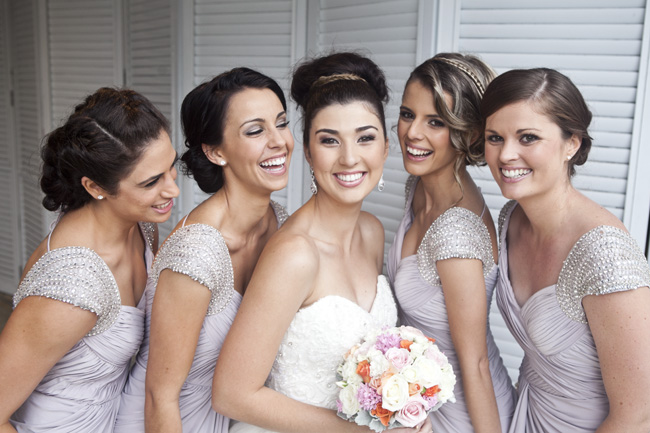 If you want to take advantage of After Pay to get your bridesmaid dresses sorted, but keep your cash flow for other expenses, Sheike is for you. They also have some very chic designs in both their Formal Occasion and Cocktail sections of their dress collections. 
As its name suggests, Bridesmaids Only is all about catering for bridesmaids. Their collection is huge and features several styles in each colour, making it easy to mix and match styles. Scroll to the bottom of the homepage, where you'll find photos and stories from real brides and bridesmaids and shop their styles. 
The great thing about finding dresses from Forever New is that the shopfronts are very accessible across Australia. So even if your bridesmaids live in different states, they can nip into their local Forever New store to have a try on. Most of the dresses go for under $200 and many are in styles that are very wearable for any kind of occasion. 
Beginning with one dress that could be wrapped 15 ways, Two Birds is great for those who want to get creative with their bridesmaid dresses. Everyone will be happy, because you can wrap the dresses to be sleeveless, one-sleeved, or capped sleeves, depending on your preference. 
Images by Casey Jane Photography, Brian Geritz, Mallory Sparkles Photography, Bayleigh Vedelago, White Images