Savings Tips From a Savvy Sunshine Coast Bride
5th December 2012
Budget is at the forefront of every bride's mind from the very beginning. You get that ring on your finger and dollar signs start buzzing around in your head, as you wonder where you will find the best deals, who can help you achieve your amazing day without breaking the bank, and just how your budget will stretch to make your dream Sunshine Coast wedding a reality.
We asked one saavy budget-conscious bride how she managed to (mostly) stick to her budget for her Noosa River wedding. Here is Sarah's story in her own words.
My Wedding Day
Our wedding Ceremony was on Catalina Cruises in the middle of the Noosa River on their boat. They have a great wedding package, where I arrived by Gondola to the large boat with all the guests waiting. The reception was at Australis Noosa Lakes, Tewantin, which is just accross from the Noosa Marina where the boat left and returned too.
Number of Guests: 90
Budget Set: $10,000.00
Final figure: $11,200.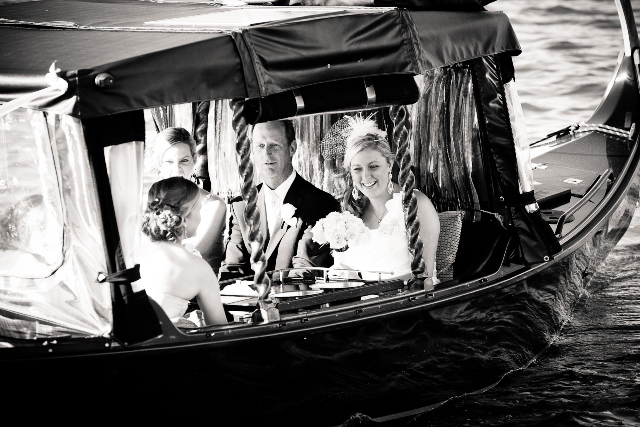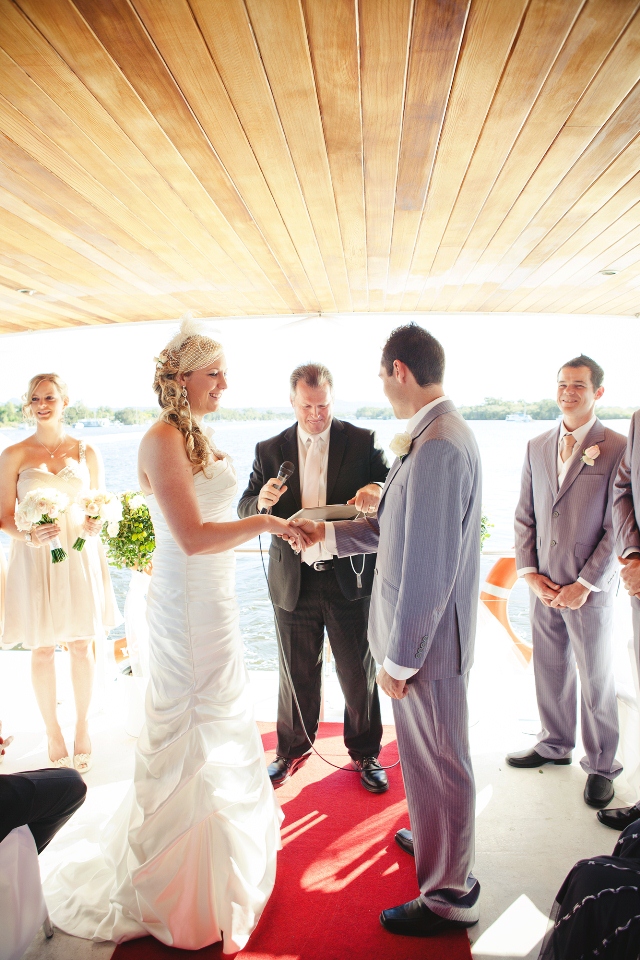 Starting point
From the word go, you need to have an idea in mind of what colours you want for the bridesmaids dresses and the invitations, then decorations and everything will fall into place and you won't waste time or money getting things that didn't match and then wanting to change
Everybody has a budget blow-out sometime…
We went over budget by $1,200. I had ordered a fairly cheap dress overseas and when it came it just wasn't as nice as a wedding dress needed to be. I was totally against spending a lot of money on a wedding dress for one days sake, but definitely changed my mind and realised how important it is to really feel special on your day. Saying that, $1,200 on a dress was a bargain as I bought it off the rack and they threw in head pieces etc. to move their stock.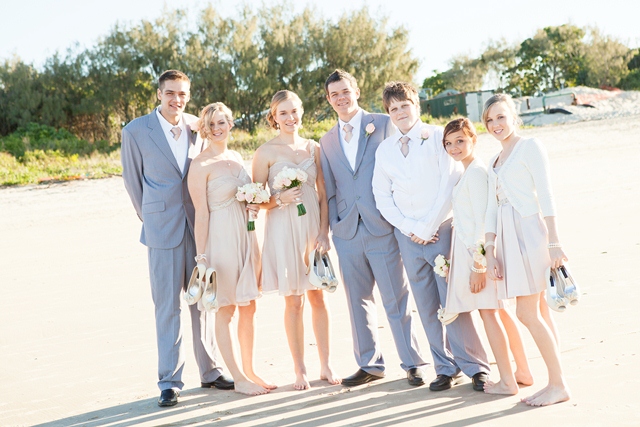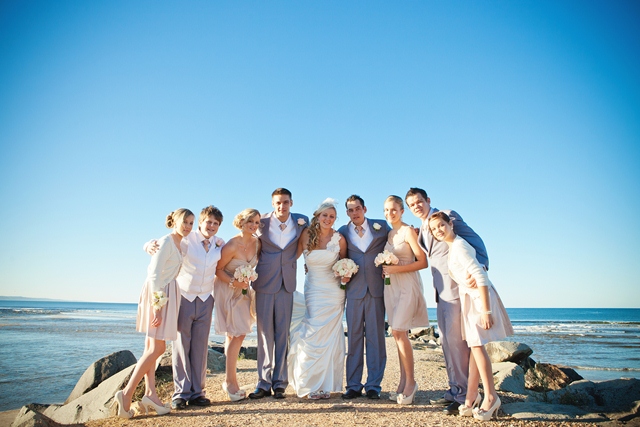 Surprising savings
I was rather suprised by the reasonable cost of the wedding catering at Australis Noosa Lakes. A two-course meal, consisting of a buffet main, and buffett dessert was only $45 per head. We really saved on those costs, the food was terrific and there was plenty.
DIY was key to staying on budget
We did all the decorations ourselves. I bought them all off ebay and local $2 dollar shops (sounds tacky but came together quite classy.) My aunty owns white lycra chair covers so they were free, I bought chair sashes, table runners and round mirrors for centreprieces off ebay, metal birdcages as centrepieces from Crazy Clarks, acrylic table scatters from ebay, candles and tea light candles from Big W, greenery for inside the birdcage from $2 discount shop to go along with the candle in the birdcage. All my weddng favours where bought from ebay, which were white wedding dress and tuxedo boxes, which I filled with mini pink musks and printed off stickers which said 'thank you', and stuck them on the bonbonierre boxes. A good friend took over doing all he decorating the day before so I could relax.

Get organised
Use an excel spreadsheet and write down everything you are getting and keep a tally, continually factor in everything else that is standard like food, flowers, entertainment etc. and a basic price of what you expect it to be as rsvp's keep coming in.
Banking to stay on budget
Open a seperate bank account and only use money from it so you can see at any time how much you've got left and what you still need to pay for.
K.I.S.S.
Keep it simple, sister. Don't over indluge and be so self-entitled to everything you think you want, because usually noone else will notice anywhere near as much as you will.
Choose wisely
Of course the biggest budget helper is the suppliers you choose. Shop around, do a lot of research, compare everything! Dont be afraid to ask questions. Websites are not always up to date, so it's always best to make a phone call as they might have something that isn't on their website that you want.
Emma Nayler Photographer was a stand out supplier. I was on a budget a really trying to keep to it. She was most accommodating and it really helped.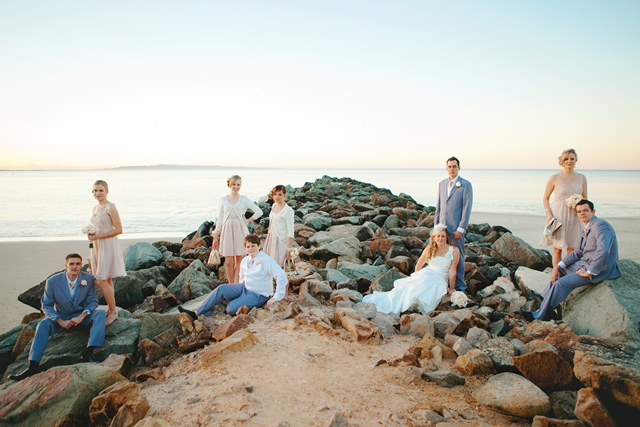 My Hand-picked Team That Made It All Happen
Ceremony venue: Catalina Cruises, Noosa River
Reception venue: Australis Noosa Lakes
Photographer: Emma Nayler Photographer
Decorations: DIY
Dress: Hills In Hollwood Sunshine Coast, Allure Bridal.
Makeup: Sister
Hair: Sister's friend
Accessories: Birdcage net hair piece came with purchase of dress from Hills in Hollywood, Earrings from Diva
Shoes: Novo
Favours: DIY White Wedding Dress and Tuxedo Boxes filled with pink musks.
Cake: Family friend is a cake maker and decorator!
Transport: Arranged by Catalina Cruises to get to ceremony. Transport to location photos was organised by my husband and were all friends vehicles, White VE GTS, VL Turbo, & a Torana. (he's a Holden fan.)
Entertainment: Family friend is a DJ as well a member of a four piece Band! The Dukes of Rhythm. A+ for their entertainment.
Gift Registry: Made our own. Wrote a list of wants/needs and gave the list to Mum for people to ask about. Notations were made in our invitation to call her.
Officiant: I'm a member of a church so my Bishop was willing to provide the services for free. We invited him and his wife along for the whole day.
Florist: Jo Shadbolt (friend)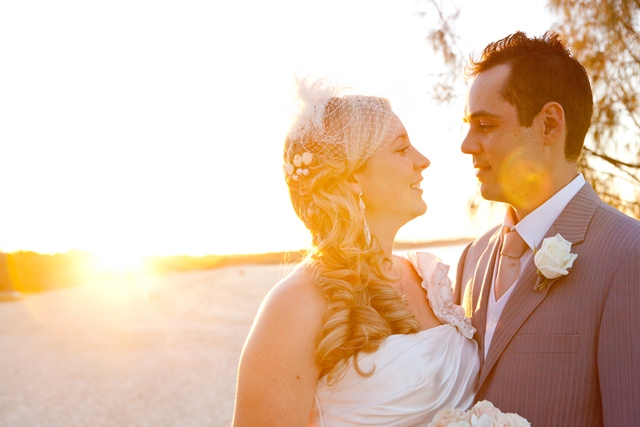 Our Honeymoon (over and beyond the wedding budget)
We honeymooned in Phuket, Thailand. $3,750 included return flights, 10 nights accommodation in honeymoon suite and buffet breakfast daily, along with an Elephant Trek. Including spending money on dinners and shopping, the whole thing cost $5000.