Megan loves Josh | Maleny Wedding
6th August 2021
This couple have the best advice for couples on a budget.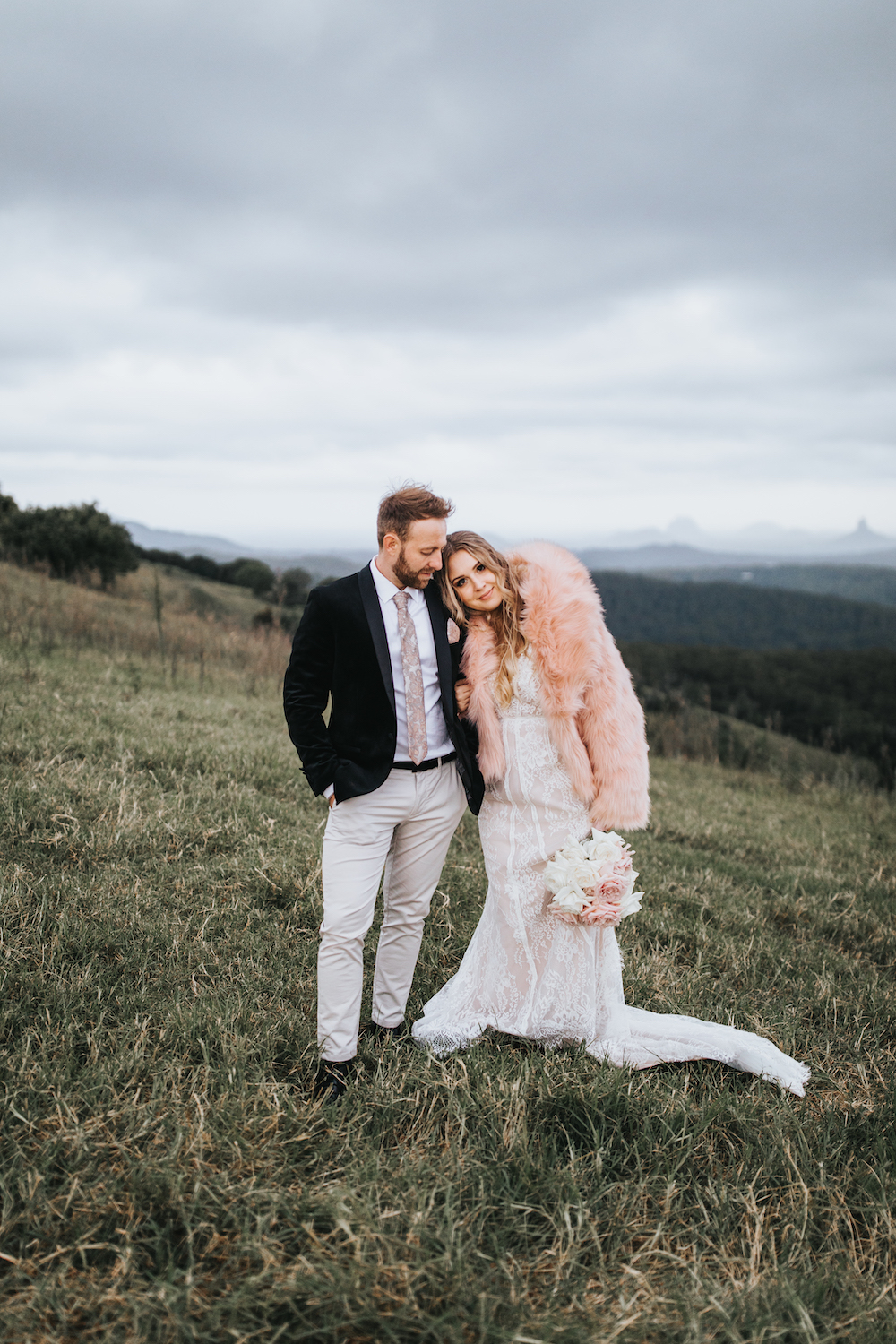 It wasn't love at first sight, but it became a love to last a lifetime. Megan and Josh met through friends and they both agree, sparks did not fly at first! Yet, here they are sharing their beautiful Maleny wedding day. 
There were lots of memorable moments from Megan opening her special gift from Josh – an necklace from Local Eclectic – to entering their reception to see all the smiling faces of their family and friends ready to celebrate their love. 
Megan was kind enough to share her wedding planning story with us on this here blog. Make sure you scroll to the end where she shares the best advice on how to stick within your budget! 
Vendors 
Photographer / MALLORY SPARKLES PHOTOGRAPHY
Videographer / LAMAR FILMS
Venue/ HALFMOON HIDEAWAY
Florist / OH HONEY FLORALS
Hair + makeup artist / SUNSHINE BRIDES
Rentals / CLASSY COOLROOMS + SPLASH EVENTS
Catering / KOASARN THAI FOOD TRUCK
Beverage catering / FOXTAILS & CO.
Bombonnieres: Cocktails from FOXTAILS & CO.
Gift registry / BLUEPRINTS REGISTRY 
Wedding night accommodation / ALTITUDE ON MONTVILLE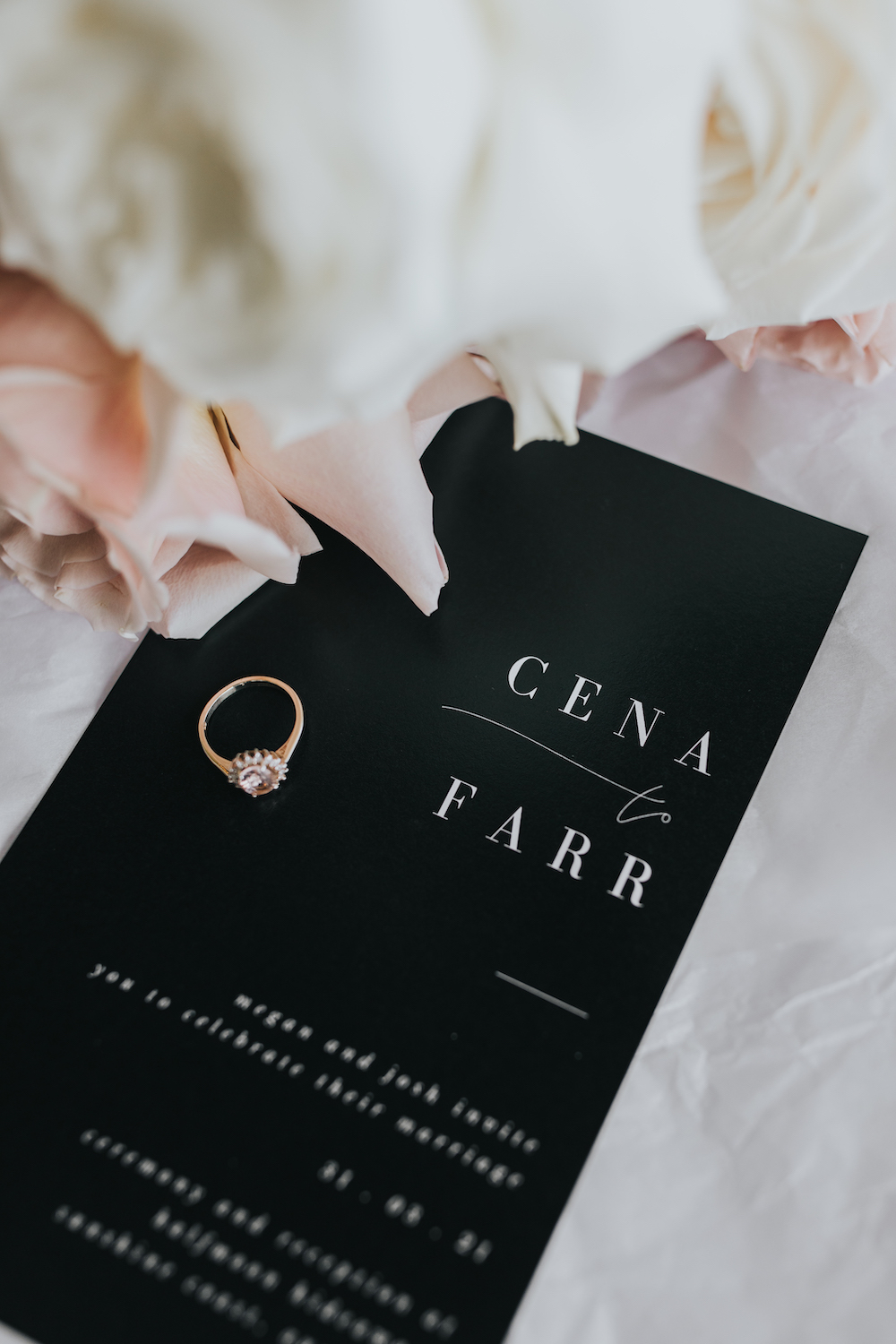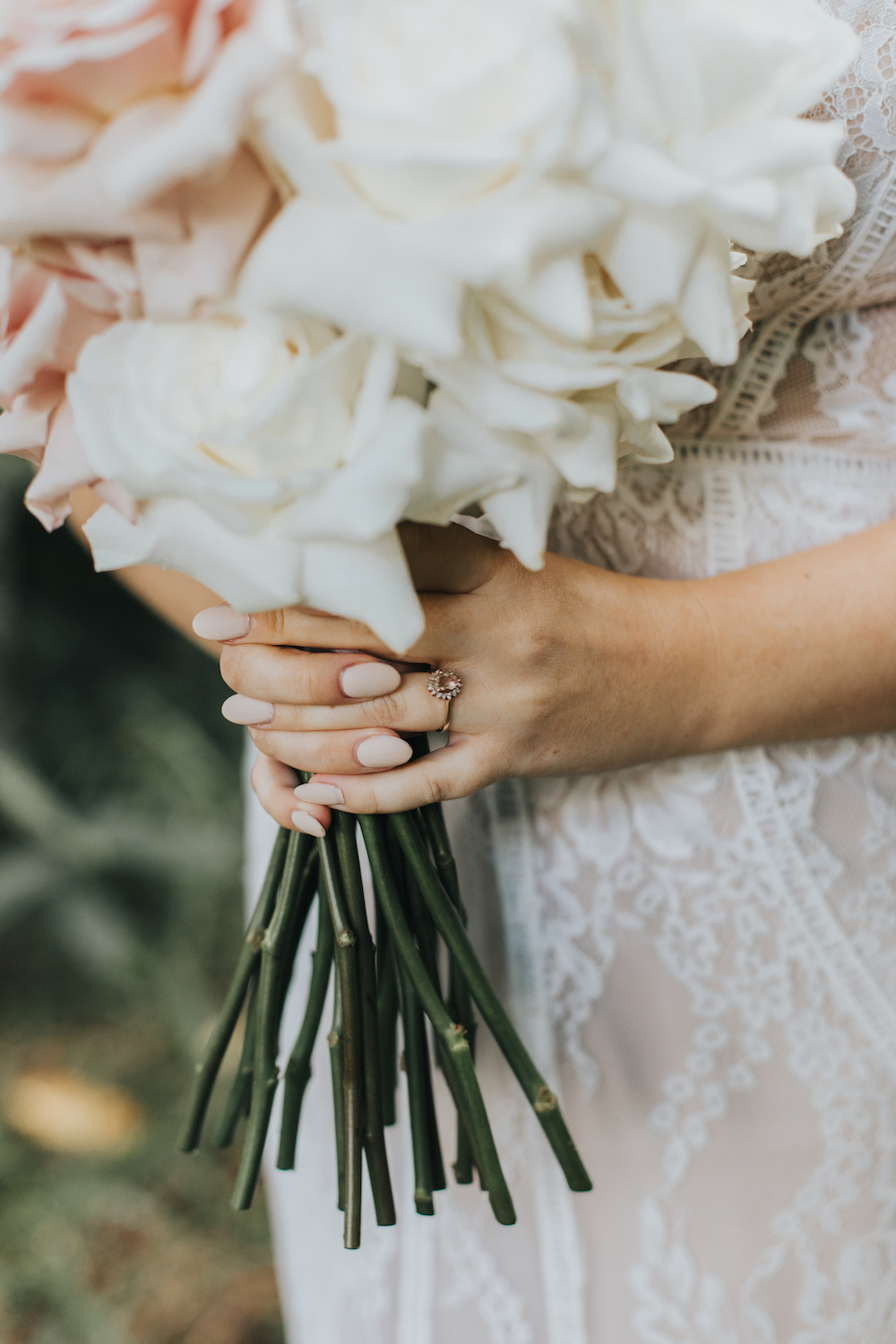 Most Memorable Moment
Walking into our reception and seeing all of our closest people waiting to celebrate with us – it was seriously the sweetest moment, I still get teary just thinking about it.
The One Thing We Wouldn't Change For the World
In between the ceremony and reception, Josh and I took 15 minutes to have a little picnic, and exchange more personal vows just the two of us. It gave us a minute to breath, just be with each other, and take in everything going on. It was such a special time that I am so grateful for.

Biggest Wedding-planning Challenge
Our families are over seas (Canada and Wales), so our biggest challenge was not having them be able to come due to covid. We would have loved for Josh's dad be our celebrant, and I would have loved to have my mom walk me down the aisle. That was the toughest part for sure.
The Location
Josh and I are both from different parts of the world, but this is where we met – the Sunshine Coast is so special to us! We fell in love with our venue the moment we arrived there. Halfmoon Hideaway is incredible and it's beautiful owner, Gillian, played a big part in making our day run so smoothly and feel so magical.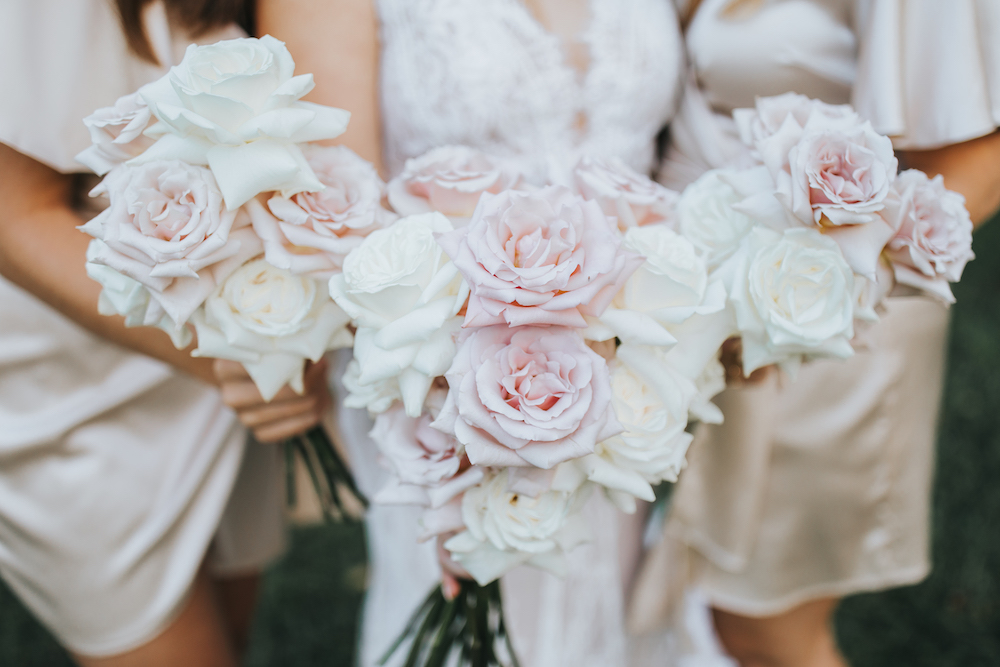 Our Meet Cute
We met through a mutual friend – we laugh when we talk about those early days, because there was honestly no initial attraction from either side! Sorry, no romantic love at first sight story here!
Why I Married Him
Honestly, marriage used to really scare me, but after dating for a couple of years I just knew there was no one else I would want to spend my life with. He's my best friend. He makes life sweeter, and makes the future feel safe and exciting all at the same time. There's no one else I'd rather do my days with.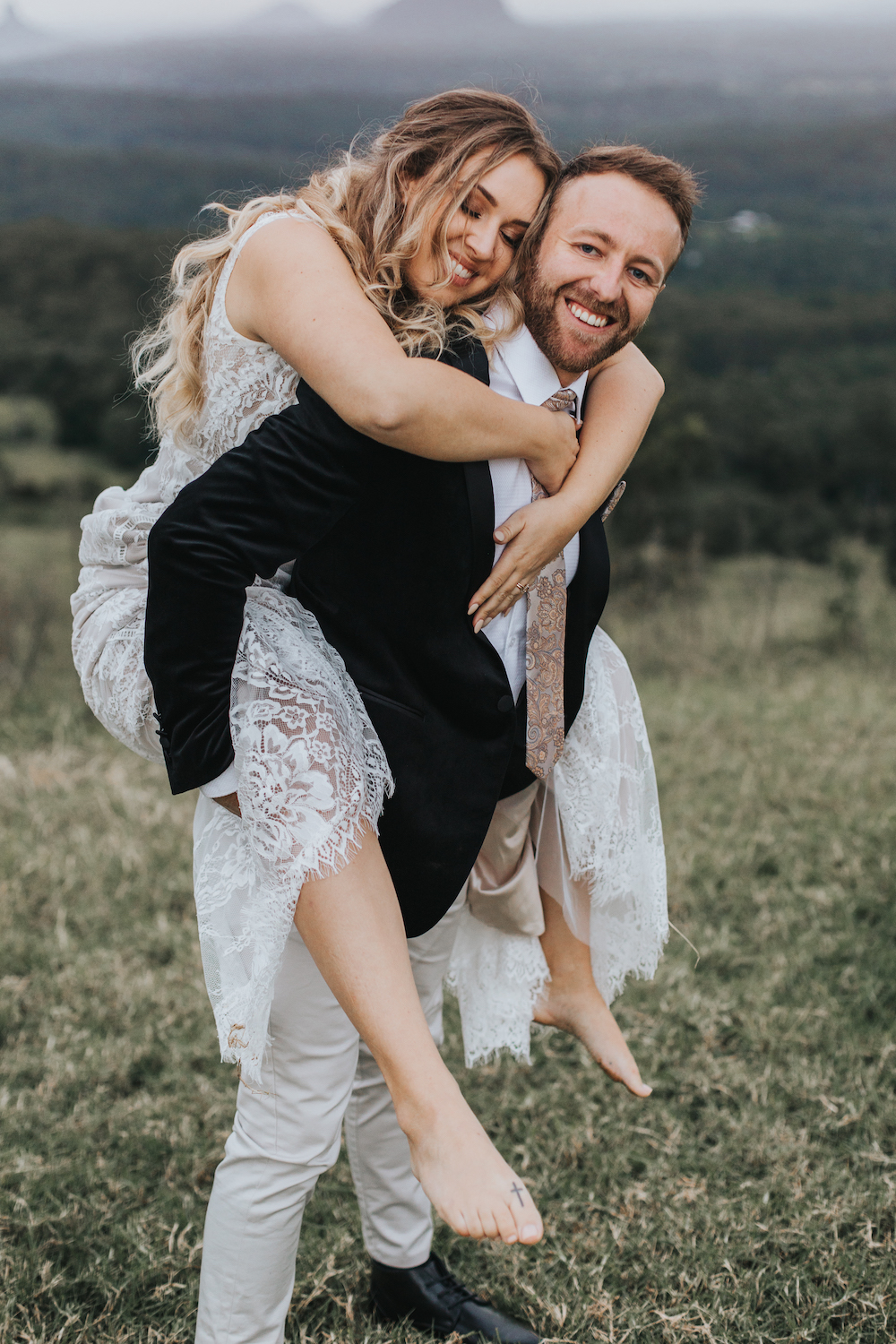 Standout Vendors
I honestly could say endless amazing things about each of our suppliers – we have zero complaints. Just a couple specific shoutouts…
Photography: Mallory was such a blessing to have – besides the fact that she takes dreamy pictures, she made us feel so celebrated every step of the way! Even in the lead up to the wedding, she helped us with little details of the day and gave us so many great tips that we would have never thought of. We were both so grateful for her!
Hair & Makeup: Valentina was incredible – she is so talented, and she was so fun to have around the morning of the wedding. I wouldn't have wanted anyone else to do my hair and makeup – she made me feel like such a beautiful bride.
Wedding Secrets
Biggest splurge: Probably our flowers! We initially planned on doing something a little more DIY with them, but then I came across Oh Honey Florals on instagram and it was game over for that plan. Also, my Grace Loves Lace fur jacket was a bit of a splurge. Both things were definitely worth every dollar spent!
Best money-saving decision: We had a friend make our cake – that was something we didn't feel like we needed to spend hundreds of dollars on.
Bride's dress: LUV Bridal
Bride's jacket: Grace Loves Lace
Groom and groomsmen's attire: Politix 
Bridesmaids' dresses: Urban Outfitters
DIY: Stationery, welcome sing, table runners. 
Honeymoon: Cairns and Port Douglas
Number of guests: 30
Wedding budget: $10,000
Final cost of wedding: $13,000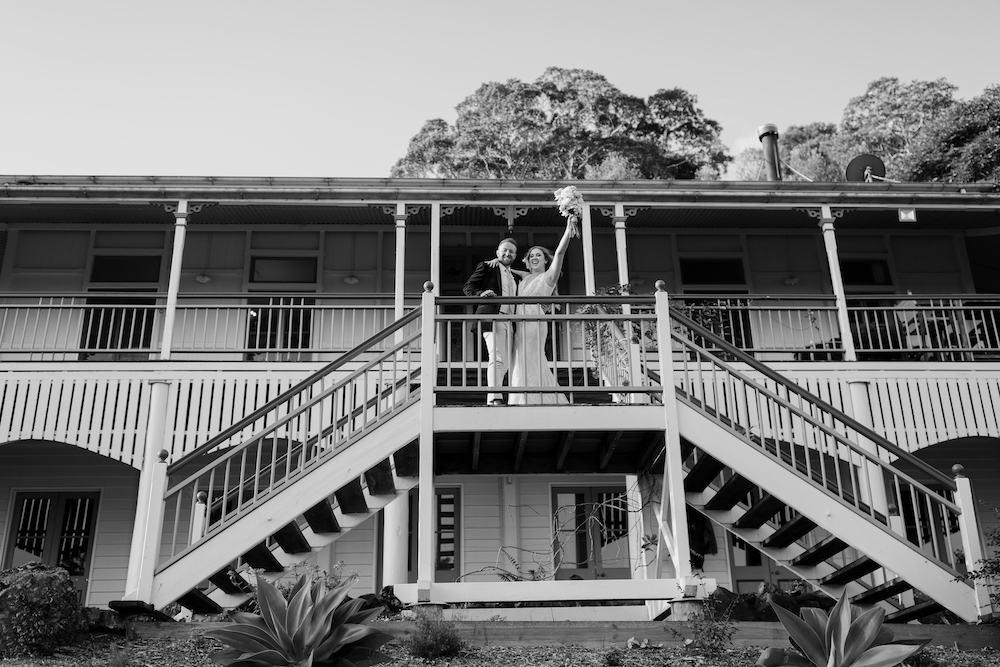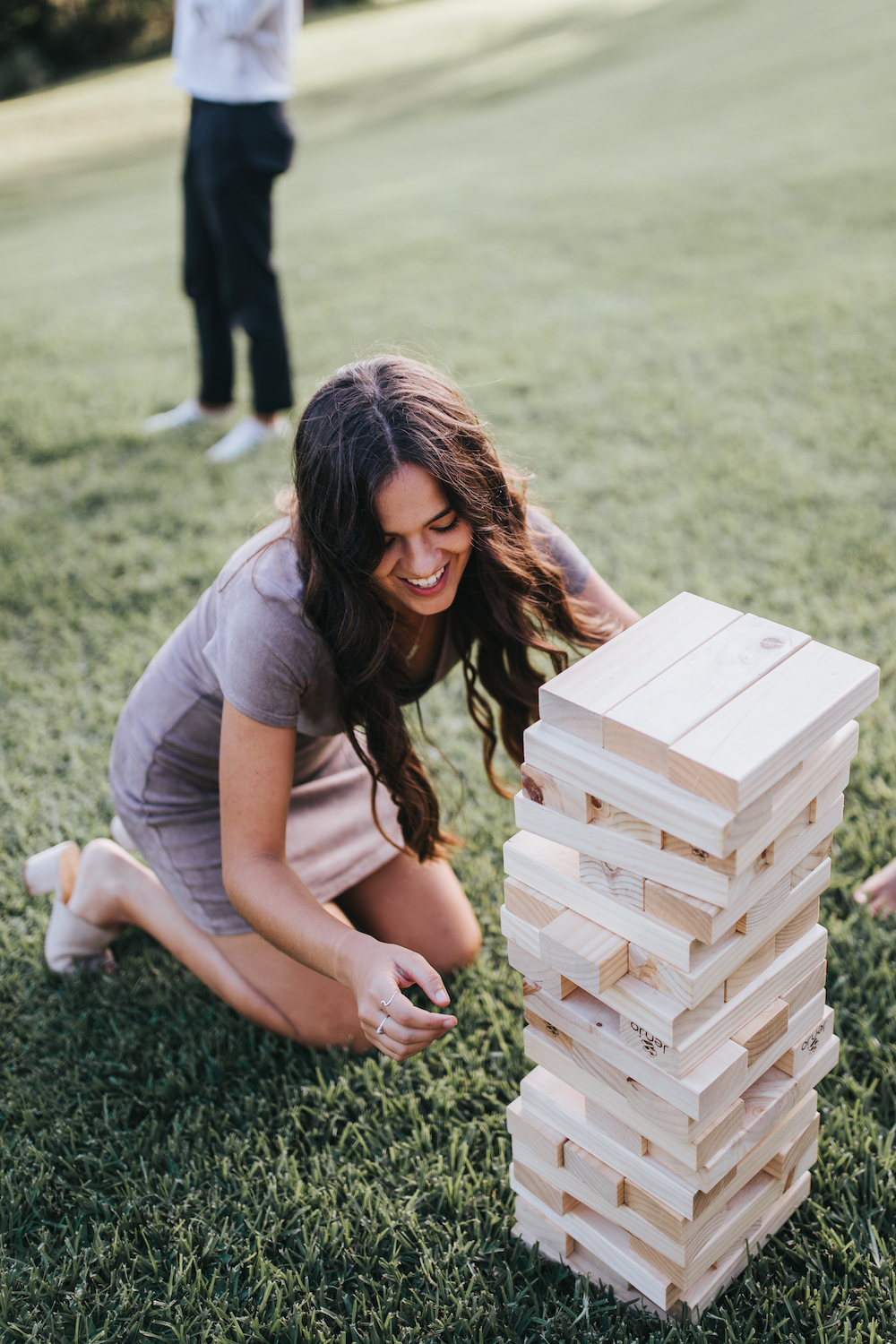 Advice for Wedding Planning
A little tip that might be helpful to those on a tighter budget: At the beginning stages of planning, Josh and I spent time choosing three parts of the wedding day that we both valued, things that were the most important to us and that we wanted to do regardless of cost. Focus on your top three things, and the rest you can find deals, cut out or compromise where you need to.
We chose my dress/his suit, our venue, and photography/videography. We prioritized those things within our budget, and then were able to be more flexible with other things like food and decor.