Wedding Inspiration: Unique Ring Holders
14th May 2012
We love a good Etsy find here at The Bride's Tree, and you know what's even better than an Etsy find? 10 Etsy finds! Today we bring you cute-as-a-cushion ring holders, sweetly hand-crafted, of course. Can't you just picture your adorable ring bearer holding our a heart-adorned or personalised emroidered perfect little pillow with your wedding bands upon? Too sweet for words!
This inspiration board gives you some seriously unique ideas for your wedding ring holder for your Sunshine Coast wedding. It turns out, aside from cushions, you can also have your rings held in pretty little boxes, on ceramic plates with love messages, and even in a nest! However, my favourite is the heart-shaped ball of twine with personalised tag. It has a beautiful symbolism, and the rustic look of the twine is very on trend for a vintage-themed wedding.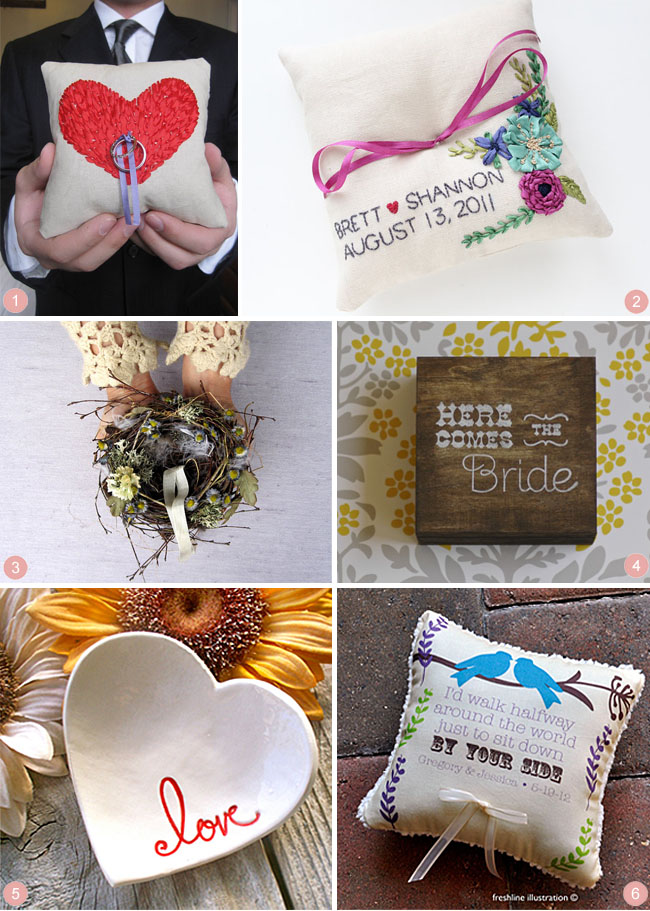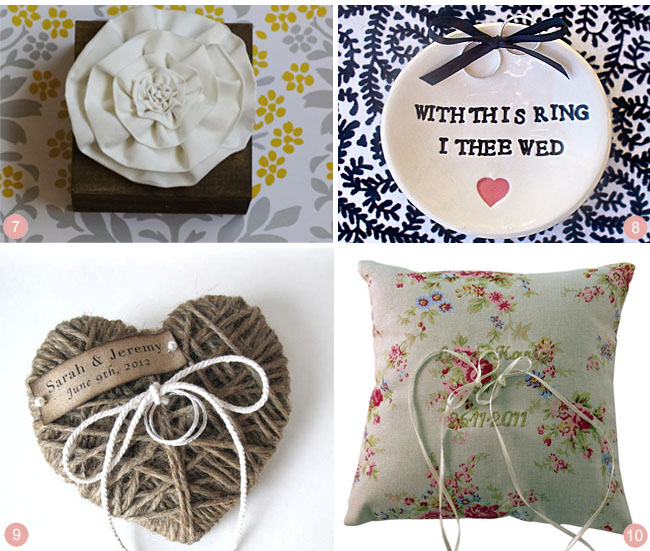 1. Line ring pillow embroidered with big, red love heart from Etsy Michelle Edgemont.
2. Ring pillow with embroidered flowers, names and wedding date from Michelle Edgemont.
3. Ivory Blossom & Sage ring pillow nest – perfect for a Rustic Wedding from Bloom Design Studio.
4. Here Come the Bride, ring box with pillow insert from Forever Darling Shop.
5. Heart Shaped "Love" ceramic ring holder from Say Your Piece.
6. Customised Ivory "By Your Side", ring pillow from Freshline.
7. Wooden Ring Bearer's box with pillow insert from Forever Darling Shop.
8. "With This Ring I the Wed" ring holder from Say Your Piece.
9. Heart strings personalised wedding ring holder from Blue Pearls.
10. Cath Kidson washed roses ring pillow from Himalayanmusk.