Writing Your Thank You Cards
29th March 2012
Sunshine Coast brides, we have some wedding etiquette tips and advice for you to help writing your Thank You cards after the big day a little easier. Meeting the expectations of your guests, who were so kind as to attend simply must not fall by the wayside. Do not worry, we have spelled it out clear as day for you in this handy little article from our Resource Guide.
It is good etiquette to write personal notes to each of your guests who attended, those who brought a gift and to your bridal party, parents, photographer, MC and celebrant/officiant, wedding planner/coordinator and anyone else who you would especially like to thank.
Tips for writing Thank You cards for guests:
Use both your names, and the names of the guests themselves
Thank your guests both for attending and for their specific gift or contribution to your wishing well
Detail how the gift will be of use to you – Eg. "Thank you for your generous gift. We have found the perfect spot in our living room for the beautiful vase you gave us."
Or detail how you will spend any gifts of money – Eg. "Thank you for your generous contribution to our wishing well. We have started picking out colours for the bathroom renovation already!"
Tell your guests what it meant to you that they were able to attend, especially if they travelled for the occasion. Eg. "We felt so blessed to have our family and friends around us on our special day, and we were thrilled you were able to come to Caloundra to celebrate with us."
Tips for writing Thank You cards for your bridal party, parents, and other important people who contributed to your day:
Use both your names, and the names of the receiver/s
Thank them for taking on the specific role you asked them to perform
Name a detail of the day that involved them in a positive way. Eg. "Thank you for being the best bridesmaid a bride could hope for. Bradley and I will never forget the beautiful speech you made at the reception. It meant so much to us that someone we love so dearly was so thoughtful to prepare such meaningful words."
If parents contributed towards the cost of the wedding, you may also like to include a gift if you haven't given them one already
The good news is, you are not expected to send all of your Thank You notes until after your honeymoon. However, it really should be no more than six weeks after your wedding, so set aside several nights with your new husband, get comfy with a wine and set to task. There's no time like the present!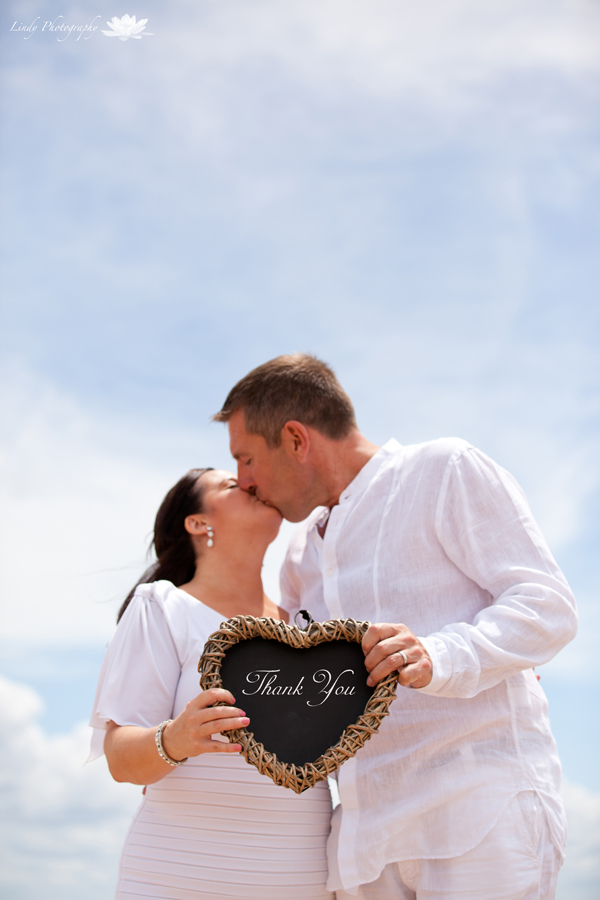 Having your wedding photographer take a photo specifically meant for your Thank You cards is a fantastic idea. This one by Sunshine Coast wedding photographer, Lindy Photography, is really sweet! Love the heart-shaped Thank You.
This and many more helpful articles on wedding etiquette can be found in our Resource Guide. Did you find this article helpful? Let us know in the comments below.