Emma loves Trent | Noosa River Wedding
14th September 2023
This Noosa River wedding started early with a morning ceremony, followed by lunchtime wedding reception, and finished with a sunset cruise along the river.
Grab yourself a cup of tea or glass of wine (hey, I don't know what time of day you're reading this, so it's user's choice and no judgement here!) and get comfy for this one.
I always ask the couples who submit their weddings to me what was the biggest challenge they faced in their wedding planning… for me with this wedding it was trying not to choose a million photos to share with you! There will be some scrolling to do, but I promise it will be worth it to make it all the way to the end. 
Emma and Trent were just eight years old when they first met, and everyone believes they were simply meant to be. They reside in the Sunshine Coast hinterland, so kept it kind of local when they chose Noosa for their wedding day location. 
Opting for a morning ceremony at Maison La Plage, then ferrying all their guests to Noosa Boathouse for their lunchtime reception, they finished the day with dancing and more delicious food and drink aboard the M.V. Catalina Noosa. 
Gorgeous bride, Emma, has shared her love story, Noosa wedding day planning, and tales of how the day turned out, below. 
Vendors
Photography | TAY AND FRANCIS
Venue | NOOSA BOATHOUSE
Sunset cruise | M.V. CATALINA NOOSA
Cruise catering | THE OHANA GROUP
Bride's dress | ERIN CLARE BRIDAL
Stylist | SIMPLY STYLE CO.
Florist | ASTER + WILDE
Cake | COCOA SPICE CAKERY
Hair stylist | SASS & NIKI'S WEDDING HAIR
Makeup artist | HANNAH MILLS MAKEUP ARTIST
Transport | NOOSA FERRY
Entertainment | JAMIE VALE DJ
Stationery | LITTLE J DESIGN
Gift registry | GIVE WITH GRAVY
Celebrant + MC | DAN FORD CELEBRANT
Wedding night accommodation | SUNSET COVE NOOSA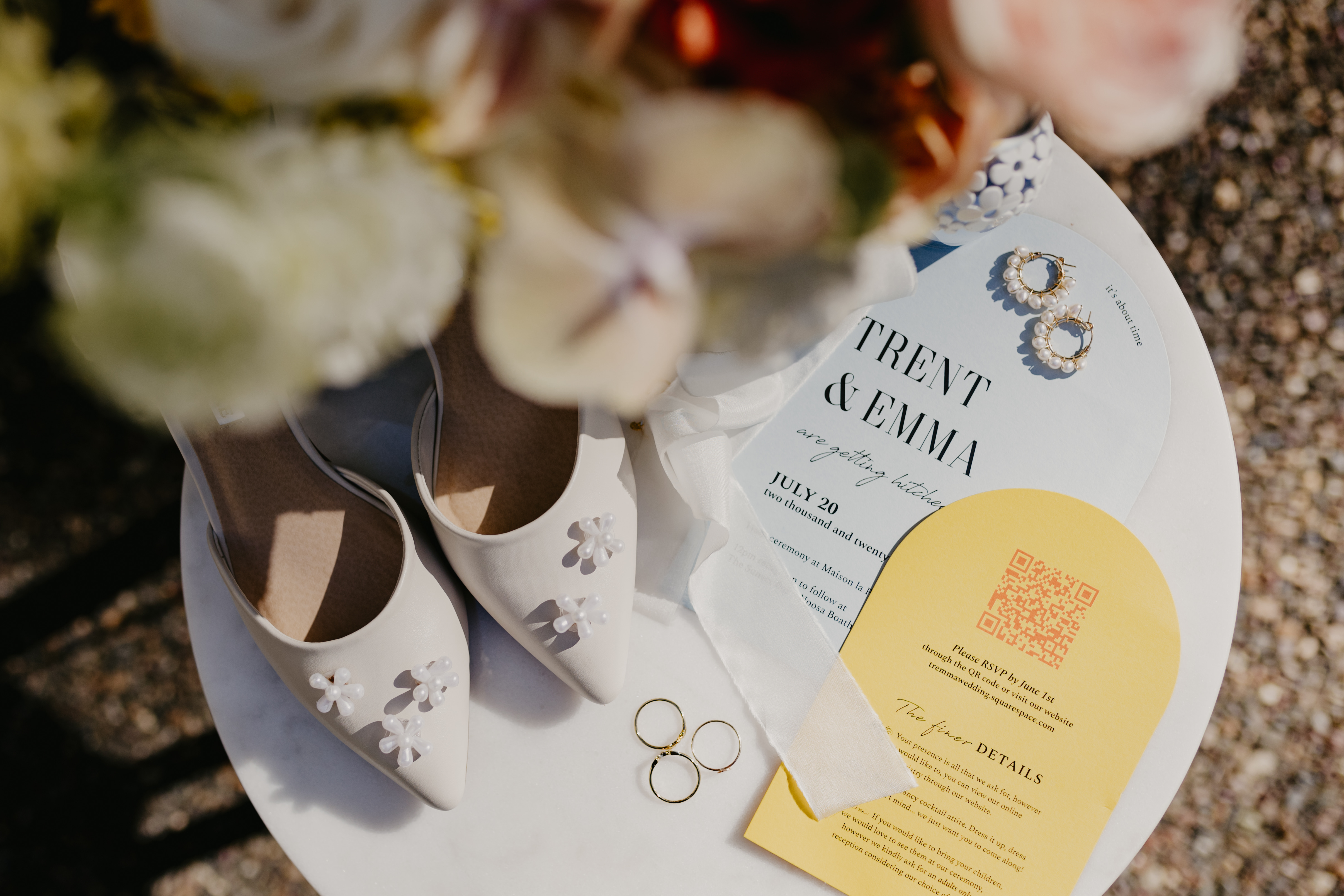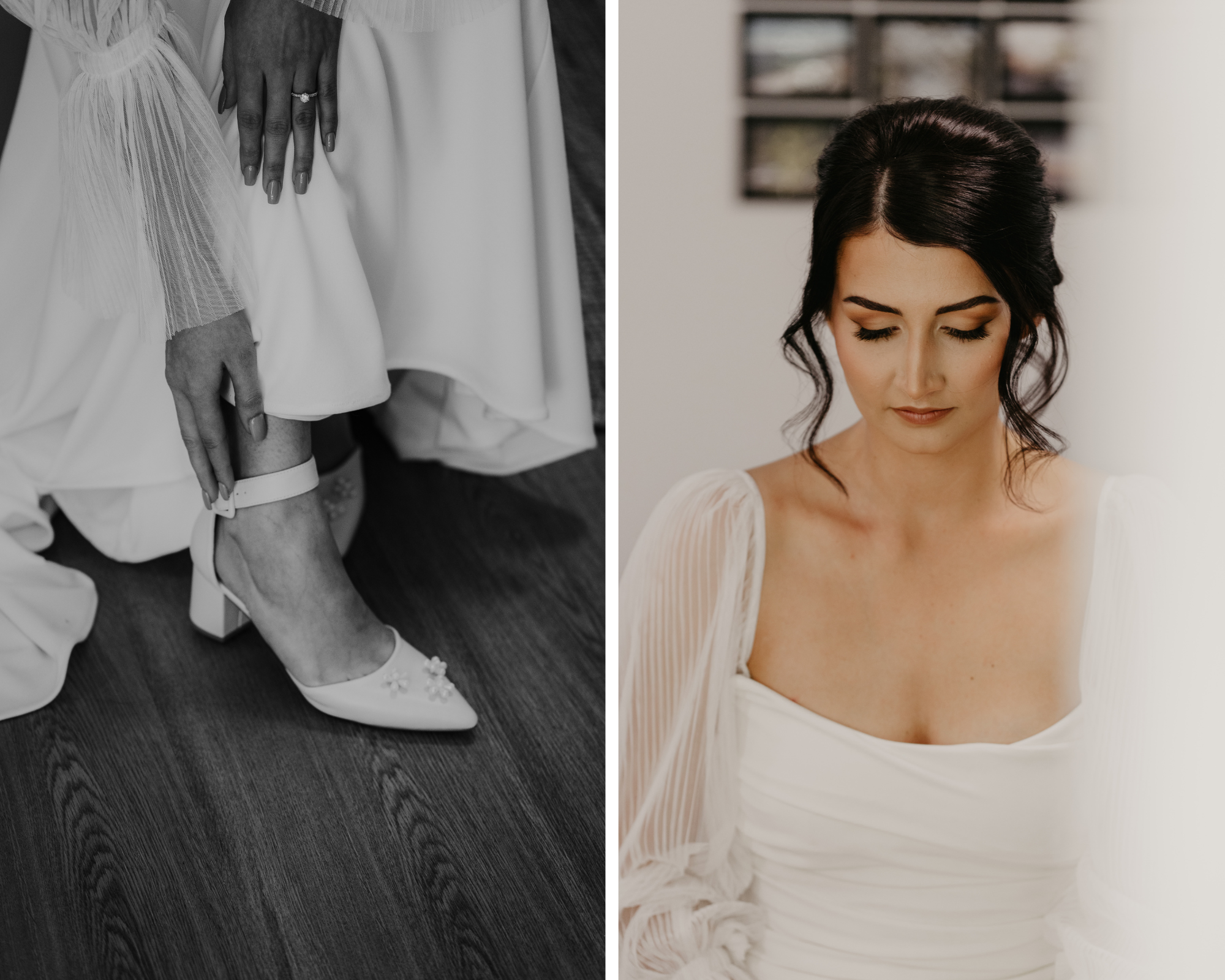 The Proposal
"I am a BIG Christmas lover. So, in true Christmas form we were completing our couple advent calendar in 2021 with handwritten activities to complete daily. I was predicting and not so subtly hinting to Trent that we should get engaged in the New Year.
'When our daily advent calendar task was a home cooked meal under the Christmas tree, I wasn't surprised when I came home to Trent having had prepared a fancy steak with wine on a picnic rug under the tree. We had a romantic dinner amongst the twinkling lights with our 2 dogs sitting with us. Trent proceeded to reach under the Christmas tree and grab a small 'gift'. He didn't even ask me the question, I just said yes."

 
Unforgettable Moments
"I was most emotional in the lead up to walking down the aisle. The nerves really hit you when the moment is actually happening, and you are the main event! I didn't know if I was going to cry, faint or laugh!
"I'll never forget reading a poem at the start of the ceremony for my sister who couldn't make our wedding day. I'm so glad I was brave enough to read it because it's something I will cherish forever."

Our Noosa Wedding Venue
"We always knew we would get married on the coast. We grew up near Maleny so wanted to branch away from the Hinterland and go beachy! Noosa Boathouse offered a gorgeous rooftop Sunset Bar which suited our cocktail lunchtime reception."
Biggest Challenge
"Hastings Street is very hard to park on! The logistics of moving our guests between our ceremony and reception was our biggest challenge. We booked a private Noosa Ferry to transport our guests to our ceremony. Luckily the Ferry was able to depart right from the reception jetty. It was great! That way no one had to struggle to get a park and just enjoy the ride!"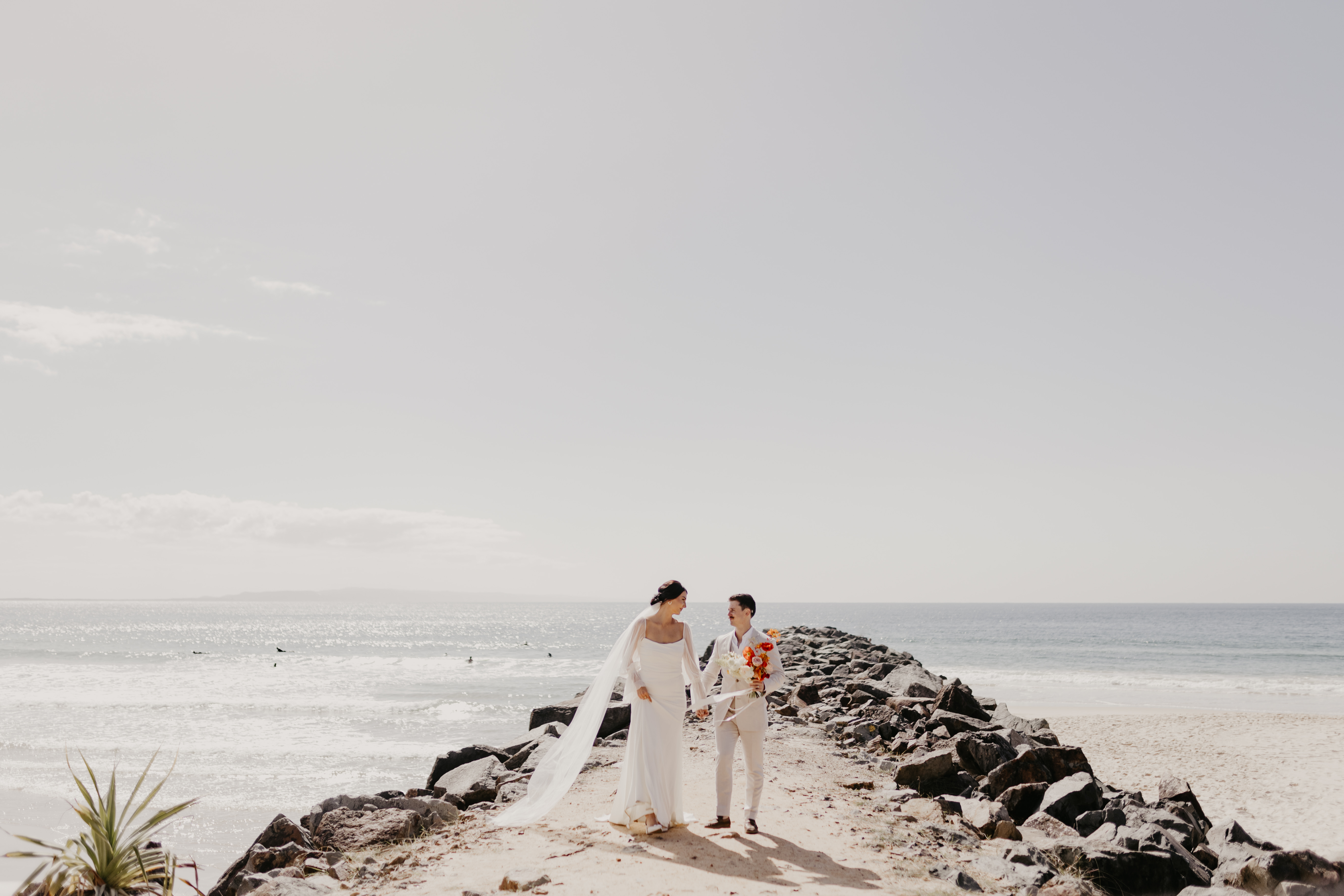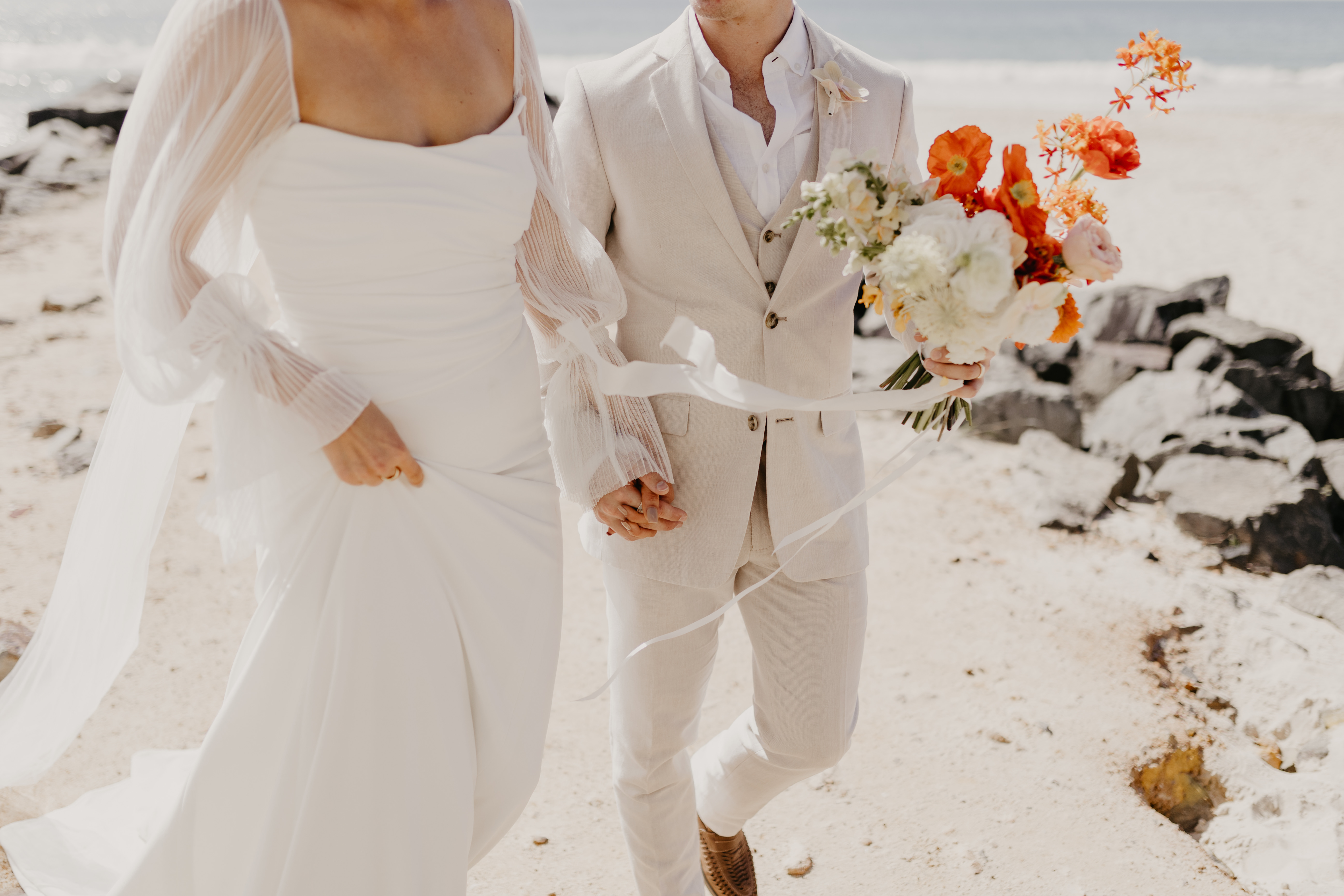 Wedding Secrets
Biggest splurge: Our biggest splurge was booking the MV Catalina Noosa for a two-hour sunset cruise after our reception. Being a Winter wedding, we decided to have a lunch time reception, but we still wanted to dance and sip on cocktails! The Catalina was the perfect splurge so we could enjoy the Noosa River with groovy tunes and continue the celebration.
Best money-saving decision: We were still able to have the wedding of our dreams without an outrageous price tag by keeping our guest list low and intimate. We only invited our dearest friends and family.
Bridal gown: Erin Clare Bridal custom design
Earrings: Girl with a Pearl
Rings: Secrets Shhh
Shoes: DIY/The Iconic
Groom's suit & shoes: Tarocash
Belt: YD
Watch: Maleny Jewellers
Bridesmaids' gowns: Bec and Bridge
Earrings: Jolie and Deen
Bridesmaids' shoes: The Iconic 
Groomsmen's attire: Tarocash
DIY: I DIYed my wedding shoes by decorating them with pearl beads. I had my eye on a similar pair that were over $300 new, so I decided to make the pearl flower beads myself and stick them onto a more affordable shoe. I also designed our wedding invitations and website! I made sure to still print our invites in Australia and supported a premium paper supplier.
Honeymoon: Queenstown, New Zealand
Number of guests: 50
Wedding budget: $40k
Actual cost of wedding: $43k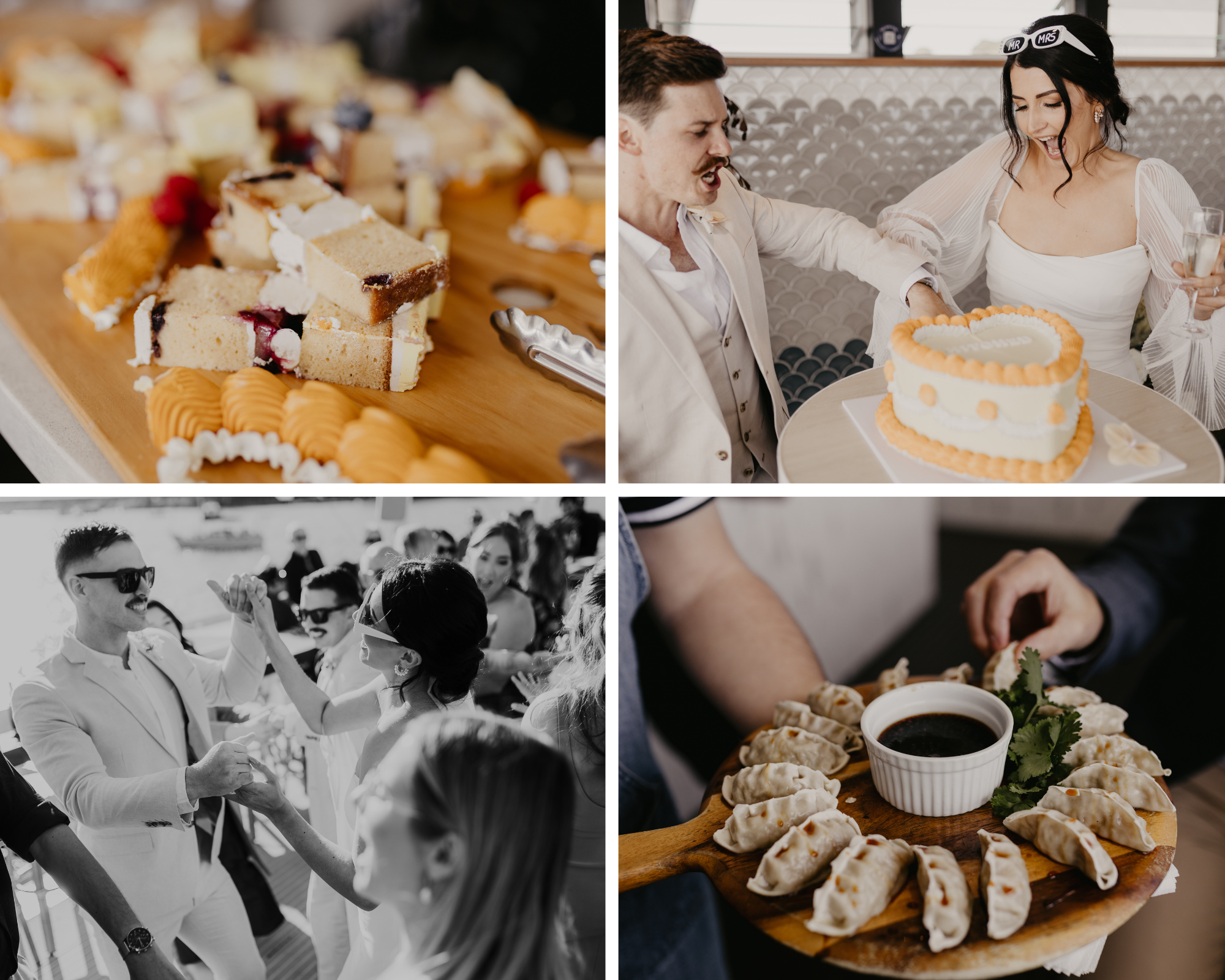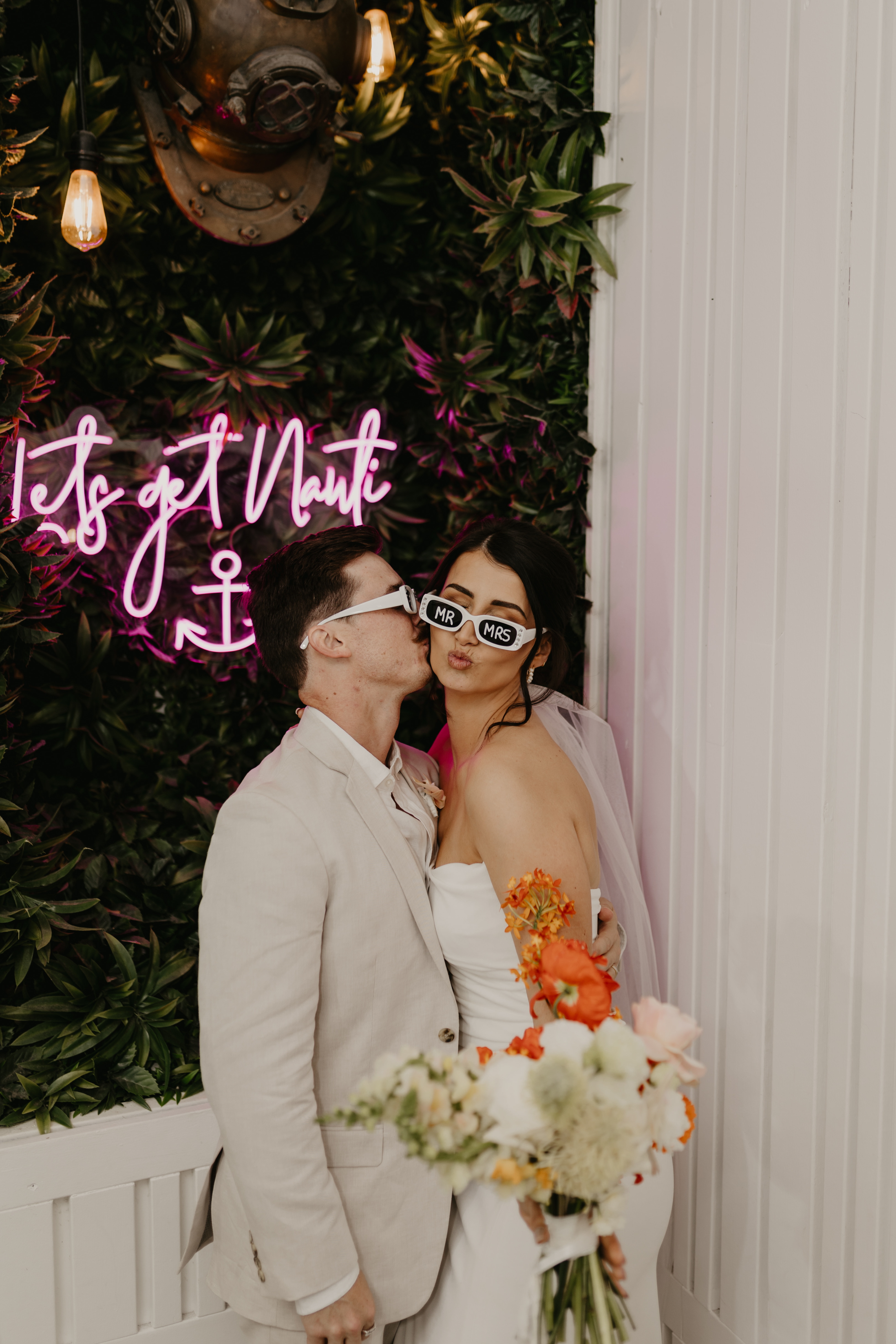 The Cutest Meet-Cute Ever
"Crazily Trent and I met in Grade 3 of Primary School. I was the new girl on the block in a small-town, country school. We started officially dating in Year 10 of High School, but most people would agree that we had eyes for each other since we were 8 years old.
"It was always going to be Trent. He has been my friend since Primary School. He is the calm to my crazy and sees the world through such a simple lens. He is kind, caring and big kid at heart. There was never any doubt that we would get married one day!"
The One Thing We'd Do Differently
"I was so worried about it raining on the day that I didn't even consider it being really sunny! I would have told our guests to bring sunglasses, or hats for the day because our guests were in the sun during our ceremony and on the cruise."