Happy Valentine's Day!
13th February 2012
Happy Valentine's Day one and all! We are really excited, because obviously there will be many more engaged couples planning their Sunshine Coast weddings after today… It's inevitable on the most romantic day of the year.
We know many people don't see the special in this holiday of love, (for example, my Manfriend, who calls it a holiday about Paganism and fornicating! As though that's a bad thing…), but we lust it with all our hearts. What's not fun about telling the one you like/love/heart that they're special to you and giving and receiving cheesy gifts?
To celebrate our fave day of the year, we are firstly congratulating Carina and Tim, the winners of our Valentine's Day competition! Carina and Tim, as you know, you have won a fabulous Sunshine Coast engagement shoot with Lani Carter Photography, complete with a makeover by Sally Townsend Makeup Artistry. You'll also receive an enlargement of your choice and 50 Save the Date cards.
Secondly, we are sharing a super sweet story from one adorable couple, who were married last year on the Sunshine Coast, following a Valentine's Day proposal! Their gorgeous wedding day photo is supplied courtesy of the lovely Emma Nayler Photographer.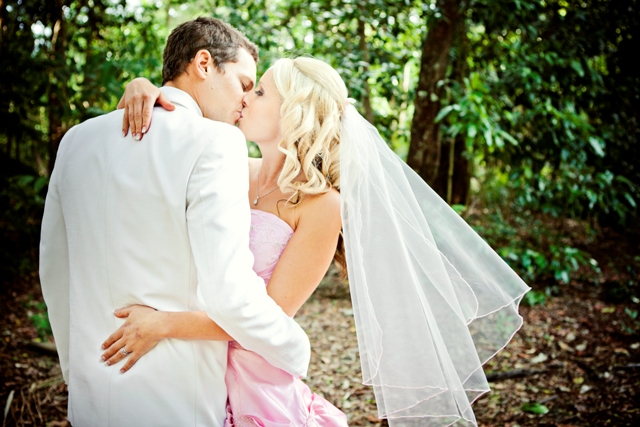 "My name is Melissa, and Lee Ambrose proposed to me on Valentines Day 2009.
It was all huge surprise he had planned months before. We were over in Thailand for a holiday to visit my dad (Ian Kidd) and Lee had planned to propose while we were there. He had picked the ring out with 2 of my best girlfriends, Brie and Sophie. He later hid the ring at my mum's until the trip overseas.He planned to ask my dad for my hand in marriage when we were in Thailand and then propose.
On February 14, 2009, I received a few messages from my two sisters asking how my day was going n was I enjoying it… I was thinking I was very popular that day! Later as the day passed, Lee took me out for a romantic Valentines Day walk on Pattaya beach, followed by a romantic diner.
After dinner we went to a lookout with the most amazing view of Pattaya beach, which is where Lee asked me to marry him! It was such a wonderful surprise, that I never saw coming. Of course, I said yes! We later went to a movie and had ice-cream. As soon as we arrived at our motel, my dad rang us, very excited, to congratulate us. I was happily married on the 3rd Sep 2011 to my husband, Lee."
Thanks for sharing your story, Melissa. By the way, we love your pink wedding dress!