The Perfect Eyebrow for The Perfect Bride
15th February 2012
If you have a Sunshine Coast wedding coming up, and you have not had your eyebrows professionally shaped, you better get your skates on, Missy! If there is one thing I'm an advocate of, it's eyebrow shaping. As a young lass, I suffered from mono. Not the illness, but mono of the brow kind. Think Bert of Bert and Ernie, think Mal Meninga, think Frida Kahlo.
Years of waxing and plucking ensued, and while it was certainly a more preferable alternative to the old forehead caterpillars growing wild and free, I would often suffer from a reaction to the chemicals in the wax used at some salons. I've also been victim to a bit of over pluckage and waxing by an overly enthusiastic beauty therapist.
Last year, I found my dream eyebrow shaper. Liz See is the best thing to come into my life since Grey's Anatomy. She is founder of Get Threaded, a brow bar franchise, which uses the ancient art of threading for chemical-free hair removal that I personally find a lot less painful than waxing. Liz gives me the most perfect brow every single time.
The other reasons I love Liz is because booking an appointment is so easy, she is always running on time, it's fast, and she's always friendly and good for a chat. Frankly, she's just the bee's knees.
Since I can't live without her in my life, I believe you need her in yours, too. I've recommended her to friends, aquaintances and strangers left, right and centre, and each time I am immediately asked, "What exactly is threading, anyway?" Frankly, you lovely brides-to-be deserve to get the full lo-down, direct from the source, so I asked Liz to explain away.
Beauty therapists come from far and wide to learn from Liz, so we are very fortunate to have such a wealth of knowledge and talent for brow shaping based in Maroochydore here on the Sunshine Coast. So listen up, ladies…
TBT: Liz, when should a bride start getting her brows shaped in preparation for her big day?
LS: As soon as she gets engaged! Most brides visit us when they start the makeup planning and the makeup artist refers them to Get Threaded. Depending on that timeframe, sometimes it doesn't give enough time to ensure their brows are perfect for the big day.
TBT: What areas of the face do brides typically have threaded?
LS: Eyebrows are the main area threaded and any other areas she may be conscious of. Lips and the sides of the face are popular, as these will be the areas that show hair in their wedding photos.
TBT: Do you have any special eyebrow care instructions for brides to continue on at home?
LS: All eyebrows should be brushed into place as part of the makeup routine – brush your brows like you brush your hair, I like to say! Also, most people use mascara every day and it is essential to use a brow dust or similar product on your eyebrows to fill in any gaps as well. We aren't perfect and neither are our brows, so a product can help. We recommended Get Mineraled Cosmetics Brow Dust or Brow Dust Cream. A small amount applied every day changes the way your brows look, while still looking completely natural.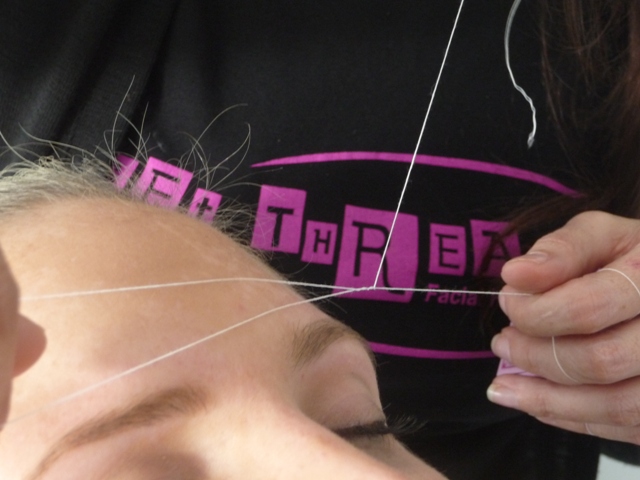 TBT: Liz, what exactly is facial threading, anyway?
LS: Threading is an ancient hair removal technique, where antibacterial, or specialized, cotton is used in a special method to remove hair. A threading artist twists the cotton and rolls this over the skin to gently lift the hair from the follicle, and it is an alternative to other forms of hair removal. It is also perfect to shape eyebrows without causing any damage to the skin.
Threading is thought, by popularity, to have been developed in India. This may, however, be a controversial claim according to other countries, like Persia and China, who also stake their right to the origins of threading. Wherever the origin, threading is certainly an art form that is generally passed down to the daughters, who learn to thread from a very young age and sometimes occurs when a girl "becomes a woman." While technically threading can be performed on any hair on most of the body, it is very effective and desirable as a method of hair removal mostly used on the face due to its more gentle method and results.
Threading can be used on any area of the face in women, such as top lip, chin, eyebrows (upper, lower & mid) also cheek area and forehead if required. In men, the eyebrow area is the most common facial area threaded.
TBT: Why do you believe threading is better than other forms of hair removal?
LS: The benefits of threading are numerous…
These can include, but are not limited to:
· 100% natural hair removal method
· No nasty waxes or chemicals applied to skin
· Skin usually doesn't turn bright red
· No skin layers being removed
· Picks up all the hair on the surface, even really fine hair
· Accuracy, and clients get a fabulous shape to their brows
· Incredibly fast method of removing facial hair
· Considerably less painful than plucking or other methods
· Very short hair can also be removed
· Little irritation to the area making it possible to go over the area more than once
· Hair can be removed individually or in 'lines' to create a perfect shape and can be removed from both above and below, giving the threaded eyebrow its characteristic groomed appearance
· Threading is a very appropriate service for clients that have undergone acne treatments or have thin skin, for example Roaccutane or Retin A as the technique does not take layers of the skin and only removes the unwanted hair
· Great for clients who regularly use spray tans as the thread lifts only the hair and does not take layers of skin off and removing tan quicker.
· Will not burn, cause trauma or allergic reactions to the skin
· Less adverse affects than other hair removal methods
· Economical service as only thread is used
TBT: What kind of a difference does professional eyebrow shaping make?
LS: Eyebrows are an important feature on our faces, as they not only frame the eyes but when nicely shaped they can enhance your features.
To me, eyebrows are the most important aspect on your face and if these aren't shaped according to your facial features, everything else will not look right. Have you ever looked at someone and the first thing you noticed were their eyebrows? If a person's eyebrows are the first thing you notice about them, you can be certain they are the wrong shape.
A professional eyebrow shape performed from an experienced and trained eyebrow expert can completely change the way you look and also make you feel absolutely amazing!