WIN Crystal Candle Wedding Favours for All Your Guests| $1500* Value
9th March 2021
Send your guests home with not only a pretty wedding favour, but all the positive energy of your love on your wedding day.

GIVEAWAY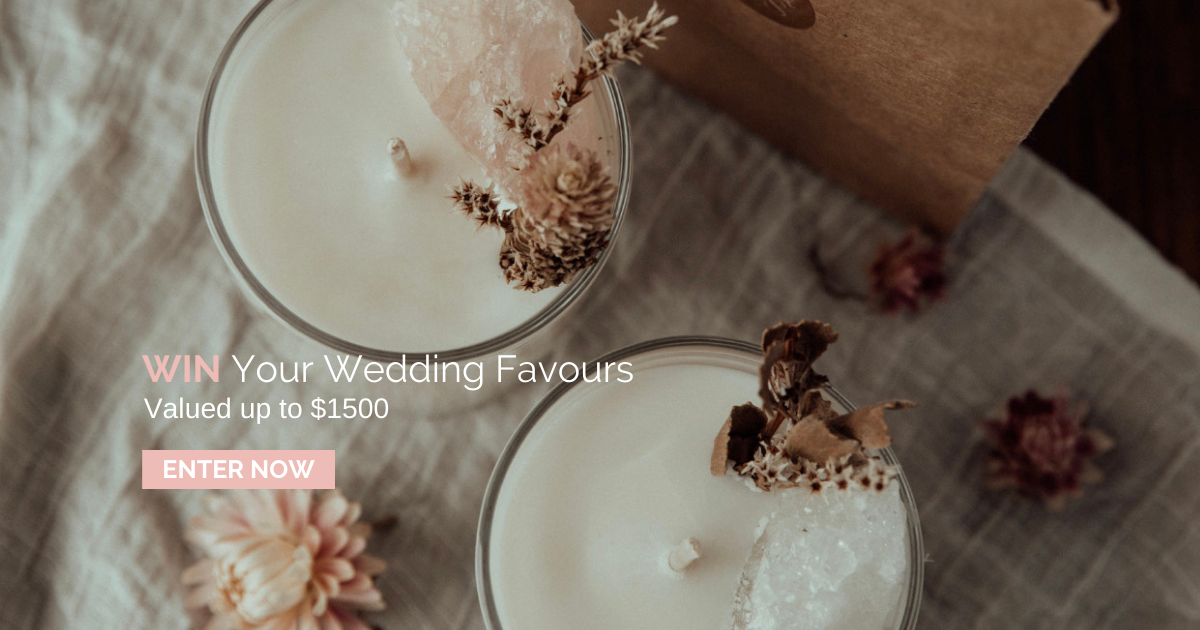 Looking for a wedding favour that won't end up forgotten in the car boot after your wedding? Trust me, this is one your guests will treasure. And we have enough to give away for ALL* your guests. 
Crescent Moon Candles create extra special wedding favours that your guests will not only be delighted to take home, but will give them a lovely reminder of your big day as they enjoy them in their homes. Not only will the delightful scent take them back to your special day, but the addition of a genuine crystal in their candle will emit positive vibrations. When their candle is finished, an everlasting crystal gift remains. Each handmade candle favour comes with its own cute bag.
We've partnered with Crescent Moon Candles to bring you the chance to win a very generous prize, where you could win one of these gorgeous wedding favours for each and every one of your guests up to 120 – a value of $1500!  
Founder, Emma, was enjoying a peaceful evening surrounded by her own candles and crystals, manifesting ideas. She glanced down and it dawned on her to combine these two delightfully therapeutic elements to create something special. Heat helps crystals release their energies, so the marriage (pun intended) of the two was perfect. 
Three years later, Emma has a thriving business with the most stunning range of candles presented in your traditional glass, or a beautifully boho coconut bowl. Her crystals have been selected for their energy properties to promote calm, abundance + prosperity, balance, tranquility, luck and love. 
When you order your wedding favours with Emma, you're given the choice of crystal, be it clear quartz, amethyst, agate, or the obvious choice – rose quartz (for the lovers!) Each candle is also prettily decorated with dried flowers. 
Prize Details 
Crescent Moon Wedding Favour Candles for each of your guests up to 120 
Themed carry bag for each candle
Up to $1500 value 
Prize must be redeemed within 6 months of competition close. Prize may be sent anywhere in the world. Not redeemable for cash, non-transferrable. Further terms and conditions apply – read them here.